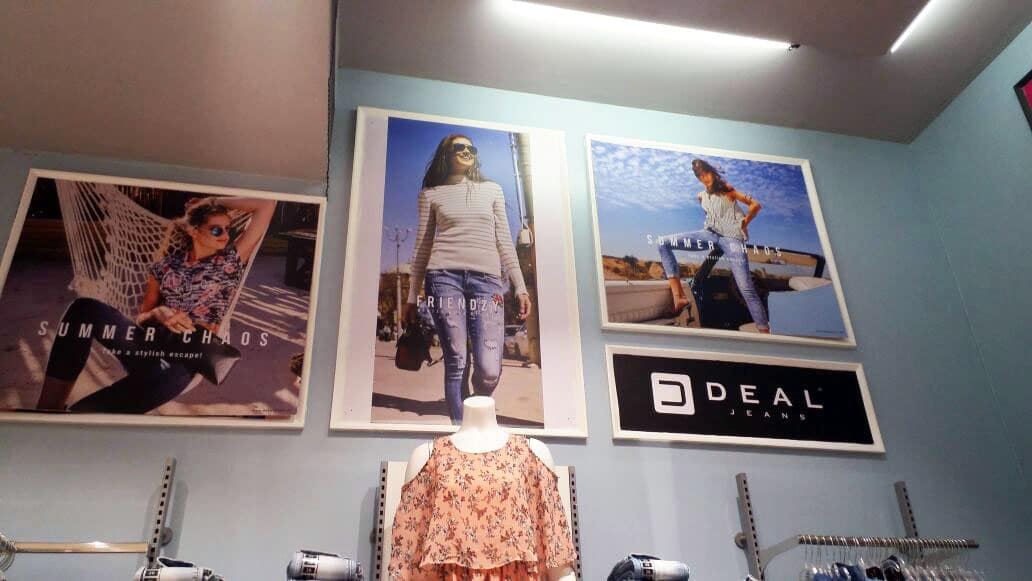 "Dikhta hai…  toh bikta hai…", is an old adage that no Indian tradesman needs explaining. And that is what a well-planned in store branding activity will seek to address. Any decent retail outlet will always offer multiple brands and choices of the same product. A prospective buyer walks into a shop all ready to make a buy decision. She is evaluating the various options in front of her. It at this psychological moment, that a good marketer has to highlight his offering above the others. And this is what in shop branding is all about. The use of strategically placed visuals at the point of sale, to influence a client to opt for your product over that of the competitors.
Modern retail today, requires high visibility of a company's offerings at the point of sale. Sellers of FMCG products vie for visual space in malls, supermarkets, retail shops, etc. They need to advertise their products at these important locations. And Orchid Digitals is well placed to help them achieve their in shop branding goals.
Store branding at retail outlets
Orchid uses its printing expertise and installation teams to brand virtually any area of a store. We provide lit or non-lit exterior shop boards. We paste prints and posters for walls and glass partitions. We can customize delivery vehicles and even the floors of a shop. Manufacturers or super stockists of consumer goods generally have a tie up with various dealers and re-sellers, of their products, in the city. But they need a solution to showcase their brand of products at the point of sale. So what Orchid Digitals does, is provide the following solution:
Site check of the individual outlets
Explore the possibilities of advertising at these locations
Create a report of the media to be used and the size of the prints
Working out the cost off the shop branding project
Printing and installing the prints at the various stores
Uploading photographs of the finished job as proof of installation
Media options and costs for shop branding of retail outlets
The mantra of any meaningful marketing program comprises of the following two points:
Grabbing the attention of the maximum number of customers
Achieving the above at the lowest possible cost
At Orchid Digitals we have a whole lot of economical options for store branding. Choice of media depends on the area of the shop where the advertising has to take place. For example, you would probably opt of a lit board for the exteriors of the shop to attract walk in customers. On the other hand, non lit media works for interiors as the inside of a shop is already well lit. As discussed above, there are also different options for walls, glass partitions, floors and even ceilings.  More particularly, we use the following media to brand different parts of a shop.
Costs for branding the exterior of stores
Branding the exteriors of a shop has a one point agenda. To entice a customer, to walk in. Solutions for shop boards and advertising on the glass frontage of stores are the two main categories listed here.
| Media | Description - Material Specifications | Price | Reference Images ( shown below ) |
| --- | --- | --- | --- |
| GSBs - Backlit glow sign boards for the main shop board | Hi resolution star flex print stretched on a 16 gauge metal box frame with approximately 6 inches depth, containing electronic, Phillips or equivalent tube lights. The whole box affixed on to the wall over the shop entrance using 'L' brackets | Rs. 280/- per square foot | Pizza hut backlit gate arch |
| Frontlit flex metal frame for the main board of the shop | Hi resolution star flex print stretched on a 1 inch thick metal frame drilled on to the wall over the shop entrance. | Rs. 90/- per square foot | Royal Canin shop board of pet store |
| One way vision mesh film for glass facades | This is a high resolution photo print on a special film pasted on the glass frontage of the store. This film shows the company branding to passer byes on the road while at the same time allowing people inside the store, to look outside. | Rs. 90/- per square foot | Royal Canin glass frontage of clinic |
| Premium acrylic ACP signs with LED lights | These are high end signs fabricated from a mix of materials like acrylic and aluminum composite panels. LEDs are used as the light source for the same. | Price depends on design and material specifications | Where Else metal letters with LED backlight |
Please note:
Add 18% GST to the above prices
Transportation may be charged extra if applicable
Branding the interiors of shops
Interior shop branding consists of advertising on the walls, glass partitions, floors and even ceilings of store. Given below are the costs and reference images of the various options available, for the same.
| Media | Description - Material Specifications | Price | Reference Images ( shown below ) |
| --- | --- | --- | --- |
| Wall prints and posters | These are photo vinyl prints, with matt lamination, mounted on 3 mm thick sunboard. The sunboard (also known as foamsheet) is then pasted or drilled on to the wall inside the store. | Price = Rs. 110/- per square foot | Pizza Hut - Wow 99 / 199 |
| Glass film prints | Prints on opaque, transparent or translucent films are used to brand the inside glass partitions and counters of the store | Price = Rs. 90/- per square foot | World map pasted on glass |
| Floor Graphics | This is special grade of vinyl which can be pasted on the floors of the store. Modern malls have a footfall numbering in thousands, on a daily basis. And yet, our floor vinyls are strong enough to withstand the steps of each of these visitors. | Price = Rs. 150/- per square foot | Welcome to CD corner pasted on the floor |
| Acrylic laser cut logos | This is a premium product which renders the name of the store or logo in laser cut acrylic. The logo has a raised 3D effect and is extremely eye catching. | Price = Rs. 600/- per square foot | I-Trend homes acrylic lettering |
Please note:
Add 18% GST to the above prices
Transportation may be charged extra if applicable
Onsite installation of prints at shops across the city
Just offering the above prints does not constitute a complete solution. In addition to our printing prowess, we have also have teams of fitters and pasting guys. These people go over to the various locations in the city, to fit the prints. This initial print, to final installation solution is exactly what makes Orchid Digitals the right choice for your in store branding project.
Reconnoitering and report creation for branding stores at multiple locations
Many a times, before the actual store branding can begin, we need to gather data about what kind of prints have to be installed inside the store. We need the correct sizes of the relevant walls and glass partitions where the branding has to be done. The original artwork has to be adapted to these sizes. Finally a report has to be created showing all this data, along with the price for each print.
Oftentimes a company needs to advertise their products at multiple locations in the city. An initial recce report is created, showing photos of these locations. The report also gives a store wise costing, which helps the manager at the distant location, in making his budgetary decisions. Given above is an image of a report created for an apparel company for their store branding activity across Pune city. As you can see, the report clearly states the following:
The kind of media that needs to be used.
The size of the area that needs to be covered.
The cost for branding that particular space.
A reference image of the location where the print is going to be put up.
Finally an image of the job executed, as proof of installation.
Artwork adaptation
Stores come in all sizes and shapes. Some have hundred feet facades that can be branded, while others offer just one side of a pillar to put up advertising communication. Glass doors extend the full height from the floor to the ceiling at some stores while other owners demand that only the lower half be covered by prints. And this variance in sizes leads to an interesting problem.
The main company which needs the branding project executed generally has only one or two generic artworks. This has to be customized and adapted for each location. The design has to be vertically or horizontally resized for each store location. And before you pop the question 'who does that', its again Orchid to the rescue. While we are not an advertising company, Orchid does have designers that can make the necessary changes in the artwork to suit each individual store.
Some of our clients for whom we have done shop branding for
Printing and installing those prints in shops and offices, is something we do on a daily basis. We have our teams of fitters and fabricators ready do bring the most challenging jobs to fruition. Listed below are some of the companies that we have provided services for. Also listed are images of the work we have done for them.  Please don't hesitate to get in touch with us for any shop branding project that you may have in mind.