Acrylic Name Plates To Showcase Your Brand
Flaunt Your Brand's Name in Full Glory with Laser Cut Acrylic Logo Boards
3D acrylic letter signs cut on a laser machine
An exceptional way to display your company logo/brand name
Will impress visitors right at the office entrance or reception
3D company name/logos can be mounted on walls or glass
Ask for a proposal/job render before you decide to order
Shipping and installation facility available
Starting at ₹ 700/- per square foot
"First Impressions Always Stick."
Acrylic Sign Boards: Detailed Description
The first impression that your office/workplace creates on visitors has to be awe-inspiring.
When a visitor, be it a client, an interviewee, or even your everyday employee steps into your office, he starts making judgement calls about your company's professional outlook and work culture.
And so it is almost mandatory for an architect or interior designer to make your company lobby/reception area as spectacular as possible.
And what is the most obvious thing you could place at the entrance of your office? Well, your brand name or your company's logo is the most patently visible communication suited for this location.
And at Orchid Digitals, we fabricate jaw-droppingly beautiful, laser-cut, 3D Acrylic Boards, ensuring a fabulous (and lasting) first impression.
So let's have a quick look at the various types of logo boards you can source at our place.
Types of Acrylic Boards Available at Orchid Digitals
At Orchid Digitals, we have a decision tree in place to determine the final form that your logo board or company name plate will take. And before we take the project in hand, we strive to find answers to the following questions:
Will the logo and letters that make up your organisation's name be pasted directly on the wall in the reception area?
Or do we need to first fabricate a base plate, mount the laser cut letters/logo on the same, and then fix the finished sign in place?
Answers to the above questions will help us determine the best type of acrylic name board suited for your purpose. So, let us take a look at the various options in more detail.
Lit Acrylic Boards
Depending upon your preference (and budget), we can fabricate 3D backlit logos and letters having LEDs embedded within. Alternatively, we can also deliver a 3D acrylic nameplate without an internal light source.
And we assure you, despite the absence of the back glow, this non lit logo board will still look spectacular.
But for now, let's talk about the backlit variant. Backlit glow sign boards are slightly more complex than their non-lit counterpart because:
In addition to laser cutting the acrylic letters, we also need to fit LED modules within.
We need an electrical outlet to power the LEDs mentioned above. And the wires have to be concealed to create a neat looking job.
The backlit nameplate variant is also obviously going to be more expensive.
We'll cover the above points in more detail in the 'Materials & Construction' section of this page. But for now, let's have a quick look at the two main categories of backlit logo boards.
Stand Alone Back Lit Letters
We install just the letters or the relevant logo on the wall in this option. These letters are hollow and have a substantial depth (approximately 2.5 inches thick). Finally, we place LED modules in this gap, which illuminates the entire sign.
Letters Mounted on a Square/Rectangular Base Box
In this variant, we first create a base 'layer' in the form of a rectangular/square box. This box is about 2.5 inches thick and comfortably accommodates our LED modules. Our laser-cut acrylic letters and company logo sit on top of this base box.
Being made of acrylic, they also glow beautifully when the lights are stitched on.
Installing this type of glow sign is also pretty easy. You just hang it like a calendar and simply add electricity.
Non-lit Acrylic Name Boards
The lobby or reception areas of most offices are generally very well lit. So when you want to create a logo board for placing indoors, you can probably opt for a non-lit acrylic sign board and save on costs.
And as I mentioned before, even our non-lit signs look absolutely stunning.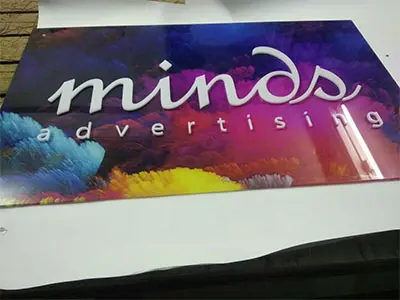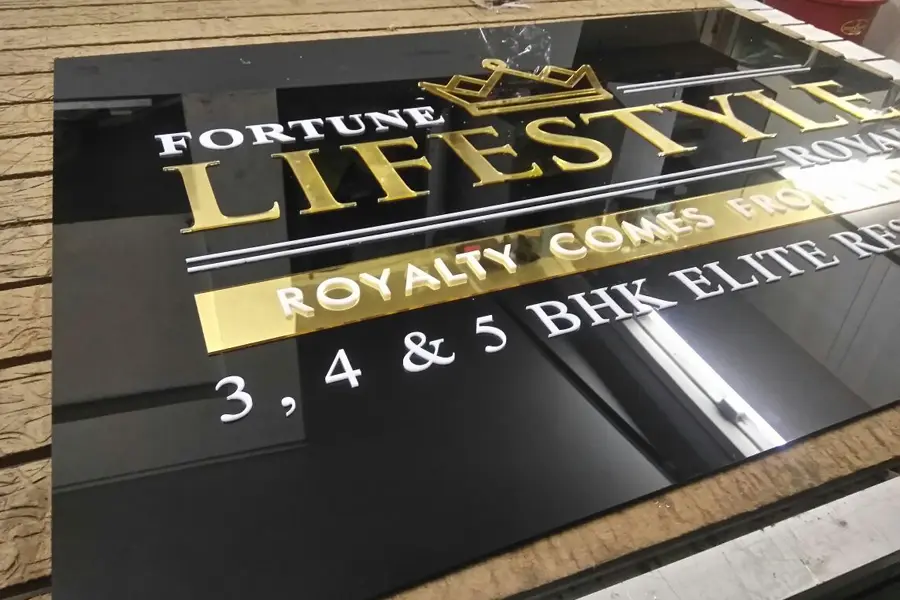 All acrylic name plates are composed of two components.
1. The Company's Logo, Name, and Other Details Displayed on Top
The central part of the board is composed of the company name and its logo. This logo and the individual letters are cut from a material called acrylic. Acrylic is also referred to as perspex in western countries. The actual cutting takes place on a laser cutting/engraving machine.
Although made of high-grade plastic, acrylic sheets look very much like glass. We stock clear/transparent acrylic. Additionally, acrylic is available in a variety of colours and shades. A coloured acrylic sheet has a vibrant, back-painted, glass-like effect.
Acrylic is great to look at. Also, one can effortlessly laser cut the same into different shapes. And these properties help us fabricate highly professional looking 3D signages.
2. The Base Plate Beneath
The above laser cut logo and the letters comprising the company name, address, etc., are all fixed on a base plate. This base plate is then screwed onto the wall in your office.
At Orchid Digitals, we generally use a base plate of 5mm thick acrylic. This thickness makes the plate strong enough to carry the weight of the logo on top. The client can choose between the following options for the base plate:
Clear/Transparent Acrylic Base Plate: A clear acrylic sheet lets you see the wall beneath. In some cases, the wall on which the board has to be mounted has textured paint or wooden panelling. So the transparent panel now allows the visitors to 'see-through', and the end effect looks great.
A transparent base plate also gives the logo a 'floating in thin air' effect.
White, Black or Colored Acrylic Base Plates: Acrylic sheets are available in white, black, and a variety of other colours. Customers can also opt for silver and gold metallic finishes. At Orchid, we have an album of shades that a client can choose from.

Opting for white, coloured, or a metallic base plate, helps create a visual break between the wall on which the board has to be mounted and the company logo. The base plate now acts as a highlighter for the information displayed on top of it.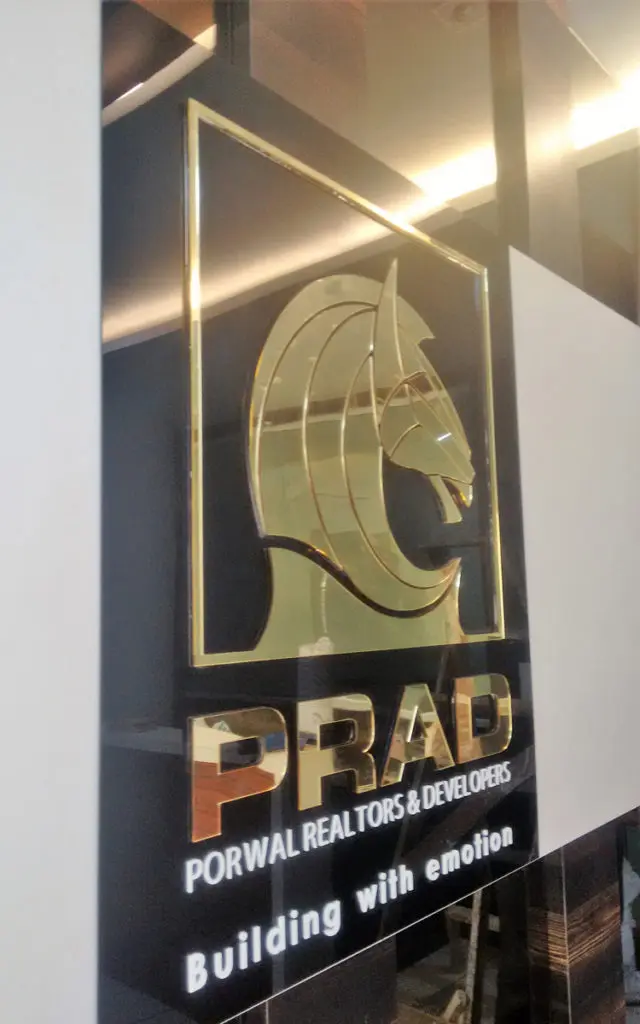 How Are Acrylic Name Boards Mounted on the Walls?
The base, perspex name plate can easily be drilled into the wall. But an ordinary nail/screw would look terrible in contrast to our beautiful acrylic name boards. So we use chrome finish studs (also known as mirror caps) to fix the board in place.
We also provide risers/spacers beneath the mirror studs. These spacers raise the board an inch or so, away from the wall/surface beneath. This raised effect breaks the continuity of the wall, highlights our acrylic board and gives it a beautiful 'floating-like' effect.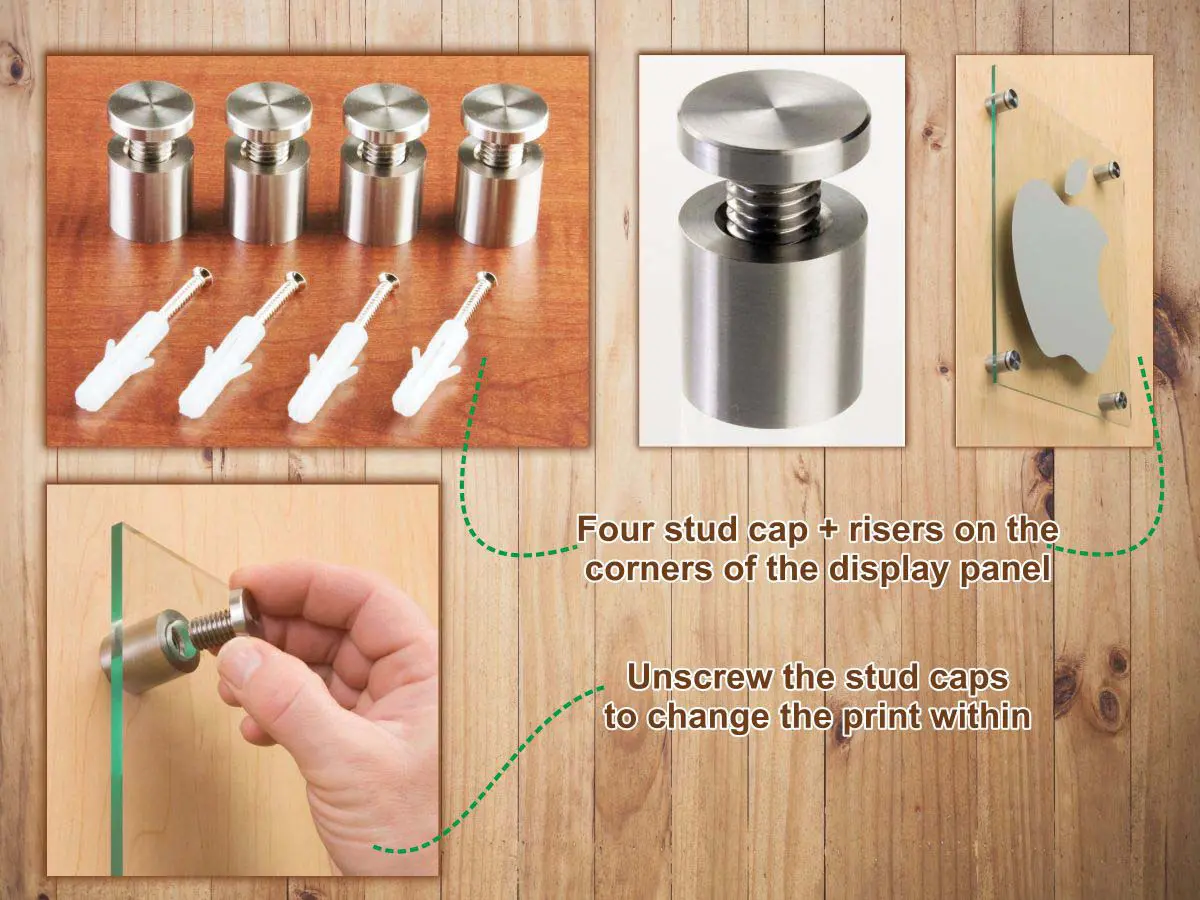 Stand Alone Acrylic Logos and Laser-cut Letters – An Alternate Approach
One alternative way to create acrylic boards is — to not create the boards at all!
Just cut the individual letters and place then directly on the wall.
At Orchid Digitals, we can create logos that can be affixed directly on the wall without the need for any intervening base plate. We use strong, industrial, 2-sided, 3M™ tape beneath the acrylic letters/logo to achieve this.
3M™ is a company that manufactures high-performance adhesives and tapes. And these adhesives are strong enough to hold even large logos in place.
For precise alignment of the logo components and individual letters, we first place a stencil on the wall. The acrylic letters are then pasted directly on the wall in the area marked by the stencil.
And, as you can see, the end effect is quite fantastic.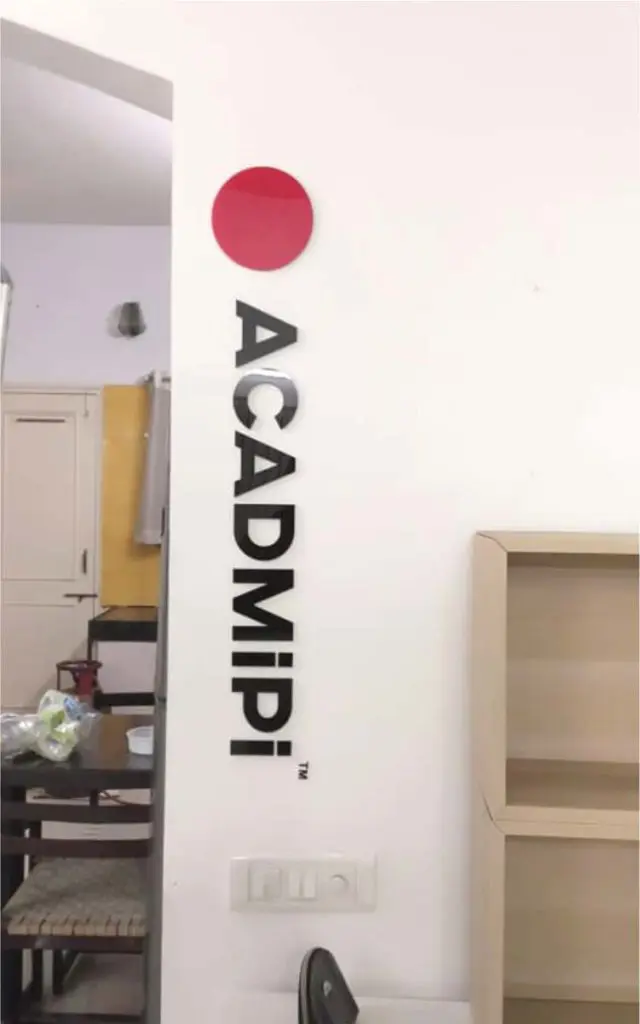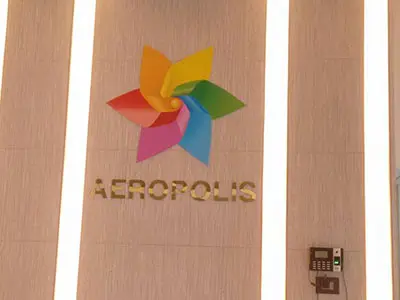 Why Opt for Acrylic Sign Boards (and not something else)?
Traditionally, people use a painted sign or a printed sunboard to display at the entrance of the shop/office. But this 2D printed sign lacks the necessary impact or punch needed to create that 'wow' effect.
And this gap is adequately fulfilled by our spectacular looking laser cut acrylic shop boards or acrylic nameplates for companies.
So let's take a look at some of the various applications and benefits of this product.
Applications of Laser-cut Acrylic Sign Boards
Logo Boards in the Lobby or at the Front Desk of a Corporate Office
A professionally created logo sign strategically placed at the entrance of a large company is an absolute must in every self-respecting company office.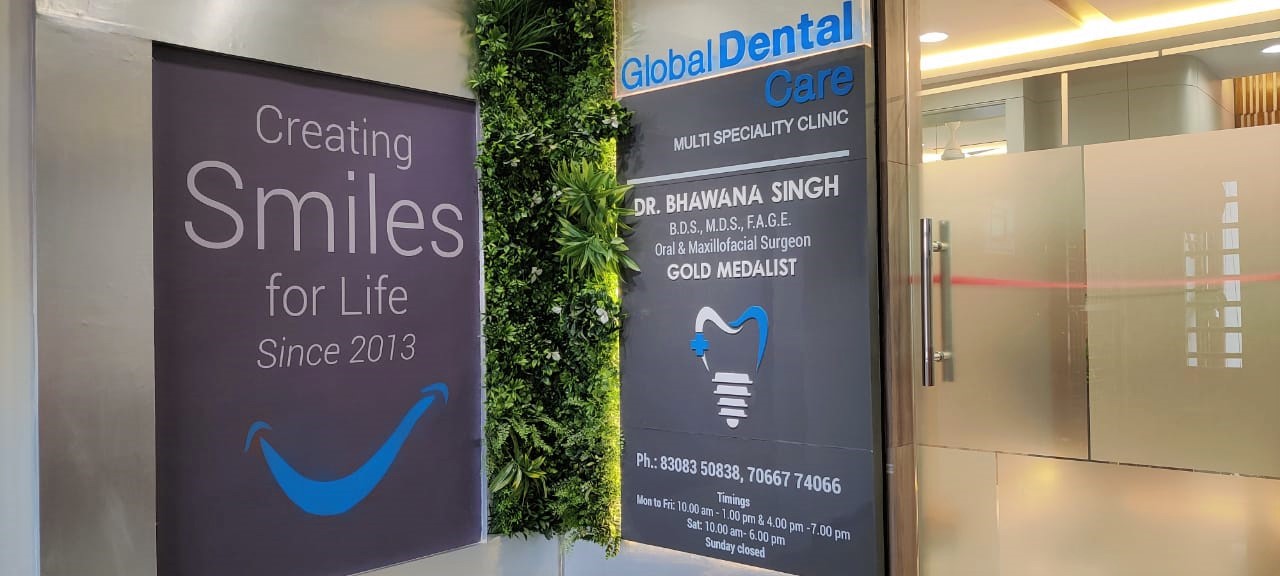 Company name in conference rooms
A company's conference room is where the company's management and clients gather to discuss matters of significant importance. What better place than this to showcase your brand name as a classy looking sign?
Logo in the Director's cabin
The top managements' cabin is a place that has to identify closely with the company colours and identity. A large, professionally finished acrylic ACP sign board would be the ideal interior decoration choice for this room.
Acrylic Glow Sign Boards on the Building Exterior
Acrylic sign boards adorning the exterior of a building are extremely beautiful to look at. And while this particular post focuses on signs for indoor environments, we have a separate product page listing 10 different acrylic glow sign boards for exterior applications.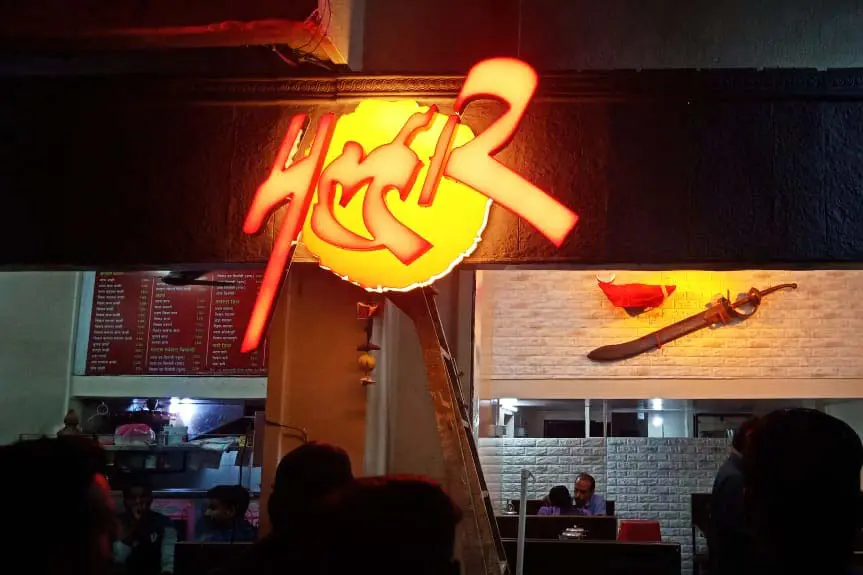 Branding at Retail Outlets
In a retail environment like a fashion store, the more attractive your brand looks, the more people are going to browse through your products. In such a scenario, a high-class 3D acrylic board placed next to the shelf displaying your products might just be the right thing to gather their attention.
Logo displayed on the Information Counter / Reception Desk
The information counter by its very placement is the first thing that visitors will see in a large organisation. Most clients will also be gathering close to this reception desk before accessing the inner areas of your corporate office.
Again, this is another place to create a great first impression. Laser-cut your company logo (with or without lights) and place the same here.
What Are the Benefits of Using Acrylic Name Plates?
They Look Great!
A combination of new-age materials like acrylic, vinyl, and ACP (aluminium composite sheets) go into the making of a 3D acrylic letter sign. And the acrylic sheets we use (both clear and coloured) look very similar to shiny glass. All this, in turn, leads to highly professional looking 3D signages.
They are Easy to Install
Our acrylic name plates for companies are very easy to install. You can choose to drill these boards onto the wall using risers and stud caps. More on this further below.
Alternatively, you can choose to fix the plates on smooth walls or glass partitions using the extremely strong 3M brand two-sided tapes that we supply along with the board.
Some of our customers also choose to have the perspex name plates dangling by chains from the ceiling.
They are Easy to Maintain and Hassle-free
We are positioning our company nameplates as a product mainly for indoor use. Hence these acrylic laser cut name plates are typically non-lit.
We feel that office areas have an abundant source of light anyway. Do jump to this page if you are looking for brightly lit neon signs for the exteriors of a building.
So, there is no need for any electrical components or wiring for indoor signs. And the only maintenance these signs require is the occasional wipe with a damp cloth.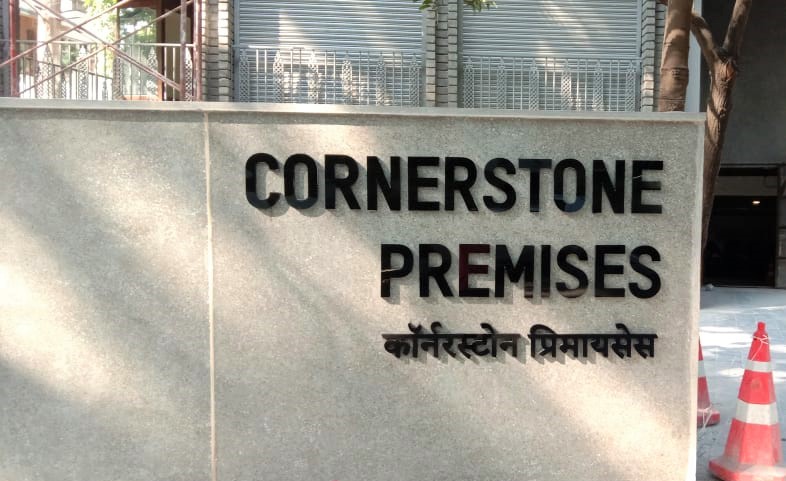 They help in creating a very professional image of your company
Consider this scenario. Most of your competitors don't bother putting a sign at their entrance. Or even if they do, it is in the form of a cheap paper print / 2D vinyl sign.
On the other hand, you have sprung for a costly laser cut sign. This sign enhances your interiors. And it also conveys your highly professional approach to work.
They are inexpensive
With the lighting assembly out of the equation, acrylic shop boards also end up costing less. And not just in terms of the initial purchase – they also don't incur additional electricity costs every month.
Overall, these assemblies are significantly cheaper than their lit counterparts i.e., Lit LED Acrylic Boards.
As I have mentioned in the previous section, every acrylic name plate has two main components.
The laser-cut logo/letters on top
And the base plate beneath
But these two components in turn, are assembled from a variety of materials. And this section will give you a brief overview of the same.
As the name suggests, the primary component of an acrylic sign board is off course – acrylic. But apart from this, we also use vinyl, ACP (aluminium composite panel) and even small LED modules to create your nameplates.
So, let's have a look at how exactly we go about making these signs.
How is an Acrylic Sign Board Made?
Planning
Before beginning any project, the first thing we do is understand the client's requirements. And we pose the following questions to our customers to ascertain their needs.
Is the board going to be placed indoors or outdoors?
Does it need to be lit or non-lit?
What are the dimensions (Width & Height) of the signage?
Do the letters need to be rendered at any particular depth? We have options ranging from 3/5mm to a couple of inches.
Does the customer have the original design file (.cdr, .ai, .eps, format) or do we have to work with a low res .jpg / .png file?
Proposal | What You See Is What You Get
Answers to the above questions give us a fair understanding of the client's needs. And we now create a proposal for him to study.
At Orchid Digitals we strive for maximum transparency in our dealing with our clients. And our proposal gives them a fair idea of what to expect from the final job.
This proposal contains the following details:
The job layout
Its dimensions
The specifications of the materials that we propose to use
A 3D render approximating the final look
The cost of the project
And images of similar jobs executed in the past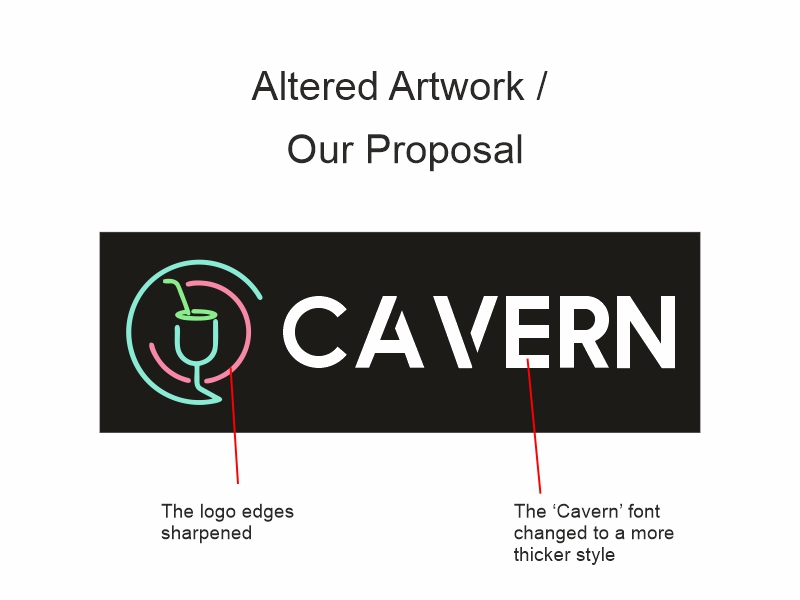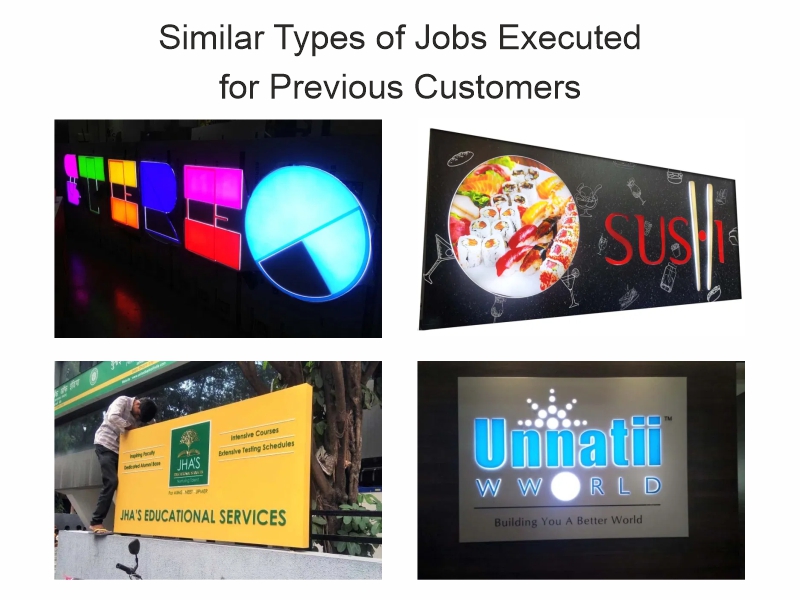 Such a proposal also includes minor corrections/alterations to the logo if necessary. On the 3D render, we highlight the elements that will have depth. We also mark out the parts that will glow (and those that won't).
Finally, there are some elements that are way too small to be cut from acrylic. For example, the text showing the company address may be set in 16 or 12 point font. This is less than 5 mm in height. And such text can only be printed in a flat two dimensions.
Our proposal highlights such minutiae as well.
This proposal stage involves extra effort. And most of our competitors do not bother to undertake the same. But in my experience, this effort has always paid off. The client is now fully aware of what he will be getting. And this highly simplifies his decision making.
Materials Used for Creating a 3D Acrylic Board
Here is a non-comprehensive list of all the materials that go into making an acrylic sign.
Let's take a quick look at them individually.
Acrylic
Acrylic sheets are available in a variety of qualities, colours and thicknesses.
At Orchid Digitals we only stock high-grade cast acrylic. This premium material looks almost exactly like glass. Furthermore, cast acrylic does not get scratched easily, unlike the lower-end variants.
Also, as I have mentioned earlier in this post, we have an entire album of colours for you to choose from. This is important because a wider choice of shades helps us match your original logo colours precisely.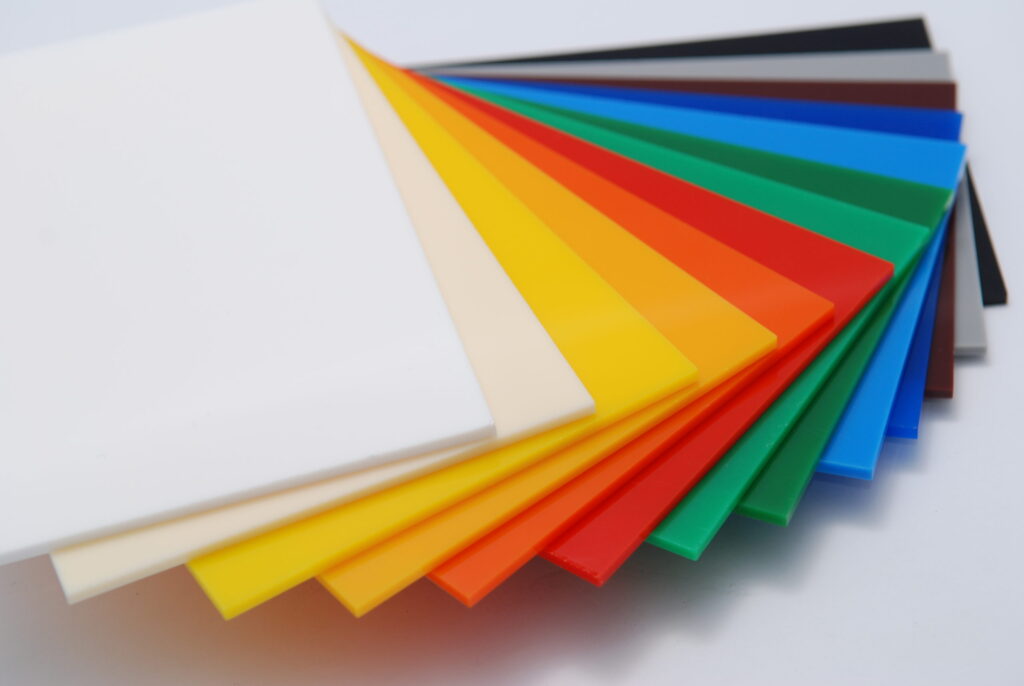 ACP – Aluminium Composite Panel
As the name suggests, aluminium composite panels are made of a thick rubber sheet sandwiched between two layers of aluminium.
Both these materials are weather and heat resistant. They will not rust or oxidise. The thick rubber layer in between imparts strength and rigidity to the sheet. The aluminium foils impart the sheet a shiny metallic look.
ACP sheets are also available in a variety of colours. Here too, we have a ready album containing a variety of shades for you to choose from.
ACP is a highly robust material. So, while the actual logo/letters of our acrylic ACP sign board are created from shiny glass-like acrylic, we use ACP to create the base plate of the sign.
This base plate (mounted with letters on its top surface) is in turn fixed on your office wall.
WPC | Wood Plastic Composite
Acrylic sheets are generally available in thickness ranging from 1 to 10mm. And these thicknesses meet most use case scenarios.
But sometimes, a client is looking for an even thicker sign. Maybe the project specs ask for an inch deep/thick logo(30 mm). Regular sheets of acrylic will not meet this depth requirement. And we now need something else to help pad up the thickness of the letter.
Enter, WPC sheet.
WPC stands for Wood Plastic Composite board. And as the name suggests, this board is made by combining wood shavings, fibres and recycled plastic. The board is lightweight and extremely strong. It can also be used for outdoor, all-weather applications.
But for our purposes, its most important characteristic is that we can mould/cut WPC boards in the shape of any letter or logo.
How does this help? Let me explain.
The letters / logo on our company name board is now fabricated in two layers — a thin top layer of a costly material like acrylic and a thick base layer of WPC.
The shiny acrylic sheet on top is what gives our acrylic name board that uber premium look. And the WPC (cut in the same shape and size of the layer on top), acts as a filler to increase the depth and give our board a high-end 3D look.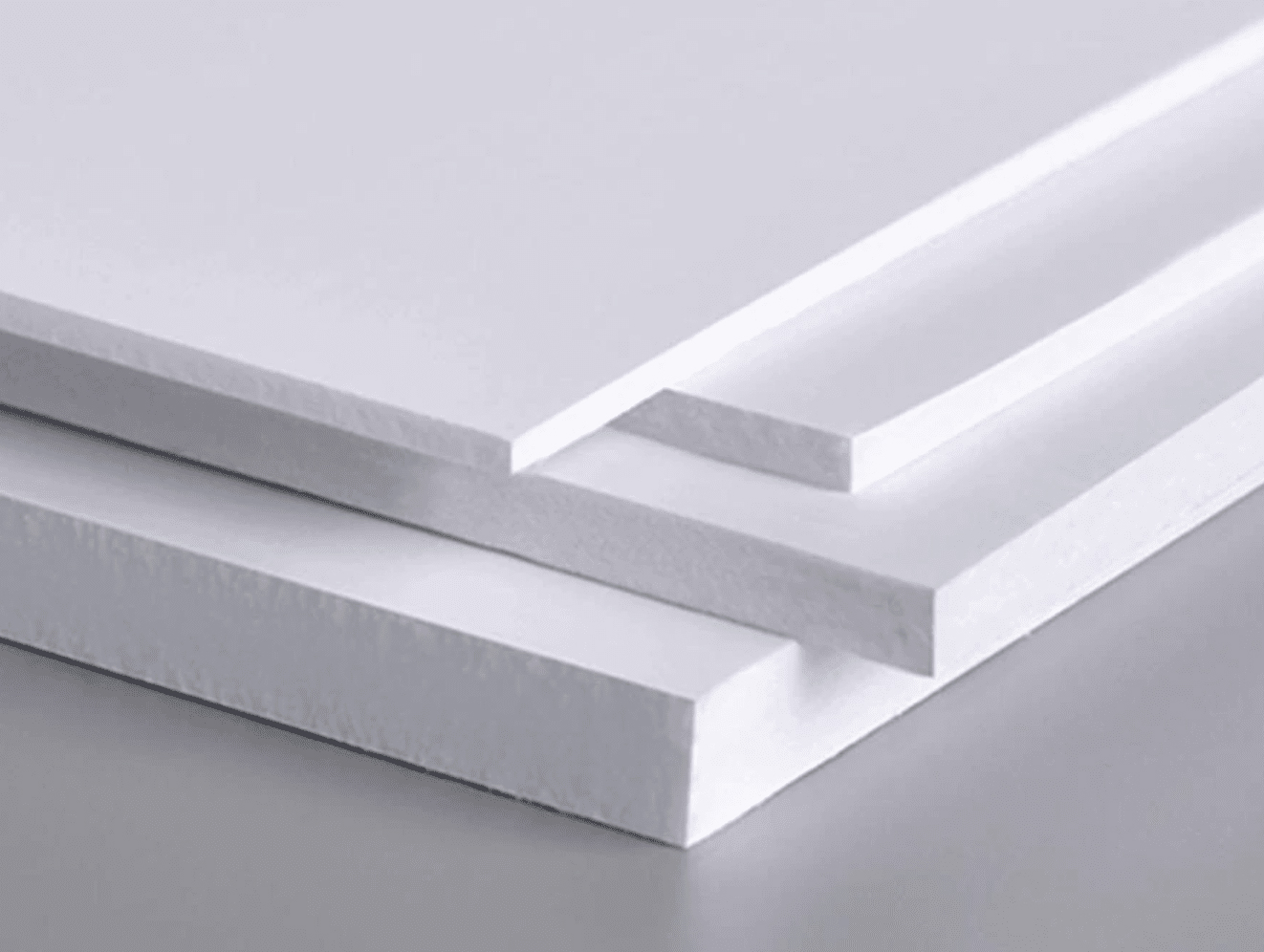 Vinyl
Acrylics are available in a few limited, primary colours. And while these shades get the job done most of the time, the brand guidelines of some companies need an exact match for their logo colour.
For the purpose of colour matching, we also stock rolls of vinyl in a greater variety of shades.
Companies like 3M, Avery, and LG manufacture vinyl in various Pantone and RAL shades. And a choice from these shades helps us perfectly match the original logo colours of the client.
Moreover, these vinyls are calendered and monomeric — another way of saying that they are robust enough to meet exterior grade applications.
LEDs – Light Emitting Diodes
LEDs are the final component in our backlit acrylic name boards. For a back glow, you need a source of light. But traditional tube lights / bulbs won't cut it. They are way too large to fit inside our letters which are at most, a couple of inches wide.
And so, we bring small modules of LEDs, to get the job done.
If your wife (like mine), makes you put up Diwali/Christmas decorations, you already know what LEDs are :-). Our modules work on the same principles. The only difference being that they are much more robust, brighter, and are adapted for industrial applications.
LED modules can vary from one inch to 3/4 inches in length. And in this case, size does matter. The smaller the module, the greater the quantities we can place under the letter. And the greater the number, the stronger the resultant glow.
Also, LEDs are available in different colours. You can opt for a cool white (blueish white) or a warm white (richer looking yellowish-white) tint. And if you're feeling adventurous, we can also offer RGB modules that cycle through all the colours of the rainbow!
LEDs do not run off the standard 220V supply in Indian homes and offices. So, we also provide a separate power supply for the board. Plug the same into your mains and you're good to go.
Laser Cutters & CNC Routers
If you permit me to equate the above listed items like acrylic, ACP, vinyl, etc., with vegetables, our laser cutters and CNC routers would take the place of knives and the chopping board.
These precision tools are what gives shape to your logos and letters.
Our high powered lasers can easily (and accurately) cut large sheets of acrylic. And we have CNC routers in place to shape the more rigid material like WPC sheets. We have also deployed cutting plotters to cut letters/logos out of vinyl.
While operating these machines is of course our lookout, you as the client need to know that these machines work with vector files only. So when your architect/designer mails us your design for an acrylic signage fabrication job, do keep in mind that a .jpg, .tiff, .psd, .png or any bitmap file format will not work.
We need your file in a vector format. Examples of vector files are Corel Draw (.cdr file) and Adobe Illustrator (.ai file). A .eps or .svg format will work as well.
Want to learn more about the difference between bitmap and vector graphics? Do jump to this beautiful article on the same, here.
FAQs | Frequently Asked Questions
Pricing
Costing for acrylic shop boards depends on a variety of factors. Here are the things that will affect the final cost:
The materials that need to be used to create the logo board

Aluminium composite panels (also known as ACP sheets)
The amount of acrylic required to match the shape of your logo/letters
The vinyls used to match your brand colours

The thickness of materials used. A 3mm sheet of acrylic will cost more than an 8mm sheet. So if your job specifications ask for a logo having more depth, the cost of the acrylic board may go up.
Detailing required: If the logo is highly intricate, it will take us longer to cut the same. This extra effort impacts the price as well.
We sell acrylic name boards at Rs.700/- a square foot plus taxes. But the price can vary based on the factors mentioned above. While there is no standard industry rate for this product, we have put in the example below, to help with your budgeting.
We have assumed a signage of size — 2 feet X 3 feet.
Board with base plate
₹700.00/Sq. Foot*
Premium 3D Name + Logo board that can be drilled on smooth and rough walls
Example Costing:
₹4200.00 for a board of size 3 feet width X 2 feet height*
Stand alone letters
₹600.00/Sq. Foot*
Premium 3D Name + Logo board | Stand alone letters that get directly pasted on smooth surfaces
Example Costing:
₹3600.00 for a board of size 3 feet width X 2 feet height*
Board with base plate
₹1000.00/Sq. Foot*
Premium, Lit, 3D Name + Logo board that can be drilled on smooth and rough walls
Example Costing:
₹6000.00 for a board of size 3 feet width X 2 feet height*
Stand alone letters
₹1200.00/Sq. Foot*
Premium, Lit, 3D Name + Logo board | Stand alone letters that get directly fixed on smooth surfaces
Example Costing:
₹7200.00 for a board of size 3 feet width X 2 feet height*
* Please Note:
The rates quoted above attract 18% GST.
The above rates do not include installation. If required, installation services can be provided within Pune City, at an extra cost.
Shipping and Delivery
Acrylic name boards can be delivered anywhere in India.
Delivery charges are extra and will be communicated to you once we receive the delivery address.
Get a Quote for Acrylic Name Boards
Please leave us your details and we will respond promptly
Similar Products
Acrylic Sign Boards. Premium backlit shop signs to give a…
Gold / Silver Laser Etched Plates
Custom metal name plates engraved in gold & silver finish….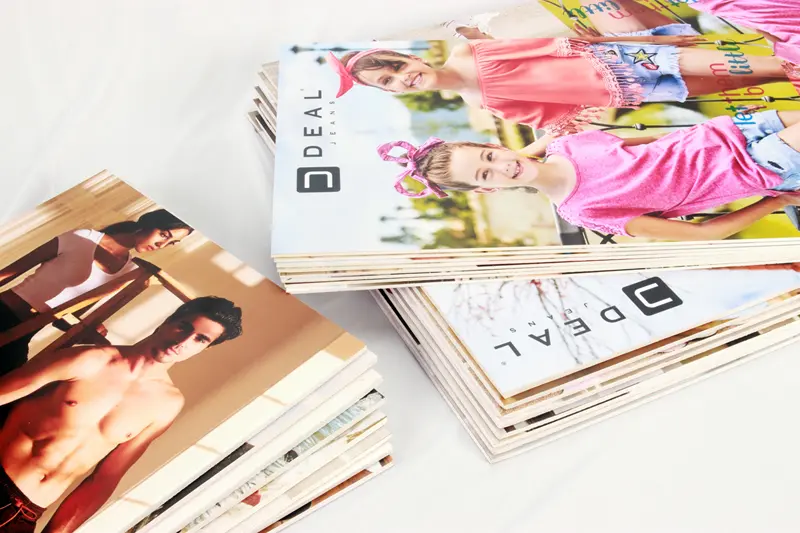 Sunboard / Foam Sheet Prints. Thick, Rigid Yet Light-weight. Communicate…