Gold & Silver Engraved Name Plates with Rich Metallic Finish
Write your name in Gold (Even Silver & Copper)
Gold & Silver metal name plaques bearing your name/custom text
Low-cost yet rich-looking solution for office and commercial indoors
Product made of light-weight plastic sheets with a metallic coat on top
Gold, silver, copper, bronze, and other variants available
Light-weight and easy to paste on wood and glass panels.
Metal Name Plates starting from ₹6 per square inch
Gold / Silver Laser Etched Plates – Detailed Description
Color digital prints on white paper or vinyl look great for most commercial advertising jobs. But they might not be appropriate for certain interior decoration applications where a much richer and premium look is required.
For example, the nameplates on the office cabins of a corporate office can be created out of ordinary white sticker paper. But this will look too low end. An ordinary print on white paper can be used to impart information about a museum exhibit. But this print too, will look tacky and cheap, not quite reflecting the feel of being in a museum.
What's needed in both the above cases are gold or silver metal plates with the information etched on them. A product that's commonly referred to as a 'metal engraved name plate'.
Metal engraved nameplates are also called gold /silver engraved nameplates, owing to the metallic sheen they possess. With text and logos etched on their surface, they look jaw-droppingly beautiful and will easily enhance your office interiors.
But traditional engraving and acid etching methods for metal sheets are too expensive and time-consuming. Moreover, acid etching works out to be too expensive for short order runs and jobs having small quantities. Enter, metallic laser engraving sheets.
Applications of Laser Engraving ABS Sheets
This laser engraving sheet mentioned above is also referred to as 'laser ply' and 'laser engraving ABS sheets' in the printing industry. At Orchid Digitals we stock metallic ABS sheets in various metallic finishes like gold, silver, bronze, copper, etc. You can read more about this material in the next section.
As a matter of fact, apart from gold and silver ply, we can make classy looking nameplates from black/white acrylic and even reflective mirror acrylic, as shown in the image below.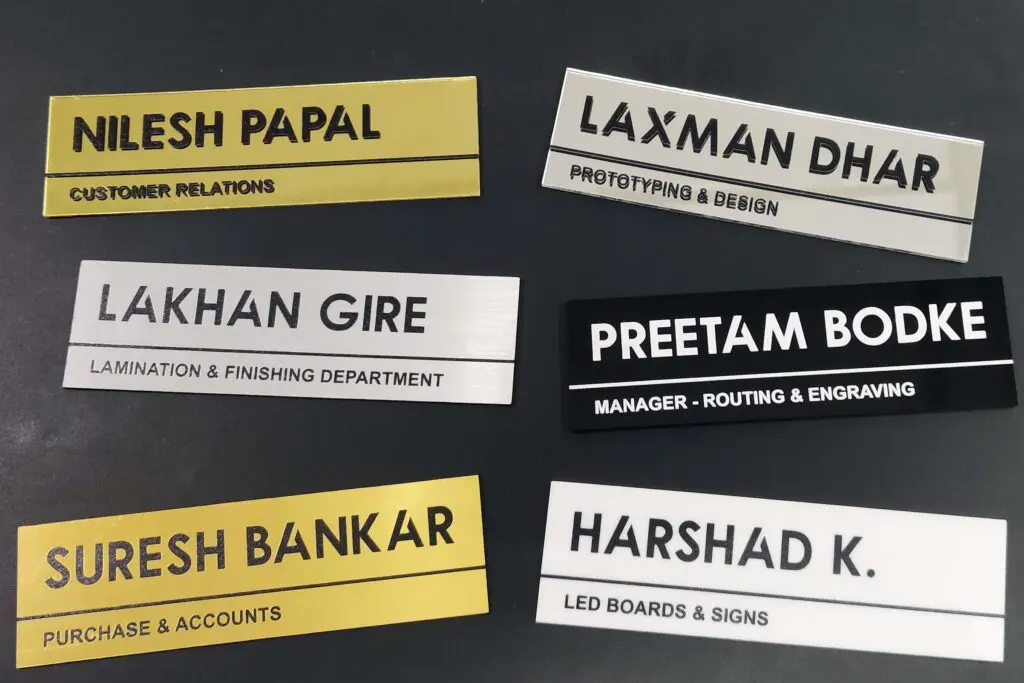 Our customers use these gorgeous looking metallic sheets for the following applications:
Beautiful looking personalized metal nameplates mounted on cabin doors of corporate offices
Information panels fixed in front of exhibits, murals, paintings, and other large displays in a museum
Direction plates for hotels, malls, and large offices
Gold/silver engraved metallic name/room number plates for hotel rooms
Winner's names etched on the pedestal of large trophies
Company names and logos for pasting on high-end presentation folders, files, diaries, hotel menus, etc.
Company logo cutouts having a metallic finish for pasting on products
Jaali/pattern designs for interior decoration applications
Ganpati icon cutouts for wedding cards and invites
High-end product labels and product tags
Metallic Laser Ply – The Material Used to Create Gold and Silver Metallic Etched Plates
Strictly speaking, laser engraving metallic sheets are not entirely made of metal. They are actually composed of two layers laminated together. The lower layer is made of a 3 mm thick, deep black coloured, smooth and flat sheet of plastic. This sheet is coated with a metal foil on top. This foil comes in a variety of colours like gold, silver, bronze, copper, etc.
More importantly, this metallic foil is shiny, reflective, has a brush finish and in short absolutely beautiful to look at. So when you look at the sheet from the front, you see a rich looking metallic panel. And when you look at the panel edge wise, you can see the lower layer of black plastic.
The benefits of plastic based laser engraving sheets over metal are as follows –
Laser engraving sheets look like highly polished metal plates.
But since they are made of composite plastic they are extremely lightweight. Small plates made out of this material can be easily stuck on smooth surfaces or drilled on rough walls.
Moreover, as we will see in the following paragraph, they can be easily cut into various shapes and etched with highly intricate designs.
Laser engraved ABS plates are significantly cheaper than anodised metal plates but have the same rich and shiny look
This material is maintenance free. It does not rust or degrade over time. Just wipe it with a wet cloth and it becomes as good as new.
Short order runs / jobs of small size and quantity can be commissioned on laser ply. This may not be possible on actual metal sheet plates which require multiple steps in production like stencil cutting, acid etching, etc.
How are Metallic Finish Name Plates Engraved / Etched?
Laser engraving plates, as the name suggests, are specially optimized for use with laser etching and cutting machines. Laser machines use a high powered laser beam to cut and etch a variety of materials like paper, wood, plastic, acrylics, rubber sheets, etc. For those seeking in-depth information on the same we have a very detailed page about laser engraving and cutting here.
Metallic laser engraving sheets are actually a combination of a gold / silver leaf coated on top of a plastic sheet. This sheet has a thickness of 2 / 3 mm and can easily be cut by laser machines. This enables us to fabricate rectangular panels and plates out of this material. We can also cut laser engraving sheets into non-linear shapes like company logos.
Cutting involves firing the laser beam through and through the material. But at a lower power setting, this same laser machine can be used to etch the surface of the laser engraving ABS sheet. Etching involves scratching the surface of a material to reveal a different color from beneath.
Laser ply sheets are a combination of two different materials having different colors. The ply/layer on top is a shiny metal foil. The layer beneath is a deep, black colored sheet of hard plastic. So when we scratch off the thin metal foil on top, a dark black color shows up from beneath. And using a tightly focused laser beam to scratch off the top surface is exactly what a laser engraver does.
The computer file/artwork containing the text and line art is loaded onto the digital laser machine. The machine then fires a laser beam to burn away the metal coat on top. And this reveals the deep black layer beneath, in the form of the fonts in the art file. What we get is black colored text etched into a gold or silver metal plate. And hence, the name laser-cut metal nameplate.
How Are These Laser-Cut Metal Name Plates Installed?
Laser engraved metal plates are 2-3 mm thick and pretty light in weight. You can use two-sided tape to paste them onto any smooth surfaces like glass partitions or wooden office doors. In fact, we apply two-sided tape on the plate on request to make it very easy for you to install the plates. Alternatively, These plates can also be drilled and fitted with screws on walls. For large-sized plates, we can even increase the thickness from 2 mm to 5 mm and more. This plate with increased thickness will cost extra.
What Kind of Files / Artwork Are Required for Creating Personalised Metallic Finish Name Plates?
When we laser-etch a job on metallic plates we get the traditional engraved look and feel. Lasers trace out a path on the objects they are fired upon. This path could be in the shape of fonts or line art. Hence laser engraving can only reproduce text and line diagrams in a single color. You cannot use engraving methods to reproduce images, color photos, or bitmaps.
That is why for laser engraving purposes we need the artwork in a vector format. Bitmap files like .jpgs, .tiffs, .gifs, .pngs, etc. will not work. The text has to be typed and laid out in a vector software like CorelDraw or Adobe Illustrator. Both these softwares have the facility of exporting the files in .eps format with which we can then work to process the job.
FAQs | Frequently Asked Questions
What Is the Cost of Laser Engraved Metal Plate Jobs?
As the name 'personalized metal name plate' suggests, the size of the finished job varies from person to person, and their requirements.
Here are some examples:
A nameplate 3 inches high and 8 inches wide.
A logo cutout may be a circle of 2 inches in diameter.
A large information plate in a museum could measure 2 feet (24 inches) X 3 feet (36 inches).
Here are the rates applicable for getting your custom metal name plate engraved at Orchid Digitals. You just need to give us the engraving file in the format mentioned above.
3 inches X 6 inches
₹90.00/piece*
Small sized name plates to beautify your office
Example Costing:
₹1800.00 for 20 plates*
4 inches X 8 inches
₹160.00/piece*
Small sized name plates to beautify your office
Example Costing:
₹3200.00 for 20 plates*
6 inches X 12 inches
₹360.00/piece*
Small sized name plates to beautify your office
Example Costing:
₹7200.00 for 20 plates*
Plates fabricated as per your custom dimensions
₹6.00/Sq. inch*
Ideal for a name boards, lobby board, departments directory
Example Costing:
₹2592.00 for a board of width 18 inches X height 24 inches*
For example: You have a name plate job of these dimensions – 4 inches height and 8 inches width. The calculation of pricing therefore turns out to be –
4 inch (height) X 8 inch (width) X ₹ 6 (rate) = ₹ 192.00 (+ 18% GST)
* Please Note:
The rates quoted above attract 18% GST.
The minimum order quantity for this product is 500 square inches.
These plates are 2 mm thick plastic sheets with a thin metal foil on top.
If you need a large sized plate with more thickness, do let us know and we'll get back to you with the costs of the same.
Shipping and Delivery
Laser engraved metallic finish plates can be delivered anywhere in India.
Delivery charges are extra and will be communicated to you once we receive the exact delivery address.
Get a Quote for Your Laser Engraving on Metallic Plates Job
Please leave us your details and we will respond promptly
Similar Products
Precise laser-cut stencils. Low-cost solution to recreate your patterns &…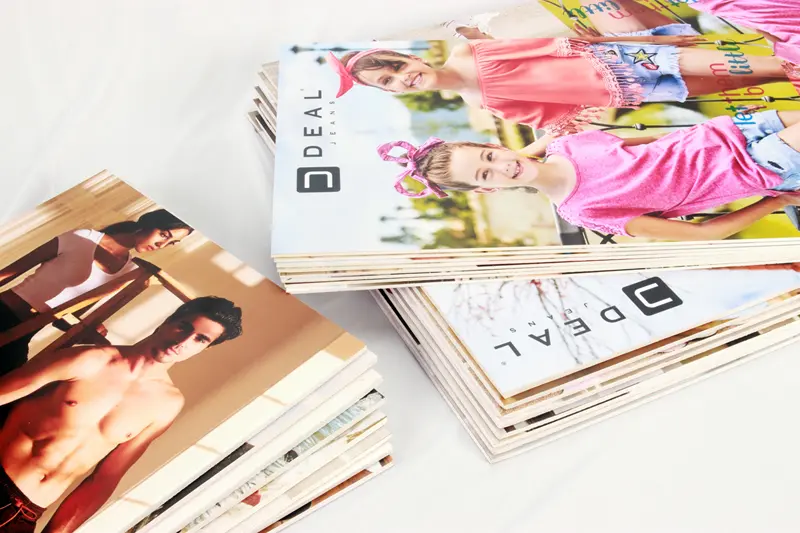 Sunboard / Foam Sheet Prints. Thick, Rigid Yet Light-weight. Communicate…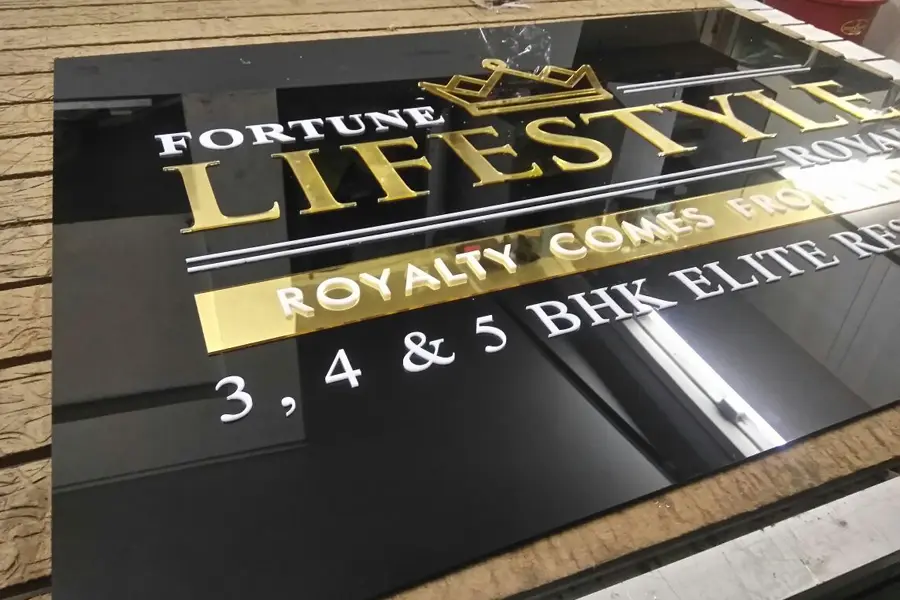 Previous Next Acrylic Name Plates To Showcase Your Brand Flaunt…