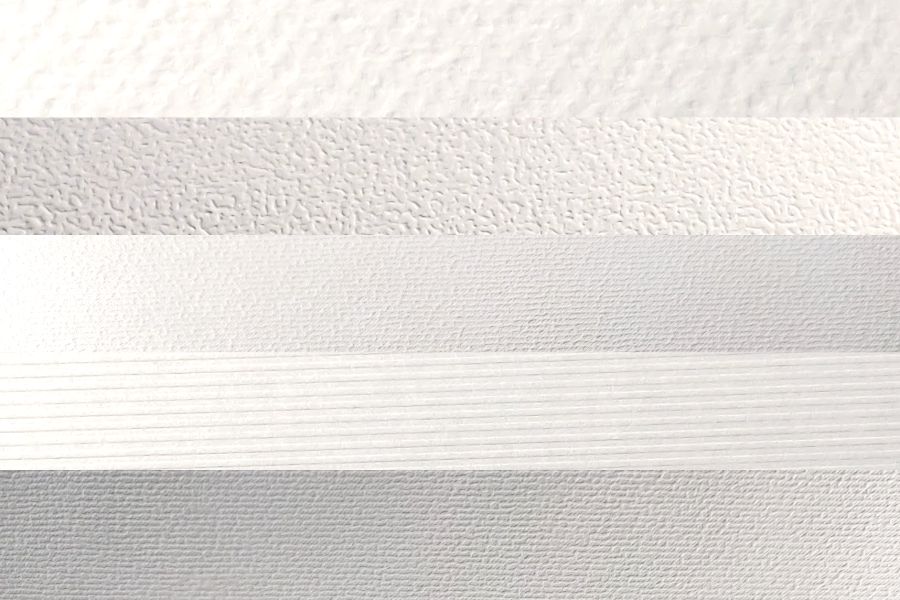 Add a High-End Look & Tactile Dimension To Your Paper Prints
Choose from our ready stock of almost 15 different textures and finishes
Canvas, leather, linen and stucco textures among others available
Metallic finish papers also
Give a highly premium look to your print job
Sheets available in size 12 X 18 inches (A3 Extra)
Sheets in the thickness of 250 GSM – 300 GSM
Ideal for greetings, invites, visiting cards and high-end brochures
Textured paper prints starting from ₹ 40 for a 12 X 18-inch sheet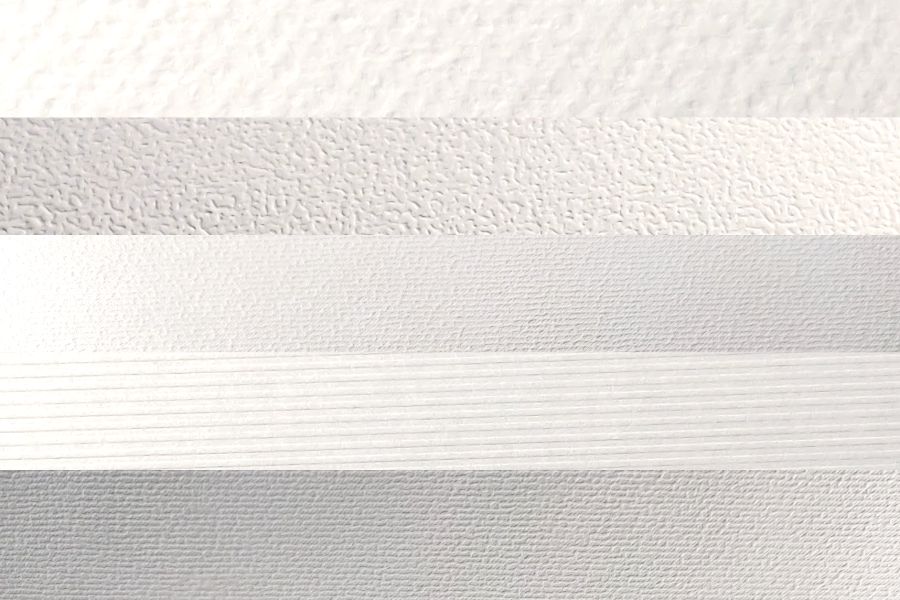 Add a High-End Look & Tactile Dimension To Your Paper Prints
Choose from our ready stock of almost 15 different textures and finishes
Canvas, leather, linen and stucco textures among others available
Metallic finish papers also
Give a highly premium look to your print job
Sheets available in size 12 X 18 inches (A3 Extra)
Sheets in the thickness of 250 GSM – 300 GSM
Ideal for greetings, invites, visiting cards and high-end brochures
Textured paper prints starting from ₹ 40 for a 12 X 18-inch sheet
Textured Paper Prints - Detailed Description
Prints on textured paper look absolutely classy. They give a very rich and premium look to regular print jobs. Plain papers work great when it comes to printing commercial jobs like a brochure or flier. But there are some jobs that need to be given that extra oomph. And that is where textured paper printing comes in.
Consider the following use-cases for example:
A high-quality invitation card
Premium visiting cards
High-resolution family portraits
A brochure selling elite products
Reproductions of hand paintings
Menu cards for a fine dining restaurant
In all of the above cases, textured media will add an upmarket dimension to the original artwork. Print an invitation on a thick card having a 'leather' finish texture. And it's superior look is sure to stand out and hold the attention of the invitee.
A Variety of Different Textures Available at Orchid Digitals
At Orchid Digitals, we stock 250 – 300 GSM thick sheets of paper having lots of different paper print textures for our customers to choose from. These are ideal for post cards, invites, greetings and high end photo posters.
Walk into our store in Pune and you'll be able to browse through an album full of the textured fine art paper. And for those of our online customers (who cannot come over to our place), here are high-resolution images of the different types of printable textured paper that we have at our press.
Finos Rendezvous textured paper is pretty popular among graphic artists. This paper is used for creating premium brochures and visiting cards. The paper here does not have any regular textured pattern. It just has a rough and uneven surface very much like vellum. This texture is also referred to as 'Natural Evolution Paper' in the print industry.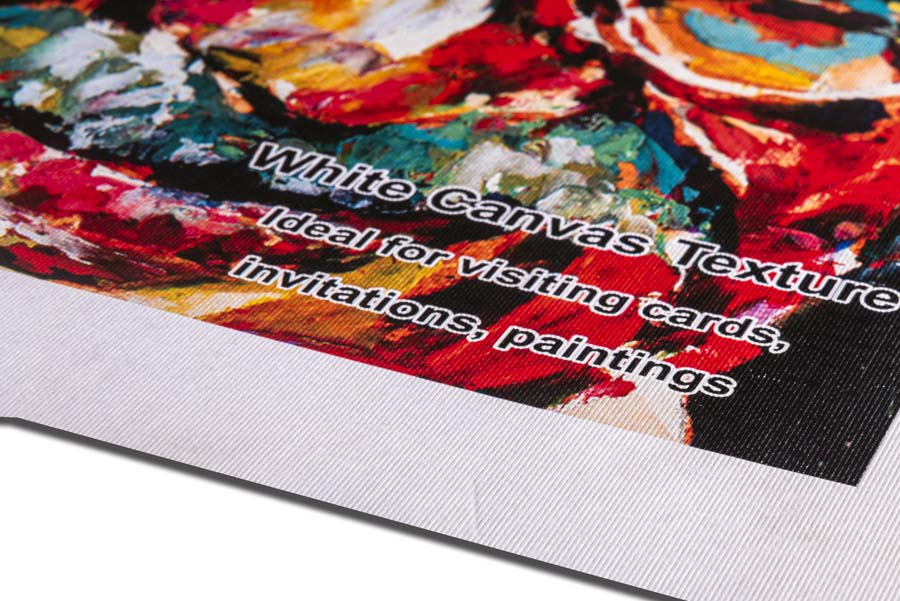 A favourite among art enthusiasts, this texture closely mimics natural cotton canvas paper prints. It is widely used to reproduce paintings.
This texture is exactly the same as the white canvas paper prints which are textured paper except for the fact that it has a slightly creamy tint. This off white base colour adds a slightly yellow hue to the prints to make them look richer.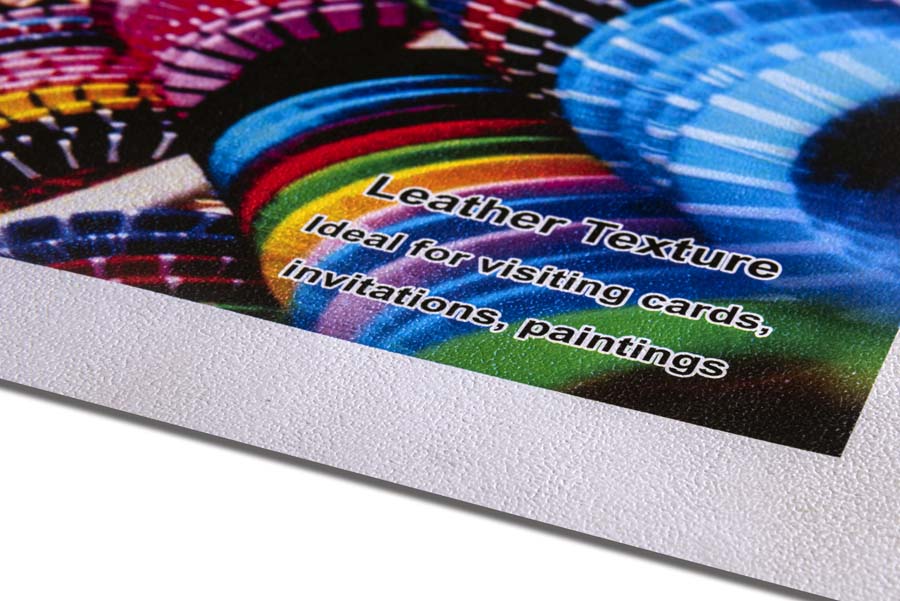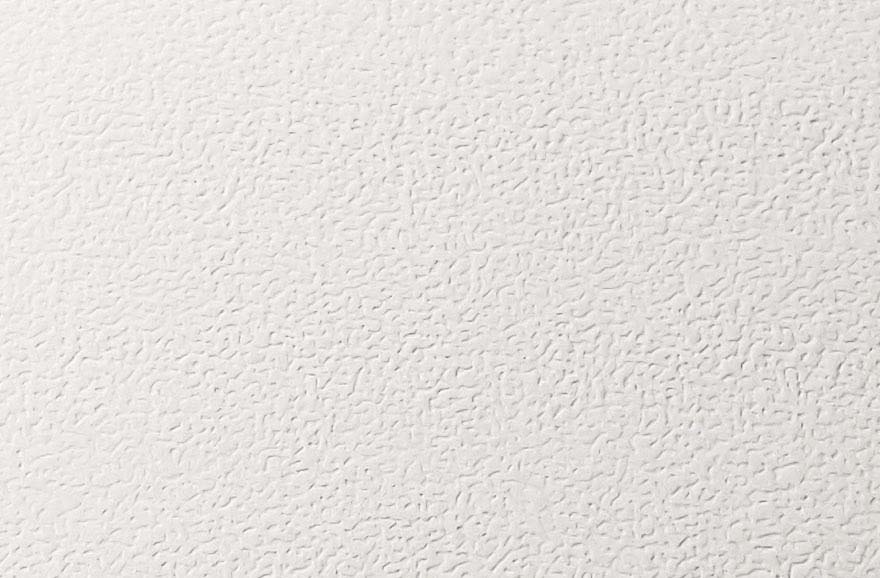 As the name suggests, this texture closely mimics the surface of leather. Greeting cards and invitations printed on leather textured paper look great.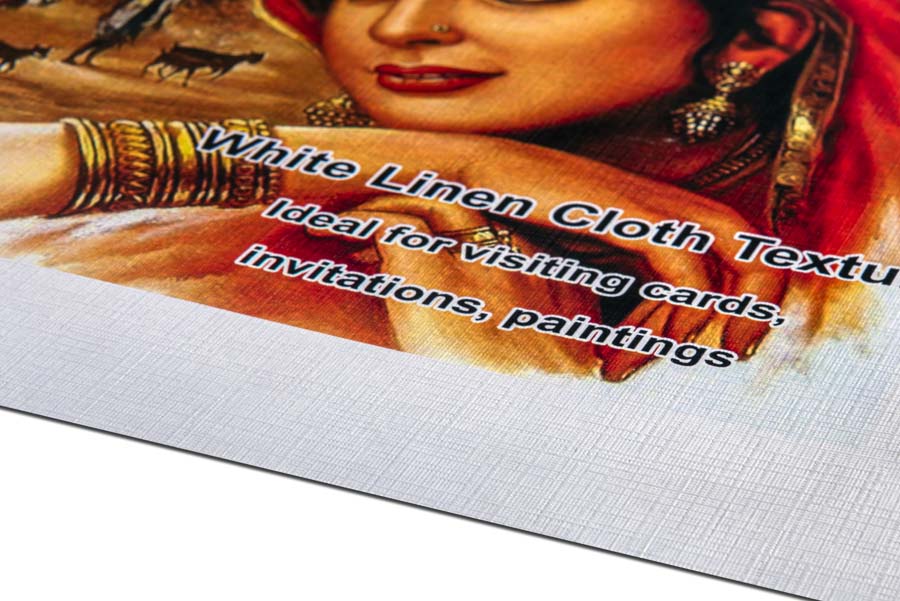 This texture resembles cloth. It has got a faint weave pattern is my personal favourite. Linen textured paper is a great choice too when it comes to reproducing paintings.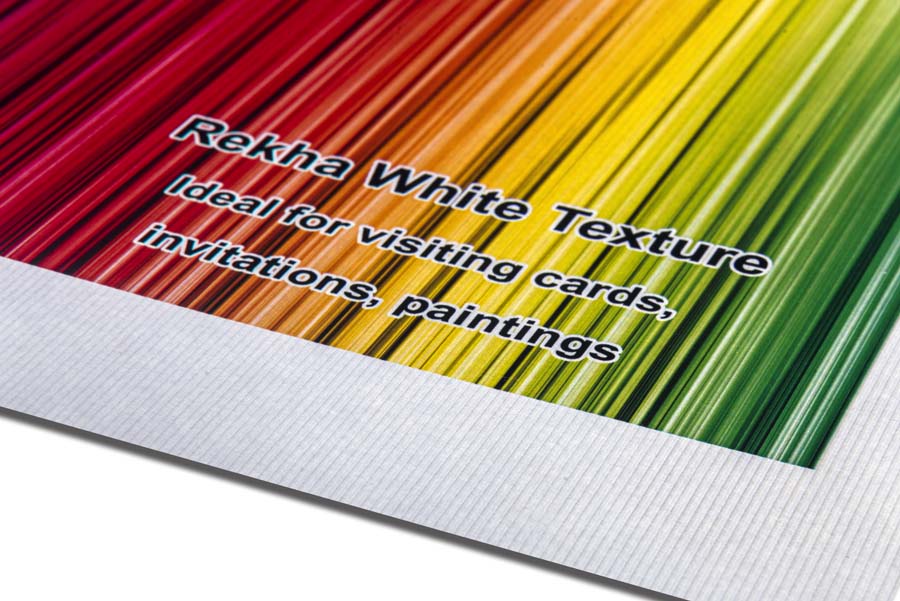 The word 'Rekha' stands for lines in Hindi. And the texture on this paper is made of vertical lines running parallel to each other. Rekha texture is considered slightly more sober than its counterparts. Business documents like brochures, visiting cards are made from this texture.
This texture is creamy, off white version of the white Rekha texture. As mentioned above, a light cream base paper adds a natural hue to the print and is really easy on the eyes.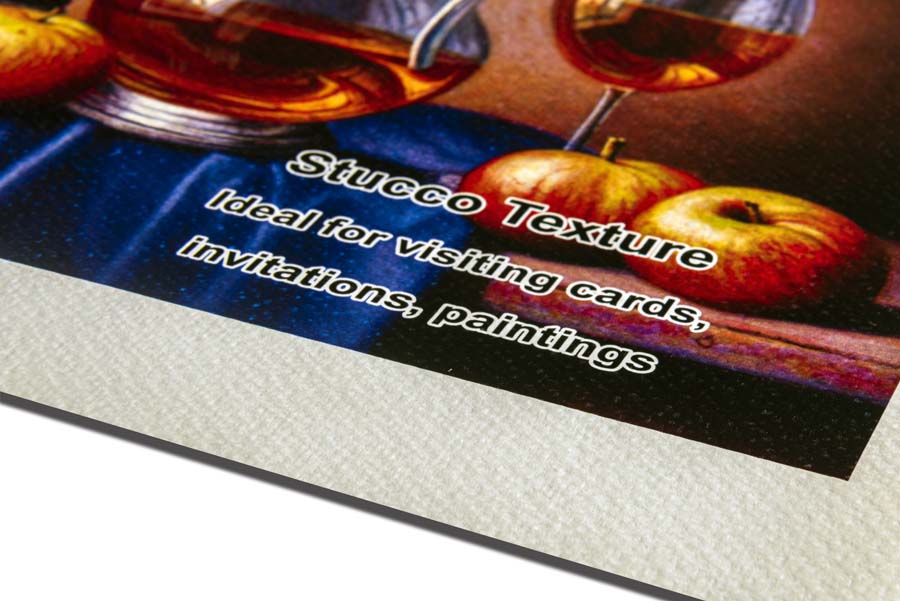 This texture closely mimics the rough stucco finish of a wall. There is no pattern to the texture and the distance between the pits of the stucco finish is random. This paper too is a great choice when it comes to creating premium business brochures and stationery.
Cloud Texture / Hammer Texture
The sheet of paper here has a cloudy finish. It is also known as 'Hammer' texture because the depressions on the surface look like they have been created by a metal sphere hammered on to the same. While small text cannot be easily read on the cloud textured paper, large images look great on the same.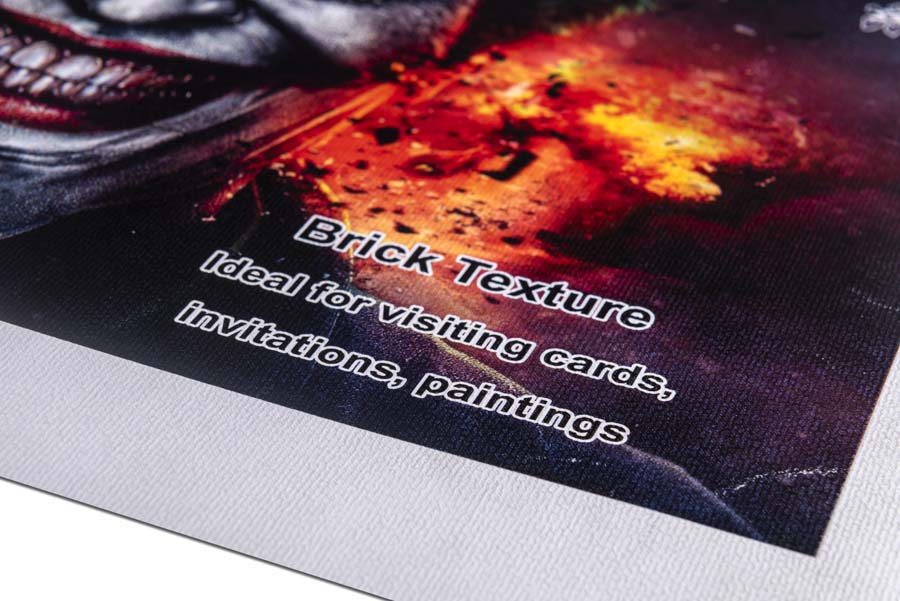 This paper has a brick wall like texture. Images with fine text get reproduced well on this option. Some architects also prefer this texture to reproduce their drawings wherein they manually pencil in their edits on the printed sheet
Paper is made of wood pulp. And this pulp is further bleached with chlorine to give the paper its white colour. Kraft is the unbleached eco-friendly version of industrial writing printing papers. This naturally brown paper is the ideal choice of people looking for an eco-friendly option for their jobs. Kraft paper prints are also used widely for packaging applications. The brown-coloured grocer's bag and courier envelopes are all made of kraft paper. Black coloured text and images look great on this paper. While you cannot technically call this paper textured, kraft paper does have a slightly rough finish.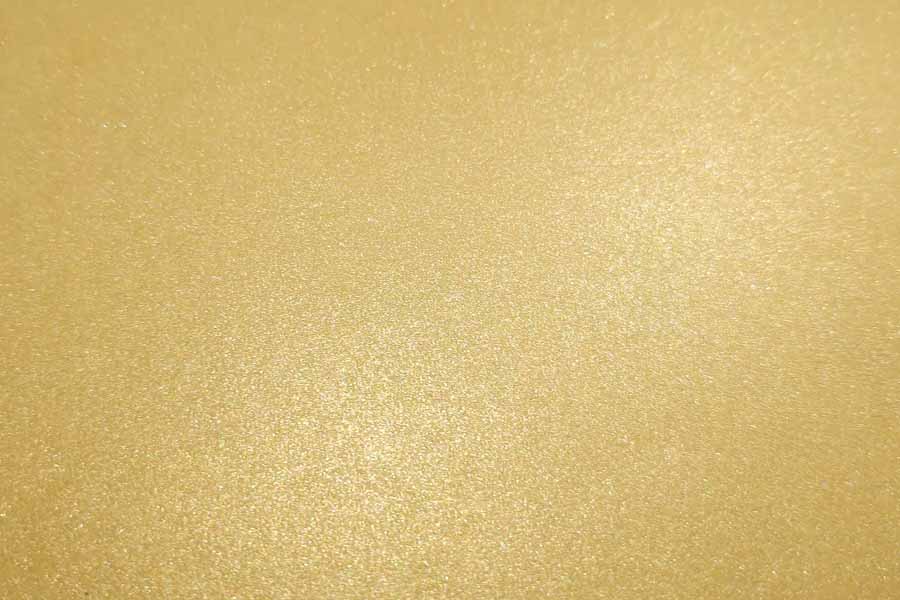 This paper has a slightly golden metallic tint. Golden metallic paper is a great choice for festive applications like greetings and invites. It is also widely used for printing awards and certificates.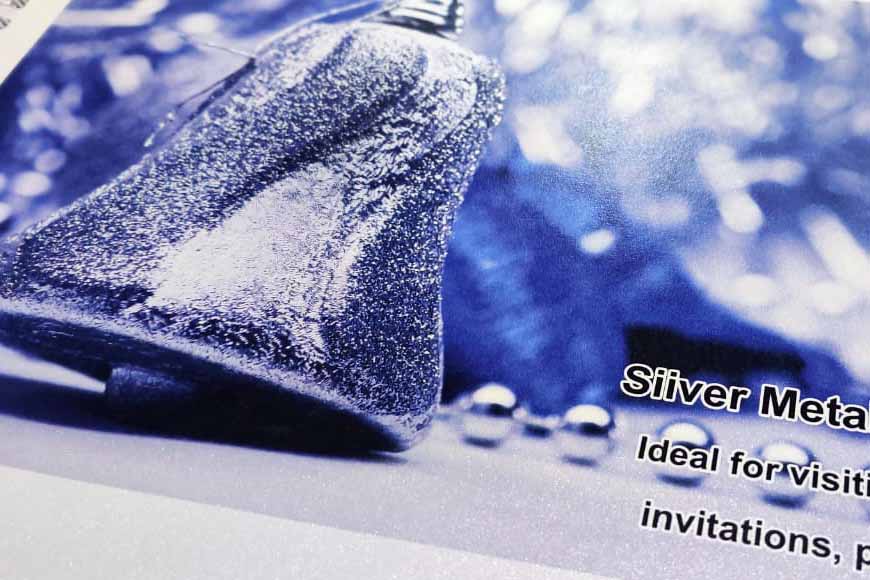 This paper has a silverish tint. Silver metallic paper is used to reproduce images with Steel or chrome finish tones. For example, a close up of a swiss watch or car with a lot of chromium ornamentation will look great when printed on silver paper. This paper, like it's golden counterpart, is also great for greetings, invites, and certificates.
Prints on Sticker Papers Which Look Like Metallic Foils
Apart from textured papers and natural evolution paper, we also stock sticker papers having a metallic foil finish. These textured paper prints are primarily used for creating premium product labels.
These sticker sheets are widely used for creating address labels of wedding invites. Text printed in red on top of the golden paper looks absolutely fantastic.
The chromium steel look of this paper is ideal for product labels. This metallic sticker is also used by many people to create machine plates. Machine specifications written in the bold black text stands out on this steel finish sticker.
How Do We Process Textured Paper Print Jobs?
At Orchid Digitals, we work with high-resolution digital colour presses. These presses primarily output printable textured paper jobs on sheets of paper, of size A3 or A3+ (12 inches X 18 inches). Most digital printing jobs (like brochures and leaflets) are processed on smooth, coated papers having a neutral white colour. The smooth surface and neutral base colour of the paper ensures high-resolution image reproduction with correct colours.
But textured fine art papers are anything but smooth. Some of these paper print textures also tend to have a slight off white / creamy tint. So it takes a printer with significant prowess to create high-quality images on uneven surfaces. And that is where our machines' capabilities come into play.
Our Konica Minolta digital presses run on microscopic-sized polymeric toner particles. These particles literally melt into the pits and 'holes' of a textured surface. This ensures a smooth coat of ink on even the most deeply textured media. A combination of our high-end printer and premium grade textured papers can now result in some pretty stunning looking jobs.
Textured papers are notoriously difficult to capture in a photoshoot. We found that different lighting angles affect the way the various textures look, on screen. In addition to looks, textured papers also have a tactile feel that is difficult to reproduce on the internet. So consider all the above images representational. And before processing your print job, do drop in at our office a source a few sample prints to check what the final prints look like. The same argument stands true for metallic paper prints as well.
What Is the Cost of Textured Paper Printing?
Prints on textured papers, the natural evolution paper, are charged per sheet of size 12 X 18 inches. These sheets are 250 gsm – 300 gsm thick. Hence they are ideal for creating invites, greetings, visiting cards and brochures. The sheets can also be printed on a single side or back to back.
Textured and Metallic Finish Papers
of size 12 X 18 inches

Cost for Single Side Print*

Cost for Printing on Both Sides*

Buff / Off White Canvas Texture

Buff / Off White Rekha Texture

Golden Metallic Foil Sticker

Silver Metallic Foil Sticker
* Please Note:
The rates quoted above attract 12% GST

Prices mentioned above are per sheet. Finishings if required will be charged extra. For example, if you need to cut and crease a large print and convert it into smaller sized greeting cards. Do mail us your job specifications for pricing on the same.
Textured paper prints can be delivered anywhere in India.
Delivery charges are extra and will be communicated to you once we receive the exact delivery address.
Get a Quote for Your Prints on Textured Paper Job
Please leave us your details and we will respond promptly