Cut Out Standees To Attract Customer Attention at POS Locations
Unique Idea to Breathe Life Into Your Sales Promotion
Display stands in the shape of products, company logos, & celebrities
Ideal for parties, events & selfie-booths
Made out of light-weight sunboard / rigid plastic sheet
Unique & rarely used idea to boost sales
Pricing starts from ₹150 per sq. ft
Shape-Cut Standee – Detailed Description
A person standing in a commercial space is surrounded by ads and marketing messages. And all of these advertisement visuals are, without exception, either square or rectangular in shape. Also, with so many ads thrown in the client's face, most of them do not even register in the customers' consciousness. So what's needed urgently is a solution that will make your message stand out and grab customer attention. Orchid Digitals provides Shape Cut Standees, a product perfectly positioned to take care of the above problem.
Grabbing customer attention is perhaps the most important function of an effective ad campaign. And a custom cardboard cutout does this at places that matter most viz. modern retail stores, supermarkets, and other Point-of-Sale locations. As the name suggests, this stand is fabricated in the custom shape of a cartoon, a celebrity, a logo, or even a product. People even use shape cut displays for selfie booths in parties. Place life-sized cardboard celebrity cutouts in the middle of the supermarket aisle, and you have implemented a sure-fire method to generate client interest.
Note: While the solution may be commonly referred to as a 'cardboard display stand', the product we offer is made using a more robust material called sunboard. Hence, we refer to this product as a 'sunboard cut-out standee'.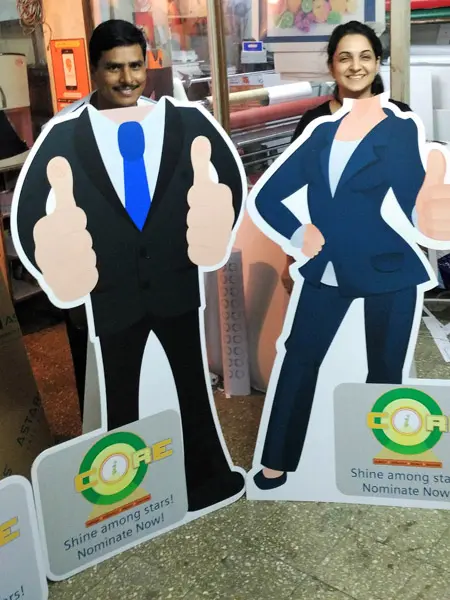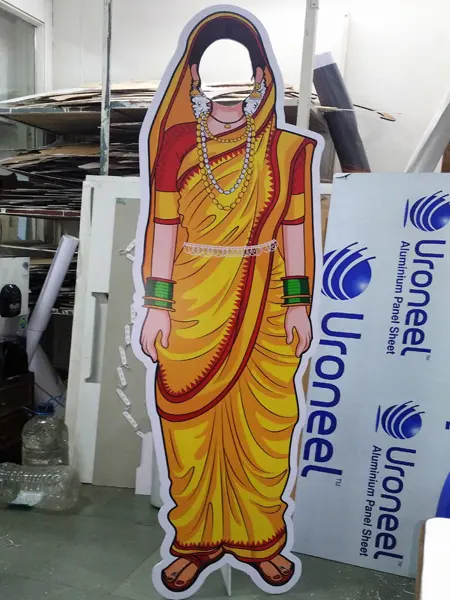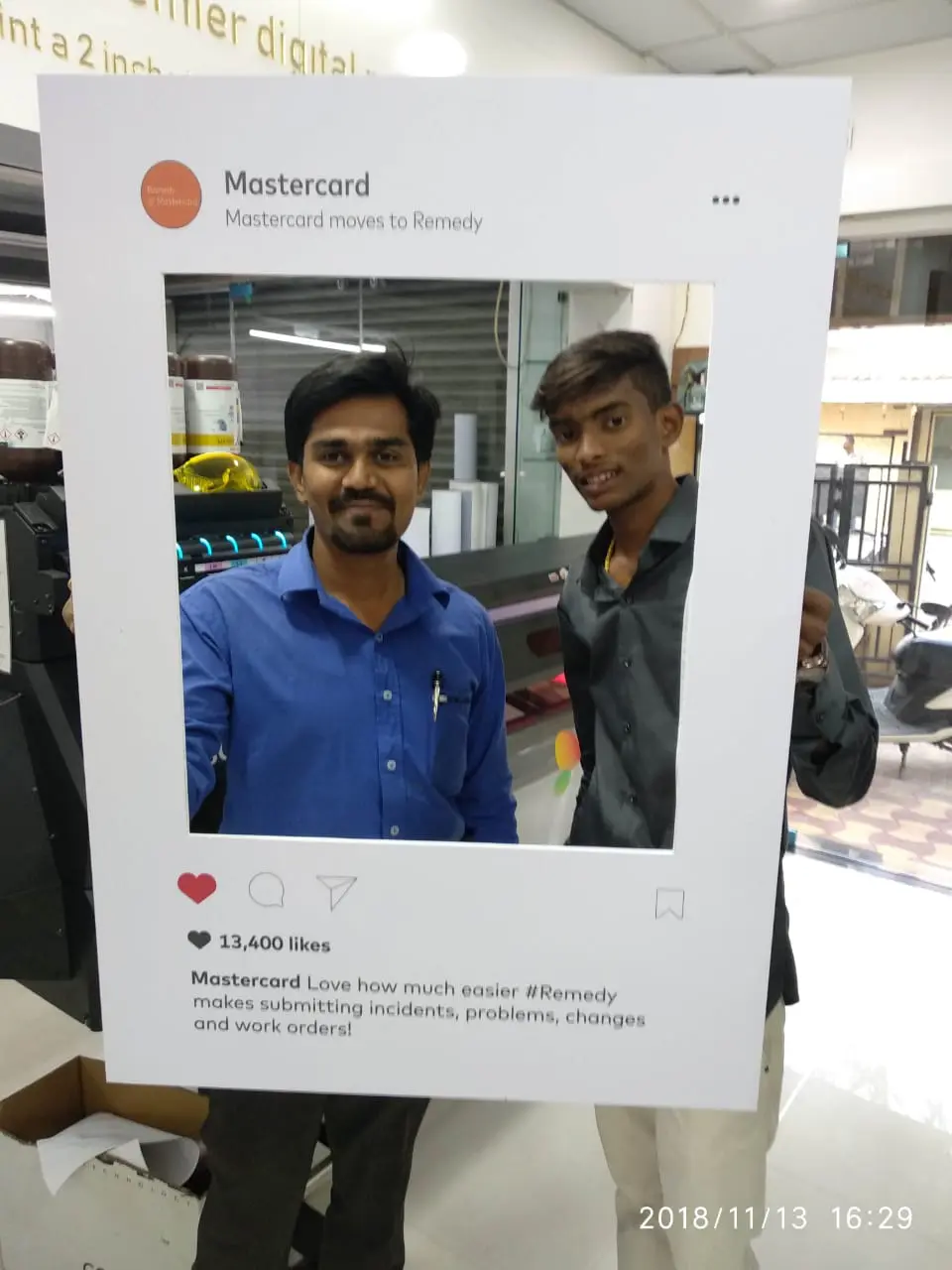 How Are Cut-Out Standees Made?
These custom / life-size cut-out standees are primarily manufactured in the following three steps…
Photo Print on Sunboard
We print the client's artwork on a material called 'sunboard'. The print is of a very high resolution and is generated on our wide-format inkjet printers. Sunboard prints are smooth, rigid, and extremely light in weight. They are also pretty strong and difficult to break. These prints are further laminated for protection from dust, scratches, and water damage.
Shape Cutting
The printed sunboard sheet is square or rectangular. So we now need to cut it in the desired shape. This is done on our CNC router. The router comes equipped with heavy-duty drill bits which can cut not only the sunboard, but also a variety of other materials like acrylic, wood, MDF, and Aluminum Composite Panels (ACP) in pretty much any shape or contour you want. All you have to do is define the outline of the shape you want. As mentioned above, this outline could be in the shape of a model, a product, a logo, or any other non-linear shape. Do take a look at the video below to see our cutting router in action.
Back Support for the Cut Out Standee
Finally, the cut-out standee is supported on the back-side to enable it to stand erect. We have two options for supporting the stand:
A strong metal frame fabricated in the shape of the stand and attached behind the print.
A foldable sunboard flap-stand very much like the flap stand on the back of your tabletop photo frames. These flaps open perpendicular to the back of the display board, to make it self-supporting. You can fold these flaps back to a flat position, once your event is over. This makes storage and transportation easier.
Metal framed prints are strong but heavy and difficult to transport from place to place. Sunboard flaps on the other hand are more economical but light in weight. Hence, go for a metal framed stand if you need a sturdy long lasting product. On the other hand, opt for a flap stand for a more economical option.
2-sided Variant for Shape-Cut standees
We can also create a 2 sided cut out standee. Here the print is pasted on both sides of the panel. The sun board used will have to be thicker (to increase rigidity ) and in place of a flap stand on one side, we use a base stand. Shown in the pictures below are two-sided standees made for Devtech International's Singapore exhibition…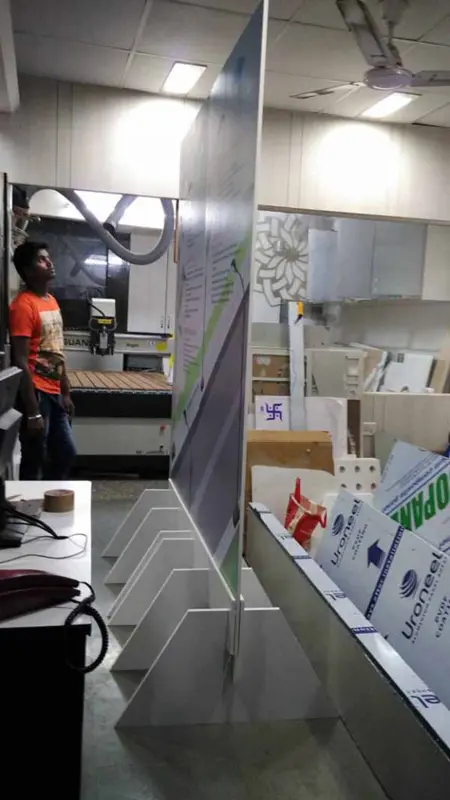 Benefits of Shape-Cut Standees
Attractive & Eye-catching: Shape cut standees are guaranteed to grab more customer attention and interest than a regular shaped display.
Value for Money: Shape cut stands are pretty economical and cost about as much as a rectangular-shaped stand.
Custom Shape: The biggest win comes in the form of high customizability in terms of the shape. The only extra effort you need to take is at the time of the design, when you get to define the cutting shape.
Portable: Shape cut standees are light in weight and can be easily transported. They can also be stored for later use.
Easy to Set-up: These display solutions require no expertise for installation. Any shop floor manager can set up the stand in less than a minute.
Varying Applications: Apart from its commercial applications, shape cut stands are also used in weddings, birthday parties, and other fun events.
Selfie Booths
Marketing agencies are increasingly using shape cut standees to create selfie booths. Everybody has seen life sized cardboard cutouts of a bodybuilder or princess with a hollow space in place of their faces. The invitees to the party stand behind these cutouts for photo ops. Shown above are pictures of a similar job done for Siemens India.
Put up a shape cut display stand of a rock star. And in today's age of digital narcissism & Instagrammability of life moments, you'll find teenagers lining up to pose for selfies with the same. Also, if the said rock star is your product's brand ambassador, you have a cost-effective marketing plan working for you.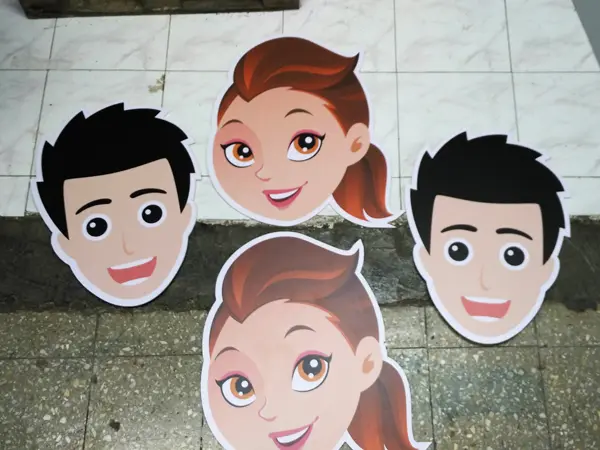 FAQs | Frequently Asked Questions
What Is the Cost of Shape-Cut Standees?
Their material specifications for the stand are as follows…
Matt / gloss lamination
5 mm thick sunboard base
Cut into shape
Sunboard flap on the back for support
Given below are the prices of some standard-sized cut out display stands…
2 feet width X 3 feet height
₹1200.00/piece*
Display stand cut in the shape of your artwork
3 feet width X 4 feet height
₹2400.00/piece*
Print / stand cut in the shape of your artwork
3 feet width X 6 feet height
₹3600.00/piece*
Life size cut out standee
4 feet width X 6 feet height
₹4800.00/piece*
Life sized shape cut stand
Print cut out in the shape of your artwork in the dimensions you desire
₹200.00/Sq. foot*
Display stand cut in the shape of your artwork
Example Costing:
₹2000.00 for a life-sized cutout print of 2 feet width X 5 feet height*
* Please Note:
The rates quoted above attract 18% GST.
Metal framed stands will cost extra. The price for the same will be shared once we have a look at the shape they have to be fabricated in.
Shape cut stands cost ₹150.00 per square foot plus taxes. This means that if your stand is 4 feet high and 2 feet wide, the cost for the same is calculated as follows…
4 feet (width) X 2 feet (height) X ₹ 150 (rate of standee printing)
= ₹ 1200.00 (+ 18% GST)
Shipping and Delivery
Sunboard stands can be delivered anywhere delivered in Pune city and its suburbs.
Delivery charges are extra and will be communicated to you once we receive the delivery address.
Question: Does this product get shipped out of Pune City?
Answer: No. We are sorry. It does not.
Here are a couple of reasons for the same:
Hassle and Risk in Transportation: Sunboard is liable to break in transit. Also, these structures are pretty large and bulky. We need to hire a tempo to deliver them.
Feasibility of Transportation: These boards are a pretty low cost product. So, packing and shipping them over long distances means that our customers will end up paying more for the cost of delivery than the cost of the actual print. Therefore, if you are stationed out of Pune, it makes sense for you to source the print from your local printer. All you have to do is share / take a print of the above post, show your local printer the material specifications and commission a similar job from him.
Get a Quote for Your Cut-out Standee Printing Job
Please leave us your details and we will respond promptly
Similar Products
Foldable easel standee with rigid poster print to display menus…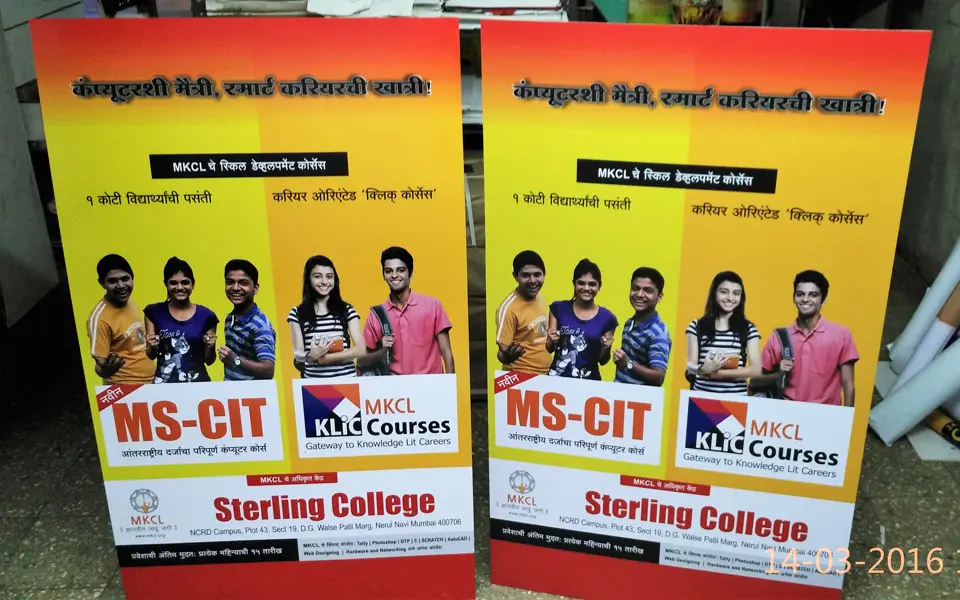 Sunboard standees are an ideal advertising solution. Lightweight yet rigid,…
Rollup standees. Portable, easy to carry banner display solution for…