Larger Than Life Close-Ups of Your Loved Ones on the Panels of a Wardrobe

A Snazzy Print on the Door to Hide the Mess Inside
So you are doing up the interiors of the house. And every room has to be made just perfect. You need to choose the correct shade of paints for the walls, the right designs for the tapestries, and of course, the perfect laminate for the wooden doors of the wardrobes. Interior design ideas for kids' room(s), your room, and parents' room are being searched, researched, and discussed day in, and day out.
Interior decorations shops have hundreds, if not thousands of choices for all of the above applications. But your choice is ultimately limited to the materials and designs in their albums / showrooms. Almost no interior design shop offers to personalise a piece of furniture for you, right?
When you walk into a wallpaper shop they give you an album containing every wallpaper design under the sun. You get to choose from designs containing images of nature, ponies, hearts, flowers, rainbows, and so on. Yet, their offerings are just generic.
But now think about this – what if you wanted to plaster your walls or doors with a humongous 20 foot image of your family?
And just how cool would it be if the furniture in your kids room carried larger than life images of… well, your kids?
This would be taking 'personalised decor' to a whole new level. And this is exactly what I did at my place.
Fulfilling Your Family's Aspirations
Girls of a certain age love everything pink. And my two preteen daughters were no exception. We were shifting into a new house. Everybody was coming up with their own interior decoration ideas.
• My parents wanted a wooden floor in their room.
• My wife demanded a walk in closet and a walkway to the garden.
• And my daughters Isha and Mahi wanted to overdose on everything pink.
The kids (encouraged by their mother) wanted exclusive decor. And generic wallpaper or paint was just not good enough for them. We brainstormed dozens of interior design ideas. But they were all rejected. We visited scores of stores for the right kind of wardrobe, but nothing clicked. Every style and color was rejected.
There were tears. There were recriminations.
And there was a demand for a 'wow' looking wardrobe, the likes which nobody has seen before.
Finally inspiration struck. I wondered how it would turn out, if I could display a super close-up of their faces on the furniture. Wardrobe doors are plain surfaces after all and it's pretty easy for a digital printer like me to print on a plain surface, no matter how large.
Luck was on my side as well. We had recently commissioned some high resolution studio portraits of the sisters and I had just the right photograph in mind for this project. It was time to jump into the interesting concept of personalized furniture printing.
Personalized Furniture Printing Using My Daughters' Photos
What you are seeing above is a three-door wardrobe of roughly 60 inches width (total) and 7 feet in height. Each of the three doors had a width of 19.5 inches. I already had a great, high resolution close-up of both the kids that I intended to turn into a photo on the furniture. The procedure here on was fairly simple and straight-forward –
Resizing the Image to Fit the Wardrobe: I went ahead and resized that picture to the dimensions mentioned above. The idea was to achieve a larger than life effect using an extreme close-up of the girls.
Before putting the job to press, the image was broken into three parts, one for each of the 19.5 inch wide doors. This process is known as tiling. In fact, all wallpapers come in tiles which are then pasted / joined together, on your walls.
Printing the Images: The next step was to print these images. At Orchid Digitals, we have very high resolution inkjet printers in house. I chose my trusty HP 5500 inkjet photo printer to generate these photos for furniture printing. Apart from its high resolution output, this machine is also known for its vibrant colors and stunning image reproduction.
Laminating the Photo Print: Laminating the prints was the next thing to do. A lamination film is a coat of plastic given to an inkjet print to protect it from scratches, scuffing and water damage. Remember, this is house furniture that we are talking about. It's going to be subjected to dusting and wiping on a daily basis. So a coat of lamination increases the longevity of the print and ensures that it will not fade or degrade over time.
Installing/mounting the Prints: Finally the loose prints were mounted on a 3 mm thick sheet of sunboard. Sunboard is a lightweight plastic sheet which imparts strength and rigidity to our vinyl photo print. We then used Araldite adhesive to paste the sunboard prints onto the doors of the wardrobes. And viola, one hyper-personalised piece of furniture for two kids and their doting mother, ready to be served!
Apart from the wardrobe, the girls also wanted a pink abstract design for the headboard of the bed. The same print had to continue on the bathroom door frame to give a uniform effect. The overall look was stunning. Also this project became one of my favourite interior design ideas and I recommend that you too opt for it to hyper-personalize your decor.
Have a look at the images below to see the overall effect.
What's the Cost of Personalising Furniture Using Custom Prints?
At Orchid Digitals, we are more into industrial and commercial printing and don't really provide home interior solutions. So, you won't really find 'furniture printing' or 'photos on furniture' in our service portfolio. But since this was such a novel idea and could be used by anyone, I felt that it had to be featured in our 'Interesting Projects' section.
Also, if you liked this idea, you might want to check out this post on our 'Swastik' shaped photo frame.
And in case you are wondering, a project like this does not cost much. The primary component of this project was the printing on vinyl, which was then stuck onto sheets of sunboard. Sunboard printing as a service costs ₹ 90.00 per square foot at Orchid Digitals. So printing on a two-door wardrobe should cost you approximately ₹ 2200.00 (plus taxes).
Becoming an Enabler of Happiness in Lives
While many look at the services we provide at Orchid Digitals as commodities, this particular example expands on that narrative. It reminds us that sometimes, our tech knowledge, equipment, and materials can be combined to bring to fruition, a fabulous idea.
An idea that results in happiness and a look of sheer delight on the faces of your family and loved ones 🙂
So, what do you think about this interior design idea? Do let me know in the comments section below. And if you too want to be the hero of your family, go ahead and print a 20 foot picture of your loved ones. For help/advice regarding the same, simply get in touch.
Looking for any specific product?
Drop us a line. Send us your query. And we'll get back to you with solutions and answers.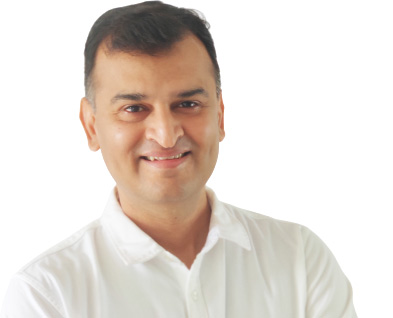 Mitesh Sanghani
Mitesh lives, mostly for Saturdays.
But when forced to work, you'll find him heading Orchid Digitals – a printing press in Pune.
If it's an emergency, try looking for him in the hills behind his house. You'll almost certainly find him… lazing under a tree, with a book in hand.
All our Blogs
This is a section packed with useful knowledge on digital printing and its aspects, interesting printing case studies, and ideas, guides, and tips & tricks on marketing and branding.