Easel standee
3-legged stand to make your product & promotion stand out
Artist's wooden easel stand along with a hi-res sunboard print
Lightweight and can be folded and carried
Set up the stand in less than a minute
Ideal for restaurants & retail stores in malls
Unique & attractive way to show-case your product offerings
Printed easel display stands starting from ₹1800
Easel Stands – Detailed Description
An Easel Standee as the name suggests uses an artist's wooden easel stand to display marketing information or product images. One of the most common places you'll find display easel stands is at the entrance of a restaurant. Walk through any modern mall or high-end shopping street and you'll see these wooden stands holding up a large sheet of rigid menu boards containing alluring food shots.
These wooden easel stands are also used by stores to display information about special offers, discounts, and newly arrived products. The menu or the sales offer which are kept on a display easel entices the customer who is walking by on the street outside. And hence the standing board performs the important marketing function of subliminally urging him to come in and sample the wares…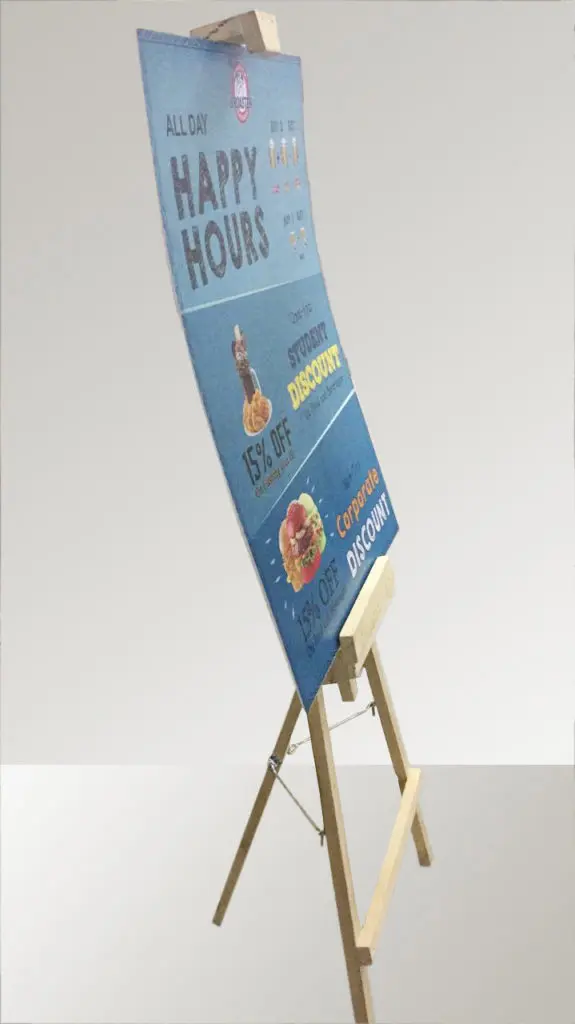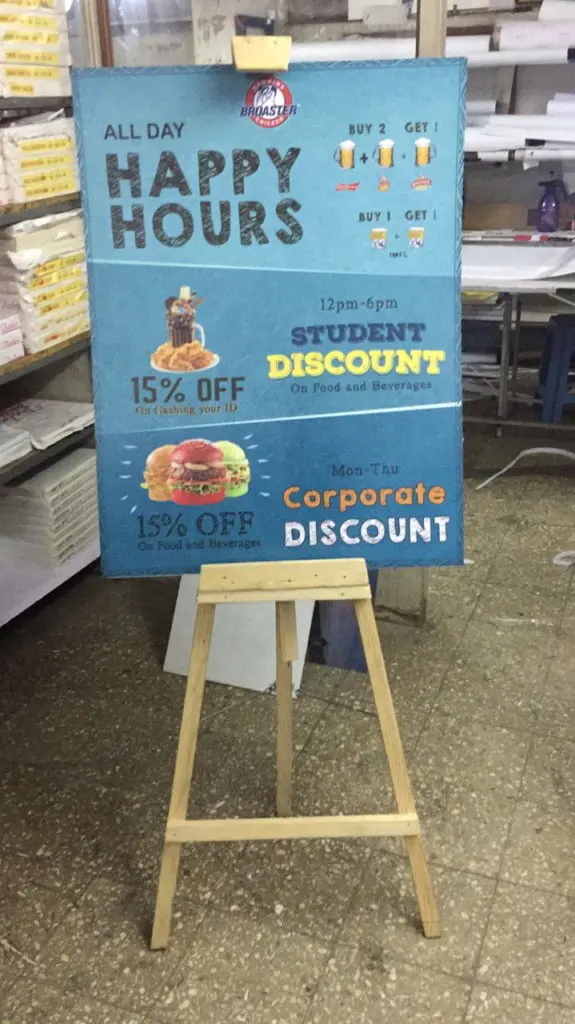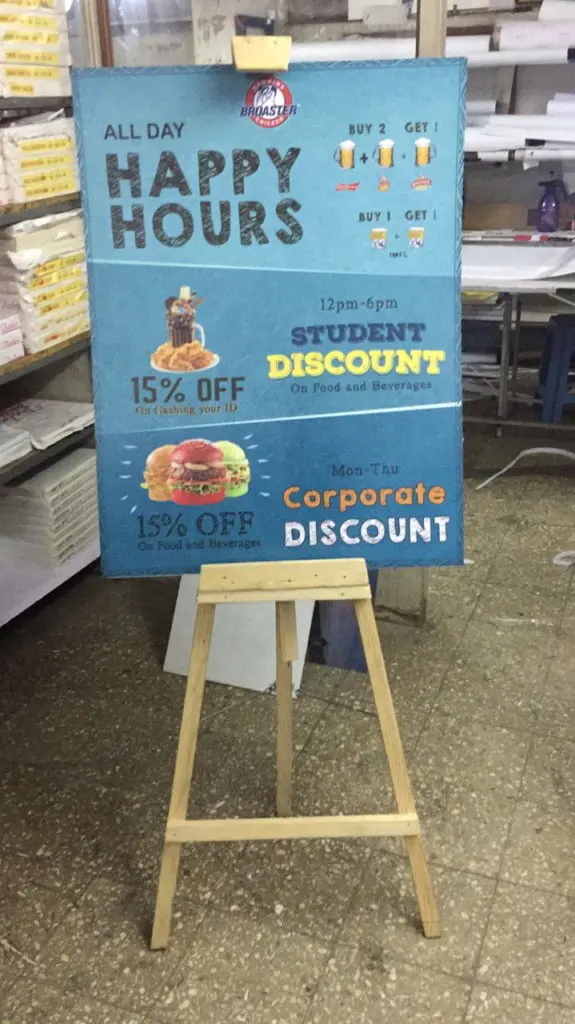 Components of an Easel Standee
An easel standee essentially consists of two parts…
The Wooden Easel Stand or Base: This display easel stand is an extremely lightweight structure usually made of wood. When not in use, the stand can be collapsed into an easily storable flat structure. When it needs to be deployed, the stand opens into a three-legged tripod. It takes less than a minute to erect the stand. There is an extensible arm on the structure. This arm can be extended vertically. Our printed sunboard panel rests on this arm.
The Printed Sunboard / Foam Sheet Panel: Sunboard is a rigid sheet of plastic which can be printed upon. It is smooth and pretty light in weight. Most importantly, it stands straight when erected and is pretty difficult to break. Do jump to this page for more details on sunboard printing.
While the wooden easel acts as a support structure, it is the printed sunboard that the customers are actually looking at. So make sure that your artwork shows the products/services in an extremely alluring way.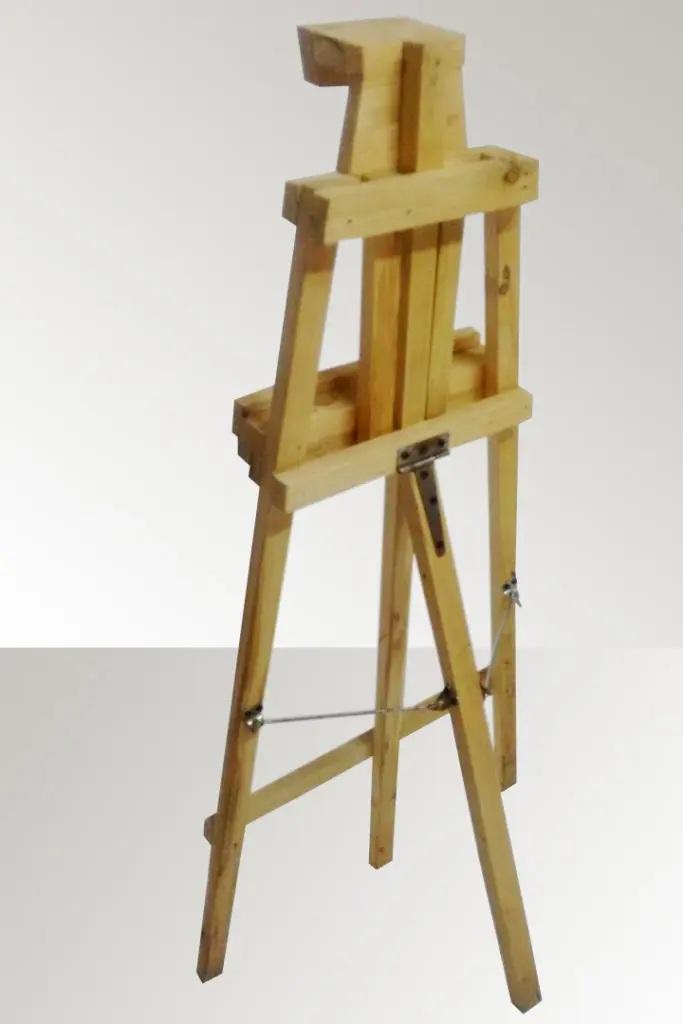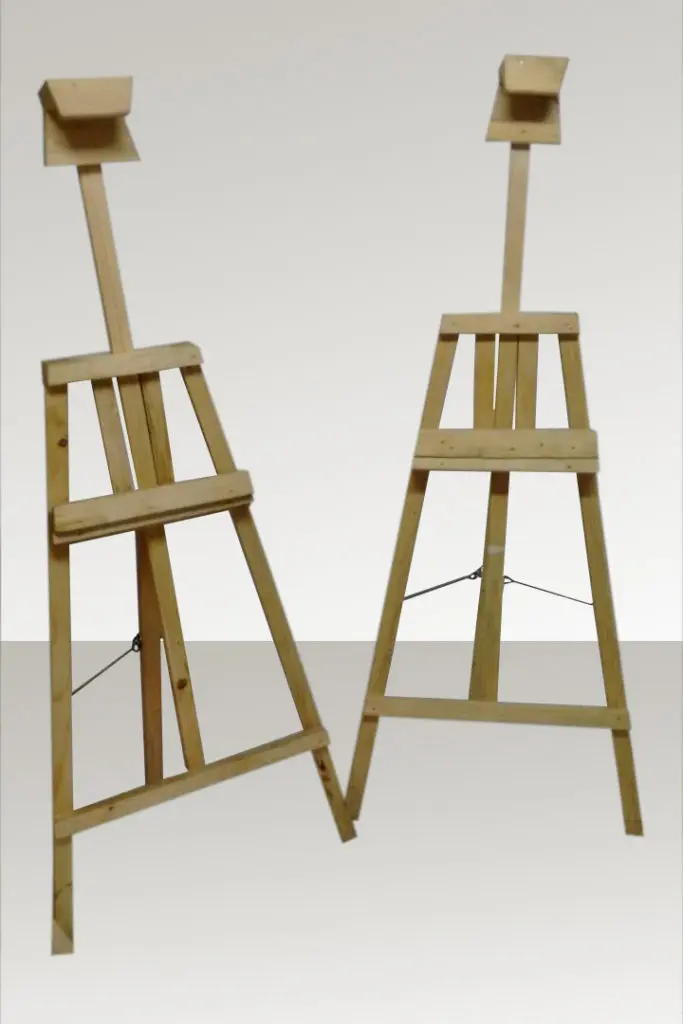 Advantages of Using an Easel Stand
An easel standee is extremely lightweight. It can be carried in and out of the store on a daily basis at the opening and closing times. Foldable easel stands can also be folded and put away easily.
It is cost-effective. Prices for the same are shown in the table below.
The standee is very easy to set up and a child can do it in less than a minute.
The easel standee is very stable. It will not fall over as the wooden tripod structure is standing on the floor at three different points.
The biggest advantage of the easel standee is that you can repeatedly change the communication therein. As your menu or offerings change, all you have to do is replace the print on top. The wooden base can be used for a longtime to come.
You can also use the easel stand as a flip chart stand. This means that you can have two artworks printed on the same panel. One on the front and the other on the reverse. For example, one side on the printed sunboard could display the breakfast menu. And on the reverse, you could advertise the 'chef recommends' special dishes for dinner. All you now have to do is keep flipping the panel at the appropriate times.
Finally, one stand up board can hold multiple panels. So if you are conducting a lecture, you can have a number of slides in the form of prints on sunboard sheets. Just keep changing these slides while you talk.
Alternative Standee Options to an Easel Stand
In our exhibition standees category, we have a whole lot of display stand options. Here are two variants you can consider, as an alternative, to the easel stand.
Roll-up standees: This light-weight display solution consists of a large 6 foot print which retracts into a small tube like structure. You can carry the entire stand under your arm and install it to its full size (of 6 feet * 3 feet) in a matter of minutes.
Sunboard standees: This is a rigid display stand fabricated entirely out of 5 mm thick sunboard. It has flaps on the backside for support. Sunboard standees are extremely light in weight and a very low cost option for displaying your branding / product images.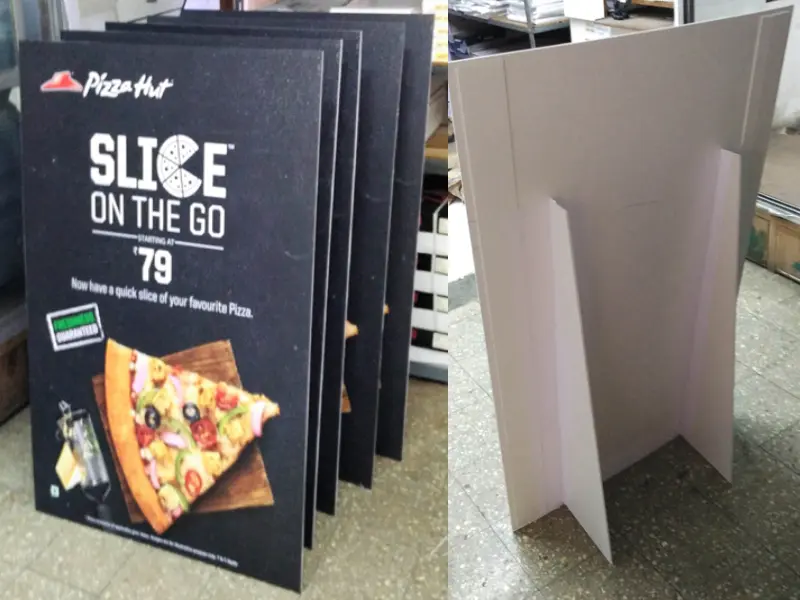 FAQs | Frequently Asked Questions
What Is the Cost of Easel Standee?
Our easel stand print is made of a thick 5 mm sunboard print with a protective coat of lamination. Lamination protects the print from dust, scratches, rain, and sunlight. Given below are costs of easel stands with two different sized prints…
Wooden Easel Stand with A Sunboard Poster Mounted on Top
₹2200.00/Piece*
Quick and classy way to display your product images, services, food menu, etc.
* Please Note:
The rates quoted above attract 18% GST
Shipping and Delivery
Foldable easel stands can be delivered anywhere delivered in Pune city and its suburbs.
Delivery charges are extra and will be communicated to you once we receive the delivery address.

Question: Does this product get shipped out of Pune City?
Answer: No. We are sorry. It does not.

Hassle and Risk in Transportation: Sunboard prints are liable to break in transit.
Feasibility of Transportation: These display stands are a pretty low-cost product. So, packing and shipping them over long distances means that our customers will end up paying more for the cost of delivery than the cost of the actual print. Therefore, if you are stationed out of Pune, it makes sense for you to source the print from your local printer. All you have to do is share/take a print of the above post, show your local printer the material specifications, and commission a similar job from him.
Get a Quote for Your Easel Stands Job
Please leave us your details and we will respond promptly