Event Backdrops
Metal-Framed Backdrops Showcasing Your Brand at Your Next Event, Exhibition, or Seminar.
High-resolution backdrop print to display on-stage
Ideal for display at conferences, seminars, talk shows, etc.
Product personalizes anonymous halls with your company brand
Used by event managers as a photo backdrop for red-carpet events
Print mounted on a metal frame with support
Event backdrops starting from ₹90 per sq. ft
Companies tend to pull out all the stops when it comes to planning for a conference or trade show. Meeting agendas are decided, guests are invited and a hotel venue is finalised. Most conferences also have a stage where the dignitaries are seated and a speaker addresses everyone from behind a podium. And one of the things seen very frequently in this tableau is the event backdrop set behind the spot where the dignitaries and the speakers are seated.
An event backdrop is a necessity, and a great collateral, for putting up a great show. Read on why…
Why Are Stage and Event Backdrops Needed?
The stage backdrop (often referred to as the conference backdrop) performs a number of functions:
It Personalises an Otherwise Nondescript or Anonymous Hall: The venue supplied by the hotel where the conference is taking place may have very good interiors. But it is anonymous. When your event is taking place there, it should reflect the identity of your brand(s) and event.
A large backdrop placed in everybody's view, bearing the company's / event's name, nails the effect of personalising the meeting space for the attendees. Guests can now easily identify with the proceedings and acquire a sense of belonging in the room.
Gives a Very Professional and Premium Look to the Event: The name of the event, accompanying imagery and the logo of the organisers/sponsors are displayed prominently and in a very aesthetic manner. It sets the tone for the entire event and make.
Sets the Scene for Great Photo Opportunities: The VIPs sitting on the stage, the speaker behind his podium, the traditional 'diya' lit during the inauguration, all set in front of a towering backdrop with beautiful printed graphics, contribute to create that perfect 'Kodak' moment. Also, these work spectacularly for award and felicitation ceremonies.
Imagine: Many of the pictures clicked at the event would feature this backdrop. It'll make it absolutely easy to attribute the source, and create remembrance for your event.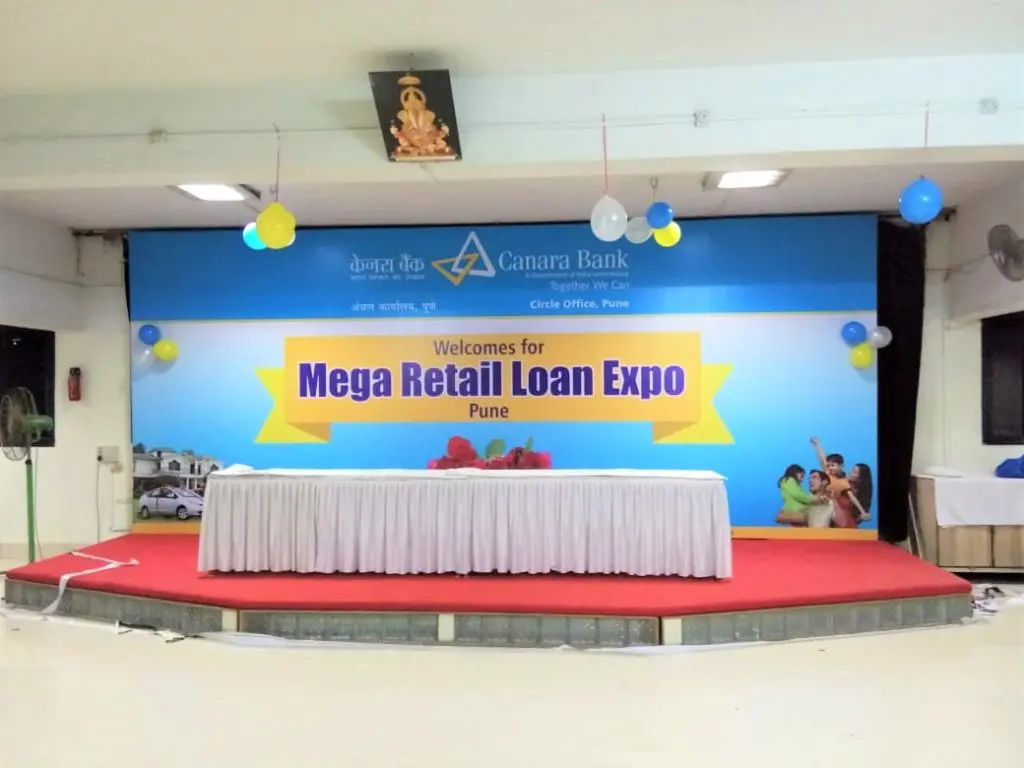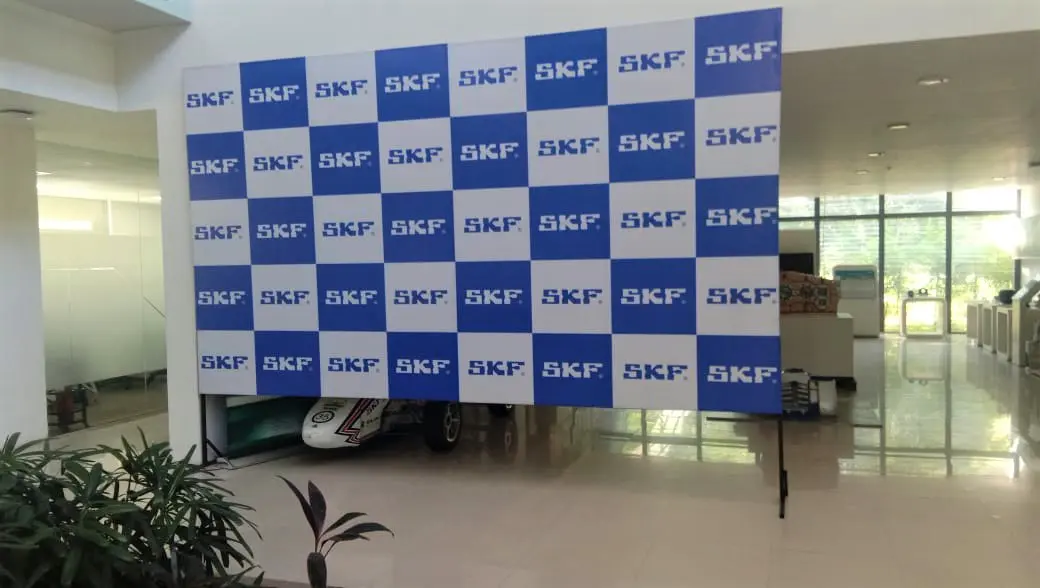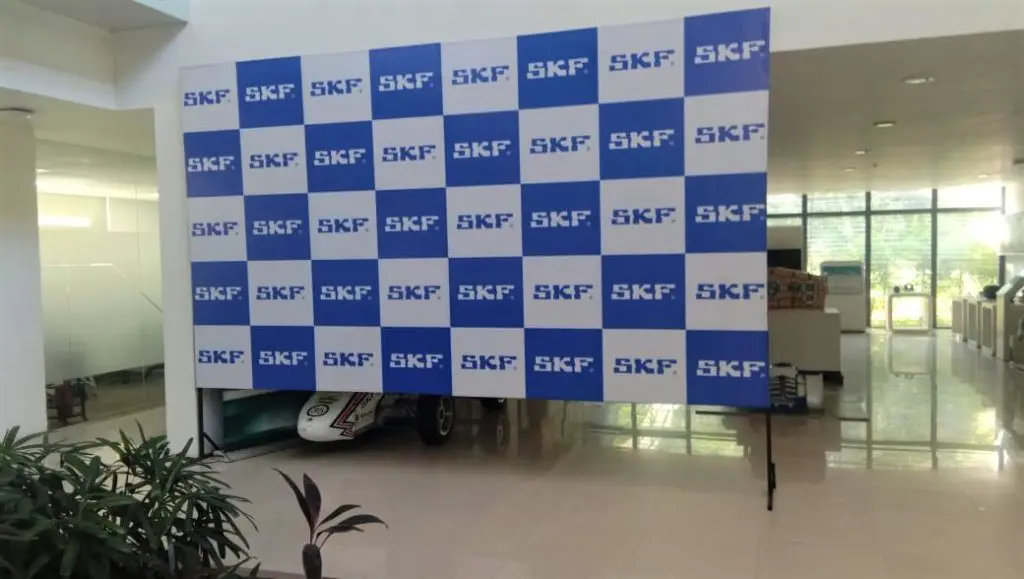 Where Are Custom Printed Event Backdrops Used?
Pune being a hub for the education, IT, and engineering industries sees a lot of trade shows, conferences and exhibitions. And this custom printed backdrop is the perfect solution for showcasing a company's name and or philosophy at the above events. Our printed backdrops on metal frames are primarily used at:
School and Colleges for Their Annual Day Functions: Annual day functions are all centered around a stage where the gathering, speeches, award distribution and shows take place. And a backdrop on the stage, displaying the year, the name of the event and a design complementing the event's theme is an absolute must at this function.
Company Conferences Held in Hotels: Event managers organise conferences in high end hotels. The conference hall of the hotel is the main gathering point for all the invitees. A backdrop then becomes necessary to 'brand' the hall with the company's colors.
Exhibition and Trade Show Booths: If you are taking part in an exhibition in Pune, you will need to put up prints in the stall to market your products and services. One way to do this is to put up individual exhibition posters on the back panels of your exhibition booth. Alternatively, you can commision one giant backdrop to cover the back wall of the exhibition booth.
For example: if your exhibition stall is 10 feet wide, and consists of multiple panels joined together, you can put up 3 – 4 discrete large sized posters in each of those panels. But you can also opt to install a single 10 foot wide X 8 foot tall metal framed backdrop with one composite artwork. This huge backdrop will cover the back wall and its jointed panels, entirely.
Open to the Air, Sports Grounds: Fields and sports grounds have no wall like structure. Consequently, for sports events, there is no vertical surface to brand or advertise on. A heavy exhibition backdrop (which will not topple in the wind) is then the best option to carry out your branding and marketing activities.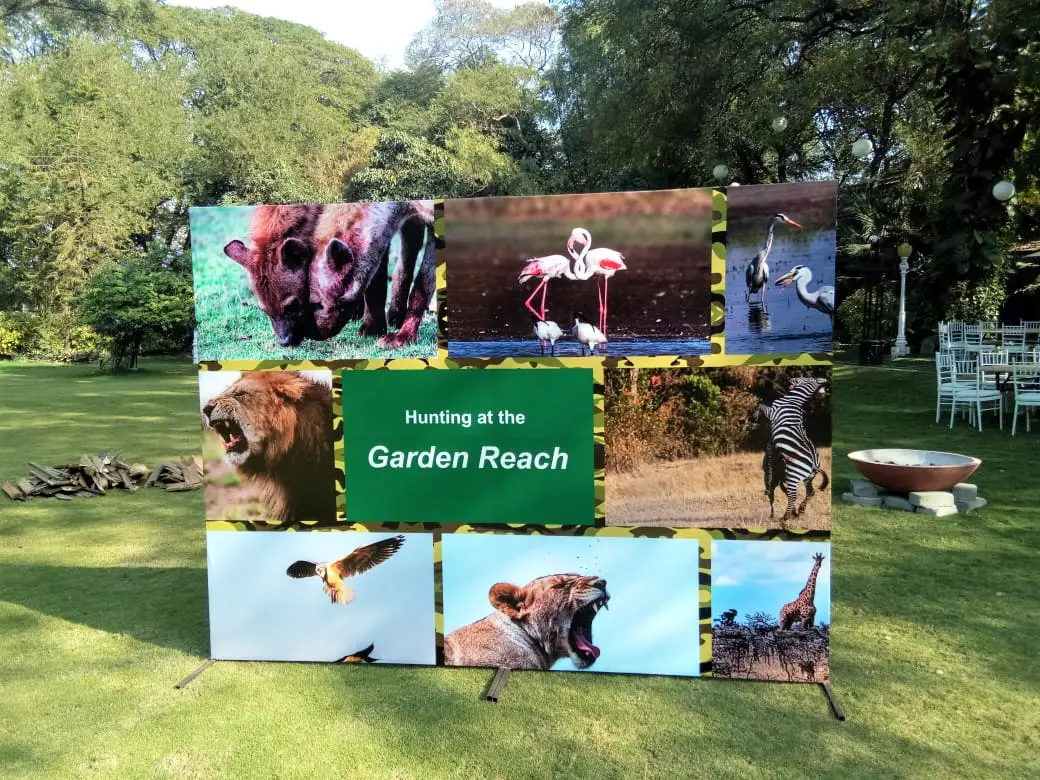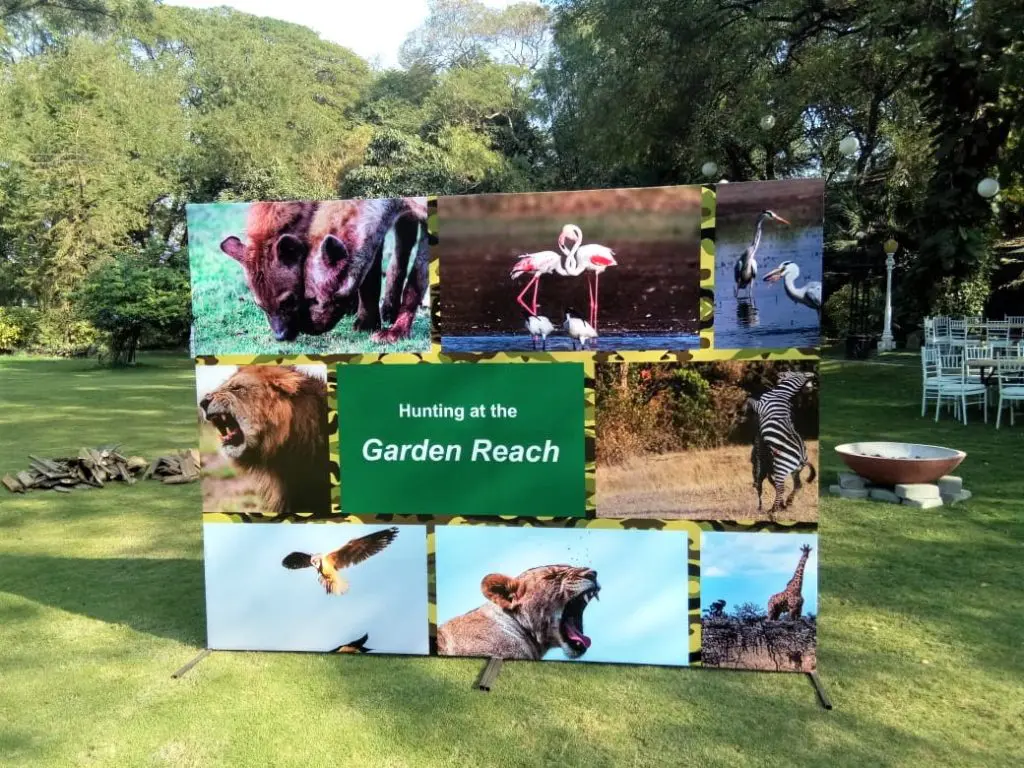 What Are the Components of an Exhibition Backdrop?
The construction of an event backdrop is fairly simple. It's three major components are listed as under…
A Fixed Metal Frame: The base structure of the backdrop is made of a sturdy metal frame. Steel pipes of 0.75 inch thickness are welded together to create a rectangular-shaped frame.
A Flex Print Stretched on the Metal Frame: The design/artwork for the backdrop, supplied to us by the client is printed on a flexible plastic roll. This media is called frontlit flex in the print industry.

Our wide format solvent inkjet machines reproduce the artwork at a very high resolution, on the flex. The printed flex is then stretched on the metal frame very tightly and much like the skin on top of a drum. This tightly stretched print gives the frame a taut and flat wall-like look.

'T' Stands to Support the Structure: The metal frame along with the print on it is then mounted on upside down 'T' shaped stands. These stands provide support to the entire structure. Heavy winds can knock down a large backdrop. So, in open air and windy locations (like sports grounds), the 'T' stand can also be nailed down to the ground for additional support.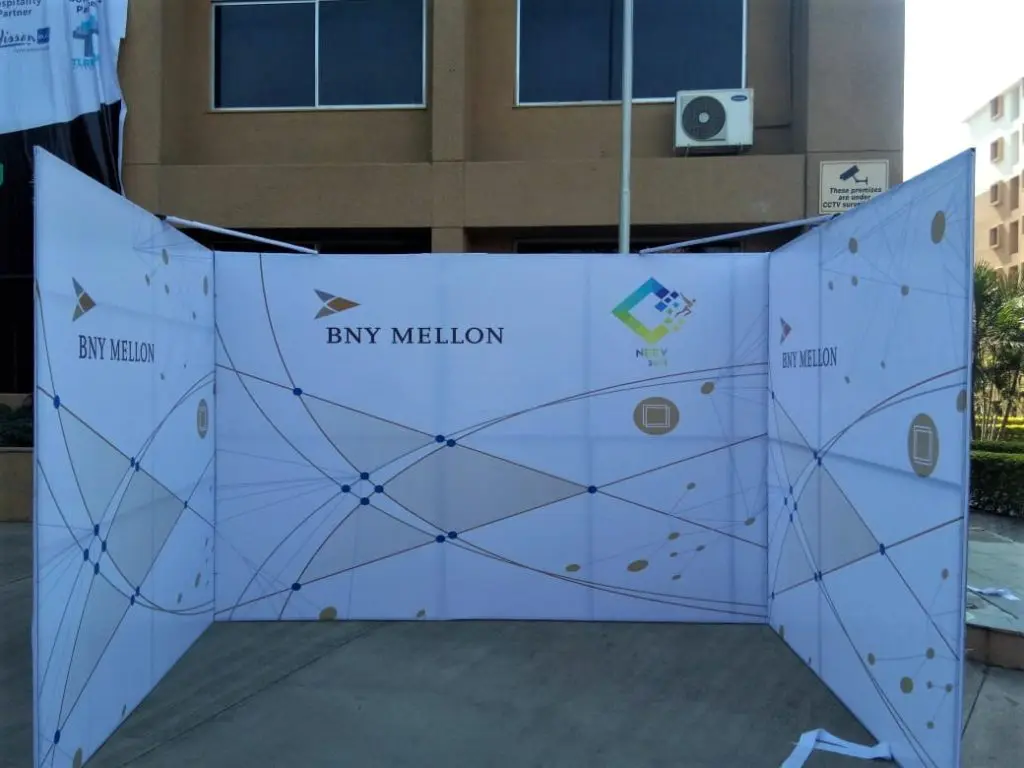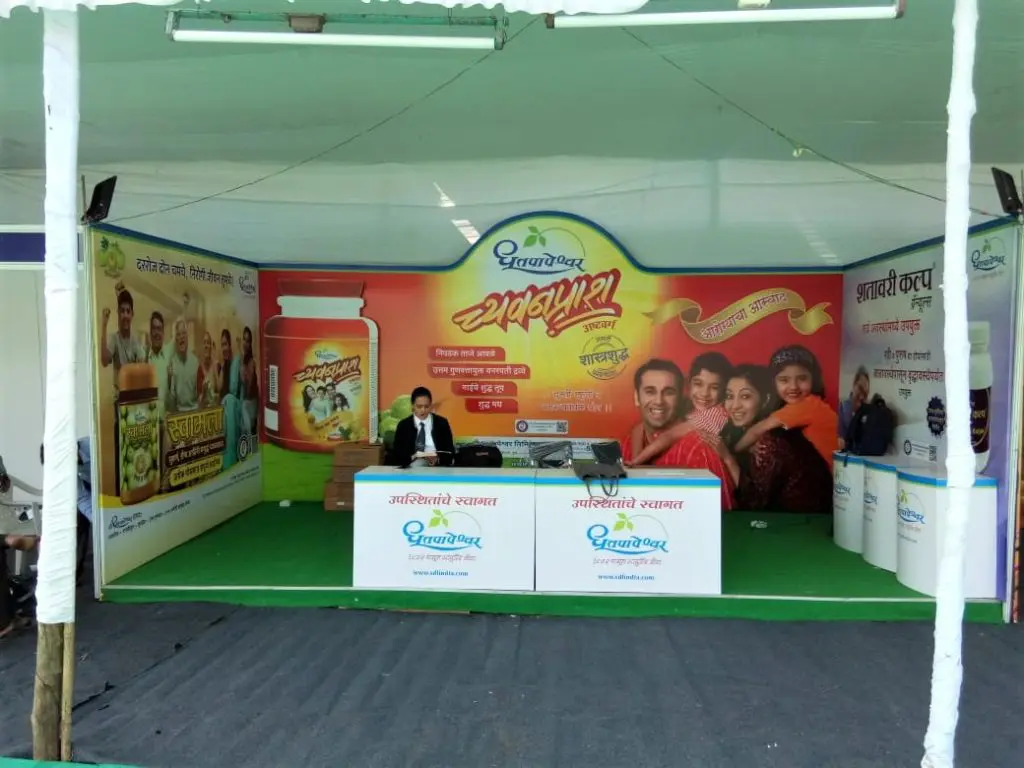 Different Print Media for Different Use Cases
Most of our competitors use a 'one size fits all' philosophy when it comes printing out event backdrops. But at Orchid Digitals we have a more personalised approach towards our customers. We understand that different use-cases require different solutions. And this approach helps us deliver perfectly tailored solutions to match an individual client's requirements.
So when it comes to the printing material used for creating backdrops, we have three different media that you can choose from.
High Resolution Star Flex Prints for Indoor Events: As mentioned above, backdrops have a printed frontlit flex stretched on the frame. We use a premium brand called 'Star' flex for this. This brand enables significantly superior quality prints with very high resolutions. Moreover, the colors of Star Flex print are much more vibrant than prints on regular flex. And this works great for indoor auditoriums and conference halls.
Black-Back Flex for Outdoor Events: There is a unique problem for backdrops that have to be set up in open areas like sports grounds. The sun shines very brightly in these locations. And if the frame is placed in front of harsh sunlight, the light shines through the printed media. Hold a printed sheet of paper against the sunlight and the letters on it become difficult to read. Similarly, because of this sunlight shining through from behind, it becomes difficult to see the artwork printed on the front.
In this case we use a specialised flex material called 'Black-Back' flex. The back/reverse side of the print media is painted black. This black colored layer increases the opacity of the print media and prevents the rays of the sun from shining through from behind. Visibility and vibrancy of the artwork printed on the front side is now maintained, even in the harshest sunlight.
Matte Flex Prints for Photo Studios: Backdrops are also very often used for celebrity photo opportunities. All of us have seen patterned backdrops where the logo of the sponsor is repeated multiple times. The visitors of the red carpet event then stand in front of the patterned backdrop and pose for a picture. Similar backdrops are also used at marathon events. Runners after crossing the finish line, pose for pictures in front of a backdrop bearing an artwork, which proudly claims, "I Am A Finisher!".
Photo booths or backdrops used in a photo studio cannot have the standard glossy print material. Flex prints are always glossy and this looks great for hoardings and banners. But a glossy print reflects light, especially the light from the flashes of a camera. So for this use-case, we recommend a specialized matt flex media.
The matte print eliminates the glare from stage lights and camera flashes. And this matt print then helps in generating the perfect photo to retain lasting memories of the event. These will help you deliver spectacular photos every time a guest walks into the photo booth.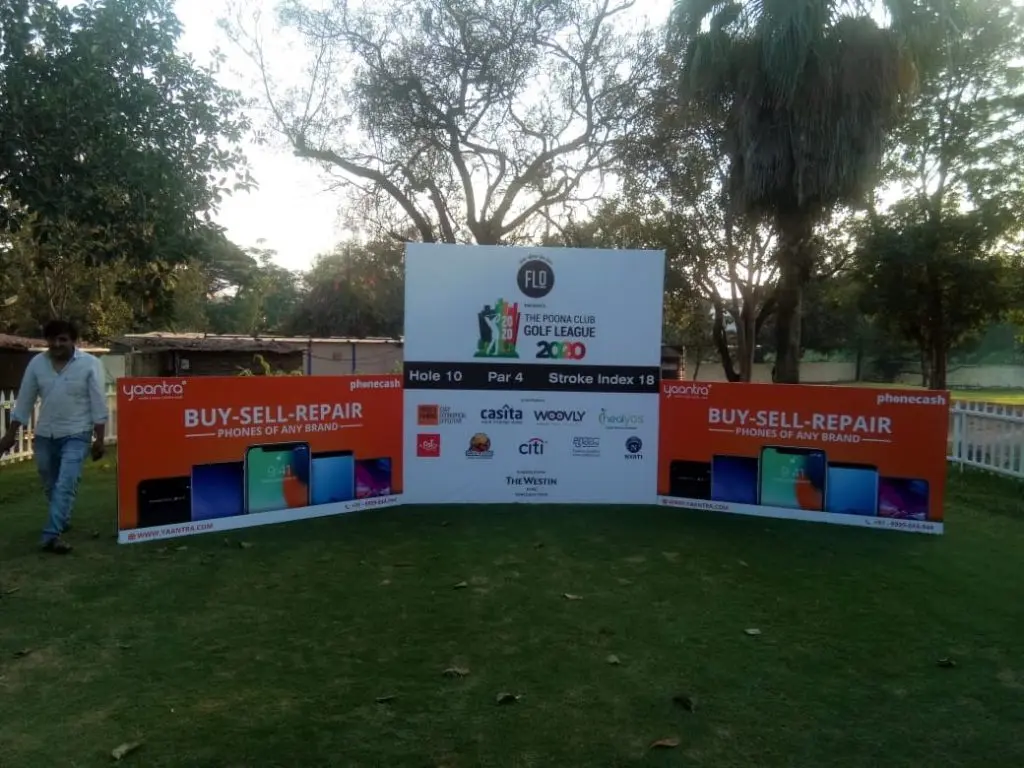 How are Exhibition and Event Backdrop Jobs Completed at Orchid Digitals?
Most stage backdrops are last minute jobs. This is because the organisers generally do not get possession of the venue until the night before the event. But not to worry. Fabricating backdrops, even the large sized ones does not take much time at Orchid Digitals.
Nevertheless, we recommend that you plan the backdrop job a couple of days before the main event day. Here are the steps which ensure that your event backdrop job is finished on time.
1. Mail us your artwork file for the event backdrop. Please also share the exact address of the venue where you want the same installed. If you are stationed out of Pune, please share the number of your local representative or the hotel manager with whom we can coordinate, to install the job in your absence.
2. If the backdrop has to be installed in an indoor location, like the conference hall of a hotel, please confirm the height of the door with your hotel manager. Let me explain the reason for this request.
Let us suppose that the height of the backdrop is 10 feet, and the height of the entrance door leading into the hall is only 7 feet. In this case the backdrop frame cannot be carried in.
Backdrops are made of fixed metal frames. And they are fully assembled at our works before they are shipped to the exhibition venue. So if the entrance is smaller than the frame, we need to make special arrangements to assemble the frame onsite. We have to carry disjointed segments of the frame and then join them inside the hall/venue. But to do this, we need to send across additional men and tools as well. So, if the frame needs to be assembled on site due to size restrictions, do let us know about the same, well in advance.
3. Finally, please give us a couple of days of lead time and we will deliver and install the job at your venue, here in Pune.
Collapsible Backdrops | An Alternative to the Fixed Counterpart
Fixed stage backdrops are a low cost solution that can be delivered and installed anywhere in the city. But there is one shortcoming of this product. This product is not portable and cannot be carried off to remote locations.
So we have a lightweight alternative solution to the same. Shown in the image above is a collapsible, portable exhibition backdrop that packs down to the size of a small bag. And yet it can be expanded to a large size of 8 feet * 8 feet. Moreover it can be carried on a car or even a plane to distant locations and set up in a matter of minutes. So jump to this page to know more about this ingenious product.
Other Products Needed for Events and Stage Shows
At Orchid Digitals we have a number of custom printed solutions that will enhance your event or conference. And for the same, please consider the following: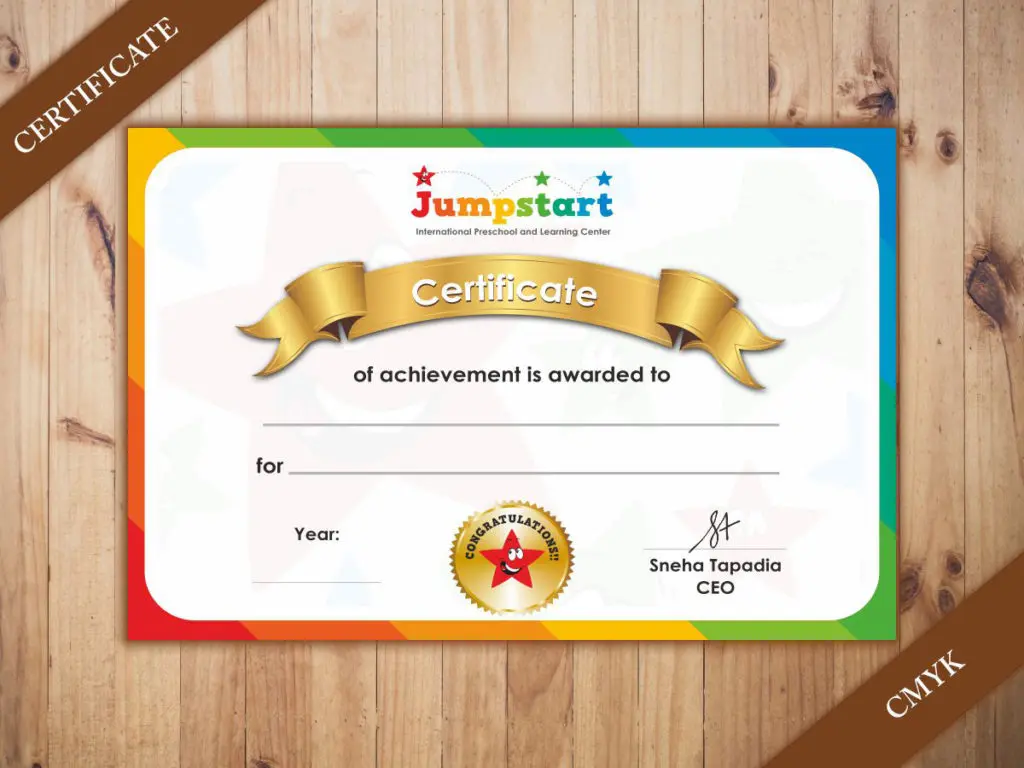 Price of Custom Printed, Metal Framed Backdrops
The price of event backdrops includes printing, fabrication and installation of the same at your venue, here in Pune Municipal limits. Delivery charges vary from place to place and are hence not included in the base price.
A flex printed stage backdrop with a metal frame and stand costs ₹ 90/- per square foot plus taxes. This means that if your backdrop has a width of 12 feet and a height of 8 feet, the cost for the same will be:
12 feet width X 8 feet height X ₹ 90.00 = ₹ 8640.00 + 18% GST
In the table below, we have given the costs for standard sized backdrops. Please note that backdrops are generally pretty large. For smaller sizes of upto 6 – 8 feet, we have collapsible frames that you can purchase. But larger structures like stage backdrops need a specially fabricated metal frame.
Premium looking backdrop for one time use in Pune City
₹150.00/Sq. Foot*
Print stretched on a fixed metal frame. Backdrop can be fabricated to any size you want.
Example Costing:
₹12000.00 for a backdrop of size 10 feet width X 8 feet height*
Pack, carry, and keep re-using
₹7200.00/piece*
8 feet wide X 8 feet high banner
* Please Note:
Above rates attract 18% GST.
Delivery charges are not included in the above costs and the same will be communicated to you once we know the address of the venue.
Shipping / Delivery
We deliver and install metal framed exhibition backdrops within Pune Municipality limits and the suburbs around the city.
Question: Does this product get shipped out of Pune City?
Answer: No. We are sorry. It does not.
Here are a couple of reasons why –
Form Factor – Event backdrops are pretty large and bulky. We need to hire a tempo or small truck to deliver them.
Feasibility – Backdrops are a pretty low cost product. So, shipping them over long distances means that our customers will end up paying more for the cost of delivery than the cost of the actual print.
Therefore, if you are stationed out of Pune, it makes sense for you to source the print from your local printer. All you have to do is share / take a print of the above post, show your printer the material specifications and commission a similar job from him.
Get a Quote For Your Stage Backdrop
Please leave us your details and we will respond promptly
Get A Quote for Your Wallpaper Vinyl Print
Please leave us your details and we will respond promptly
Similar Products
Pop-up promo table carrying your brand identity, services & product…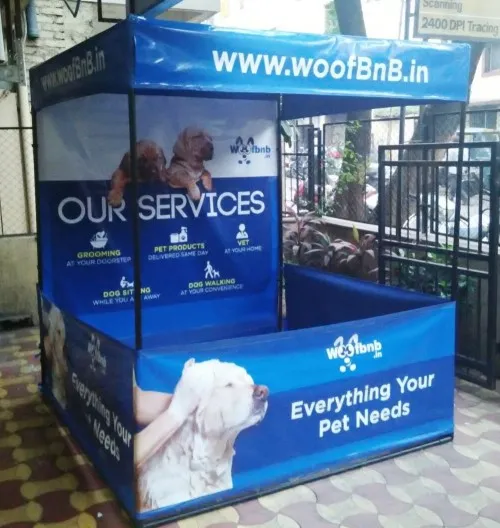 Customizable exhibition booths for brand presence at exhibitions. Easily accommodates…
Rollup standees. Portable, easy to carry banner display solution for…