Table Tent Cards
Your message – At the centre of the table and at the centre of attraction
Low-cost marketing communication
2-sided laminated tent card A5 sized colour digital print
Stand at the base for easy installation
Acrylic variant for more permanent applications
Extensively used in restaurants & for dining events
Tent cards prints starting from ₹25 per piece
Tent Cards – Detailed Description
Tent cards, as the name suggests are prints shaped like tents, strategically placed on tables, desks, counters, etc. to catch the customer's eye. These low-cost cards have a one-point agenda – to grab customer attention.
As a marketing & promotion tool, tent cards are primarily designed to highlight a product, service, discount offer, or even a disclaimer.
A tent card's primary application is to highlight a message right in front of a client's face. And when placed on these desks or tables, the customer inevitably glances at the cards while they are waiting. So keeping these cards as menu stands for tables can up the chances of a customer ordering what special item you place on it.
Walk into any upscale restaurant and you'll probably see a tent card for a restaurant printed on both sides, standing by itself in the middle of the table. Restaurant table tents are very popular amongst all kinds of eating establishments.
This tent card can be a menu stand for tables. The the cards are also generally used to list chef specials, offers like free Wi-Fi, or to highlight the low prices during designated happy hours.
These printable tent cards stand at a slight angle to facilitate easy reading. They have a distinct tent-like shape with a flat stand beneath, like a tri-fold table tent. The flat base enables us to prop tent cards on tables, desks, and sales counters.
Depending on your requirement, there are different variants & sizes available, such as A5 tent cards, triangular and even pyramidal restaurant table tents, etc.
Applications of Table Tent Cards
Tent cards are fabricated out of thick card sheets with the marketing communication printed on top. And this makes them extremely economical and disposable. Due to their low cost, printable tents cards are used at a variety of locations and for a number of applications, some of which are listed below…
Tent cards are placed on dining tables at weddings to highlight the names of the marrying couple and their families. Similarly, table top easel stands are used at conferences to show the company logo.
Table tent 4-sided pyramids are also used at events like receptions and parties to show seating arrangements.
Sale counters to use custom table tents to showcase discount schemes or highlight disclaimers.
Cash counters have tabletop sign holders bearing a PayTM QR code or a VISA / Mastercard logo. This shows the merchant's ability to accept digital forms of payments.
As mentioned earlier, printable tent cards for restaurants are used to entice customers to a particular dessert option or a special dish recommended by the chef. An enticing food photograph and striking description of the culinary dish helps the customer quickly make up his mind. They also have table menu holders.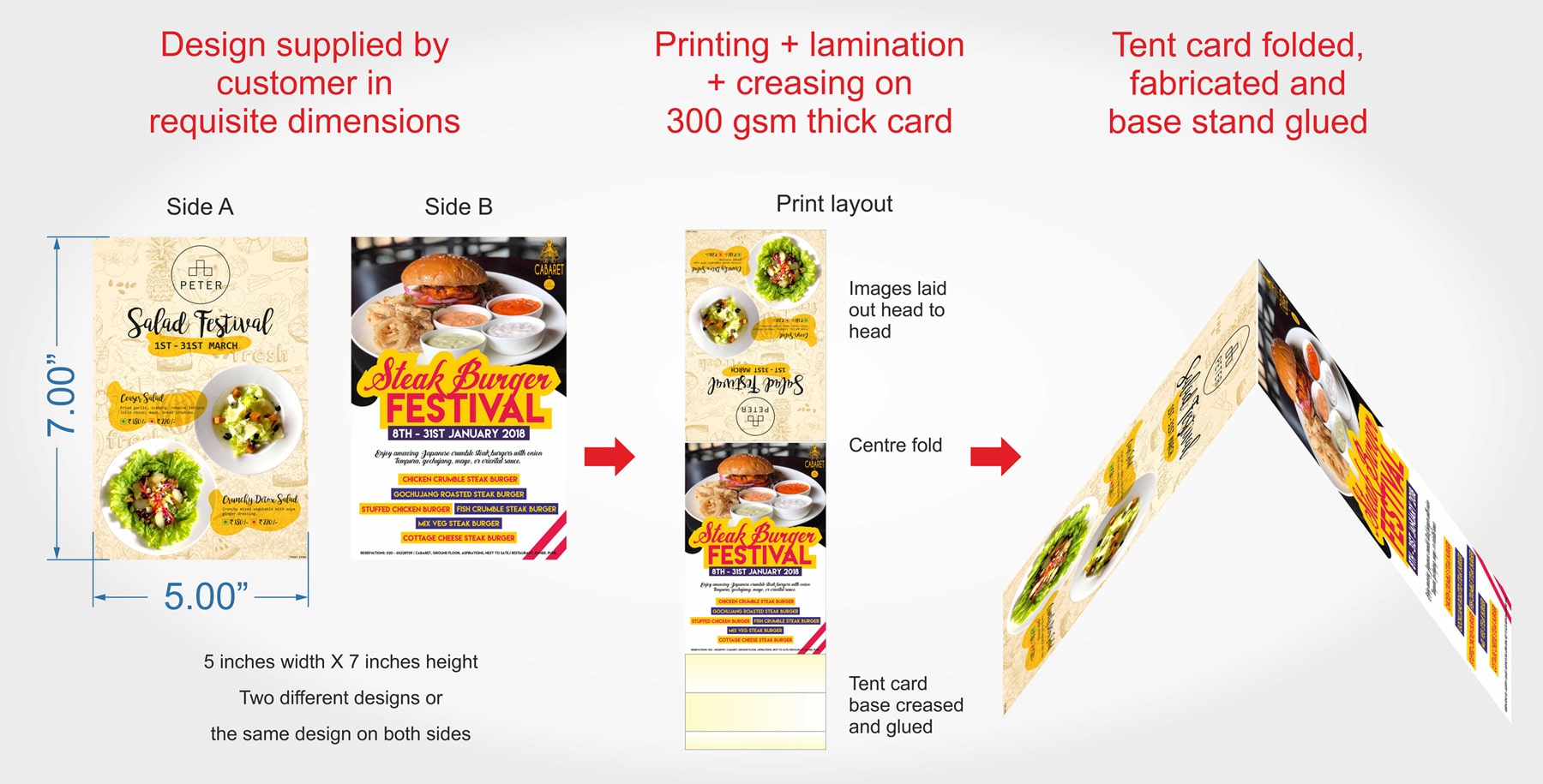 Table Display Stand Design and Material Specifications
Tent cards, when viewed from the side, are shaped like a tent. Basically, we take a long and rigid card sheet and fold it horizontally in the centre. The artwork is digitally printed on both sides of the fold. The base is created by folding one end of the card at 90 degrees. This fold is glued on to the other vertical section.
This flat base enables the customer to prop the tent stand on horizontal surfaces like desks and tables. Since there are multiple creases involved in the fabrication of a table tents printing, we laminate the sheet to ensure that no paper cracks develop along the folds. Lamination also enhances the look and life of the print. The flat stand at the bottom of the tent card can be folded within itself when not in use. Thus table display stands can be shipped in a fully flat condition.
The standard dimensions for tent cards printed at Orchid Digitals are 5 inches wide X 7 inches tall. All you need to do is to give us two designs in these sizes. We then place these designs on the two sides of the table menu stand. Alternatively, the same design/content can be reproduced on both sides.
Acrylic Table Stands – An Alternative to Tent Cards Made of Paper
While the tent cards described above are made of paper, Orchid Digitals can also provide rigid acrylic table stands or table stands made of sun board. Sunboard and acrylic stands for tables are significantly more premium-looking than tent cards made of thick paper.
These are thick, rigid, and long-lasting. The RuPay and PayTM acrylic stand that you see on cash counters are the best examples of this product.
Stationery stores sell blank acrylic stands for tables. You have to slide in your printed communication in this. But at Orchid Digitals, the entire stand is digitally printed with your artwork. This looks much more premium than third party solutions and also costs less than the same.
FAQs | Frequently Asked Questions
What Is the Cost of Digitally Printed Tent Cards & Table Stands?
2-sided paper tent cards
₹2500.00/ 100 copies*
Low-cost disposable tabletop tent cards for parties, events and "Chef Recommendations' or happy hours offer in restautants
Example Costing:
₹1440.00 for a print of 4 feet width X 3 feet height*
tabletop stand
₹6000.00/ 100 copies*
Single sided QR Code Display / Payment Gateway Display stand for mounting on retail counters
Example Costing:
₹2640.00 for a print of 4 feet width X 3 feet height*
* Please Note:
The rates quoted above attract 12% GST
Since tent cards and rigid table display stands need significant processing, we cannot print very small quantities of the same. MOQs for both categories have been mentioned in the table above.
Shipping and Delivery
Tent cards and table stands can be delivered anywhere in India.
Delivery charges are extra and will be communicated to you once we receive the exact delivery address.
Get a Quote for Your Digitally Printed Tent Cards
Please leave us your details and we will respond promptly
Similar Products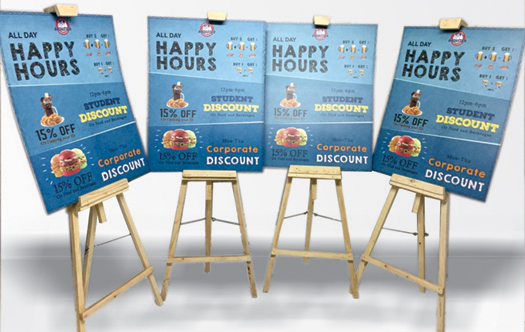 Foldable easel standee with rigid poster print to display menus…
Restaurant menu printing on non-tearable & waterproof pages. New-age thick…
Backlit Aluminium Clip-on Frame
Aluminium Frame with Backlight to Light-up the Print Within Attract…