Rigid Display Stands for Advertising, Printed on Low-Cost Sunboard
Life size standee solution to advertise your products in public locations.
Rigid display standee to promote products and services in commercial spaces
Made of 5mm thick sunboard
Lightweight, portable, and easy to handle marketing solution
Ideal for use at events, supermarkets, and Point-of-Sale locations
Pricing starts from ₹ 150 per sq ft
Sunboard Standees – Detailed Description
Public events and settings such as lectures and conferences, film screenings, and supermarkets offer a great platform for advertising your products. However, in today's time, your advertising medium needs to be subtle, attention grabbing, and easy to manage. Add a cost-effectiveness factor to it, and you've got the perfect solution to cover maximum view-points at the setting.
A sunboard standee does all this. And more.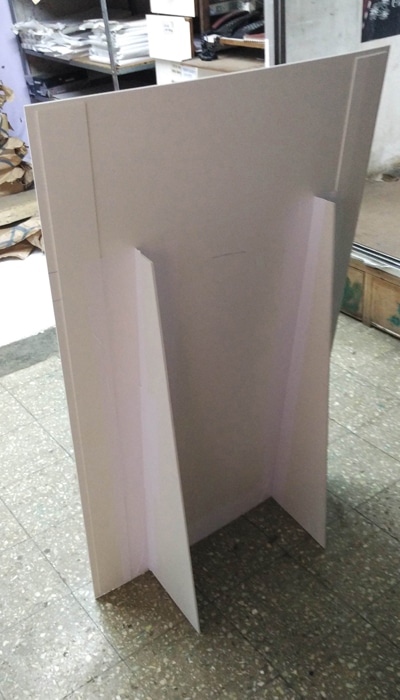 How Are Sunboard Standees Made?
A sunboard stand is made of two major components:
Sunboard Banner: Sunboard, commonly referred to as foam sheet, is a thick, lightweight, flat and rigid sheet of plastic. These sheets are smooth in nature and can be printed upon. The products that you wish to advertise or the communication/information are printed on this part.
These prints are laminated to give them a matt / glossy look. Lamination also protects the product from daily wear and tear, scuffing and scratching.
A lot of people refer to this product as cardboard display stands. But cardboard is made of paper, whereas our foam sheet stands being made of plastic are significantly more durable.
Back Support: In order to make this banner stand a self-supporting and sufficient unit, we give it a back support. This support can be made of:

Foldable Sunboard Flaps: Small flaps of sunboard are pasted on the back of the display stand. When not required, these flaps can be collapsed/folded into themselves, flattening the banner stand and making it very easy to carry around. This option costs and weighs less.
Metal Frame: A fabricated metal frame as a support for our sunboard print is another option you can consider. The metal frame adds sturdiness and weight to the banner, making it more stable than the standard flap variant. The frame can be collapsed as well, making the banner easy to transport. You would choose the metal frame option if you wish for your standee to last longer. Due to the material constraints, these are priced higher.
Benefits of Using a Sunboard Standee
Extremely Cost-Effective: The communication on the sunboard standees is generally time-relevant in nature. Meaning, the entire unit has to be discarded once the communication's relevance ends.
These rigid standees are generally inexpensive to make. Also, the fact that they promote the products well gives them a good ROI (Return on Investment).

Light-weight and Portable: Made from sunboard, these standees are generally very light and can be taken from one place to another easily. This is especially helpful when they need to be transported to the exhibition site, or even within the premises.
Self-supporting: With the back-support integrated into the structure, these life-size standees don't need an external support to remain upright. This self-sufficiency makes them a great standalone advertising collateral.
Rigid yet Durable: Rigid sunboard standees can be made from material of either 3mm or 5mm thickness. This makes the banner rigid enough and durable. Depending on the thickness, the weight and durability varies.
When You Want to Display on Both Sides of the Sunboard Standee: Two-sided Display Variant
An alternate variant of the sunboard stand provides both faces for advertising purposes. This involves a metal frame with the print mounted on both faces/sides. When opened up, the metal structure is in the shape of the letter 'A'. This makes the stand very stable and less susceptible to toppling/falling.
This 2-sided life-size standee is ideal for placing in an aisle or footpath which receives a considerable footfall.
Other benefits of this Two Sided Standee variant:
Increased Advertising Space: With two faces/sides available, we have more space to display our communication.
The same communication can be displayed twice (on both sides), or two different communications can be displayed, depending on which face one is seeing.
Durability: The metal frame adds weight and strength to the overall structure.
More Manageable: The metal frame can also be folded to a more manageable flat packing piece, making it easier to transport.
How Much Does a Two Sided Standee Cost?
A 6 feet tall by 3 feet wide metal frame stand with prints on both sides will cost you ₹ 2700 (plus 18% GST).
If you have another size in mind, do reach out to us for a quotation on the same. Also let us know the quantities you require.
Cut out Standees – Another Interesting Variant of Sunboard Stands
Sunboard sheets are pretty easy to cut and mold into different shapes. Most people opt for standard rectangular shaped stands. But this media can also be used for a very creative and attention-grabbing marketing solution, viz: Shape-Cut Stand or Cut-Out Stands.
At Orchid Digitals, we use a CNC router to cut printed sunboard sheets in the shapes of models, mascost, product images, etc. For more details on this solution, please jump to this post on shape-cut standee post.
FAQs | Frequently Asked Questions
How Much Does a Sunboard Stand Cost?
The pricing of the standee depends primarily on the thickness of the board and the finishing option (laminated or not).
Sunboard standees can be fabricated in any size you want. We can give you a 1.5 foot small stand for mounting on your desktop or a 6 feet life sized stand for display on your storefront/entrance. The cost per square foot of a 5 mm thick, laminated sunboard stand is ₹ 150 (+ taxes).
Given below is a chart of standard sunboard stands with their prices for your reference:
2 feet width X 3 feet height
₹900.00/piece*
Low-cost & lightweight display stand
3 feet width X 4 feet height
₹1800.00/piece*
Low-cost & lightweight display stand
Rectangular display stand in the dimensions you desire
₹150.00/Sq. foot*
Low-cost & lightweight display stand
Example Costing:
₹1500.00 for a life-sized cutout print of 2 feet width X 5 feet height*
* Please Note:
Additional 18% GST
The rate per square foot of a sunboard stand is Rs.150.00 plus taxes. If your job size is different from the ones mentioned in the table above, here is how to calculate the cost for the same. You first need to work out the total area of your job to arrive at the final cost.
For example, let us assume that you require 2 prints each of a width of 3 feet and height of 4 feet, the total cost of the job is calculated as follows…
3 feet (width) X 4 feet (height) X 2 copies X ₹ 150.00 (rate for sunboard standee printing)
= ₹ 3600.00 (+ 18% GST)
** Side-Note: Larger standee sizes may require metal frames. Do reach out to us with your requirement for a quote.
Shipping and Delivery
Sunboard stands can be delivered anywhere delivered in Pune city and its suburbs.
Delivery charges are extra and will be communicated to you once we receive the delivery address.
Question: Does this product get shipped out of Pune City?
Answer: No. We are sorry. It does not.
Here are a couple of reasons for the same:
Hassle and Risk in Transportation: Sunboard is liable to break in transit. Also, these structures are pretty large and bulky. We need to hire a tempo to deliver them.
Feasibility of Transportation: These boards are a pretty low cost product. So, packing and shipping them over long distances means that our customers will end up paying more for the cost of delivery than the cost of the actual print. Therefore, if you are stationed out of Pune, it makes sense for you to source the print from your local printer. All you have to do is share / take a print of the above post, show your local printer the material specifications and commission a similar job from him.
Get a Quote for Your Sunboard Standee Printing Job
Please leave us your details and we will respond promptly
Similar Products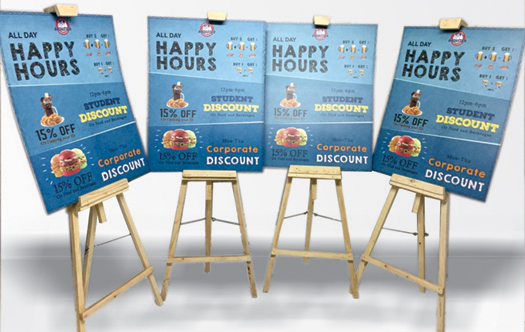 Foldable easel standee with rigid poster print to display menus…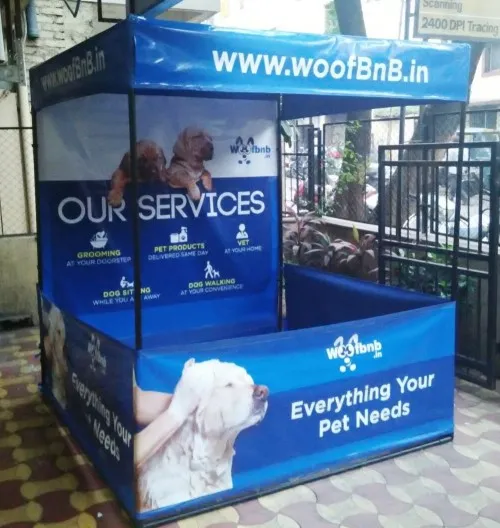 Customizable exhibition booths for brand presence at exhibitions. Easily accommodates…
Rollup standees. Portable, easy to carry banner display solution for…