Banners and Hoardings
Mega-Sized Outdoor Ads to Grab Your Customer's Attention.
Banners and hoardings suited for outdoor purposes
Resistant to rain, sunlight, and wind
Print any size that you can think of
Stretchable flex material can be strung up or mounted on a frame
Low unit cost – outdoor banner and hoarding prints starting from ₹25 per sq. ft
Drive down any city road or highway and you are sure to come across huge printed hoardings. On the other hand, small banner prints displaying commercial advertisements are strung up on the electric poles, compound walls and even trees in our neighborhood. Outdoor advertising has become ubiquitous and accessible to business organisations both big and small. This is because flex printed ads are the most suitable and economical solution for this marketing vertical.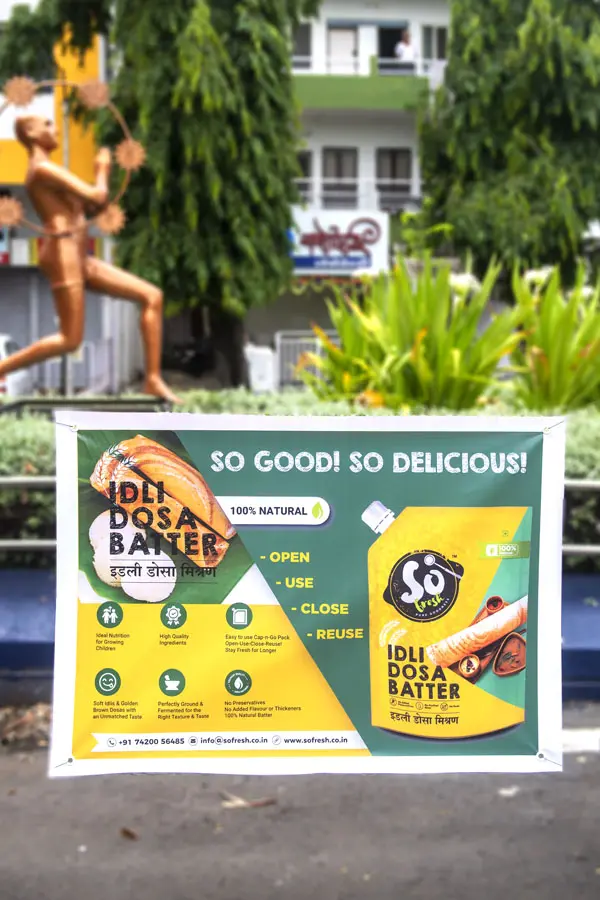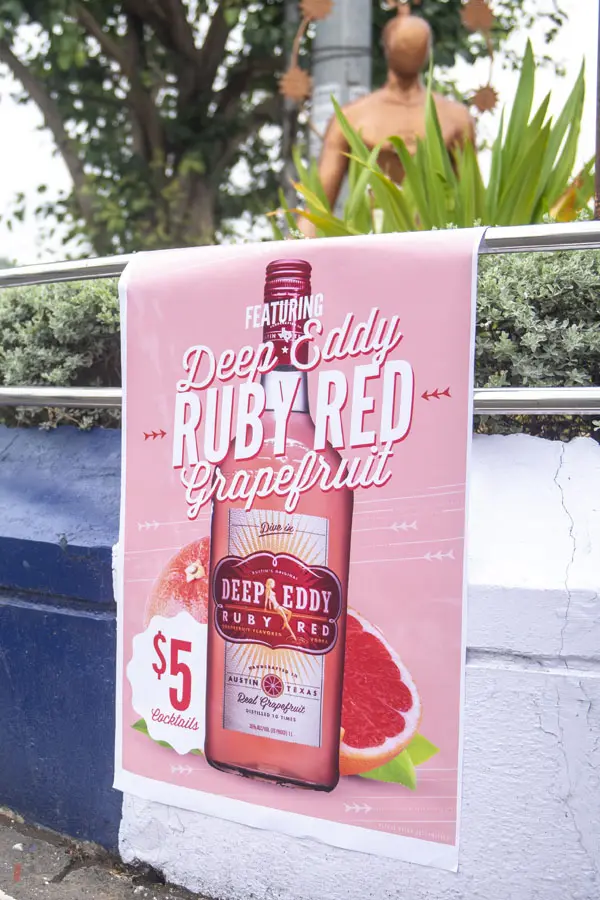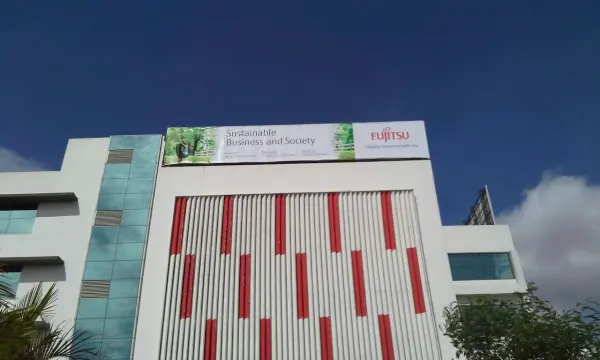 Large sized flex hoardings are extensively used by builders and property developers to advertise and inform customers about their construction projects. IT companies and cell phone service providers especially, plaster ad campaigns throughout the city to market their plans and services. Hospitals, hotels, clothing stores, white goods sellers and in fact just about every type of business can announce their presence from a large, attention grabbing hoarding, near their place of operations.
Hoardings are typically very large with 20 feet width X 30 feet height being a standard size in Pune City. Moreover, you need to lease hoarding space (the huge metal structure on which the print gets erected), from ad agencies. But small businesses may have a limited ad budget which may not extend to large sized hoardings. In this case, they conduct their outdoor ads on a smaller format, flex printed banner. These four feet to ten feet large outdoor banner prints can then be strung up from walls or trees in their immediate neighborhood.
Characteristics of an Outdoor Print
Prints for outdoor advertising, by virtue of their end application need to satisfy the following conditions.
Weather Resistance: The prints need to be waterproof. The inks should not run when exposed to the rains. Also the images should not fade when exposed to harsh sunlight.
Strength: The print material should be strong enough to withstand the vagaries of the weather. By this I mean, that a gust of wind should not tear the flex media apart.
Cost Price: Finally, outdoor prints are generally very large in size. Outdoor banner prints can go upto 8 – 10 feet in size. And hoardings are downright humongous. So the per unit cost of these prints needs to be affordable.
Quality vs Cost: Banners hanging from a tree or an electric pole are generally not viewed up close. Hoardings on the sides of roads and highways are seen from hundreds of feet away. Moreover, these outdoor advertisements are given a fleeting glance from a moving vehicle. So outdoor prints need not be of an extremely high resolution.

A low or medium resolution print costs significantly less than, let us say photoprint with a lot of detailing. And anyways the human eye is not going to be able to register a slight coarseness in quality from long distances. So outdoor prints generally trade off a little bit of resolution, in favour of costs.
What Is a Frontlit Flex Print?
Most outdoor prints are made of a material called 'Solvent Printed Frontlit Flex'. And if this is a mouthful, don't worry. I'll just break it down for you.
Material: Flex is a printable plastic roll. The media comes in huge rolls varying in size from 3 to 10 feet. This plastic material is specially coated on the top to receive inkjet inks. Also, the plastic sheet is reinforced from beneath by a cloth like liner. This liner is very much like the cloth lined, premium envelopes, we see in stationery stores. The coated front surface of the flex roll can be imprinted with high resolution images on huge wide format printing machines. And the back, clothlined layer of the flex media, strengthens the print and prevents it from tearing up. Large sized hoardings are now able to withstand the strong winds in open spaces.
Light Source: Hoardings and outdoor banners are frequently called 'frontlit flex prints'. This means that the sun is their source of light. This frontlit property works in favour of flex prints, put up in open areas. This is because these areas receive a lot of sunshine, for most of the Indian day. Some hoarding structures are also equipped with external sources like flood lights and huge arc lights. Keep in mind that while frontlit flex printing is extremely economical, these are not suitable for night time visibility.
Inks Used for Reproducing Outdoor Prints: Solvent inks are a type of inks used by commercial wide format inkjet printers. These inks are extremely robust, in the sense that they are able to withstand harsh elemental conditions. Hence solvent printed images will not fade in rain, sunlight, dust, scratches, etc. for months, if not years together.
This combination of weather resistant images and a media that can withstand strong winds, makes solvent flex the most suitable product for outdoor advertising applications.
Types of Solvent Flex Prints Available at Orchid Digitals
At Orchid Digitals, we have three different frontlit flex printing options available for different use-cases.
1. Frontlit Flex: This is the entry level flex print used for short run ad campaigns. The material is a 280 gsm thin media. While the media is not very thick, it is strong enough for hoardings and small banner prints. Images are generally reproduced on a medium resolution on regular frontlit flex. The main USP of this product is its low cost. Frontlit flex is ideal for outdoor advertisements which need to be put up for a couple of months. The inks may start showing signs of fading in the sunlight, after this duration.
2. Star Flex: Star flex prints are the option chosen by most of our customers for their outdoor prints. 'Star' is actually a brand of premium flex media. At 340 gsm, it is much thicker than regular flex. This means that the material is stronger and will last much longer in an outdoor environment. More importantly, Star flex has a superior coating on its front surface. This enables us to produce high resolution images on it. And the colors of the same look extremely vibrant.
This longer life of the print and better image reproduction makes Star flex ideal for hoardings which need to stay up for more than a couple of months. Outdoor banners with high resolution images and detailed pictures also come out very well when printed on Star flex.
3. Black-back Flex: This flex media addresses a problem peculiar to outdoor hoardings. Many a times, the sun comes up from behind hoardings which are put up in open spaces. The sunlight then shines through the print media. This light, leaking from the behind the white colored frontlit flex, makes it difficult to view the print on the front. A similar effect is seen when you hold up a printed page to the tubelight. The letters become obscured when the light shines through.
To overcome this problem we have a media called 'black back' flex. As the name suggests, the back side of the flex media is painted with a black color. And this black coating stops back light from shining through. Black-back flex prints are typically very vibrant and great to look at.
Stretchability – An Important Characteristic of Flex Prints
Flex media can be stretched. And this property is important. Flex prints may not stretch as much as an elastic band, but are nevertheless pliable for a few millimeters. This stretchability gains significance when flex prints have to be mounted on a frame. Most small banner prints hang loose and flap in the wind. But large prints especially, need to be mounted on a metal structure. Frontlit and backlit flex also goes into the manufacturing of entry level shop boards. Here the media needs to be pasted on a metal frame.
And since flex media is pliable, we can tightly stretch the same on a metal frame. The end effect is like that of a well made flat looking bed or an animal skin stretched tightly on a drum. A flex print mounted on a frame can now look extremely taut and flat. Although the media is loose and very much like a bale of cloth, the framed print has the finish of a smooth and solid wall.
Finishing Options for Flex Banners and Hoardings
Frontlit flex prints are handed over to customers in a roll form. They then string them as banners or use glue to paste them on frames, as explained in the paragraph above. But we also provide two finishings for the printed product, to make the installation at your end, simpler.
Eyelets for Banners: Loose banners need to be hung up from nails in a wall, or poles on the street. So we provide eyelets / grommets on the corners of the printed banner. These metallic eyelets create a tiny, but neat hole on the edge of the print. They now act as an eye through which you can pull a string / rope. Tying the outdoor banner print in place now becomes very easy.
Edge Pocketing for Hoardings: Small eyelets won't work for large hoardings. So here, we loop in the side edges of the print and paste it on the back side. Remember how we used to cover our school books in brown paper? This process is somewhat similar. The extra paper of the brown cover was folded back, inside the thick cardboard cover of the book. Similarly we fold back about three inches of the flex material, on all four sides. We then paste only the last one inch. This creates a hollow tunnel like space of about 2 inches on all four sides of the hoarding.
At the time of mounting, the fitters push ten feet long iron rods through this hollow space and tightly pull the rods (along with the looped flex) over the edge of the hoarding structure. When the hoarding is stretched sufficiently tightly from all sides, the print looks like a flat and finished wall
Metal Framed Flex Prints – With and Without Lights
The product described on this page is a simple, loose print on flex media. Customers source this print from us and install it at their end, as they see fit. But we also have options where the print is mounted on a metal frame, for you. These printed frames are again available in two varieties, lit and non-lit. Here is a brief description of the same.
Backlit Glow Sign Board: Backlit prints, as the name suggests, are lit from within. We fabricate a metal box of 6 inches depth. Bright fluorescent tube lights are placed inside the box. Finally a specialised flex media, which allows light to pass through, is stretched on top of the box. The end effect is a brightly lit print, which glows and instantly attracts viewers. Please jump to this page for more details on backlit glow sign boards.
Frontlit Flex Metal Board: Here the flex is stretched on a simple metal frame. The frame is pretty sturdy and fabricated from a 0.5 inch thick metal pipe. It has no depth. Nor is the print lit from within. But this solution works well for entry level advertisements and shop boards on a tight budget. To know more about metal framed flex prints, please go to this page here.
Pricing for Flex Prints
Given below are the prices of the various types of frontlit flex banner printing jobs you can commission at Orchid Digitals
Premium grade frontlit star flex eco-solvent prints
₹40.00/Sq. Foot*
Banners for advertising & marketing
Example Costing:
₹960.00 for print size of 4 feet X 6 feet (24 square feet X ₹40.00 per foot)
Economy grade frontlit flex solvent prints
₹20.00/ Sq. Foot*
Low cost prints for large sized hoardings
Example Costing:
₹4000.00 for a hoarding of size of 10 feet X 20 feet (200 square feet X ₹20.00 per foot)
Please Note:
The rates quoted above attract 18% GST.
Above rates do not include installation.
Rates are quoted per square foot. This means you first need to work out the total area of your job to arrive at the final cost. For example, let us assume that you require a Star flex print having width of 3 feet and height of 2 feet. In this case, the total cost of the job is calculated as follows…
3 feet width X 2 feet height X Rs.30.00 (cost of print, as per the table above) = Rs.180.00 + 18% GST
Shipping and Delivery
Order your flex banner and hoarding print from the comfort of your home. No need to worry about 'printers providing flex printing near me' – orders placed on Orchid Digitals can be couriered across India.
Flex banners prints can be delivered anywhere in India in a roll form.
Flex hoardings on the other hand, are too large to be rolled up. These prints have to be folded before we can send them out for delivery. Please note that folded prints will develop crease marks. These can be eliminated by tightly stretching the print on a metal frame.
Delivery charges are extra and will be communicated to you once we receive the delivery address.
Get a Quote for Your Job of Flex Printing Job
Please leave us your details and we will respond promptly
Similar Products
Digital inkjet printing on cloth material. Create advertising banners &…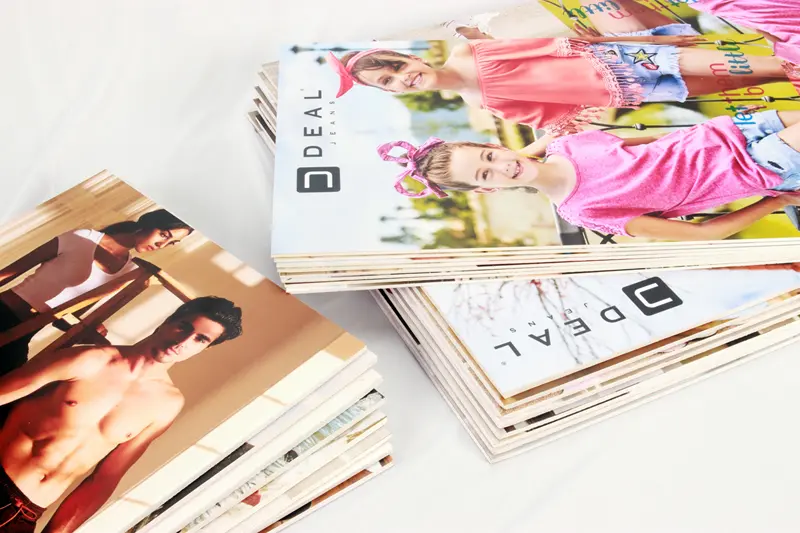 Sunboard / Foam Sheet Prints. Thick, Rigid Yet Light-weight. Communicate…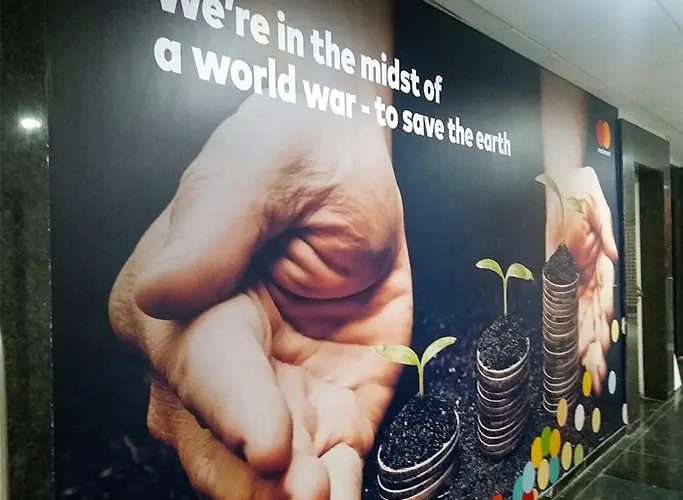 Customized vinyl wallpapers for branding on office interiors branding. Print…