How to organise a successful marathon race?
12 Tips on how to plan a running event that spectators and runners will rave about.
Pune is an enchanting city that boasts a multitude of endearing features, many of which begin with the letter 'M'.
One such example is the mouth-watering misal pav snack. The second 'M' can be allotted to the June to August monsoons that carpet all the hills and parks in this city, green.
And along with the monsoons, there begins another activity starting with 'M' that holds a special place in the hearts of many Punekars namely — Marathons. Our University grounds, the Vetal Tekdi hills, the Taljai hills, the Race Course area, etc, are all filled with running groups cross training early in the mornings.
But why talk about only Pune? Marathon events are popular throughout India. You will surely come across not just running and health clubs, but even cooperative housing societies and corporate businesses that organise these races. The marathon runners too are super enthusiastic with everyone ranging from ages 8 – 80 participating in these events.
Now, as an organiser, you need to realise two things:
A marathon race will be on the bucket list for most first-time participants. And all runners will post on social media both during and after the race.
Now, as an organiser, you need to realise that planning and executing a successful and safe marathon event takes more than just putting up a few signs and setting up a starting line.
And whether you're organizing a small community run, a half marathon, or a larger-scale event, there are many factors to consider in order to ensure a smooth and successful event.
And so, race organizers will find invaluable tips in this blog post, to ensure that your race day event is a huge success. Implement these ideas and you'll find both the spectators as well as your participants raving about your preparations.
Tip 1: Bib-tastic: How Personalised Bibs Can Amp Up Your Race Experience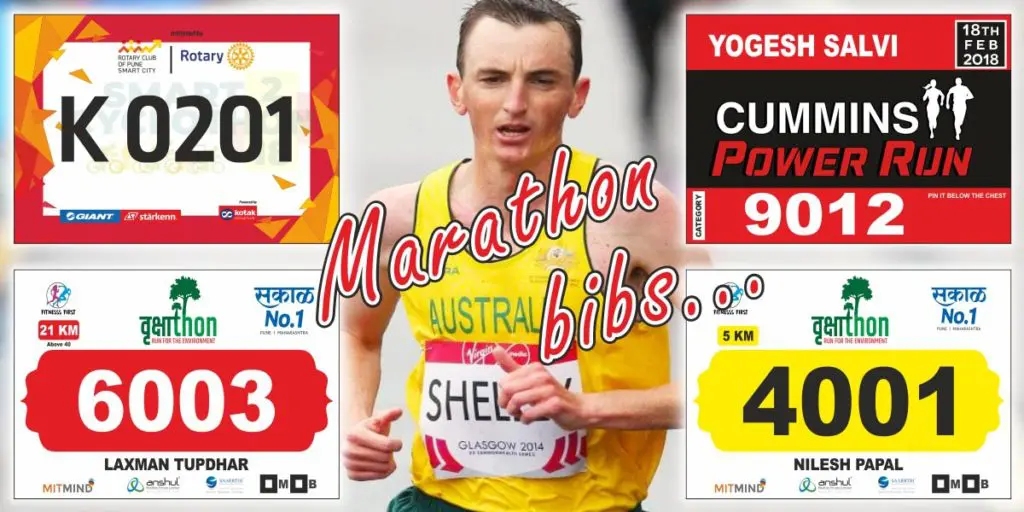 One of the most visible things on marathon day will be the bibs pasted on the t-shirts of each and every one of the runners/participants. Get this part right and your event will already be taken to the next level.
At Orchid Digitals, we print your marathon bibs at an extremely high resolution on our digital printing press. And apart from the fabulous print quality, we also help to incorporate variable data like the runner's number, name, age, gender, race category, body weight, etc., to give you personalized bibs tailored to your specifications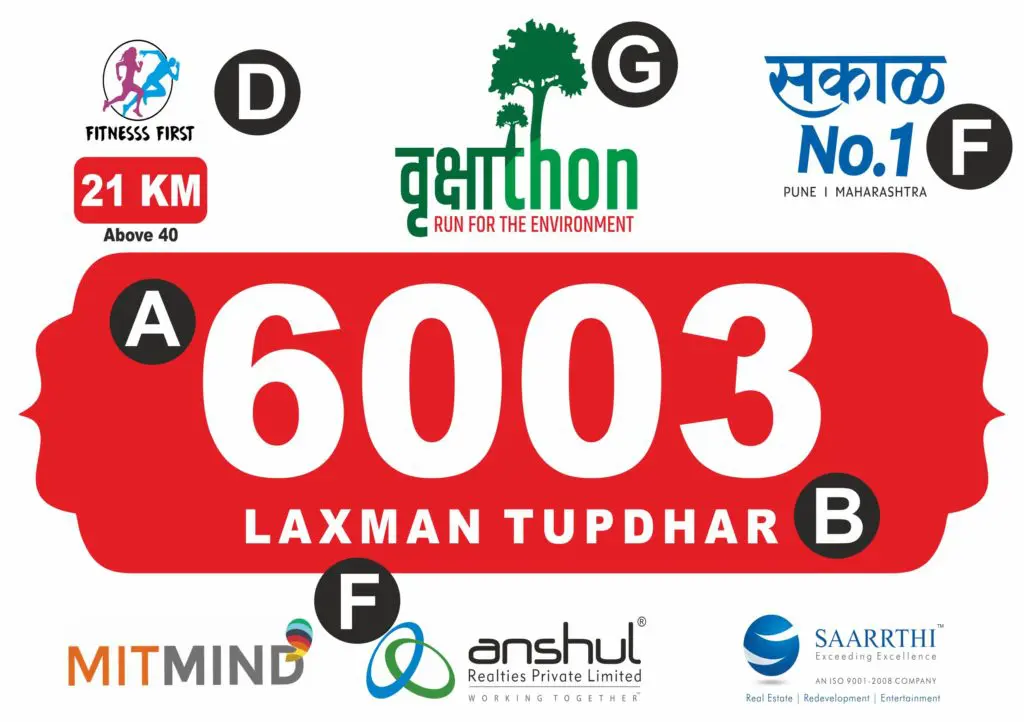 These bibs carry the name of the race, the logo of the sponsors, the race category like 5K, 10K, et cetera, and most importantly, the runner's number via which you can track the individual participants.
The bibs also have pinholes on the top left and right corners, enabling you to use a safety pin to attach the print to your t-shirt.
Our A5-sized prints are available in three variants. We have a thick 170 GSM paper bib that you can use if you are on a budget and if you feel that the bibs are going to be discarded immediately after the event.
We also have a premium variant made out of NT paper or non-tearable polyester print that is waterproof, dust, sweat, and scratch-resistant. Opt for this variant if you are organizing a prestigious event like an international triathlon, wherein the bibs can also double as a badge of honour for the participants.
Runners typically save these marathon bibs as a memory of the event for years after the same is over. And for such an event, it makes sense to opt for the more premium non-tearable marathon bib.
Finally, there are a lot of runners who prefer not to pierce their t shirts with pins in order to attach the marathon bibs. For these clients, we have bibs printed on sticker paper. All you have to do is peel and paste the sticker on your clothes, and you are ready to go. Alternatively, you can choose to pin this print as well.
Tip 2: For the "Cert"ainty of Recognition: Why Certificates Are the Cherry on Top of Any Race Event?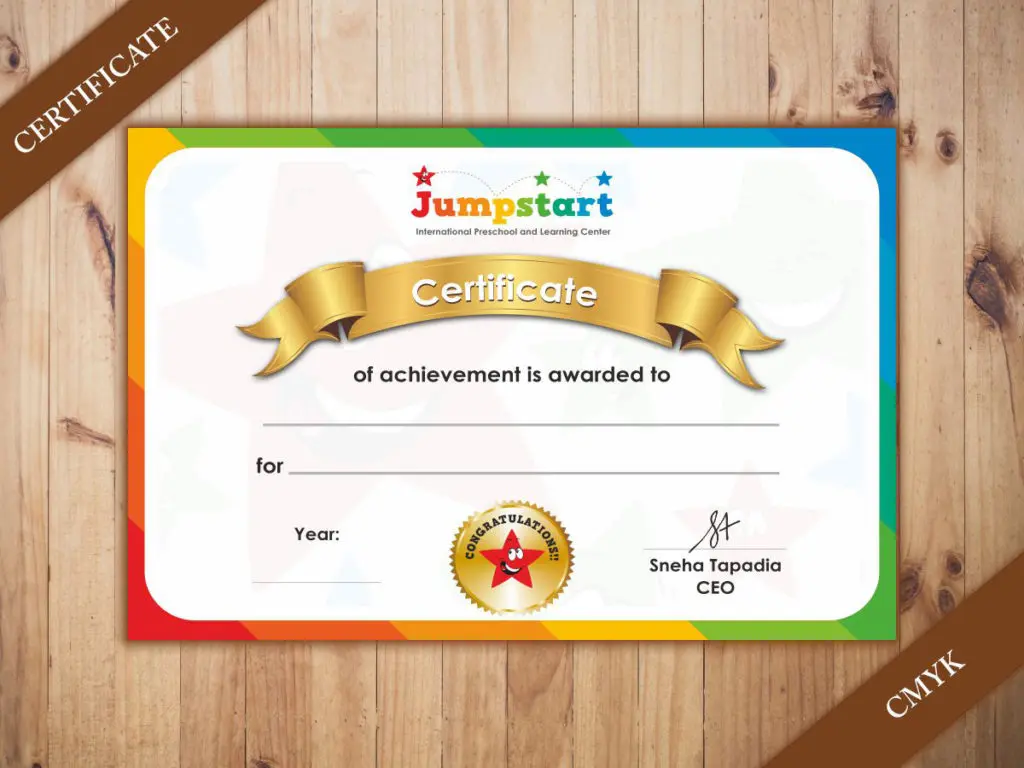 Custom-printed certificates bearing the participants' names and their finish times are an absolute must to make your runners feel special. Commemorating the athletes' achievements adds more gravitas and recognition to the event.
At Orchid Digitals, we have the capability to print your certificates on not just regular paper but also on textured or metallic finish sheets for a premium aesthetic. Furthermore, these premium sheets give the document a luxurious tactile feel that is sure to impress!
We even have variable data printing software at our end wherein you can give us the names of the race participants and we incorporate the same automatically on the certificate.
Discover the convenience of digitally printed certificate services today – simply visit our page for more information!
Tip 3: Strike a Pose: How Selfie Booths and Cutout Stands Add Fun to the Race Event
A Selfie booth or a lifesized cutout stand will be an instant hit among your participants. For example, the booth can carry your organisation's branding and also display a congratulatory message like "I Ran 10 Kilometers Today!" or "I Completed the Pune International Marathon".
I guarantee that people will crowd to such booths to have their images clicked.
Another source of endless entertainment is our life-sized cut-out stands placed at strategic locations. These stands are cut in the shape of cartoons, mascots, or even your company logo. People invariably pose here to get their photos clicked!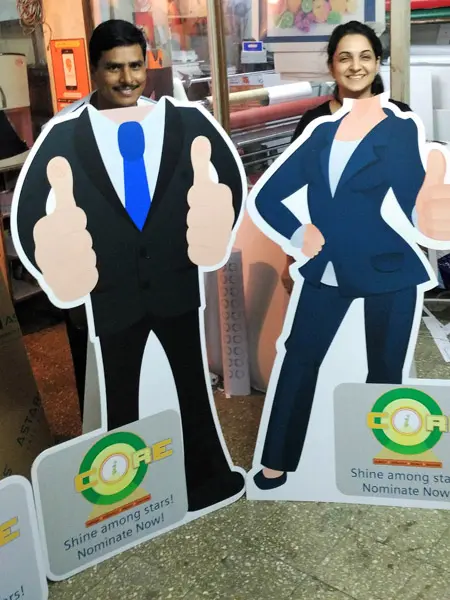 Tip 4: Flag Your Enthusiasm: How Flags Help Kick Off a Marathon Event with a Bang
A race needs a flag-off.
But instead of a plain white-coloured flag, how cool would it be if the flag carried your organisation's logo or your event's name?
Attention to such minute details on race day will make a difference. Because every runner's attention will be focused on your branded flag before the race starts.
At Orchid Digitals, we can print flags bearing your artwork and designs. Head over to this page to source custom-printed flags made of thin cloth/fabric material. Let us know what you need and we'll take care of the rest!
Tip 5: Posing for Success: Use Stage Backdrops to Make your Race day Photos Picture-Perfect
A stage backdrop is another idea to make your race event memorable.
Every large public event or group activity affords ample opportunities for photography to make the event memorable. And you can consider erecting a huge backdrop with your brand colours/logos. People naturally gravitate and pose in front of such backdrops to have their photos clicked.
This flex-printed stage backdrop helps create a festive atmosphere for your marathon race and rewards the perceived effort of the competitors after their long run. And when they pose in front of it for their pictures, you will see grins and victory signs all around!
You can even create a gate arch at the finish line to welcome your runners. As the name suggests an arch will span the road through which runners will run. And the arch can also be branded with your event logo and race details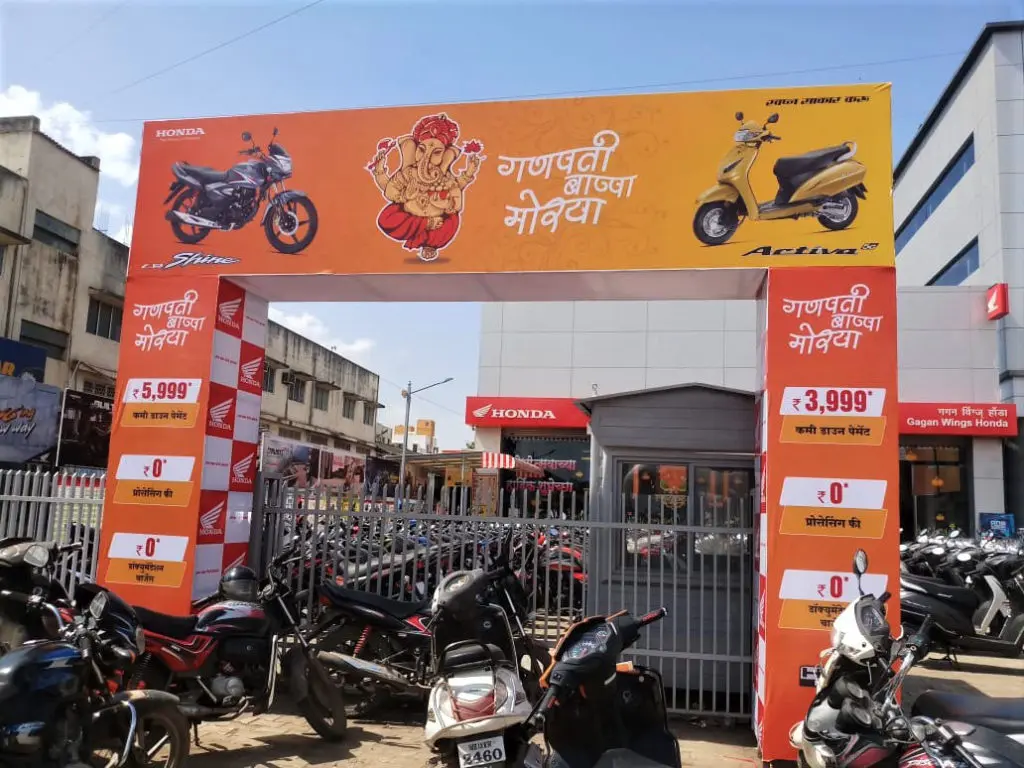 Click the button below to order your metal-framed backdrop now and give your marathon event the perfect stage!
Tip 6: Medals & Trophies: The Perfect Reward for Your Athletes
The effort invested by participants in a marathon demands to be acknowledged and appreciated. After all, it takes considerable dedication, strength training and hard work to reach the finish line!
It is essential to acknowledge all of the participants in any running event, and giving out medals for each finisher is a great way to do this. Furthermore, the top contenders should be rewarded with stunning trophies.
We suggest consulting Amit Dixit from Amit Enterprises (8805001197) or Jeevan Sharma from Taj Services (9823083434). These vendors provide a broad selection of trophies and other gift articles that will make your athletes feel super special on their day of victory.
With their help, you can commemorate the participants' achievements in a special manner!
Tip 7: Timing chips: An Easy and Low-Cost Method to Automate and Record Run Times & Marathon Pace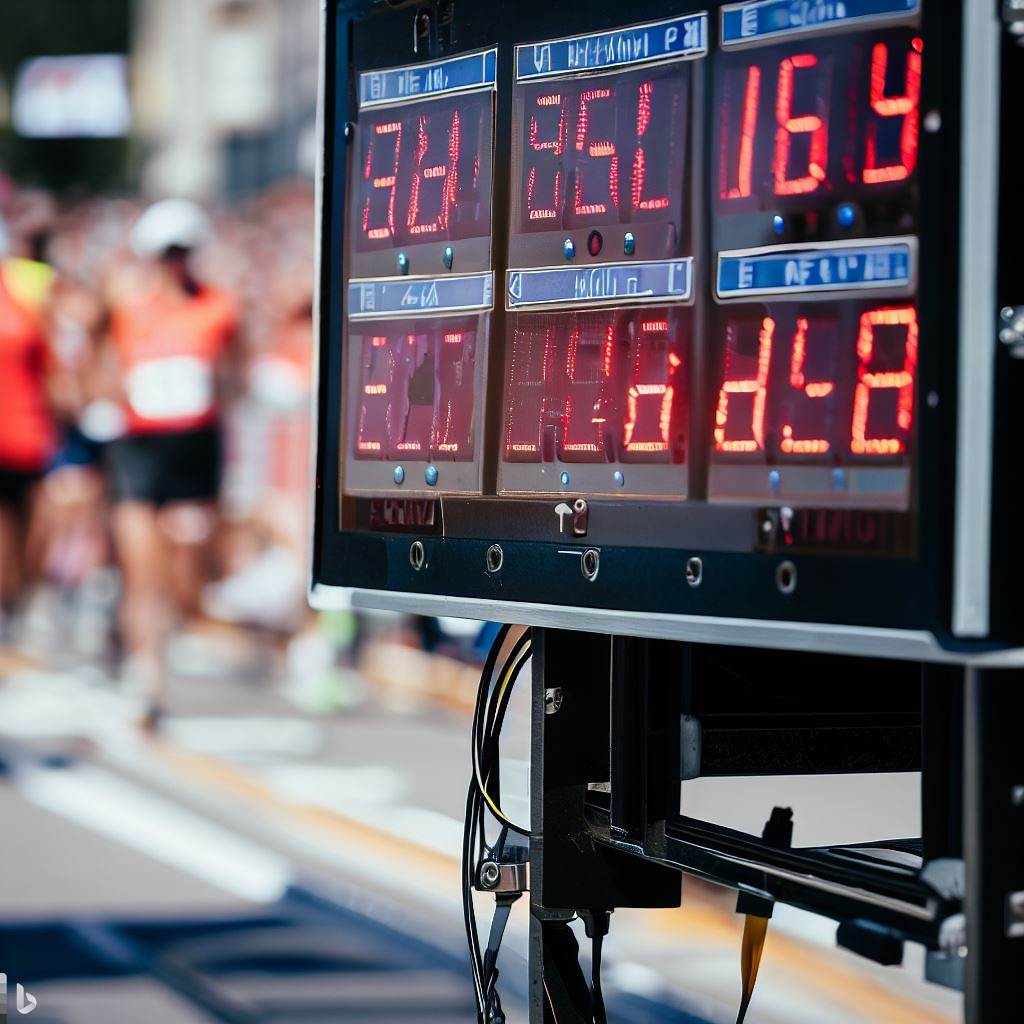 If you are running a mass event with thousands of participants, timing chips can be used as an automated system to record the marathon time of all the runners. These RFID timing chips provide a hassle-free method of recording the time it takes for each runner to finish the marathon.
Here is how they work…
Participants wear timing chips in the form of a sticker placed behind their bib. The system also includes RFID timing mats placed at the beginning and end points of the race, as well as intermediate locations like the 5k marker, 10k point, etc. As each runner passes over these timing mats, the chip automatically records its timestamp!
The timestamps of all the runners are then collated into a software program which can be used to further analyze the data.
Visit this page to learn more about timing chips for races and other marathon time recorders.
Tip 8: The Lens is Mightier Than the Shoe: How Photographers/Videographers Can Make Your Marathon Memorable
No event is complete unless it is recorded for posterity. And while everybody armed with a mobile phone is going to click selfies during the race, you will require the services of a professional photographer/videographer to capture the action on race day.
A skilled photographer or videographer can capture all of the exciting moments, like runners crossing the finish line, awards ceremonies, etc. They will also provide you with beautiful images that you can use to promote your event across various channels.
Sanjay Hira from Ratanz Photo Studio (9822064433) is a professional photographer based in Pune who provides excellent services for race events. Reach out to him and get creative photos and videos of your marathon event!
Tip 9: Sip, Sip, Hooray! How Water and Energy Drinks Can Help You Cross the Marathon Finish Line
A great marathon event just isn't complete without refreshments. Making sure that all the participants stay hydrated and refreshed is also essential to ensure the safety of your runners.
You need to place water tables at strategic points along the route. Consider partnering with a beverage company or energy drink brand to provide free drinks to your participants. This gesture will be much appreciated by your athletes.
Also try to arrange for food stalls that serve healthy snacks like protein bars, energy gels, fruits and other nutrition-rich items – these can go a long way in helping runners refuel quickly when they feel tired from their running!
Tip 10: Pacing Your Way to Victory. How Pacers Can Help You Conquer the Long Run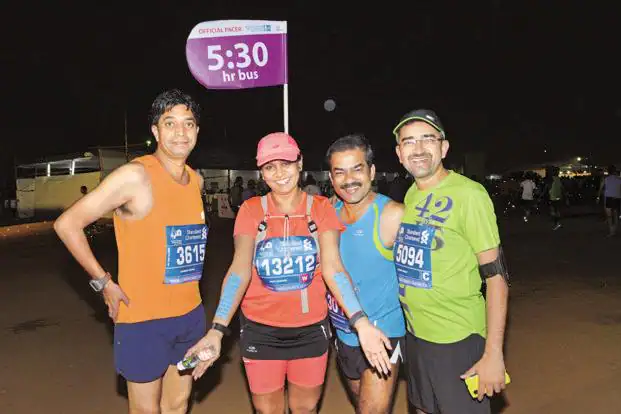 Pacers are experienced runners who will accompany marathon participants on their journey, helping them stay motivated and cross the finish line within a set time. These pacers will gently exhort and encourage struggling runners and prevent them from giving up. They will also provide invaluable tips on running form, breathing techniques, pacing one's self to prevent exhaustion, etc.
Having designated pacers in a run creates a sense of community and camaraderie among the participants. Because when you (as an organiser) put in the additional commitment to provide pacers, all your participants realise that you care deeply about even your weakest and slowest runners.
Every participant now gets a powerful message of support as they strive to reach the finish line within the parameters of their personal fitness goals.
Tip 11: Dance/Zumba Instructors for pre-race warm-up – Get your blood pumping and muscles firing
Invite a dance or Zumba instructor to start your marathon event with an exciting warm-up routine! Offering dynamic motions and stretches, this pre-race custom will have you feeling invigorated, restored and full of enthusiasm for the upcoming run.
Furthermore, the instructors can host a post-race cool-down session with stretches. This will not only help prevent muscle soreness and fatigue but also lower any possibility of injury.
Moreover, by setting up a DJ booth in close proximity to the start/finish line and along the course, runners can be encouraged to keep moving with high-energy music. This will not only make every runner's experience more enjoyable but also create an atmosphere of enthusiasm that is sure to push them all towards setting new personal bests!
Tip 12: First Aid Finish Line – Why Medical Support is Critical in a Race
Finally, never forget about medical services during long runs! Participant safety should be your top priority when organizing a marathon event. And every successful race requires onsite medical care in case of any emergency or injury during the event.
Make arrangements with local authorities and hospitals to have paramedics stationed at strategic points like the halfway point. Keep ambulances ready to transport injured athletes who require hospitalization or further treatment.
These measures will give your runners the confidence that they can push themselves without having to worry about their safety. And with everyone assured, you'll be able to create an unforgettable marathon experience for all!
Bonus Tip: Hiring an Event / Race Organiser
By now you may have realised that putting together a successful marathon requires some amount of effort and planning. And so, to ensure everything goes smoothly you might want to think about getting professional help from an experienced event organiser.
By providing you with valuable advice on each step of the process, these experts will be your trusted go-to for bringing your running event to life. Plus, they'll help you create a comprehensive timeline so that all tasks are completed within the set deadline.
For readers based in Pune, I would like to recommend Mr Vijay Gaikwad: +918329540663 for this purpose.
Vijay runs a running and exercise club in Pune city. He is a professional boxer and has trained a number of fighters as well. Apart from this he also trains people of all ages to run long-distance races.
Moreover, he also conducts his own marathon 'Vrukshathon' in the month of July.
Conclusion: Wrapping it all up!
Organizing a marathon event is an exciting challenge that requires managing a lot of moving parts.
You need to source running bibs, certificates, medals, trophies, water, refreshments, etc. for the participants.
And while not mandatory, it also helps to arrange for timing chips, stage backdrops, selfie booths, professional photo/videographers and dance instructors to make the event more fun.
Finally, the logistics also involve venue and route planning, the need for paramedics to stand by in case of emergencies, and experienced pacers to keep everybody going on.
However, with these 12 tips in your arsenal, you will be able to create an unforgettable experience for all the runners participating in your race!
Good luck! 🙂 Happy Running!
Please note that Orchid Digitals has no connection whatsoever to the vendors listed above. We do not receive any form of commission from them either. I chose to include these particular companies in Pune simply because their services are exemplary and I wanted this list on 'How to organize a marathon', to be as comprehensive as possible!
Looking for any specific product?
Drop us a line. Send us your query. And we'll get back to you with solutions and answers.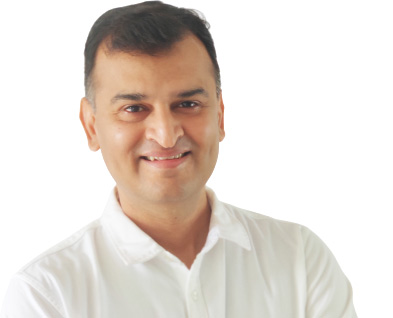 Mitesh Sanghani
Mitesh lives, mostly for Saturdays.
But when forced to work, you'll find him heading Orchid Digitals – a printing press in Pune.
If it's an emergency, try looking for him in the hills behind his house. You'll almost certainly find him… lazing under a tree, with a book in hand.
All our blogs
This is a section packed with useful knowledge on digital printing and its aspects, interesting printing case studies, and ideas, guides, and tips & tricks on marketing and branding.