Exhibition Promo Tables
Set-Up Your Sales Counter, Just About Anywhere!
Foldable plastic table on a metallic structure
Lightweight & easy to carry to remote locations
Can be customized to flaunt your brand identity
Can be set-up in minutes
Small-footprint – can be erected in front of any store
Exhibition promo table starting from ₹4,500
Promo Tables – Detailed Description
Imagine a pop-up table so light in weight that it can be carried under your arm. Moreover, this table is branded with your company logos and product images and takes just minutes to set up on your promotion desk. Orchid Digitals now offers just such an exhibition table to enable our clients to instantly set up a promotion counter booth or kiosk at any point of sale location.
A 'plain Jane', unadorned table carrying your wares will do just that… carry your stuff. But our custom printed promotion table will market your brand and showcase your products in the best possible manner. Print your company logo, your service listings, or your product images on this exhibition table. And you can rest assured that this pop-up table will garner customer attention and draw in the crowds.
Construction of a Promo Table
As you can see from the picture above, the promotable is made up of four main parts…
There is a rigid nameplate at the top, supported by two telescopic plastic poles. This plate is generally used to display the company name and logo.
The horizontal plastic platform is the actual tabletop. While it is extruded from lightweight plastic, it is strong enough to carry most of the products you plan to display on the counter.
The front cover of the promotable is where all the actual product promotion happens. This area comprises the front-facing middle section and the side facing left and right wings. The client's artwork/advertising communication is printed on high-resolution photo vinyl. This vinyl is then pasted on the front panel of the promotable.
There is an internal frame that holds the entire structure in place. This frame is made of segmented pipes which can be broken down in small parts and reassembled very easily.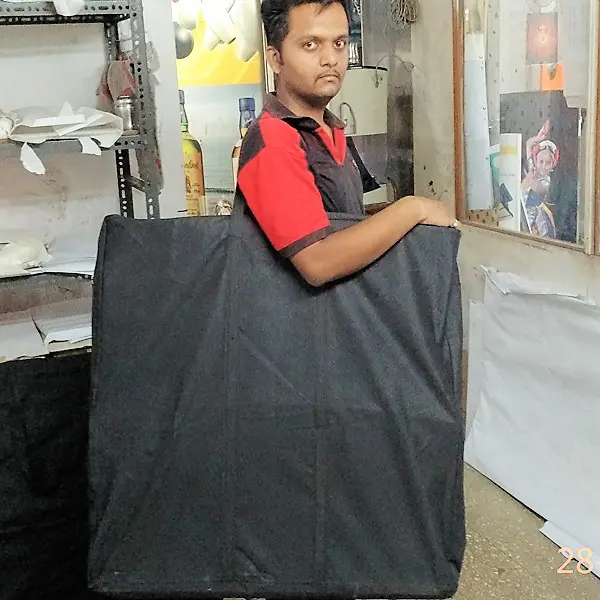 What Are the Advantages of Promotion Table?
The collapsible exhibition table fulfils the following requirements from an exhibition / event scenario…
A promotable primarily allows you to instantly set up a sales counter just about anywhere you can think of.
It is lightweight and very easy to carry.
The promotable is extremely easy to install and a layman can set it up in minutes
The entire structure is collapsible and can be packed in a small bag. This makes it very easy for exhibitors to carry the promo table to remote locations.
This table allows for prominent logo and product branding
Most importantly, this exhibition table is pretty attractive and will garner customer attention
Artwork Dimensions Needed for Printing on Top of the Promotional Table​
Promo tables are custom designed to carry your company's branding. And so, to create the maximum impact, you need to provide us with the artwork that has to go on this table. We can print on the top nameplate of the table, its front face, and the left/right, side wings. So please use the dimensions shown in the diagram below while preparing your artwork. Please also share your open design file (preferably in CorelDraw format) so that we can make minor size alterations if needed.
Promo Tables – Client Stories
Mr. Sushil of Godrej India was looking for promotion tables online, and needed to set up some tables at the entrance of his retail outlets in Pune. Sales personnel would stand at these promotion desks to display new hardware products to potential buyers as they entered the stores. Also, at the end of the day, these tables had to be broken down and stored inside the shops.
Essentially, Mr. Sushil needed a booth that could be set up instantly, promote his products, disassembled, moved around, and reused on a regular basis. The printed promo table solution Orchid Digitals gave them, easily met all these requirements. And in fact, the people at Godrej were so impressed that they came up with their own catchy term for our collapsible exhibition table. They started calling it 'the InstaBooth'. Instabooth is a perfectly convenient booth that can be setup without any issues. Godrej Boyce also commisioned us with branding a lot of their retail stores in Pune City.
FAQs | Frequently Asked Questions
What Is the Price of a Promotion Booth?
| Product Variant | Cost* |
| --- | --- |
| Custom Printed Exhibition Table | ₹ 4500/- |
* Please Note:
The rates quoted above attract 18% GST.
Shipping and Delivery
Promo Tables can be delivered anywhere delivered in Pune city and its suburbs.
Delivery charges are extra and will be communicated to you once we receive the delivery address.

Question: Does this product get shipped out of Pune City?
Answer: No. We are sorry. It does not.
Hassle and Risk in Transportation: Promo tables are liable to break in transit.
Feasibility of Transportation: The promo table price is a pretty low-cost product. So, packing and shipping them over long distances means that our customers will end up paying more for the cost of delivery than the cost of the actual print. Therefore, if you are stationed out of Pune, it makes sense for you to source the print from your local printer. All you have to do is share/take a print of the above post, show your local printer the material specifications, and commission a similar job from him.
Get a Quote for Your Pop-up Table Printing Job
Please leave us your details and we will respond promptly
Similar Products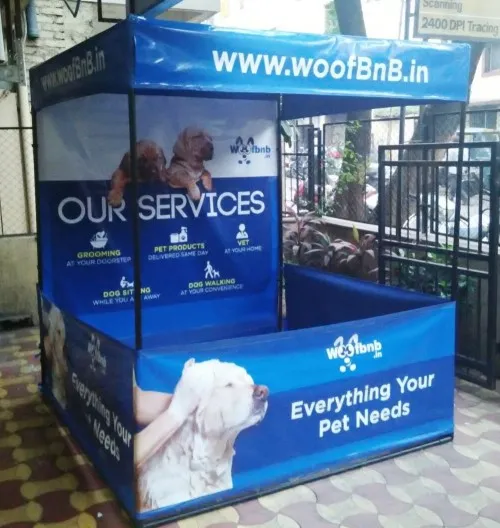 Customizable exhibition booths for brand presence at exhibitions. Easily accommodates…
Rollup standees. Portable, easy to carry banner display solution for…
Exhibition Backdrops – Collapsible
Pop-up backdrops. Can be instantly erected in trade-shows, events, &…