Sipper Printing on Your Liquid Containers
Your Generic Bottles, Now a Personalized Gift
Printing service on sippers & bottles
Reproduce company branding / sports team name on the bottles
Low-cost yet high-value gifting solution
Waterproof UV inks which last for long
Pricing starts from ₹ 40 per bottle
Sipper Printing – Detailed Description
What defines a good gift? Is it the price attached to that gift or the sentiments with which it was given? Or perhaps, a gift is best judged by how useful it proves to be, to the recipient. Or how it adds value to their daily life. Sippers or bottles are one such useful gifting item. And a printed sipper is a gift that looks classy, personalized, and retains value in the mind of the recipient for as long as s/he is using the product.
A sipper is not just a plain or mundane bottle. Apart from storing water or other liquids for day-to-day consumption, it has the following features:
It has a very sleek metallic/glassy finish
It has a sturdy construction as opposed to the cheap use and throws mineral water bottles
Sippers are visually appealing and often have graphics printed on them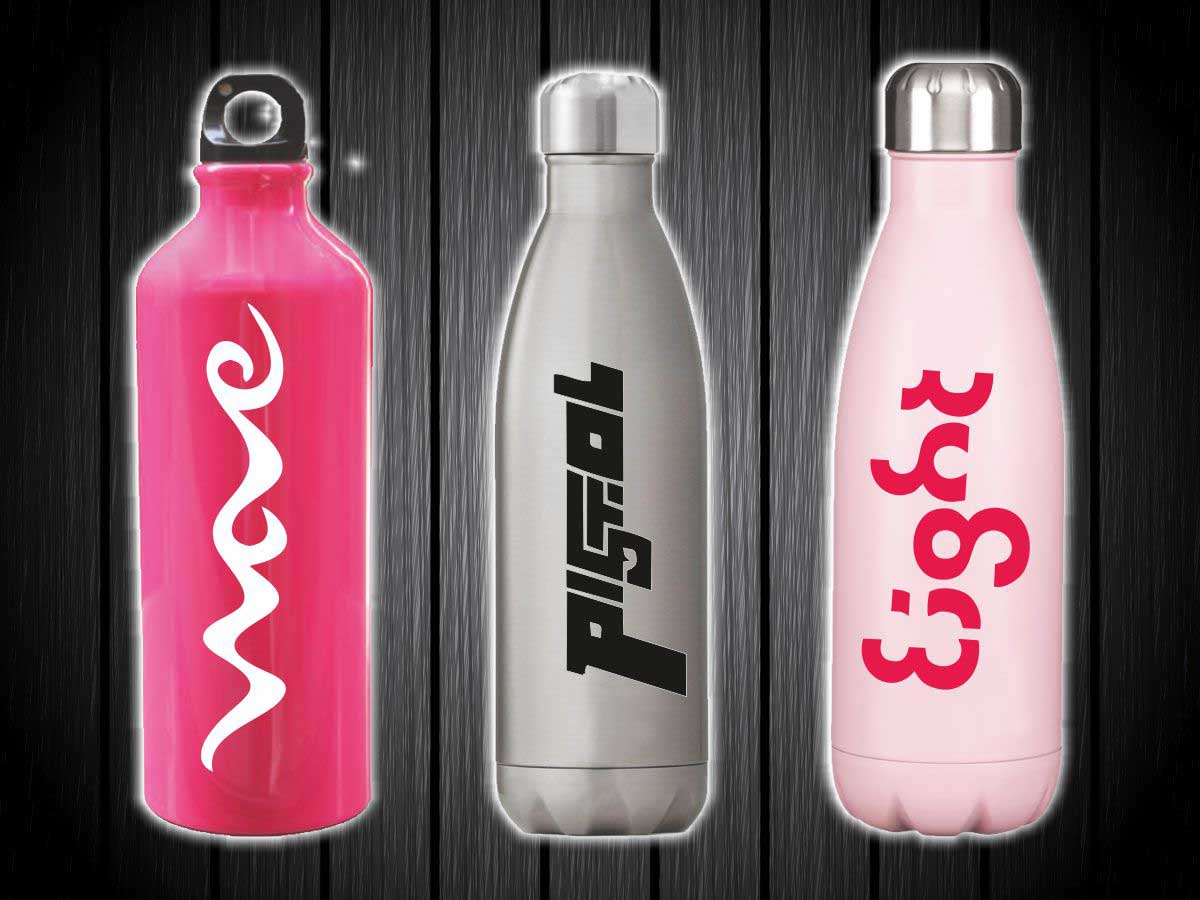 Sipper Printing – The Scope for Customization
Now, wouldn't it be cool if you used our personalized sipper printing service and created a one of a kind, unique corporate gifting solution? Today, sippers are often used for the purpose of gifting in corporate and organizational setups or at sports events. As mentioned above, they are elegant and have a classy look and feel. At Orchid Digitals we take this classy look one step further. We use our specialized flat-bed UV printing machine to print company logos and insignia on their surface. We can even print photos or any stickers on the bottle.
This process of personalizing water bottles converts an inherently useful, yet inexpensive item into a great branding and gifting idea. Prints on sports bottles also makes for a great gifting idea. Also, this product will not be discarded as people will be using it on a daily basis. Additionally, the personalized print on it will retain the memory of the occasion on which the promotional water bottles were gifted.
Which makes sense because after all, brand recall is the main objective all corporate gifting solutions seek to achieve.
Custom Printed Water Bottles Versus Stickers
Is direct bottle printing even necessary, you might be wondering? Can we not simply slap on a sticker on the bottle instead? Yes, we can. But the problem is…
Stickers can become sloppy after a few wash cycles
They look pasted upon
They can be removed and thrown away
The cheap paper stickers look shabby and will wrinkle in damp conditions
Alternatively, a UV printed bottle looks factory finished. Also, UV inks are scratch resistant and you cannot peel them off.
How Do Sippers Get UV Printed
Unlike printing on paper, stickers on bottles and prints on sports bottles prove to be a challenge. This is because traditional inks get easily smudged on their smooth surface. Also, these bottles are curved and the print needs to cover the circumference of a cylindrical surface.
But, at Orchid Digitals, we have a very high-end Mimaki UV Flatbed printer, which can take care of these challenges. UV inks get sprayed on to the print surface just like any regular inkjet inks. But we then use ultraviolet light to cure these inks and make them rock hard. These inks also adhere to smooth surfaces very strongly and cannot be rubbed off.
We simply place the bottle inside the UV printer. There is a kebab like a mechanism which slowly rotates the sipper as the printing starts. As the image progresses, the bottle rotates along its long axis, very much like a pit-roast over a fire. This ingenious mechanism helps us print over the surface of round / cylindrical objects. Take a look at the video below to see how bottle printing happens.
Digital UV Printing Versus Screen Printing
Traditionally bottles were printed using a method called screen printing. But screen printing always had a few drawbacks:
You could not do one-off jobs: Screenprints were cost-effective only if you had to print on large quantities of bottles. This worked for bottling companies and milk dairies. But it was not a viable option for short order runs for let's say 100 or so custom water bottle prints
Screen printing is limited in terms of image reproduction: You can only reproduce single color or dual-tone logos. But multicolored image reproduction was out of the question.
UV printing overcomes both the above limitations of minimum quantity and image colors. We can print a full-color image on just one bottle if necessary.
What Is the Cost of Bottle Printing?
The cost of printing on sippers is proportional to the surface area that has to be printed on. A small logo is obviously going to cost lesser than a large image wrapped around the entire surface of the bottle. So the actual cost of the print can only be determined once we get the print file at our end. However, to give you an idea of the expenses involved, do look at the table below.
| Item | Printable Area | Estimated Cost |
| --- | --- | --- |
| Sipper / water bottle | | Rs.40/- to 60/- + taxes |
* Please Note:
The rates quoted above attract 18% GST
Shipping and Delivery
Printed Sippers can be delivered anywhere in India.
Delivery charges are extra and will be communicated to you once we receive the delivery address.
Also, while we're the experts in printing on sippers, we do not hold an inventory of bottles at our store. We are primarily a print shop and unfortunately, gift items fall beyond our domain. So we request you to please make a selection of water bottles from a vendor of your choice. Better still, get just one bottle and we'll be glad to run a sample print for you to check.
Here are some of our recommended vendors for sourcing quality sippers & bottles.
Amit Enterprises
Contact Person's Name: Amit Dixit
Contact: 8805001197
Get a Quote for Your Sipper Printing Job
Please leave us your details and we will respond promptly