How to Customise Your Clinic's Interior Decor: 8 Hyper-Personalized Furnishing Tips
The need for creating a unique-looking health centre designed to calm, soothe and reassure your patients
No one looks forward to visiting the doctor. Most patients who walk into your clinic or dispensary, probably feel anxious and apprehensive about what lies ahead.
And that is why, as a doctor, it is important for you to create a warm and welcoming interior design for your clinic. Your waiting areas and your examination rooms have to be designed with a view to making your patients feel relaxed and comfortable.
Your healthcare facility's interior decor should make your patients feel that they have come to a highly professional practitioner. And single glance at your work environment has to reassure your patients of the following:
That they will receive the best medical care
And that an effective cure will be quickly implemented to cure their ailments
Now, I have no doubt that you are proficient in diagnosing your patients' ailments and supplying the correct medication for their treatment.
But the job of reassuring your patients begins even before they enter your cabin for their consultation with you. You need to calm their nerves the moment they enter your medical facility and sit in your waiting area.
And by this I do not mean installing comfortable chairs or indoor plants, putting up abstract prints on the walls, or providing magazines to help the patients pass their time while they wait for their appointment with you.
Nor will I be discussing the standard interior concepts of furniture, flooring, wall paints, false ceiling, etc. (There are tons of blogs that already do this 🙂
This post will provide guidance on how you can make every square inch of your clinic's interiors express the following:
Who you are as a person
How professional you are as a doctor
The interiors will help communicate the proficiency of your medical practice
And the philosophy upon which the same is built
8 Great Ideas to Personalise your Clinic's Interiors
Install a classy-looking 3D acrylic logo sign for your reception/waiting area.
Use acrylic poster panels or lightboxes to showcase your medical services and the USPs of your treatments.
Display your communication in vibrant backlit frames lit up with bright LEDs
Install custom-printed wall prints to tell your patients, your story and highlight your prowess as a top-notch doctor.
5. Glass Films – Custom printed with your Design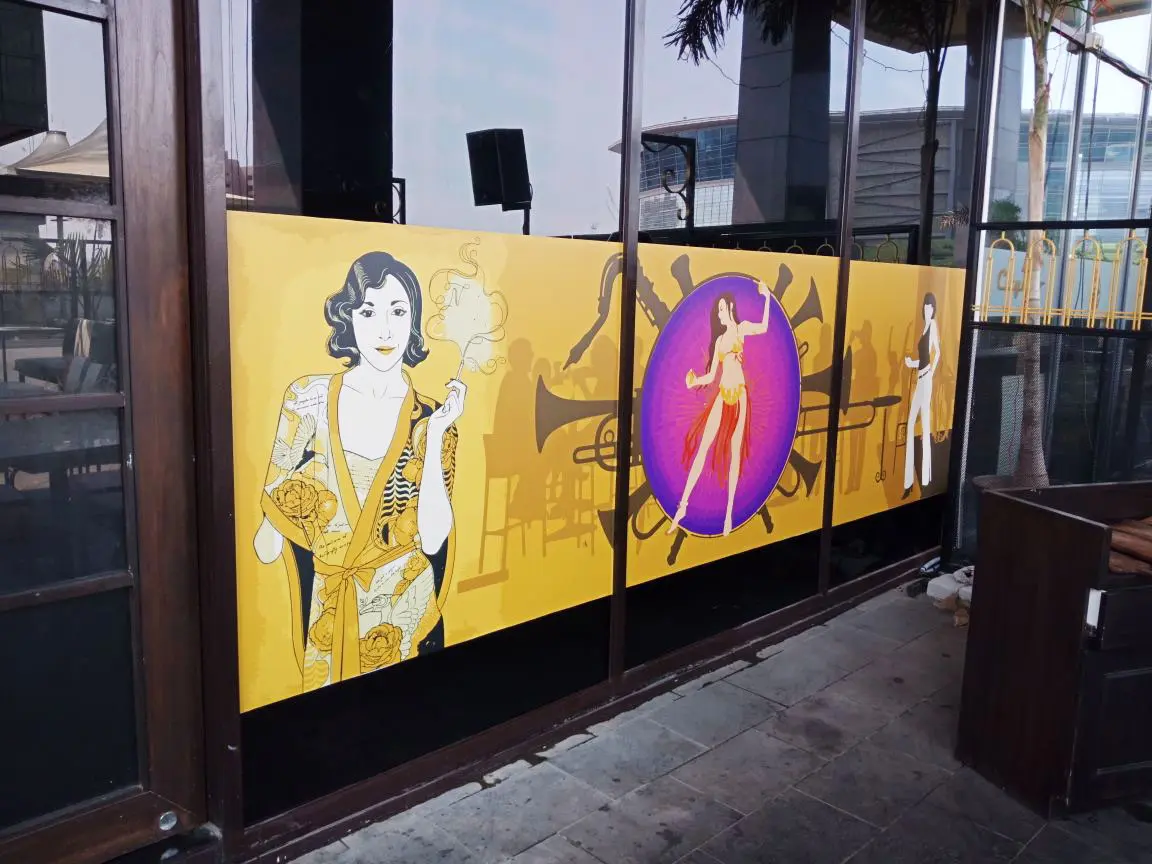 Use custom-printed glass film prints to control the privacy levels of your cabins and treatment rooms.
Use gold/silver engraved nameplates for the various cabins in your polyclinic.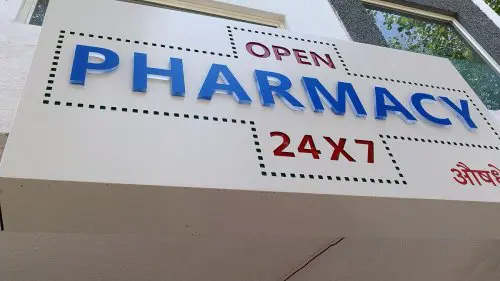 Install a prominently lit neon signboard on the exteriors of your building or hospital to catch people's attention
Use an online design tool or hire a creative ad agency to design your clinic's communication and marketing collaterals.
Tip 1: Commission a 3D acrylic logo sign for your clinic's reception/waiting area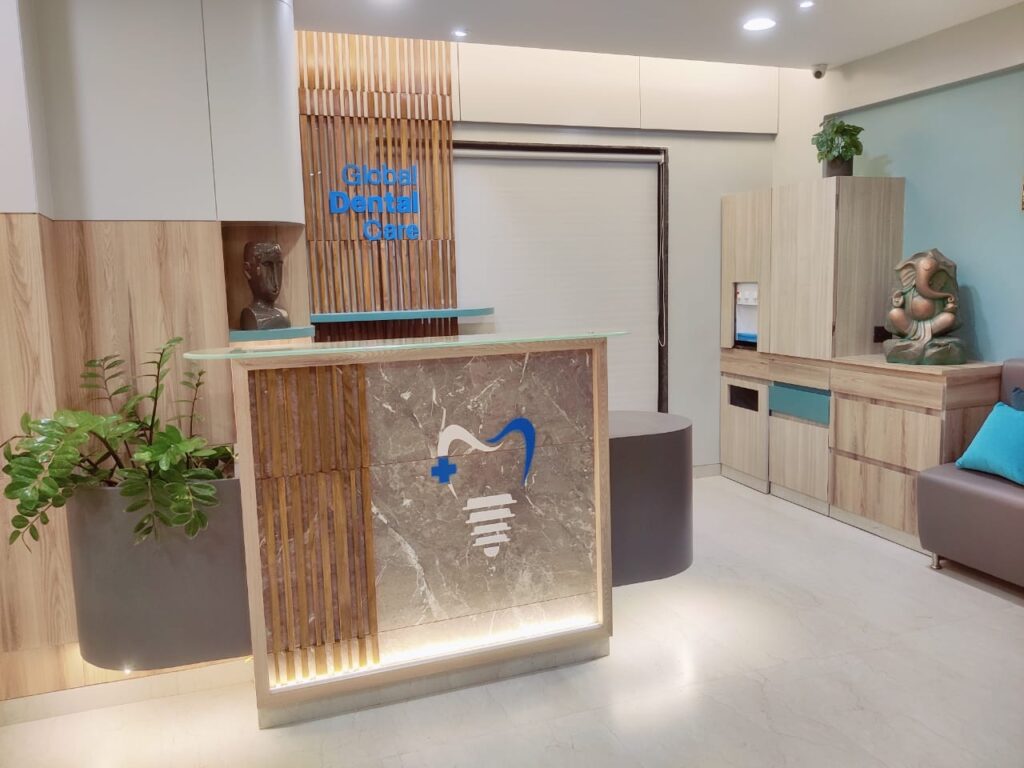 A clinic's waiting room can no longer be a plain space with minimal decoration.
And towards this objective, you need to install a sign fabricated in the shape of your clinic/hospital's logo. Also, make sure that you place this logo board in a prominent area like the reception, the waiting room or at the main entrance of your clinic to make a great first impression.
Modern logo signs are rendered in 3D and fabricated from new-age materials like acrylic, vinyl and aluminium composite sheets. You can even light up your logo board using LED modules.
And such a 3D acrylic letter sign, laser-cut to precision looks absolutely stunning when mounted on walls or glass partitions. Patients and visitors can't help but be instantly impressed the moment they step into your dispensary.
You can commission 3D logo signs as standalone letters. These individual letters get pasted directly on the wall.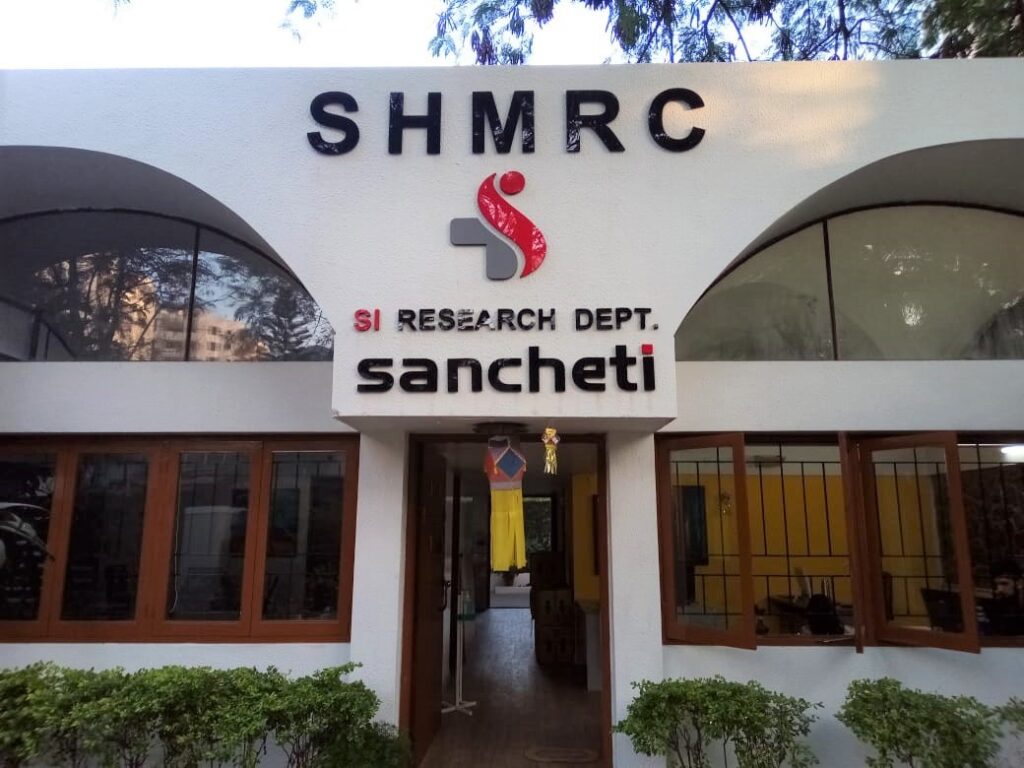 Alternatively, you can instruct your signmaker to laser cut the acrylic sheet in the shape of your logo and mount the same on an additional base plate. The base plate can then be drilled and fitted on the wall using stud caps and risers.
Elevate your waiting room's aesthetic with an illuminated acrylic signboard
I have worked on projects for many dentists, orthopaedics, ENT specialists, skin care doctors and even psychiatrists. And most of the time I have found that their waiting areas are typically bright and cheerful. So, a non-lit acrylic signboard will look pretty classy when placed here.
However, with LED modules illuminating it, the logo board will bring an unmatched sophistication to the space.
Backlit acrylic letters have tiny LED modules embedded within them. And these light-emitting diodes when switched on give a bright glow to the entire assembly.
How do you commission an acrylic signboard for your healthcare facility?
To kickstart your sign-making journey, you'll need to look for a reputable company. Once you shortlist a firm, supply them with finely detailed artwork of your logo file. Do not mail them low-res .jpgs or .pngs. High-resolution artwork is imperative for achieving precision during the signboard fabrication process. Adobe Illustrator or Coreldraw vector files are usually the first choices among sign makers.
To craft a proposal that meets your needs the signmaker will need to the approximate dimensions of the sign as well. Additionally, a picture of the installation site will also be immensely helpful.
At Orchid Digitals we use these pieces of information to begin putting an offer for you to study! To gain a better grasp of our proposal-drafting process, please view the slideshow below.
In our proposal, we will provide the exact dimensions of the job and its layout. The specifications page will list materials like laser-cut acrylic sheets, vinyl to match the colours of your logo, aluminium composite panels for metallic touches, and if needed, we'll even include LED modules to illuminate everything! Finally, the proposal will contain the price of the job to help with your budgeting and planning.
Tip 2: Sandwich Acrylic Poster Panels – A modern, shiny and lightweight alternative to traditional wooden frames
Medical clinics must always showcase their lineup of services. And if the doctor is a specialist utilizing advanced methods to treat patients, it's important that these exclusive approaches are communicated to the patients as well.
An acrylic sandwich frame is a visually captivating and innovative way to display your communication. Your poster is encased between two crystal-clear sheets of acrylic. These sleek frames provide the sophisticated elegance of glass without the added weight or delicate handling required.
Here is how this chic assembly works.
The base acrylic sheet serves as the foundation on which the actual photo print is mounted, and the second sheet lies on top, acting as a protective yet virtually invisible cover. The two sheets are united with screws masked by stud caps on the four corners.
The bottom sheet lays the foundation for the photo print, ensuring it remains secure and well-positioned. As the top sheet unites with the base to create a cohesive whole and 'sandwiches' the poster within. The print within is protected and you can even change the same as many times as you like.
A clever assembly that allows for easy changing/updating the poster inside
One of the biggest USPs of the acrylic poster panel is the ability of the user to effortlessly update the artwork/posters encased within. And to do this, you do not need any special expertise or tools
In fact, anyone on your team can easily accomplish this task in under five minutes.
All you need to do is unscrew the stud caps located on the corners of the frame, thus making the top sheet removable. Once the top sheet is removed, you can swiftly switch the older print with the updated communication. Next, you simply put the top plate back into position and screw on the stud caps to secure the display.
This highly efficient and cost-effective feature of acrylic sandwich frames allows you to continuously update the content in your healthcare facilities without impacting your bottom line.
Risers for the acrylic sandwich panel to create a floating glass-like effect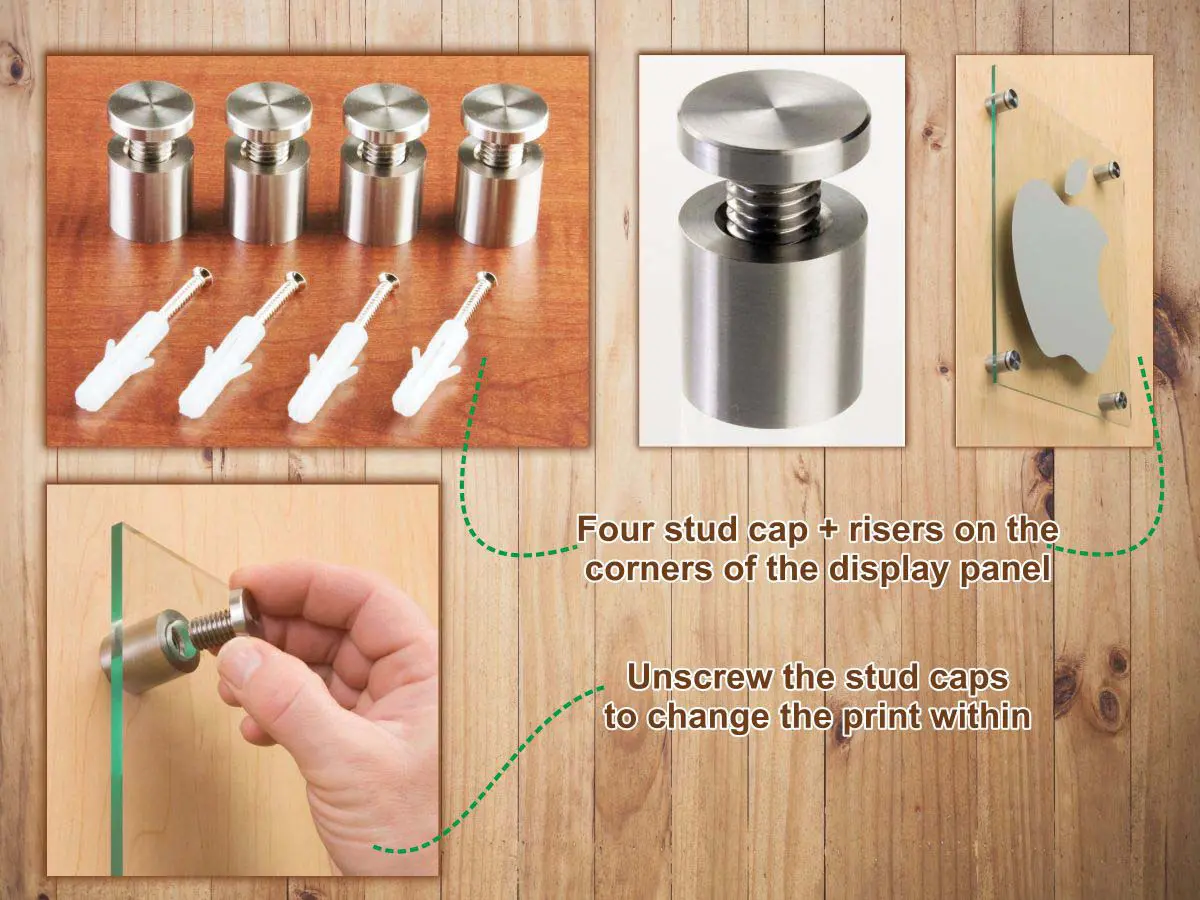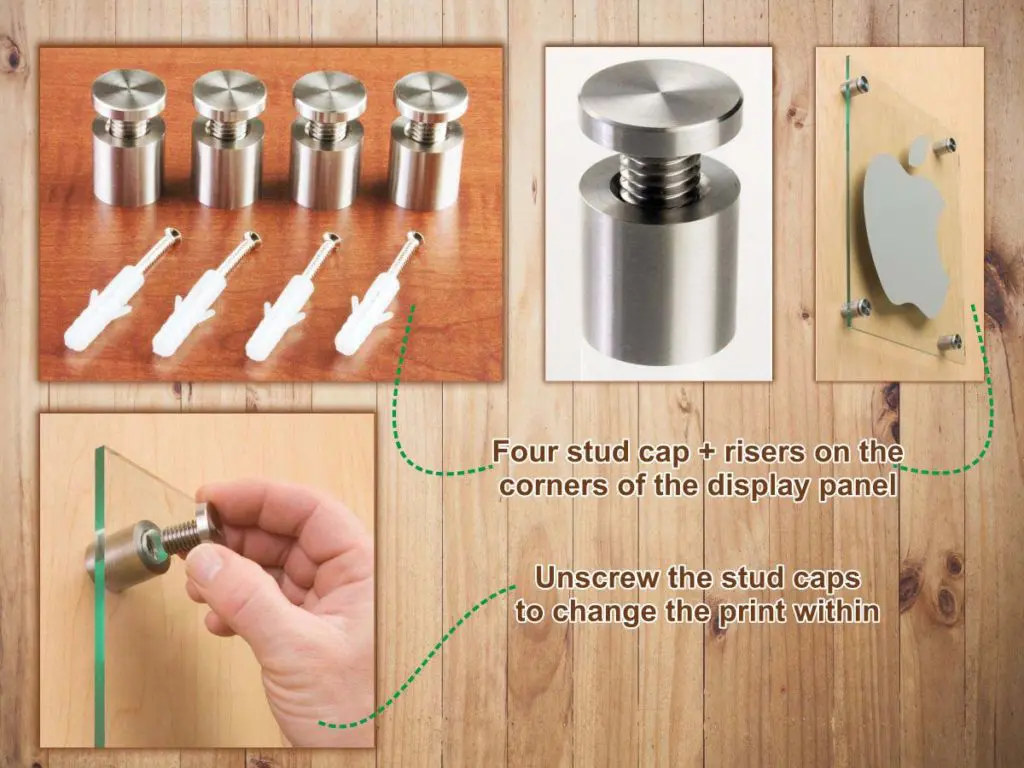 At Orchid Digitals, we understand the importance of showcasing your artwork in the best possible manner.
And so, to enhance the visual appeal of the frames we place shiny, cylindrical, steel risers between the panel and wall. These risers measure approximately 1 inch in height. And they create a subtle yet noticeable gap between the acrylic sandwich frame and the wall beneath.
This clever design element not only serves to elevate the entire frame, but it also imparts a truly premium floating glass-like effect, transforming your poster display into a sophisticated work of art to compliment the interiors of your medical facility.
Tip 3: Slim-line LED Poster Panels & Light Boxes for Jaw-dropping Visuals
While acrylic sandwich panels are a fantastic choice for a clinic's interior design, you can also consider an upgraded option such as backlit panels or light boxes. And these collaterals will transform your communication in your dental office into a stunning visual experience.
By incorporating slim-line LED panels, your poster prints will come to life and appear incredibly vibrant, with all the colours and details of the artwork seemingly jumping off the surface.
In fact, when you place a high-resolution photo in this sleek and lightweight glass frame, the print will look impressive even when not illuminated. However, the true magic happens when the LED panel is switched on.
The entire panel now lights up and you get a gloriously glowing masterpiece and a visual reminiscent of a high-definition TV screen.
Finally, if you need to keep the communication in your waiting room up to date, you'll love our LED frames. Not only can effortlessly change the prints within the frame as often as you like.
And since these backlit poster prints do not cost much, updating them on a regular basis will not break the bank.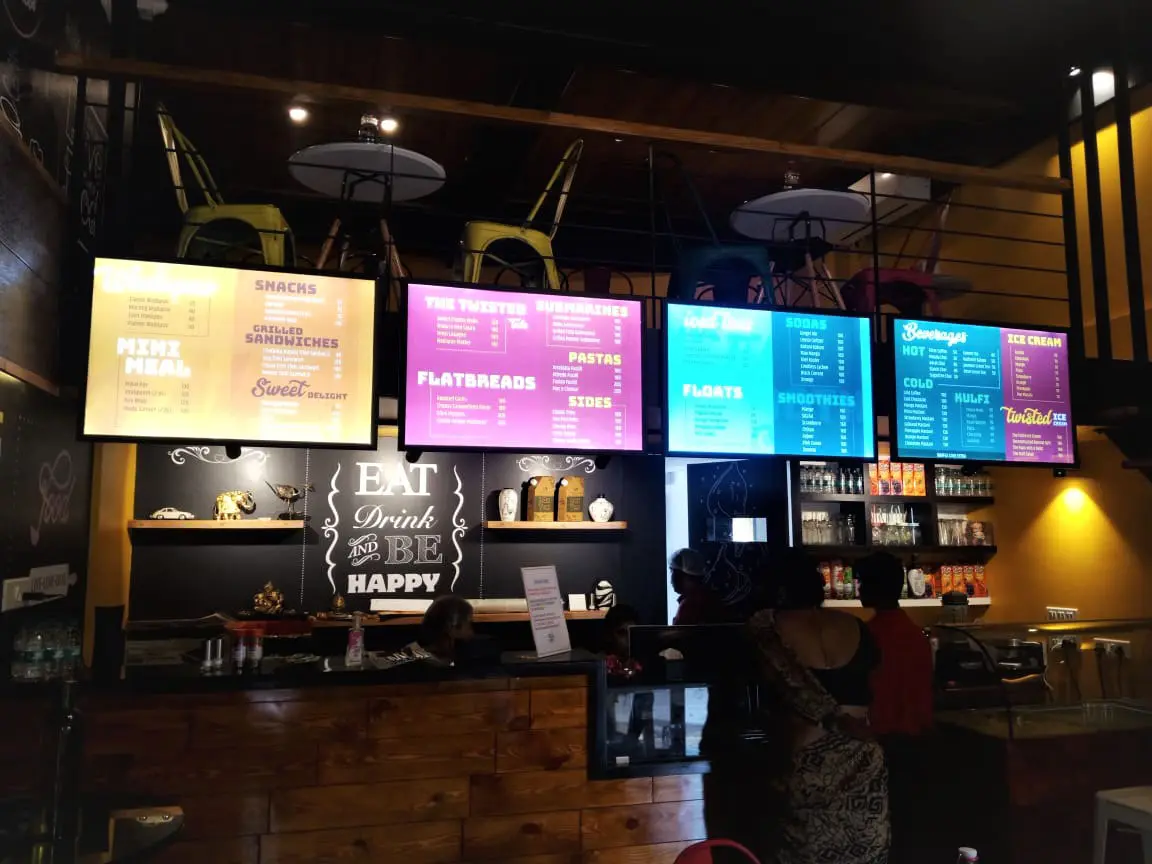 Tip 4: Custom-printed Wallpapers to Turn Your Walls into Works of Art
Think about this. Which space in your clinic receives maximum eyeball attention? If you were thinking of the walls in your medical centre, you guessed correctly.
Nothing is more boring than staring at an empty wall. And traditionally people attempt to liven up this space by hanging abstract prints on the same. Alternatively, interior decorators also generic wallpapers to cover bare walls.
But what if you could adorn your walls with your company's logo, product images or even a meaningful slogan relevant to your medical practice? Forget about generic stock photography and bland patterns.
You can commission a customized wallpaper bearing your artwork and telling your story. Moreover, the same will be printed to match the size of your wall's dimensions.
So if you need to unleash your creativity on your walls, head over to the nearest digital print provider. Good print shops stock specialised materials that can be directly pasted on a wall. All you need to provide is the requisite artwork (in the dimensions of your wall).
At Orchid Digital we use our wide-format inkjet printers to reproduce your wallpaper job on rolls of high-grade 3M™ or Avery™ wall vinyl media. Your image/artwork will be printed at stunning resolutions and vibrant colours. And every detail in your design is faithfully captured during the print process.
Laminating the wall print for long life
Once the printing is complete, we go one step further and laminate the job.
This process involves adding a top coat of plastic film to protect your wall print from dust, scratches, water damage, or any other form of wear and tear that might occur over time. We want to guarantee that no matter what life throws at it – be it accidental spills or children's grubby hands – your artwork will stand strong for years to come!
Installing the wall print
Pasting the prints on the wall is not very difficult and you can go the DIY route by following the instructions in this video. Alternatively, you can hire your local glazier or wallpaper contractor to help you out with the installation.
And for our Pune-based clients, we have a team of fitters and pasters standing by to provide on-site installation at your healthcare facilities.
Tip 5: Glass film prints to adorn your clinic's cabin partitions and control the levels of privacy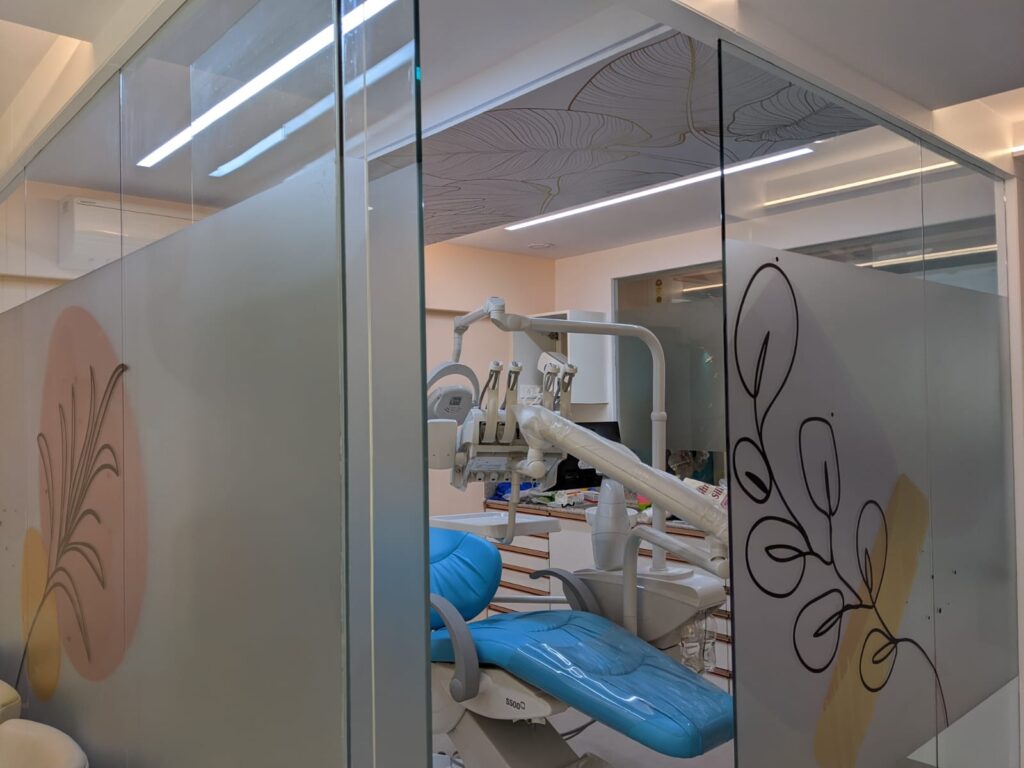 If you run a clinic or polyclinic, you'll know the importance of creating private spaces by separating the waiting area from the attending doctors' cabin. Usually, glass partitions are used to accomplish this.
But did you know you can transform these plain glass walls into branded pieces of art with custom-printed glass films?
Deploying this solution results in two outcomes:
You get to enhance the aesthetics of your clinic interior.
The proper use of these films will also help provide an added layer of privacy for your various cabins.
Read on, to learn how to turn your functional glass panels into something that is beautiful and uniquely yours.
The various types of printable glass film available at a print service provider:
A good digital print service provider will stock films having varying levels of transparency ranging from fully transparent films to fully opaque options.
At Orchid Digitals, we offer transparent, frosted, opaque and even one-way vision glass film print options to our clients' clinics.
And they opt for different types of films to achieve different goals.
For instance, a transparent film with your clinic's logo and business hours can be put on the main entrance. The transparent film print will display crucial information and still allow those outside, to peek inside.
On the other hand, you can use a frosted film print to cover the inner office partitions. This translucent frost film will protect a patient's privacy and will still allow natural light to pass through. To cap it all the dusted/sanded effect of this film looks pretty classy as well.
Some clinics opt for a pretty unique solution. They use one-way vision film for their glass panels. As the name implies, this film allows those outside to view the artwork/design printed on the front face of the glass panel. But these viewers are unable to observe what goes on inside.
Conversely, people standing inside can see through the print (similar to how they would see through a transparent film) and retain full visibility of their environment!
A judicious use of the above printable glass films will help create private spaces for your patients and enhance your clinic's interior at the same time.
Tip 6 – Gold / Silver Name Plates for the Cabins & Treatment Rooms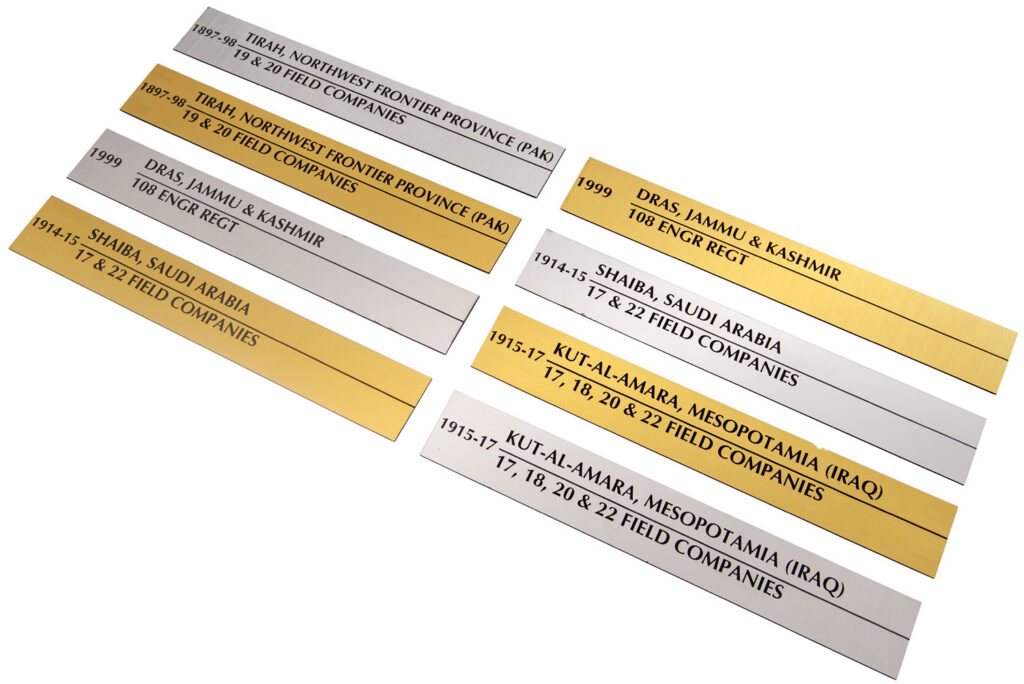 Once the cabin furniture and partitions are ready, it's now time to ensure that the names and credentials of attending doctors are clearly displayed on the doors. Additionally, areas like 'sampling', 'testing', and 'recovery room' need to be marked properly as well.
While a simple sticker on the door can do the job, it may look too ordinary and at times, even shabby.
So, in order to truly make a statement, consider ordering custom-engraved gold or silver finish metal plates bearing the names and medical degrees of your doctors. These plates do not cost all that much. But will play an important role in adding a touch of elegance and sophistication to your clinic's interiors.
Not only will these plates provide all necessary information in a neat and organized manner, but they will also elevate the overall aesthetics of your space.
The nameplate doesn't need to be huge – a size of 8 inches wide by 3 inches high should work just fine for incorporating all necessary text. But this small form factor will still make an impactful statement. The burnished plate stands out and draws attention, essentially acting as a bright highlight on the entire door.
How do you fix these nameplates?
These plates are made out of lightweight ABS sheets. The front gold/silver surface will be engraved with your name and your credentials (medical degree, post, etc.) and the plate will have two-sided tape on the reverse. So all you need to do is peel the back and paste it onto your wooden or glass door.
And that's all there is to it! In no time, you will have these golden/silver nameplates giving a sense of gravitas to your clinic's otherwise plain doors.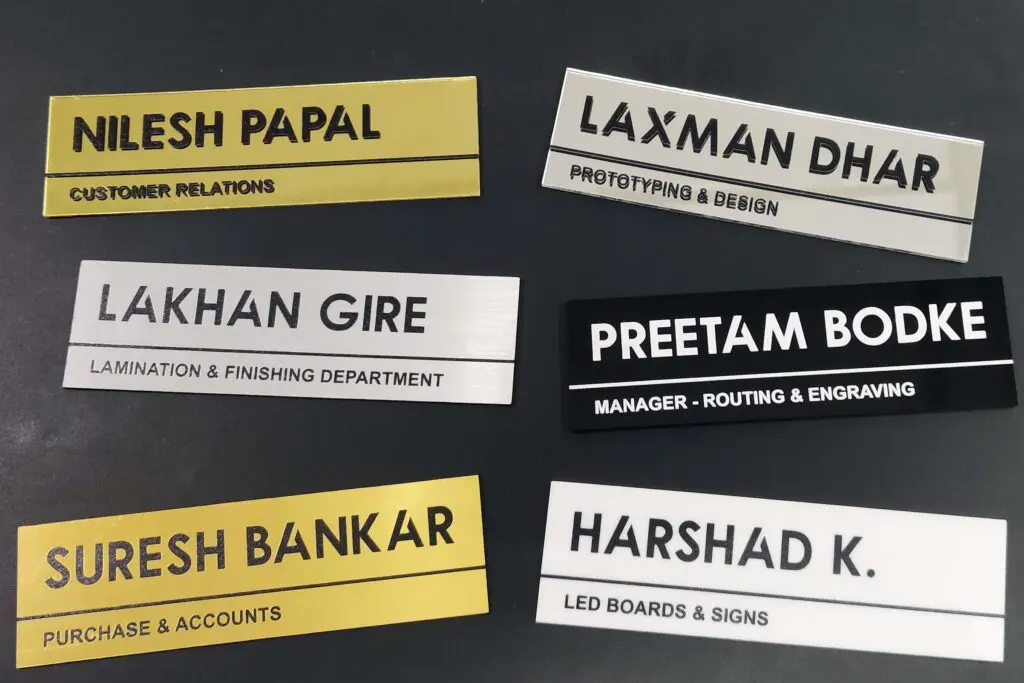 While invisible to the casual viewer, this base structure is what holds everything in place. The structure is made of a sturdy plastic mesh with appropriately shaped slots. All the other parts have corresponding grips that fit into these slots.
Tip 7 – Backlit Sign Boards for the Clinic's Exteriors
All this while we have been talking about methods to enhance the clinic interior. But a contemporary signboard on your building's exteriors is what will create the first impression on your visitors.
And at the risk of repeatedly reminding you, first impressions are crucial – especially in healthcare.
If you are running a dentistry practice or an ENT clinic, you will want your visitors to feel confident and reassured from the moment they lay their eyes on your building. And that is why high visibility backlit glow signs for your hospital's exteriors are just as important as its interior design ideas.
This signboard is after all the face of your clinic. And it's your job to make it shine!
3D Acrylic LED Neon Signs
With the rise of laser machines and CNC cutters, 3D acrylic glow signs have become increasingly popular. Orchid Digitals offers an immense variety of these signboards, allowing clients to choose from a plethora of options.
High-quality materials like acrylic letters, aluminium composite panels (ACP) and LED modules are used to create a dazzling effect that leaves onlookers in awe. The result is a signboard that is super bright, extremely beautiful and guaranteed to grab patient attention.
Displayed in this section are images of 3D acrylic letterboards, stencil letterboards, incut boards, metal letter signs, etc. all of which can be deployed to make your healthcare facility stand out. And as you can see, the final product is not only eye-catching but also reflects your brand's unique image.
2D Backlit Glow Signs
3D backlit glow signs are expensive, and this may not always fit within your budget. And so, you can consider 2D backlit glow sign boards that come with flex-printed banners, as an alternative solution for your healthcare facilities' external board.
The construction of these boards is pretty straightforward. You have a simple metal box (approximately 8 inches thick) with LED tube lights embedded within. A flex-printed banner is stretched on the front face of the box. And this flex banner has your artwork – shop name, logo, address, etc. printed on it.
The result? Your backlit sign board looks great during the day and even better when powered on at night – thanks to its brilliant backlight effect!
How to Commission a Shop Board for your Clinic? Orchid Digitals 'super-simplifies' the decision-making process.
At Orchid Digitals we request 3 inputs from our clients to help us understand their shop board requirements.
The approximate size/dimensions needed (height X width of the board)
A picture of the site where the board has to be installed
The high-resolution art file of the logo and content that has to be included on the sign board
Utilizing the data you provide, we tailor a proposal for you to review. It includes information about the materials needed, the proposed colour scheme, and the specifications of your glow sign. The proposal will also contain an estimated cost to complete the project.
And one glance at the above proposal makes it super easy for you to take a call on your shop board project.
Tell us what kind of shop board you require?
Tip 8: Design Support and Content Creation for Healthcare Facilities
Congratulations. If you've come this far (on this 4k-worded post) it's likely that my tips for improving your clinic interior really resonated with you. So is one last important aspect I'd like to cover, namely – designing.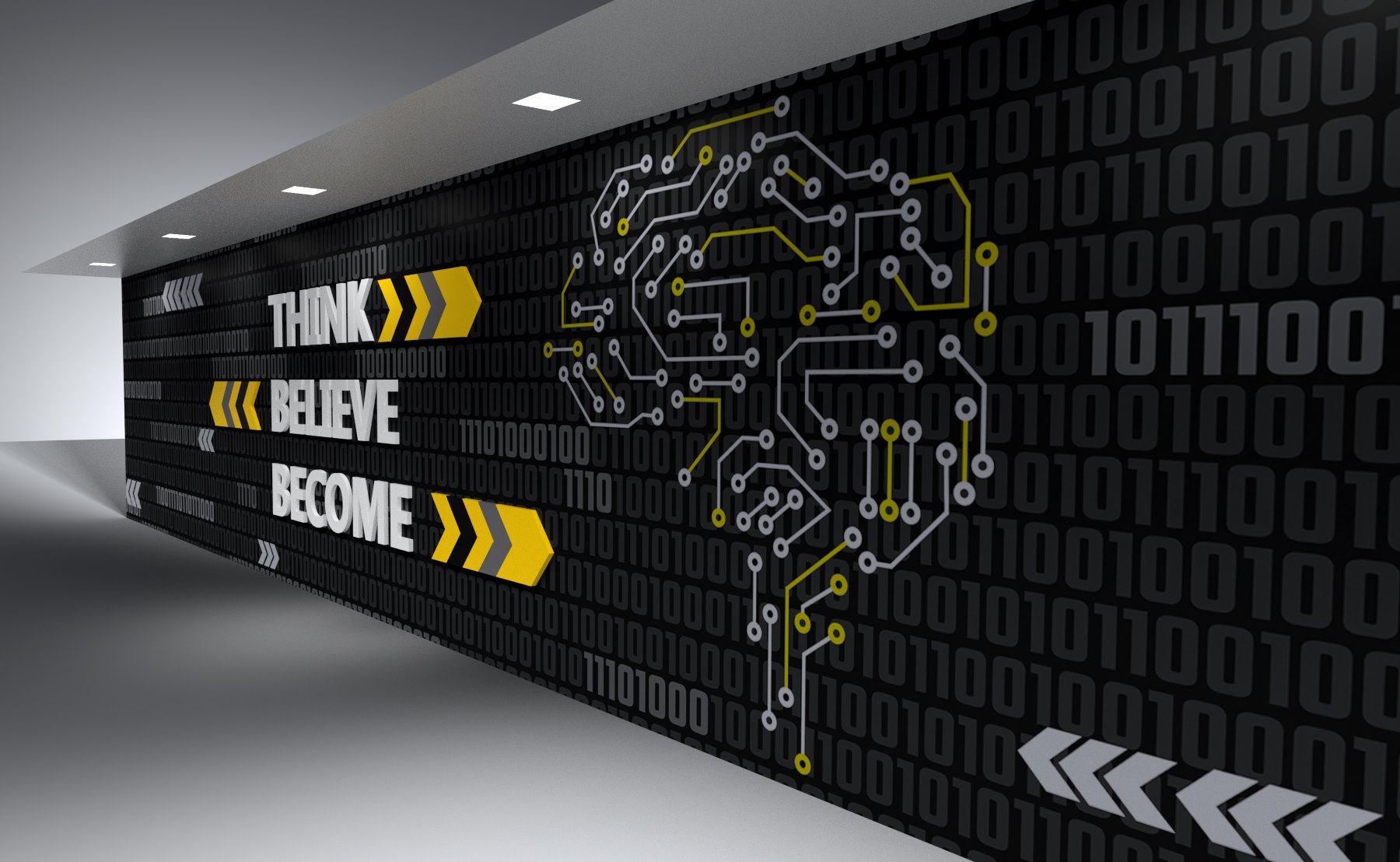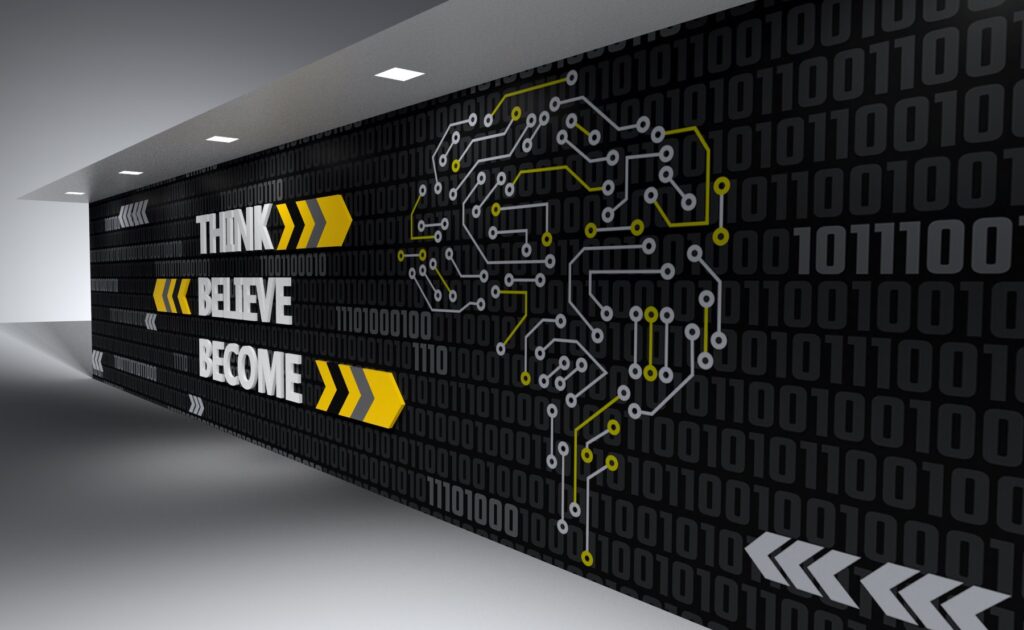 In fact, while reading the above tips, I bet you were wondering how to take the first step of designing the content that goes on your glass partitions, your walls, your logo sign, the posters on your walls, or the matter that has to be displayed on your external signage.
And this is an important point because as a print service provider, I can provide an eye-catching backlit poster panel to display your services. But the content for that poster – its colour scheme, layout, relevant images, etc. still needs to come from your end.
Now, a lot of the doctors that I know are excellent diagnosticians and fantastic caregivers. But designing or content creation is not really their forte. So here is what I suggest:
Use an online tool to create designs for your facility.
Employ the services of a professional design agency to take your clinic interior to the next level.
Take the DIY Approach – Use Online Tools like Canva to Transform Your Medical Facility
Canva is a free and easy-to-use online design tool. Its learning curve is not very steep and you should be able to quickly whip out eye-catching designs, layouts and content for your internal floor space and external signage.
It provides ready templates and tools which you can use to create content that looks pretty classy. So even if you don't have any design experience, it's easy to craft something amazing in no time!
Get some expert help for the interior design process
For pro-level results, I recommend hiring the services of a full-service design agency that will take care of all your creative briefs – right from ideation to artwork.
An expert designer will first understand your needs and create a visual story that reflects your style, your services and your personality. They will then create branding that is consistent across all mediums of communication – from print material to digital mailers to signage.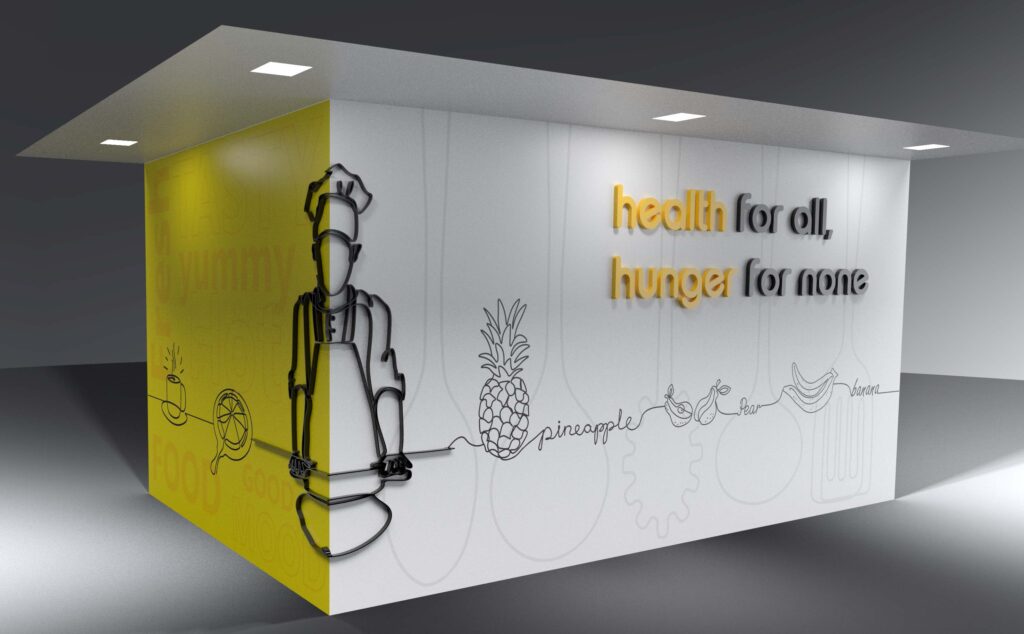 Furthermore, a competent design agency will analyze the amount of space in your healthcare facilities and brainstorm various places for positioning logo signs, wall prints and posters.
While you do need to pay for their services, this approach will reduce your effort, save you time and create eye-catching interior design concepts to wow all your patients & visitors.
Conclusion:
To summarise, while updating your clinic's interiors is necessary, the process for the same need not be a daunting task.
If you utilize the seven ideas outlined in this post, everything from your walls and glass partitions to your reception area and exterior signage can be customized (and personalised) to suit your business's unique needs.
And these ideas will transform your medical centre's aesthetics and create a relaxed atmosphere for everyone who steps inside. And you will be able to achieve all of this even with a limited budget!
So start planning now. Give your clinic a makeover. And do let me know how the project turns out!
Looking for any specific product?
Drop us a line. Send us your query. And we'll get back to you with solutions and answers.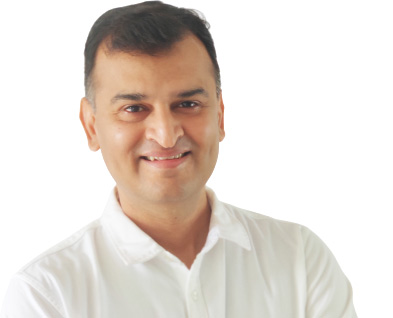 Mitesh Sanghani
Mitesh lives, mostly for Saturdays.
But when forced to work, you'll find him heading Orchid Digitals – a printing press in Pune.
If it's an emergency, try looking for him in the hills behind his house. You'll almost certainly find him… lazing under a tree, with a book in hand.
All our blogs
This is a section packed with useful knowledge on digital printing and its aspects, interesting printing case studies, and ideas, guides, and tips & tricks on marketing and branding.