Inkjet Printed Flags on Lightweight Waterproof Cloth
Your Company Colours Will Fly High
Create flags of your custom designs
Unique way to create corporate identity
Also ideal for schools, sports, rallies & promotional events
Lightweight & will blow/fly in the wind
3 different cloth materials to choose from
Ideal for outdoor use
Custom flag prints starting from ₹80 per sq. ft
Inkjet Printed Flags on Lightweight Wearproof Cloth
Your Company Colours Will Fly High
Create flags of your custom designs
Unique way to create corporate identity
Also ideal for schools, sports, rallies & promotional events
Lightweight & will blow/fly in the wind
3 different cloth materials to choose from
Ideal for outdoor use
Custom flag prints starting from ₹ 80 per square foot
Flag Printing - Detailed Description
Need to print out just 10 promo flags for your biker gang? Need your favorite sports team's logo printed on a piece of cloth? Or perhaps you need flag printing for events on cloth to get your company logo hoisted up a flagpole in front of your corporate office. Orchid Digitals can now print your own flag on a satin cloth to meet all these requirements. Walk into our shop with full-color artwork, of a logo, a sports mascot, or even a high-resolution photo and we'll digitally print it out on thin fabric, for you.
Digital Printing of Flags on Thin Lightweight Cloth
Flags have traditionally been screen printed. But screen printing is not a viable option for generating small quantities. Also, this technology cannot reproduce halftones or images. So people were always hampered when it came to getting their custom designs converted into high quality but small quantities of flags. The advent of wide format printing changed all that. Orchid Digitals uses inkjet prints on different types of fabrics to plug this gap. In addition to printing flags, we also stitch the same for you. So you get a complete solution wherein:
You walk in with your design/artwork
And you walk out with a product ready for hoisting up your flagpole
What Are Prints on Thin Fabric Used For?
We'd like to begin this section with a disclaimer – Orchid Digitals provides prints on cloth for advertising and commercial purposes and custom flag printing. So we can provide cloth banners and posters for custom advertising flags and marketing. But our prints are not suitable for the garment industry. This means that if you are looking for fabric printing of wearable clothes, we are perhaps the wrong vendors for the same. Having said this, a lot of our customers use our cloth printing of flags services for the following applications:
Printing of the Indian national flag or flags of different countries. While the flag of India is readily available everywhere, the flag prints of other countries need to be specially commissioned.

Sports fans are some of our most enthusiastic customers for promotional flags. They source flags of their team logos and flags bearing images of mascots, to carry along to competitions. School house flags during sports events are another use.

Races and marathons need to be flagged off. And a personalised flag bearing the sponsor's message works great here. Flags for rallies and school house flags. All of them are custom advertising flags.

Big companies display their logos on flags hoisted from tall flag poles at their entrance. These promotional flags are generally visible from a long distance and lend a sense of grandeur to the building.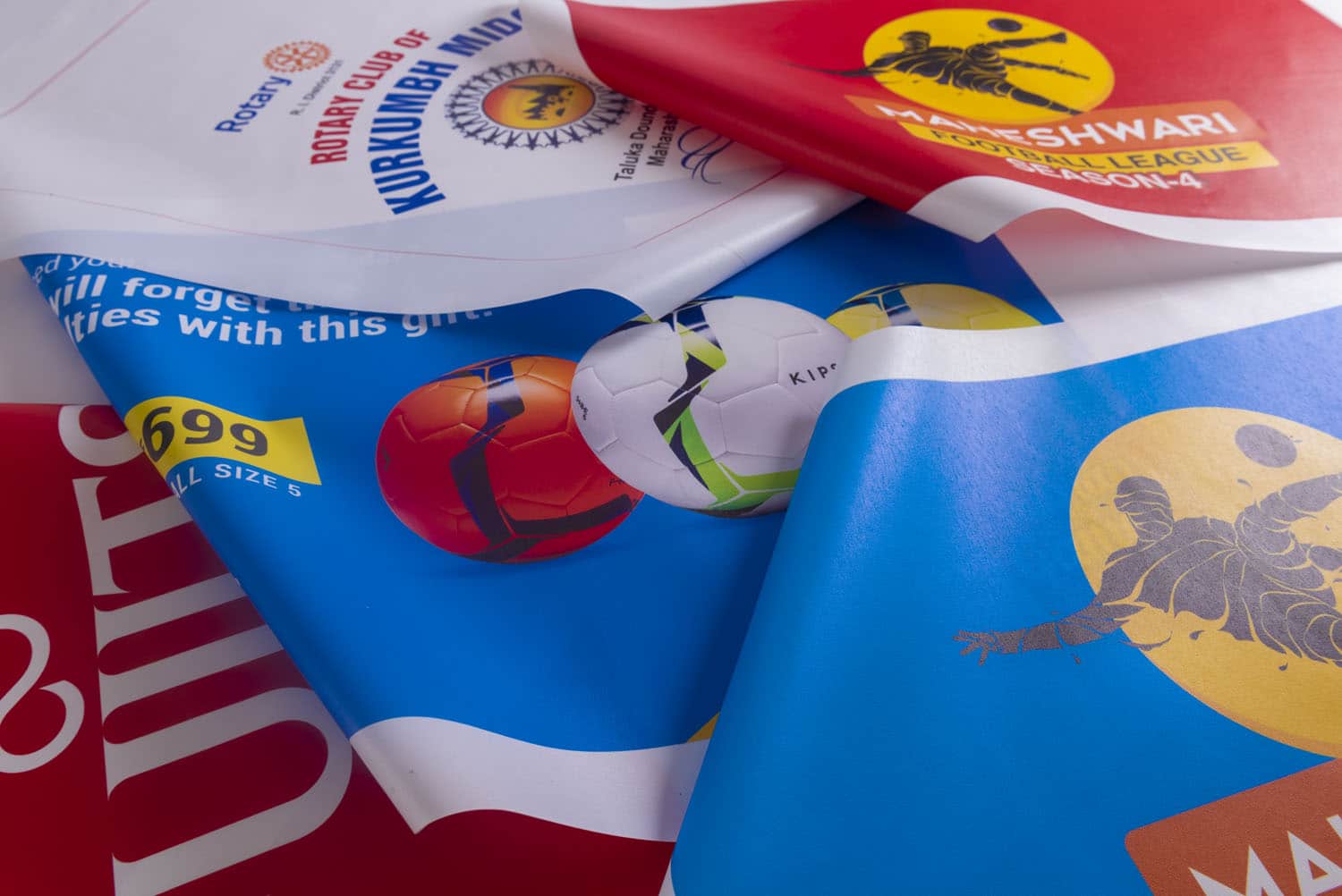 Types of Flag Printing Materials at Orchid Digitals?
At Orchid Digitals, we use our high resolution, wide format Roland and Mimaki photo printers to output prints on cloth. These fabric materials are typically very light in weight. This ensures that the feather flag easily furls and billows, even in the lightest of breezes.
We have three kinds of cloth materials that our customers can choose from, to print their jobs on…
We have a coarse and slightly rough cotton mix polyester fabric that works for 90% of the flag printing jobs.
Alternatively, we also have a smooth, silky, and slightly shiny material that some of our customers like to opt for.
Finally, we also have an offer, a mesh / netted fabric. As the name suggests, this fabric has very small gaps in the weave. So when we print on one side of the mesh fabric, the same gets immediately reproduced on the reverse. Mesh fabric is ideal if you need a two-sided flag.

In the above two options (coarse and silky fabric) we need to print 2 copies of the flag and get them stitched together for a two-sided effect. This increases both, the weight as well as the cost of the flag. So the mesh fabric print works great for flags that have an asymmetrical design wherein the content looks the same whether it is viewed from the front or the back.
Irrespective of which material you choose, they all have the following characteristics…
The fabrics are light in weight.
Flags printed on them will billow and furl in the wind
The inks are weather-proof and rated for outdoor use
The cost of printing on each of these cloth materials is mentioned in the pricing section below. Also, be sure to check out the video below, to have a look at the actual materials we have listed in the paragraph above.
Characteristics of Custom Flag Prints
We use eco-solvent or UV inks to print on fabrics. These inks are highly resistant to fading in the sunlight.
They are also water-resistant. Waterproof prints are an important attribute in the case of flags that need to be used out of doors.
Moreover, inkjet printing is extremely sharp and can faithfully reproduce images at an amazingly high resolution.
Finally, wide format printers can print on rolls as wide as four feet in width. So if you need a huge sized flag of even 4 feet height X 10 feet length, the same can be seamlessly generated. Flags of larger sizes are printed in parts and stitched together.
A digitally printed flag can be either a single side or back to back. If you print on one side of the mesh fabric, the image gets reproduced on the reverse side automatically. But the text on the other side will be a mirror of the front. Mesh fabric works great for asymmetrical images that look the same from the front as well as the back.
But for creating two-sided flags of regular images, you need to print two copies and get them stitched back to back. Stitched edges make sense as it prevents the material from fraying. You can also get a loop stitched on the side to run in the hoisting rope. We can even do this stitching for you.
A Variant For Events - Teardrop Flags
Sport events and rallies often feature curved flags with an arch, called teardrop flags. These are generally spotted on the sidelines of the track, and announce the event's name and display the branding of the organizers and advertisers.
They are two essential benefits over the conventional flag –
Even in absence of windflow, these flags remain taut and do their job of advertising pretty well. That's unlike the conventional flag, which do not really achieve their appeal unless they are billowing in the wind.
Owing to their unconventional shape and form factor, they are more likely to capture attention.
Teardrop flags, as a product, are still in development at Orchid Digitals. Once ready, you'll find more information about them here.
Want to know when teardrop flags become available? Sign up for updates.
Flag Printing - Client Stories
FUJITSU Corporation is one of our clients who needed flags printed. They were receiving high-level dignitaries from the UK. The welcome ceremony included hoisting of the company flag at the hands of the guests. The custom flag printing was to be printed on two sides, double-stitched and hoisted from fifteen-foot poles, sunk in the garden at Fujitsu, Talawde. The poles also had pulleys welded on the top for running the rope that would hoist the flags. Here some images of the finished job…
You can read the complete story of this job here.
What Is the Cost of Flag Printing?
Our minimum order quantity for a stitched job is 50 soiree feet. The cost of printing flags in Pune are given below.
Variants

Rates per square foot* -

Printed on a single side
Rates per square foot* -

Printed on a two-sided flag

Coarse cotton mix polyester flag

Flag printed on smooth slightly shiny fabric

Print on a mesh / netted fabric

NA, since the image gets reproduced on the reverse side automatically
* Please Note:
The rates quoted above attract 12% GST
The rates above are quoted per square foot. So here is how to calculate the price of your job.


Let us assume

that you require 2 coarse cotton flags each of a width of 3 feet and a height of 2 feet. The total cost of the job is calculated as follows:
3 feet (width) X 2 feet (height) X 2 copies X ₹ 80 (rate of printing flag on coarse cotton material, as per the table above)
= ₹ 960.00 (+ 12% GST)
Flag prints can be delivered anywhere in India in a roll or folded form. No need to look for "flag printers near me" –

simply order online

.
Delivery charges are extra and will be communicated to you once we receive the delivery address.
Get a Quote for Your Flag Printing Job
Please leave us your details and we will respond promptly