Personalized Rubik's Cube
Personalized Rubik's Cube Bearing Images Instead of Colours
We Put a Twist to the Game That Even Ernő Rubik Couldn't Have Dreamed Of
Let's start this with a bit of a back story.
A close friend of mine, Mr. Anil Rohira was holding an exhibition for his products. He had hired a five-star hotel to demonstrate the working of very high-end printing machines and allied equipment. The invitee list included most of the top print service providers in Pune and Mumbai. The date and venue for the exhibition were all finalised and it was now time to send out invites to the participants. And this presented a problem.
Anil wanted a very premium and personalized invitation card. He also wanted it to be as unique as possible. Cost for the invitation card was not a bar. But despite that, every invitation sample he saw at every card vendor failed to impress him. Invites with rich vellum like paper, gold foiling, raised letter embossing, etc. would wow a regular person. But his target audience were master printers themselves. For them, every paper invite would be a case of, 'been there, done that.' The problem was getting serious. And when my friend has a problem, he quickly piles it on me.
An Unconventional Printer at Orchid Digitals
Many people are familiar with the standard wide format printer and have seen it in action. You put in a roll of printable media (say paper or plastic) at one end. The media flows through the machine at one end and comes out bearing the printed image at the other. But you cannot print rigid objects on a roll to roll inkjet printer. For example you can print a decal on a machine and paste the sticker on your laptop. But you cannot print directly on a laptop.You cannot push a block of wood or a slab of stone though a printer. Or can you?
At Orchid Digitals we have a flatbed UV printer that can print directly on objects. The principles of moving media through a printer are reversed in this machine. Instead of moving sheets of paper through a stationary machine, the object (on which the print has to happen) remains at a fixed location and the entire printer moves around it. The working of a Flatbed UV Printer is explained more in detail in this post about printing on 3D objects and end products. But for now, suffice it to say, that at Orchid Digitals, we can print directly onto flat surfaces of rigid objects.
Back to Anil's Invite Problem
Anil's demand for a unique invitation card came with a number of stipulations.
The personalized invite must be printed to show a lot of data, like the text of the invite, product images, company logo, etc.
The print should wow even the most jaded print service providers who have seen and processed virtually every kind of print surface.
The fate of most invites is to end up in the dustbin once the event in question is over. But people should not throw away his invitation. It should have lasting value.
The invitation must work as a memorabilia and serve to remind people about the exhibition (and the machines he demonstrated there) for years to come.
We Had to Think out of the Box
My old business management teacher was fond of quoting, 'think out of the box' when faced with difficult problems. And that's when the penny dropped! Screw the thinking part. Let's print the invite on a box itself. Or, in this case, on a Rubix Cube… a box-like structure.
A rubix cube has six surfaces and the next step was to design content that would go on each of these surfaces.
One side of the cube would show the name of the company (Silicon Infotech), its logo and tagline.
Another surface, the side diametrically opposite to the first one, should be printed with the subject matter of the invitation. This should include the text inviting the recipient, the date, the time and venue of the event.
The remaining four surfaces of the rubix cube would carry images of the high end printing machinery that were to be displayed at the exhibition.
What Happened When the Finished Job Was Delivered?
Anil's jaw dropped. Tears of gratitude welled up in his eyes. And the rich bugger handed over half his kingdom to me. Well… that's not exactly what happened, but a poor man can dream, can't he? But my dreams notwithstanding, the idea was a huge success. Every print shop owner personally called Anil up, on receiving the personalized 'Rubix Cube Invite' and assured him that they would attend the exhibition.
The Actual Printing on the Cubes
We bought a hundred cubes from a local toy shop here in Pune. We did get some odd stares from the owner, but he was happy to take our coin :-). Next we put on a primer coat on all the sides. The primer coat acts as a glue and ensures that the UV inks do not flake away from the glossy surface of the toy. After that, we printed a uniform layer of white ink on all the colored surfaces. Remember, there are six surfaces to a rubix cube. Once we had a white uniform box like structure, we printed the 6 different images we had earlier designed.
The end result was a fully functioning rubix cube carrying a personalised invitation message from my friend Anil to his guests in the printing industry. The UV inks did not hamper the working of the cube in any way. People could still play with it, to jumble up the messages printed on its surfaces and then unscramble the same.
https://youtu.be/4fnUHMiqC_Yhttps://youtu.be/KZM3ZDy_gyY
Capitalizing on a Good Idea
If you have a good idea to impress one customer, it makes sense to use the same and impress others. In the current Covid lockdown, where I am tasked with washing the dishes, I call this the 'Rinse and Repeat Strategy.' We do not sell custom printed rubix cubes as a regular item in our store. The printed cube narrated in the incident above, remained an experimental prototype (one of those rare ones that saw success). But I did use the idea to create unique gifts on two other occasions though. Videos for which are embedded above.
1. A Gift for a Guy Who Has Everything: I was invited to a dinner party by Mr Jehangir H. C. Jehangir, Chairman of the Jehangir Group of Hospitals, here in Pune. There are two things about Mr. Jehangir that you should probably know. One, he is an extremely humble, polite and likeable gentleman. He has also always showered me with a lot of praise and respect. So I really, really did not want to go to the party empty handed. Two, he's probably richer than God. And that's where the problem lay. What gift do you get for a guy who has everything?
And that is when I remembered. Mr. Jehangir is an avid nature and wildlife photographer. I had some stunning images of wild animals that he had captured on film. And so, in answer to the question I posed two sentences ago, you get him a gift for him that is so personalised that it cannot be bought for money. I printed the wild life images on a rubix cube using the technique described above. And trust me, he really appreciated the gift. Do have a look at the video above to see how the gift turned out.
2. A Toy to Educate Children About Jain Saints: Acharya Shivmuni, a Jain monk was conducting a camp during 'Chaturmas', a four month period of reflection and religious observance. My mandate during the festivities was to create a toy for small children that would familiarize them with our Jain saints. The custom printed rubik's cube idea was an ideal solution for this requirement. We took images of our saints and printed them on the surfaces of the cube. The children and their parents loved the idea and the Acharya gave me his blessings. Who knows, maybe I even won't have to go to hell now. But be that as it may, take a look at the finished job in the video above.
Closing Note
If you were impressed with this idea and its result, and I consider my efforts on this blog well rewarded. You might also be wondering where such a personalized gift idea like this would come in handy? Here are some applications that com to mind.
This can be a corporate gift idea for your team. It'd amuse and entertain them, while proving to be a cool idea to blow some steam during work.
It could be a personalized gift idea for your teachers/students. It's fun, it's entertaining, and is sure to bring a smile on peoples' faces.
You can create your own custom puzzle using an idea like this. Gift it to your child, or make it a personalized gift idea for a birthday party your child is invited to. Trust me – it's going to blow minds.
So what did you think about my personalized rubik's cube invite idea? Have you created something similar in your print shop? I really would hear about the same Do share your thoughts in the comments section below. And do click here to see the other interesting printing projects I have experimented with. Cheers.
Looking for any specific product?
Drop us a line. Send us your query. And we'll get back to you with solutions and answers.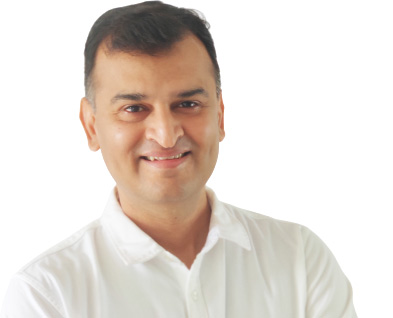 Mitesh Sanghani
Mitesh lives, mostly for Saturdays.
But when forced to work, you'll find him heading Orchid Digitals – a printing press in Pune.
If it's an emergency, try looking for him in the hills behind his house. You'll almost certainly find him… lazing under a tree, with a book in hand.
All product services
This is a section packed with useful knowledge on digital printing and its aspects, interesting printing case studies, and ideas, guides, and tips & tricks on marketing and branding.