Roll-up Banner Stands for Advertising at Events and Exhibitions
Showcase your product imagery at exhibitions with easy to carry roll up standees.
Portable standee printing to display product imagery and branding.
Set it up in a minute
Easy to carry around
Light weight product ideal for carrying on flights
Store the portable standee for reuse at other exhibitions and events
Custom hi-res image prints that can be changed
Standee banner prints starting from ₹ 2100
Roll-up Standees – Detailed Description
Exhibitions and conferences provide a great platform to showcase your products and raise awareness for your brand. However, such events happen in multiple locations all over the world. Logistically, it's a challenge to lug around you marketing assets to distant locations.
Well, not with a roll-up standee.
Imagine a nice and sturdy human-size marketing collateral that can be carried around the globe in a bag. And when required, propped up within 2 minutes to display slick and impressive communication for your brand. And a roll-up standee is exactly that; i.e. a portable poster of size 6 feet tall by 3 feet wide advertising your product / service.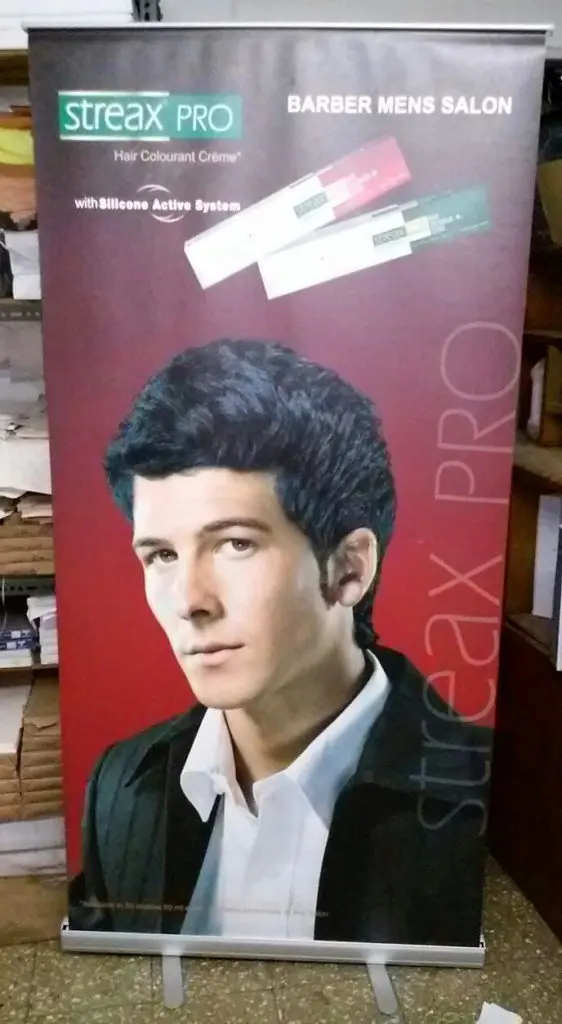 How Does a Roll-Up Standee Work?
A roll-up standee comprises of four main parts:
The Print: This is the communication printed over a high-quality exhibition photo poster. With impressive print quality, this is the perfect medium to display your products and grab eyeballs.
Sprint-loaded Stand: This is the mounting station in which the print is stored. Inside this is a spring-powered cylinder that pulls at the print to keep it taut and flat. When the stand is unlocked, the print rolls back into the cylinder.
Jointed Bar: This vertical bar is what the stretched print is hitched onto when opened. It gives the print enough tension to keep it taut and flat.
All packed in a Bag: The entire structure collapses and can be neatly packed in a bag which can then be carried under your arm.
Benefits Of Roll Up Standee
Easy to Carry and Set up: Roll-up standees are light-weight and simple in operation. This makes them an ideal solution for exhibitions since it's easy to get them there and put them up. The form-factor of the rollup standee is such that it can be easily put into a bag (provided) and transported. The smaller variants (3 foot) can be easily carried in flight cabins, while the larger sizes can be put into the check-in baggage.
A Value for Money Package: You get a high resolution photo print, a metal structure to mount it on, and a lifesize display solution. And this package costs you a shade above ₹ 2000.
High Lifetime Value/Highly Reusable: The print inside a roll-up standee can be changed when required. As your communication/posters evolve and change from time to time, you can simply replace the old communication. This gives the individual standee unit a high degree of reusability.
Why Get Your Standee Printed at Orchid Digitals?
Short Turnaround Time: We're fast and can deliver on your standee in a matter of hours. Need 50 – 100 standees in a day?
We can do it!

Impressive Print Quality: Our high resolution photo printers deliver jaw-dropping image quality, which is paramount when you're advertising your brand/product in an exhibition. This makes your offering stand out from the competitors, no matter where you're showcasing.
Edge Droop: Our competitors' standee banner prints generally droop from the edges and look very lifeless. This is because they use a low thickness flex. At Orchid Digitals, we don't cut any such corners. Your prints will be given on thick exhibition posters, which are rated for use with such exhibition display solutions. The end effect is a rigid and flat premium looking product.
This is of critical importance since you want to put the best foot forward when it comes to your brand and its offerings. This can simply not be done with a shabby looking standee and print. The need of the hour is a slick and impressive looking promotional display standee.
Print Finish: Orchid Digitals offers two media options for you to choose from –

Matte – Print on grey back poster for an absolute matte, non-reflective look.
Sheen – Print on white back poster imparts a rich shine, especially under the exhibition spotlights.

Our long experience in providing portable solutions for exhibitions: We specialise in providing a variety of light weight solutions especially designed to display your branding at events and exhibitions. So trust us to get it right.
Applications of Rollup Standees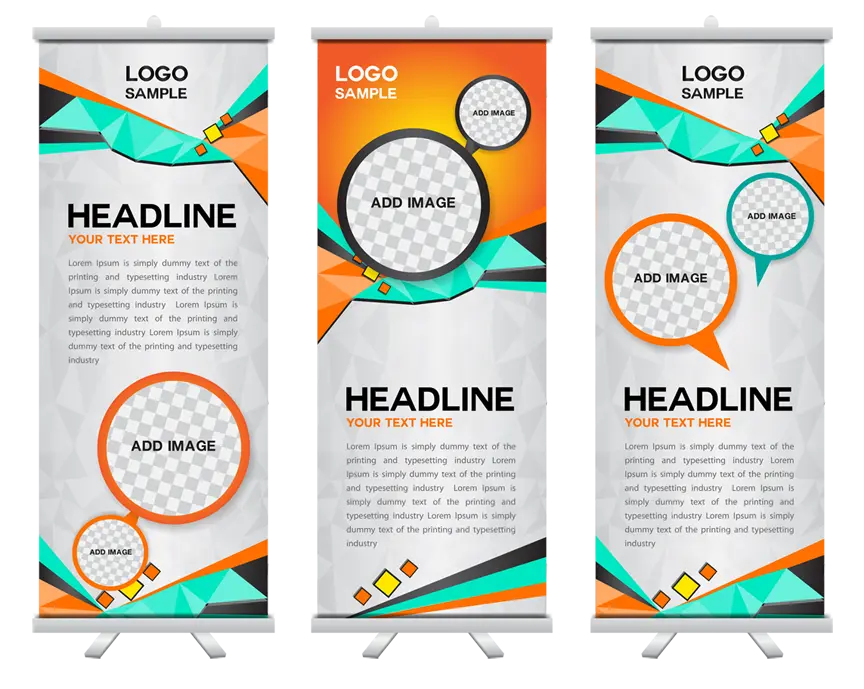 There are 'n' number of use-case applications for roll-up standees. This product caters primarily to two main display requirements:
Portability
Easy and quick set up
Considering these two parameters, any point-of-sale location is apt for the use of roll-up display stands. Therefore, they can be used at all following locations:
Hotels
Training camps
Exhibitions
Supermarket aisles and retail stores
Entrances of commercial establishments
Outside lecture halls
Luxury Standee – Heavy-duty and Stable Variant for the Regular Pull Up Standee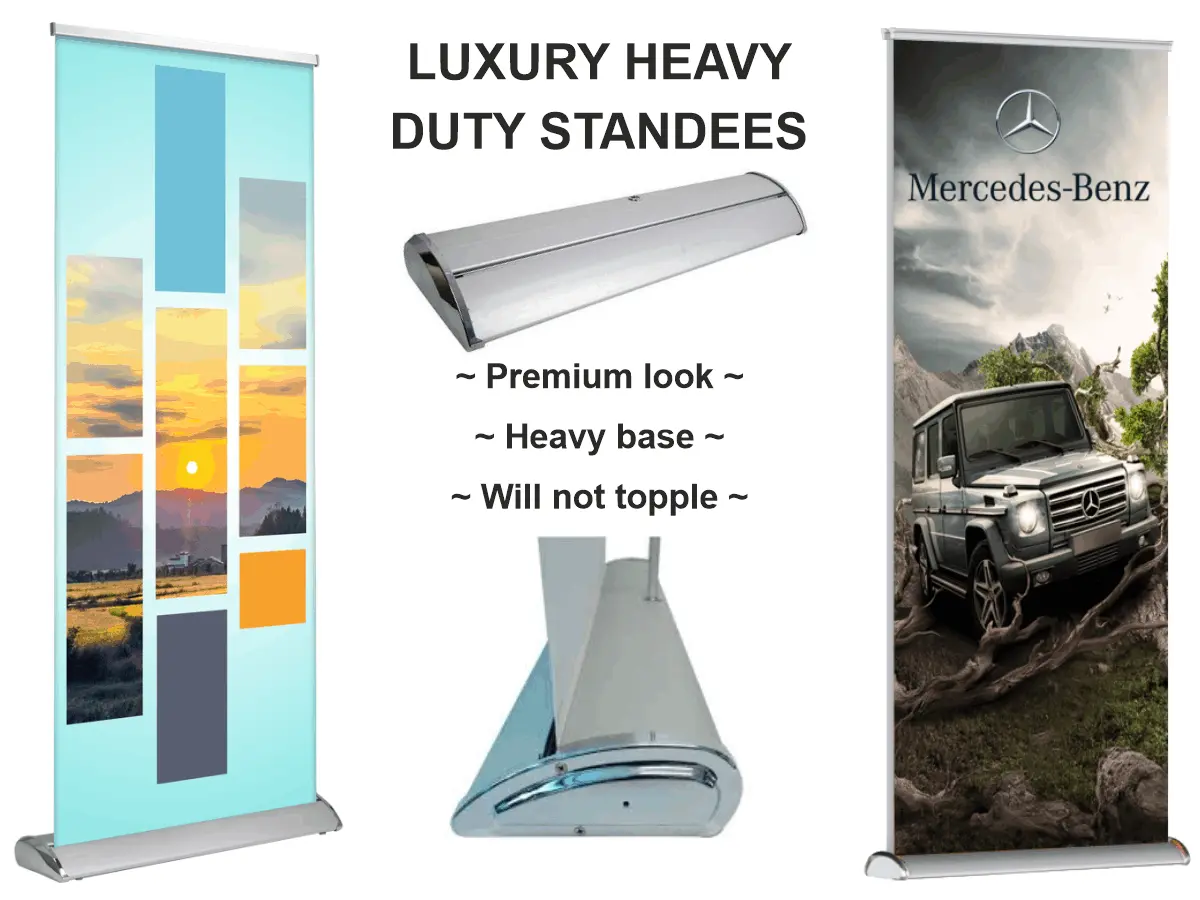 For premium applications, ex: 5-star location, our discerning clients opt for luxury standees. This is a much heavier and stabler variant of the standard 6 feet x 3 feet standee mentioned above. Its benefits are:
A much more premium and rich finish.
A significantly heavy and broader base, imparting higher stability.
Doesn't easily topple (ideal for open ground and other windy locations).
Portable Standee Sizes, Variants and Backdrop Solutions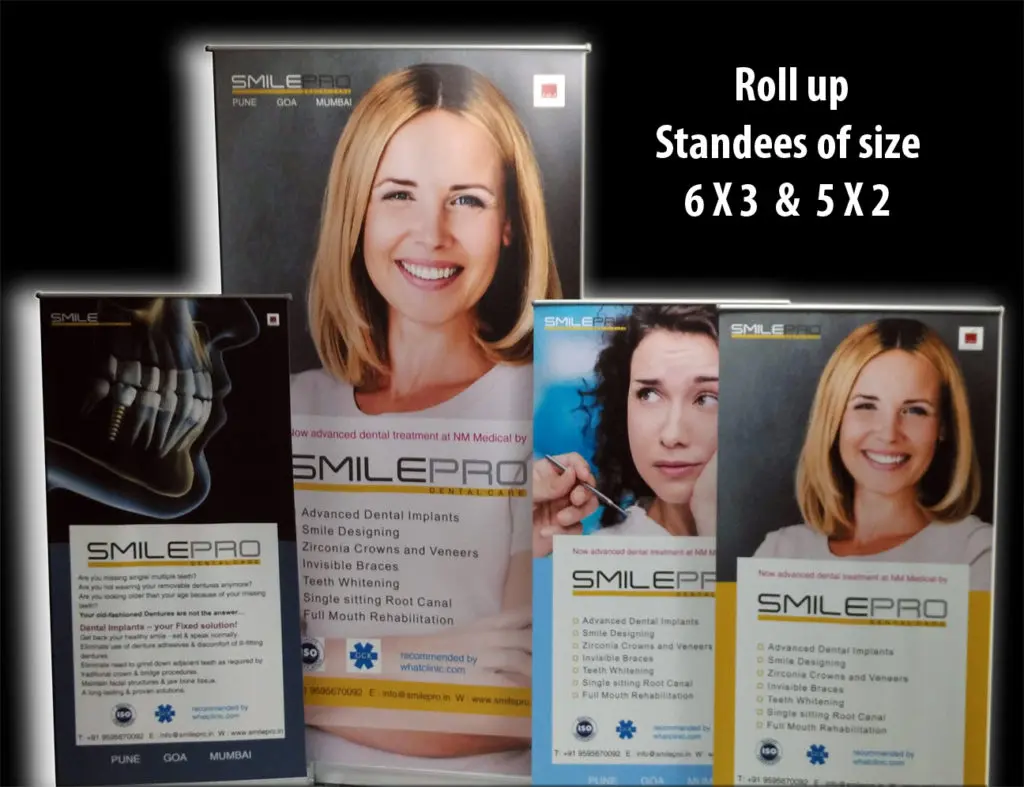 6 feet tall by 3 feet wide is the industry standard when it comes to roll up standees. We recommend that you stick to this size since you'll get service at different print vendors across the country.
But, if the occasion asks for it, we also offer different sized roll up standees (as shown in the image below). The sizes are as mentioned in the list here:
5 foot (height) x 2 foot (breadth)
6 foot (height) x 4 foot (breadth)
6 foot (height) x 6 foot (breadth)
We also have on offer small table top stands (as shown in the image to the right) which can easily be set up on your shop counter. These are available in the following sizes…
A4 sized table top standee – 8 inches (width) X 12 inches (height)
A3 sized table top standee – 12 inches (width) X 18 inches (height)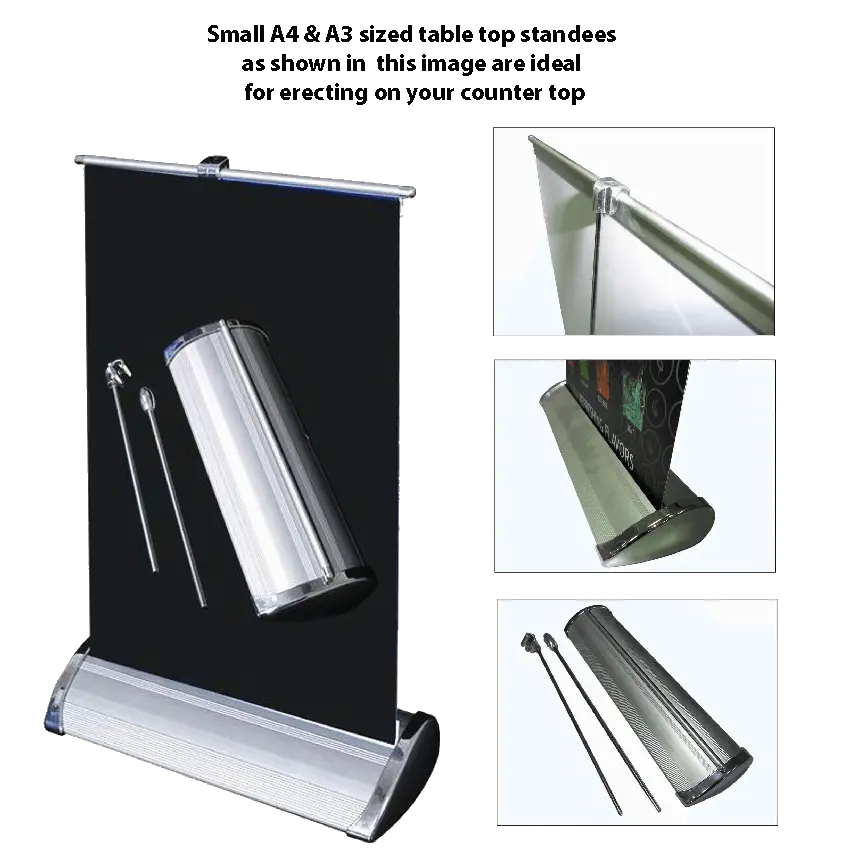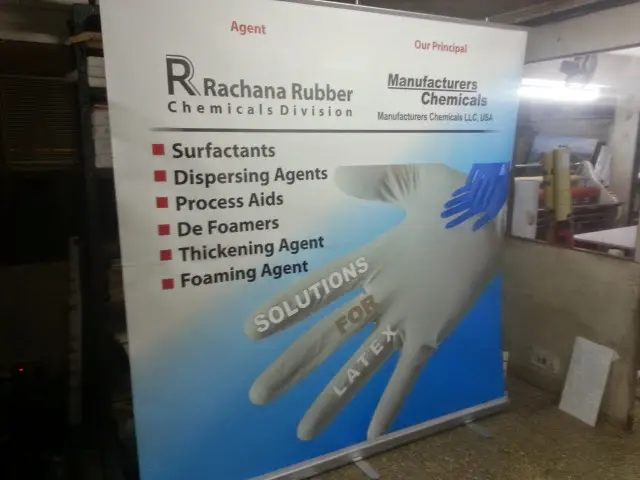 FAQs | Frequently Asked Questions
How Much Does a Roll up Standee Cost?
Economy
₹1800.00/piece*
3 feet wide X 6 feet high collapsible standee solution
Mid-range
₹2400.00/piece*
3 feet wide X 6 feet high collapsible standee solution for high-end events and advertising
Premium
₹3800.00/piece*
3 feet wide X 6.5 feet high collapsible standee solution for premium events and overseas exhibitions
Small Footprint
₹1800.00/piece*
2 feet wide X 5 feet high collapsible standee solution for high-end events and advertising
tabletop
₹800.00/piece*
A3 sized collapsible standee solution for point of sale locations
Backdrop
₹7200.00/piece*
8 feet wide X 8 feet high banner
* Please Note:
The rates quoted above attract 18% GST
Shipping and Delivery
Exhibition posters can be delivered anywhere in India.
Delivery charges are extra and will be communicated to you once we receive the delivery address.
Get a Quote for Printing Customized Roll-up Standees
Please leave us your details and we will respond promptly
Similar Products
Foldable easel standee with rigid poster print to display menus…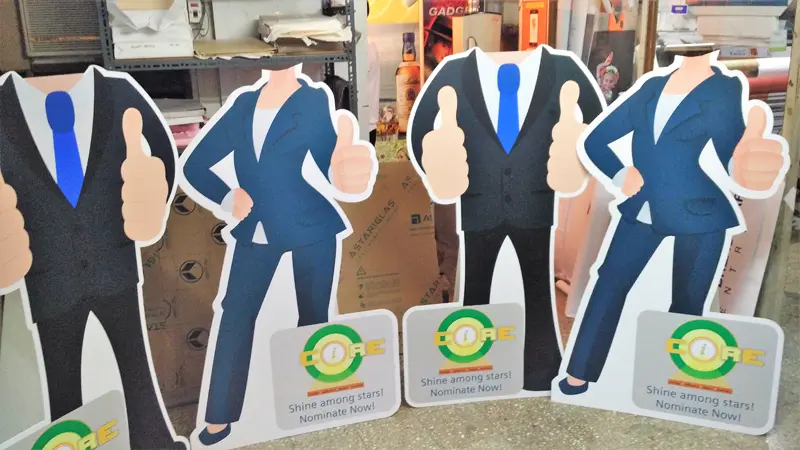 Lifesize sunboard cut-out stands. Attract eye-balls & arouse curiosity at…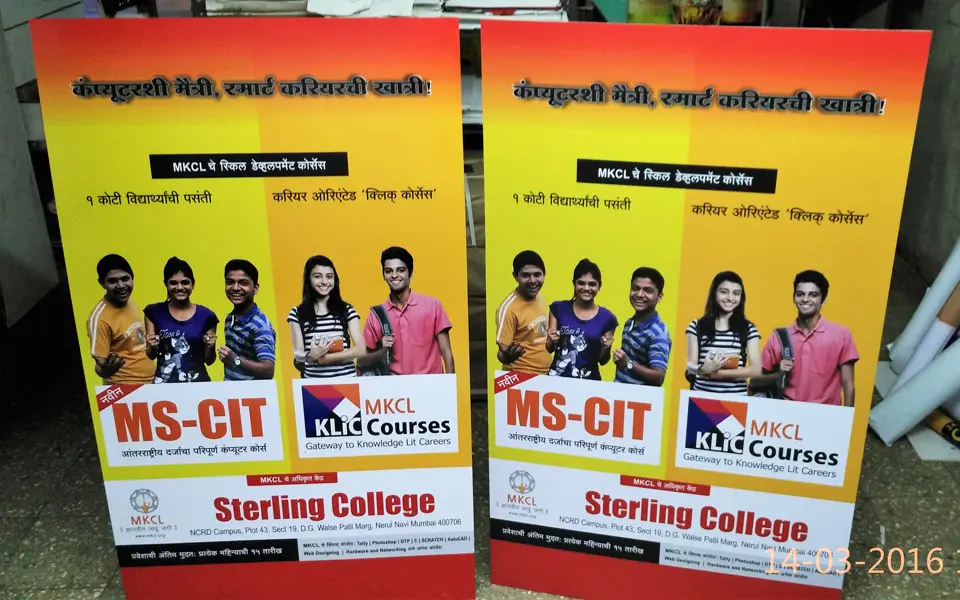 Sunboard standees are an ideal advertising solution. Lightweight yet rigid,…