Collapsible Exhibition Backdrops Light-Weight & Easy to Set-Up
Make Your Presence Felt Instantly in the Next Trade-Show Event
Flex printed backdrop
Stretched on a collapsible structure
Can be instantly erected to create a printed wall
Ideal for exhibitions, events & photo ops
Max size of 8 ft. height x 8 ft. width
Can be knocked down & packed to the size of a small bag
Light-weight & can be carried to remote locations
Exhibition backdrops & print costs ₹9000
Collapsible Exhibition Backdrop – Detailed Description
An exhibition is all about conveying information about your product or service in the quickest and most enticing manner possible. And a collapsible exhibition backdrop is one invaluable aid to doing this. You can have collapsible backdrops for photography or trade show pop up backdrops.
Most exhibition stalls are of size 3 meters X 3 meters. That's approximately 10 feet X 10 feet. The back of this stall is just a blank wall. It makes sense to put up your communication and product images on the pop up photo backdrop, for garnering client attention. At Orchid Digitals in Pune, we now offer a solution for this. We have a collapsible exhibition backdrop that expands to a size of 8 feet height X 8 feet width. That is approximately 2.5 meters square.
Collapsible and Lightweight Exhibition Backdrop
Most exhibitors generally travel to remote locations to advertise their products. They can only carry a limited amount of weight there. Also, all their display solutions need to be portable. Imagine trying to stuff an 8 X 8 foot metal frame inside an airplane! The exhibition backdrop feature here is portable and extremely lightweight. Moreover, it can be knocked down and packed into a 4-foot sports bag.
Construction of Collapsible Exhibition Backdrop
The backdrop is made of two main components as listed below…
The Backdrop Frame: The rods that make up the sides, top, and bottom of the frame, are telescopic in nature. This means that they are hollow and can be pushed into each other. The entire frame can be expanded or contracted. You can make a backdrop from a minimum size of 4 feet width X 4 feet height to a maximum size of 4 feet width X 4 feet height.
The High-Resolution Print: Once the backdrop frame is up, we stretch a high-quality flex print on the same. This print will carry the artwork of your product images, company logo, branding, etc. At Orchid Digitals, we use our high-resolution solvent printer to create the same. Once the 8 x 8 square foot print is ready, we create hollow pockets/sleeves on the top and bottom. All that the client has to now do, is push the top and bottom pipes of the frame into these hollow sleeves. Once you stretch the frame by expanding the telescopic rods, the trade show pop up backdrop exhibit display is ready.
Advantages of Trade Show Pop-up Backdrop
Our exhibition pop up backdrop is very much like creating an instant wall covered with your product images and business communication.
Moreover, this wall is very light in weight and can be packed to the size of a sports bag. This makes it ideal for carrying in flight, to distant locations.
Trade show organisers give you a segmented wall with aluminum partitions in between. You can paste individual product posters in these segments. But if you need one large and continuous/uninterrupted communication this pop up photo backdrop is the ideal solution.
The pop up backdrop frame is reusable. Even if the print on top needs to be changed in the future, we can still use the existing frame to save on costs.
Many exhibitors fabricate wooden walls to display their branding. A wooden painted wall looks nice. But it is an expensive and time-consuming option. Our collapsible backdrop for photobooth can perform the same function at a fraction of the cost.
You can also have a studio backdrop collapsible for taking photos that have different backgrounds. Basically collapsible backdrops for photography sessions.
Fixed Backdrops | An Alternative to the Collapsible Counterpart
The prime advantage of collapsible backdrops is that they are lightweight and portable. But there is one shortcoming of this product. It can expand to a maximum size of 8 feet X 8 feet. This might not work for an event where the backdrop needs to be of a larger size, say 10 feet tall by 20 feet wide. So as an alternative to the collapsible backdrop, we have a fixed metal frame backdrop that we can fabricate to your specifications. While the fixed frame backdrop is not very portable (we need to have it delivered via a tempo / truck) it does work out to be more economical than its collapsible counterpart.
FAQs | Frequently Asked Questions
What Is the Cost of a Pop-up Exhibition Backdrop?
Premium looking backdrop for one time use in Pune City
₹150.00/Sq. Foot*
Print stretched on a fixed metal frame. Backdrop can be fabricated to any size you want.
Example Costing:
₹12000.00 for a backdrop of size 10 feet width X 8 feet height*
* Please Note:
The rates quoted above attract 18% GST.
Shipping and Delivery
This product can be delivered anywhere in India. It will be packed in a bag before being transported. No need to find 'collapsible exhibition backdrop print near me' – order it online.
Delivery charges are extra and will be communicated to you once we receive the delivery address.
Get a Quote for Your Collapsible Exhibition Backdrop Job
Please leave us your details and we will respond promptly
Similar Products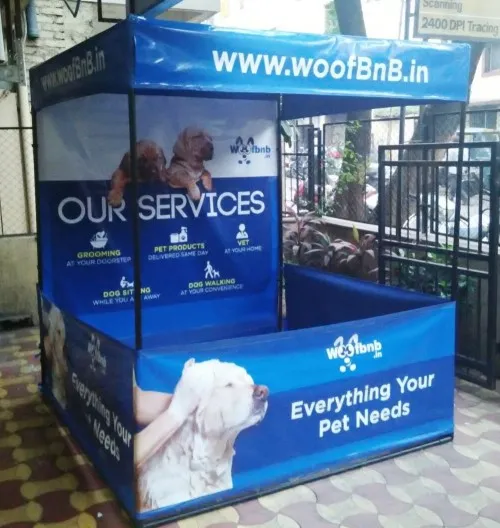 Customizable exhibition booths for brand presence at exhibitions. Easily accommodates…
Rollup standees. Portable, easy to carry banner display solution for…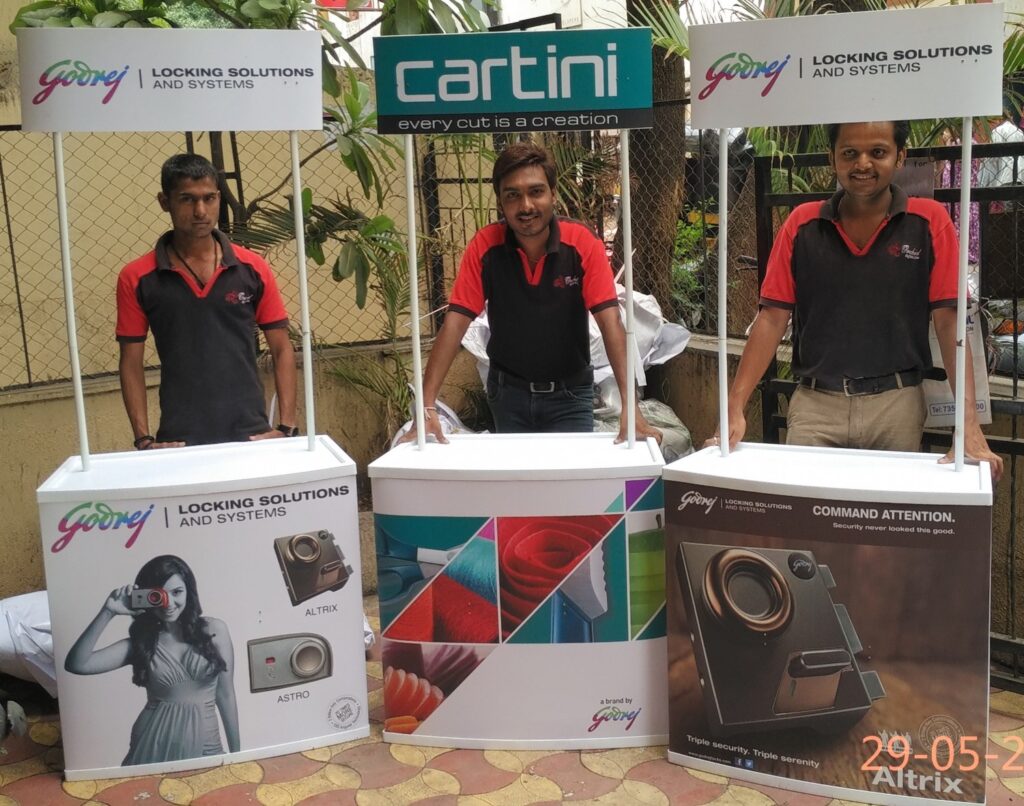 Pop-up promo table carrying your brand identity, services & product…