What Is Vinyl Printing?
Understanding Types of Inkjet Printable Vinyls and Various Applications of Vinyl Printing
In the print industry, 'vinyl printing' is a pretty generic term covering a wide variety of applications, types of media, and different print processes. As a result, questions like 'what is vinyl', 'what is vinyl printing', 'what are the applications of vinyl printing' bewilder many.
Clients stick printed vinyls on walls, glass partitions, and even floors. You can brand 40 feet buses and vehicles with vinyl. On the other hand, a 4 inch USB speaker could also have a logo sticker made out of vinyl.
Plotters cut vinyl media into different shapes while UV coaters give vinyl stickers a raised, 3D embossed effect. And all these applications that I've just listed are just the tip of the iceberg.
There is also a wide variety of vinyl media available in the market. Printshop owners match the properties of different types of vinyl rolls and match the same with their customers' end applications.
For example, white-coated vinyl is used to reproduce high-resolution photographs. Transparent films, frosted films, and mesh vinyls are used to brand glass windows and partitions. Metallic foils, textured media, release adhesive vinyls, and many other variants cater to the more specialized interior decor applications.
To make things even more confusing, different print providers use different machines and ink technology for inkjet printing on vinyl. We have aqueous inkjet printers, eco-solvent printers, and UV print solutions to name a few.
So while the subject of vinyl printing may seem daunting at first glance, this post will help you in making sense of the same. We do this by answering the following questions:
2. What Are the Various Ink Technologies used for Vinyl Printing?
3. What Are the Types of Vinyl Media and their Applications?
What is Vinyl Printing
At its simplest form, vinyl printing involves the use of large, wide-format inkjet printing machines to reproduce images on huge rolls of coated plastic. These rolls are specially coated/treated to receive inks and enable high-resolution image reproduction. Moreover, printable vinyl rolls generally have an adhesive back.
With the help of this glue, you can paste your vinyl prints on different surfaces like plastic, metal, glass, etc. While vinyls generally work very well with smooth surfaces, media having specialized glue can even adhere to textured surfaces like concrete and brick walls.
While there are countless applications of printable vinyls, the best way to introduce this product is by enumerating its characteristics as under:
1. Vinyl printing makes extremely large-sized prints possible. Imagine prints as big as 200 feet.
2. Vinyl banners can be of very high resolution and quality. Imagine being able to scale up an image to large sizes without losing clarity.
3. Printable vinyl is a very economical medium for onsite advertising and display.
With the question of 'What is vinyl printing' answered, let's focus on the bigger picture – The different and many uses of custom printable vinyl.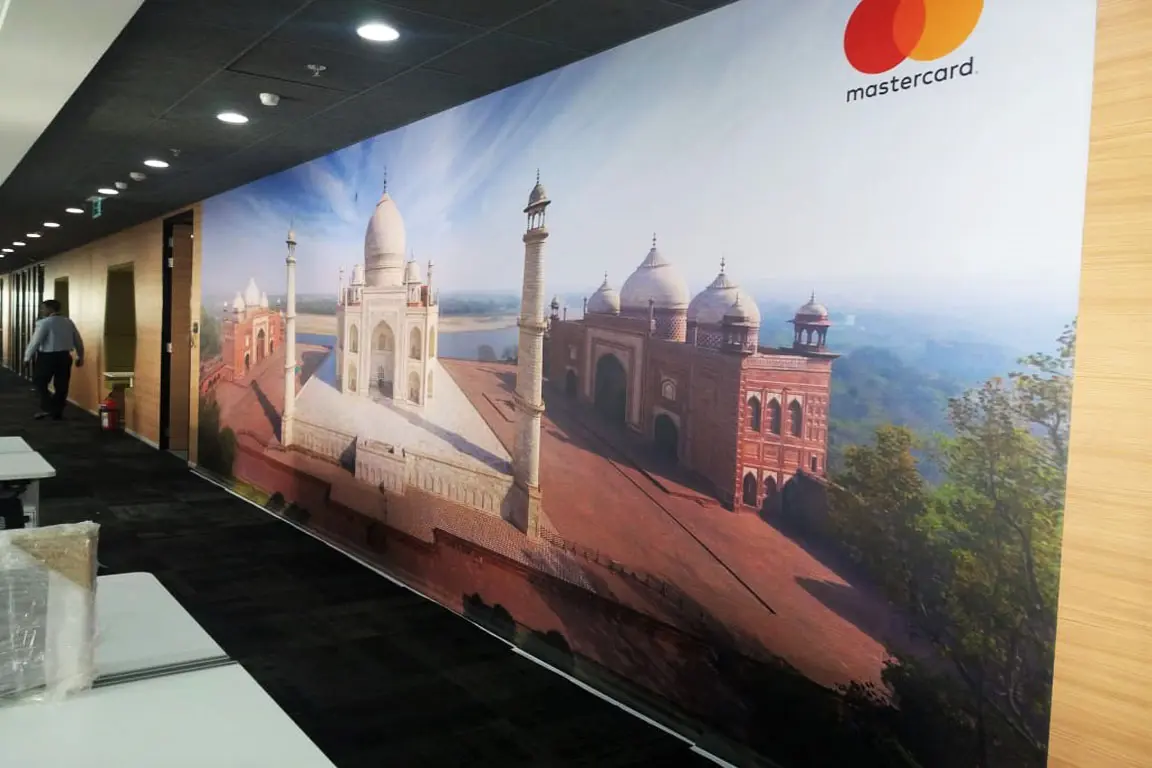 The Large-Scale Print Capability of Producing Custom Vinyl Banners
All of us have seen large rolls of cloth in garment stores. Printable vinyl rolls have a similar form.
In our printing unit, we have rolls of 3, 4, and 5 feet in width. These rolls are tightly wound and can run anywhere from 100 – 170 feet in length. (To put things into perspective, that's almost half the length of a 100-meter dash.) This allows us to serve you a seamless print of 5 feet in width and 150 feet in length.
If you need to go larger, we can print out the job in tiles and join the same for you.
To put the above statements in perspective, we can give you a 1-inch product sticker made of vinyl. And should the job demand it, we can even brand buses, railway bogeys or wrap buildings with the same material.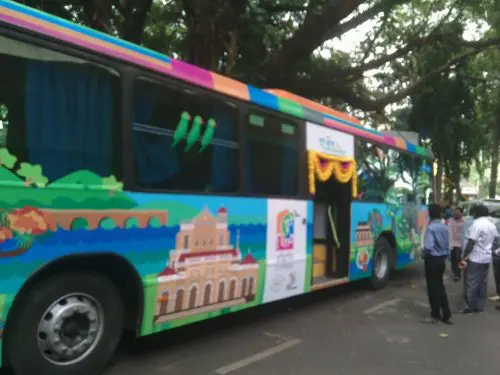 What are Printable Vinyls Made of?
An important part of answering the question of 'what is vinyl printing?' is understanding vinyl as a medium. Printable vinyl is essentially made of a smooth and coated plastic. There are two sides to the vinyl media:
The print side: Specially coated to receive liquid inkjet inks used for vinyl printing.
The lower surface: This is almost always coated with glue and a release liner.
The print industry also refers to vinyl rolls as SAV viz. Self Adhesive Vinyl.
For now, imagine a large sticker roll made of plastic. As stated above, this roll is specially coated to receive inks. And it is this coating that makes extremely high-resolution printing possible.
To give you an analogy, remember the time when you printed an image (using an inkjet printer) on plain uncoated photocopying paper?
There is a good chance that the colors would've come out faded and the images would've blurred on regular paper.
But if you substitute this medium with coated photo paper, the same file, printed by using the same machine is much more vibrant and impactful.
Inkjet printing on a vinyl banner gives you the same high quality, high-resolution output.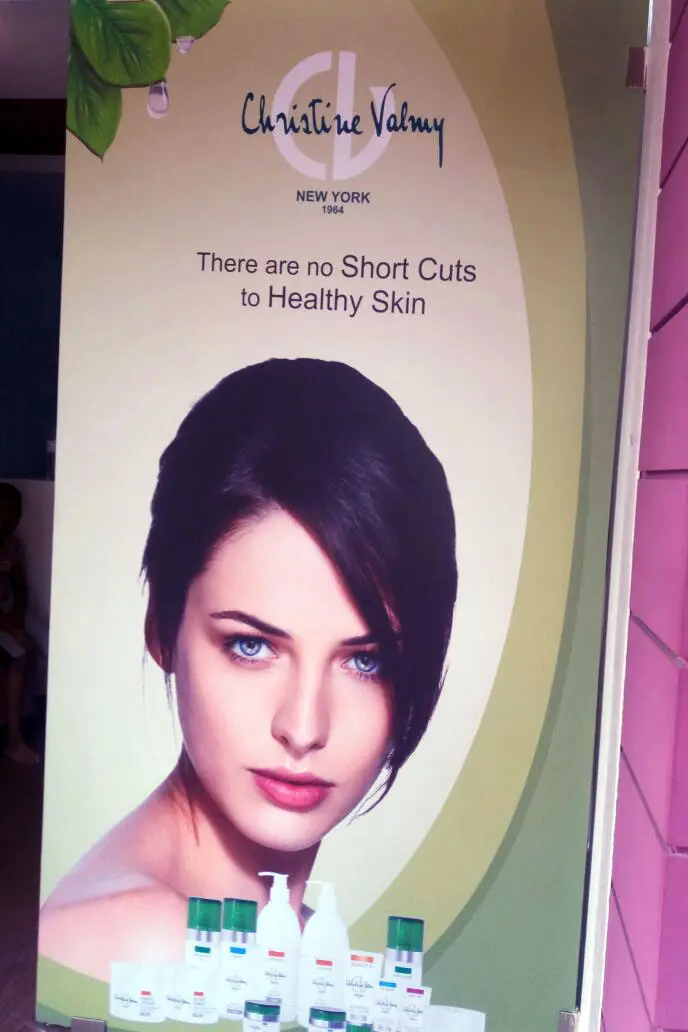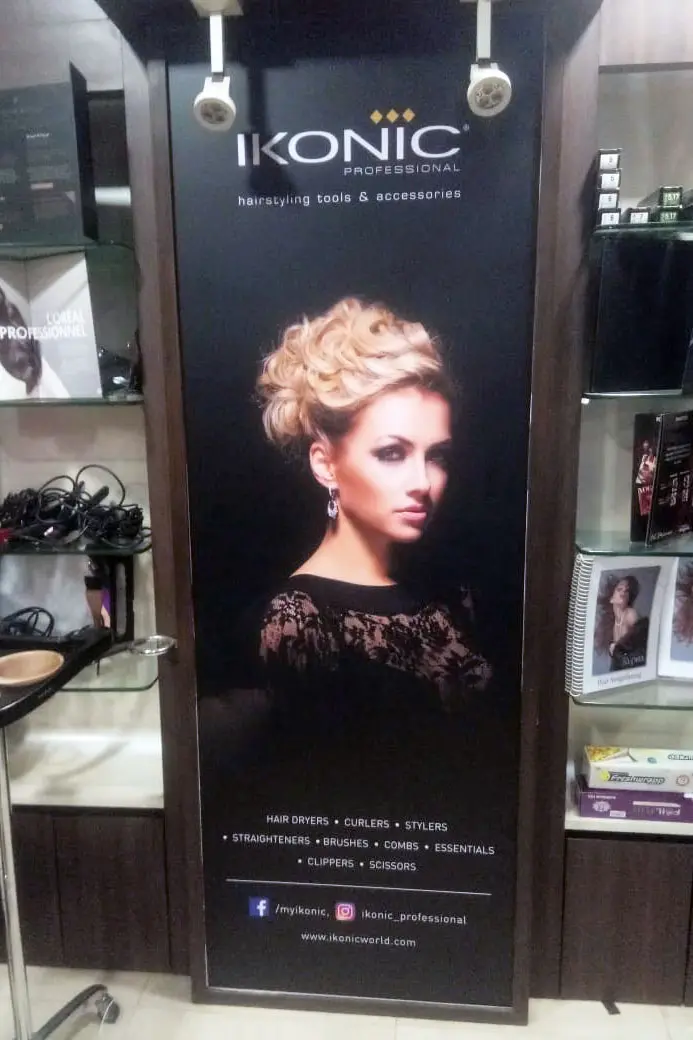 Finishing Options for Inkjet Printed Vinyl Jobs
The topcoat of vinyl rolls can be
Glossy
Matt
Or even textured
While there is no price difference in these finishes, the end application influences the choice of finishing.
Glossy vinyl is best suited for photo reproduction. This is because the gloss finish gives the print a mirror-like sheen that really gets the image to pop out.
On the other hand, advertising posters, containing a mix of images, text, and logos, almost always get reproduced on matt finish vinyl. This is because it is difficult to read text on glossy, mirror-like surfaces.
Textures, of course, add their own dimension to the image. For example, if you are reproducing a painting… canvas, linen, or leather textured vinyl would make the image look significantly richer.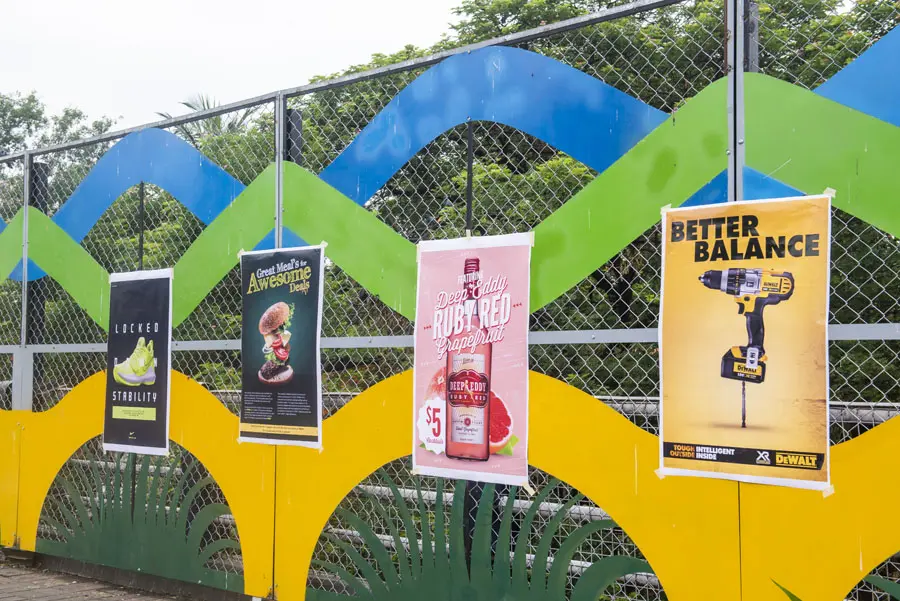 Types of Printing Inks Used for Vinyl Printing and Wide-Format Printers
Broadly speaking, there are 5 main types of wide-format inkjet printers deployed in the printing industry:
1. Solvent ink printers
2. Eco-solvent printers
3. UV or ultraviolet ink printers
4. Latex printers
5. Aqueous ink printers
While all the machines listed above can print on vinyl, flex, paper, cloth, and other media, each technology has its own strengths and advantages.
For example, prints on hard solvent machines are pretty economical and ideal for jobs like large hoardings. But there is a limit to the resolutions they provide.
Eco-solvent and aqueous ink printers, on the other hand, are able to reproduce very high-resolution images at a stunning quality. But this advantage comes at a marginally higher price.
Latex and UV printers are also known for their ability to provide very high-quality prints. Additionally, these printers do not require specialized media. They can reproduce images on just about any kind of media be it paper, uncoated plastic, cloth, and even rolls of leather.
The differences in the capabilities of different types of wide-format printers, mainly stem from the different ink technologies these printers deploy. For those seeking in-depth knowledge about exactly how wide-format printers work and the various types of inks used for vinyl printing, here are detailed posts on the same.
Types of Vinyls and The Various Applications of Vinyl Printing
Applications of vinyl printing are a result of the combination of different types of vinyl media and inks used for vinyl printing.
For example, a roll of vinyl when pushed through a solvent printer will give you low resolution but low priced print ideal for advertising on rickshaw hoods. Here's why this makes sense:
1. Campaigns on rickshaw hoods are generally short-lived and require large quantities of prints.
2. Price is probably more important than the quality here.
3. Moreover, prints on a moving rickshaw would only get a fleeting glance.
4. So, a low resolution on the poster is passable and does the job.
On the other hand, use the same roll of vinyl in an eco-solvent printer and you'll get a very high-resolution photo print ideal for premium environments like a mall or retail store.
1. While eco solvent vinyl printing is marginally more expensive than its solvent counterpart, price is not as important as the need to do a crisp job, compatible with the high-end audience you need to target.
2. Also, as against a print on a rickshaw hood, a print in a mall would have a significantly longer time to live.
3. Additionally, vinyl posters in malls promote products and lifestyle benefits for which they need to be bigger in size while preserving image clarity. These requirements very well justify the premium that the final product commands.
So, depending upon the kind of vinyl you choose, the following applications of vinyl prints emerge:
1. Standalone Vinyl Banners & Prints: High resolution, large-sized prints like posters for shop fronts or prints for pasting on metal displays, walls, etc. These are made out of vinyls with an adhesive back. These prints can also be laminated for longevity.
2. Photo Posters: Exhibition posters need to be more rigid than loose flexible vinyl. At the same time they need to be rolled up and portable enough to be carried to remote locations. We have a special grey back and white back photo poster media which gives amazing print quality. This poster media is thicker than regular adhesive vinyl and provides a very flat, smooth, and finished look when put up at exhibition stalls.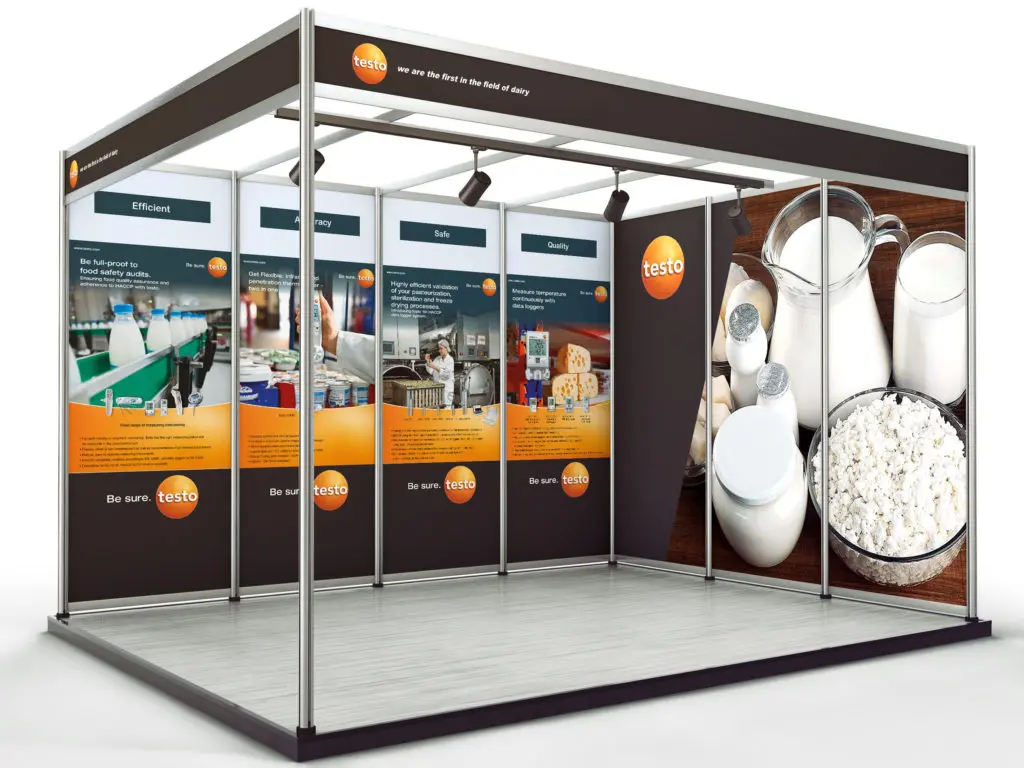 3. Vinyl Prints pasted on Foam Sheet: Loose and flexible custom vinyl prints can be converted into rigid and well-finished signs by pasting them on a material called sunboard or foam sheet. Sunboard is a very flat, smooth, and lightweight plastic board of typically 3 to 5 mm thickness. Printed SAV ( or Self Adhesive Vinyl ) is glued on to this thick plastic sheet.
The end result is a low cost, lightweight, and rigid board ideal for branding office spaces and retail stores. Since sunboards are thick and strong enough to stand up on their own strength, they are also used to create display stands for Point of Sale locations. This is a typical application of a rigid vinyl banner that brings absolutely stunning results for a very low-cost.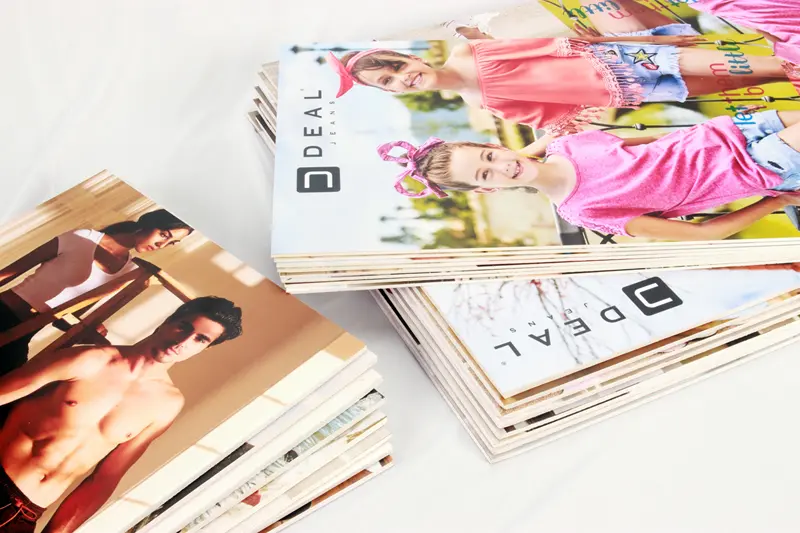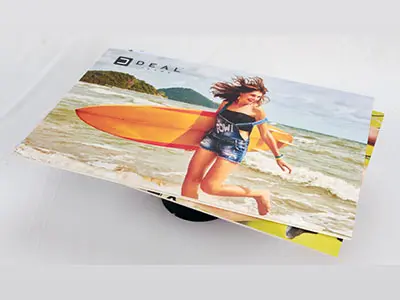 4. Floor Graphics: Floor-over laminates are a special type of media that allows you to advertise on the surface of the floor. These are typically used in public spaces such as malls and office complexes where a large number of people walk over the print every day.
Floor graphics are printed on a media much thicker than regular vinyl. While standard vinyls are between 80 – 100 microns thick, floor overlaminates have almost 3 times as much thickness. The glue beneath the floor print is also very strong.
These factors ensure that when floor prints are installed in malls or areas of high footfalls, the print does not peel off or get torn. They are strong enough to withstand all kinds of abuse, be it from high heeled stilettos or even spiked/hobnailed boots.
Since UV inks are pretty strong and scratch-resistant, floor graphics generally get printed on ultraviolet wide-format inkjet printers.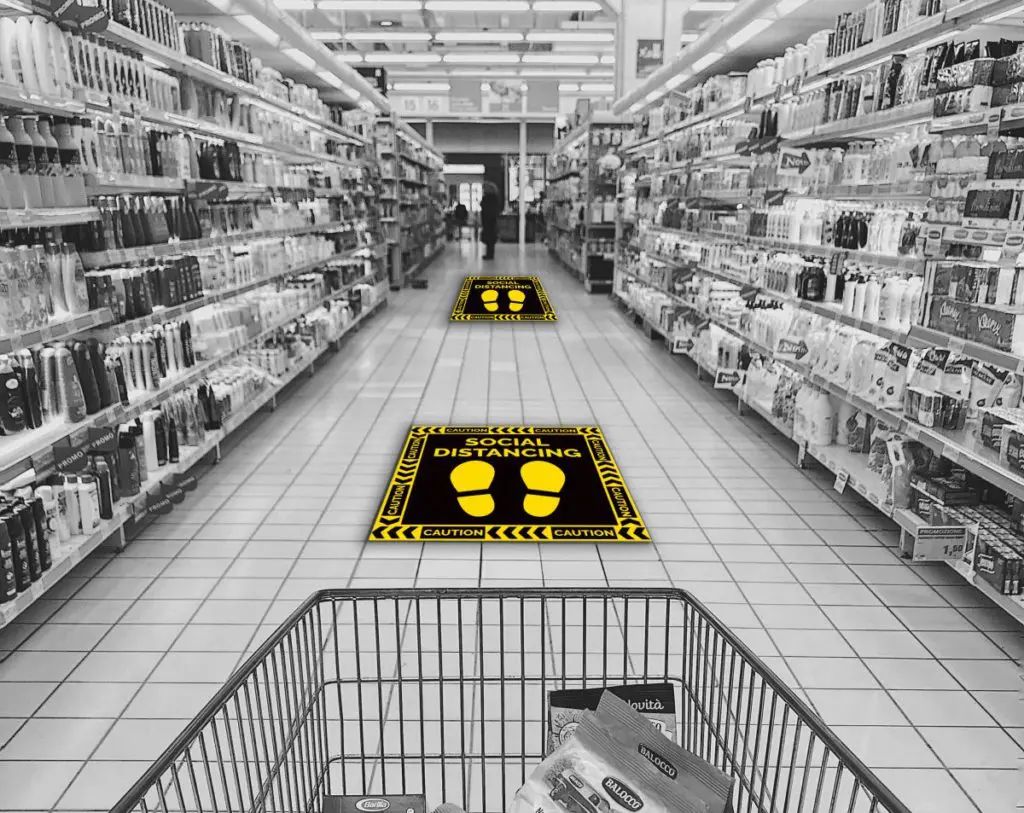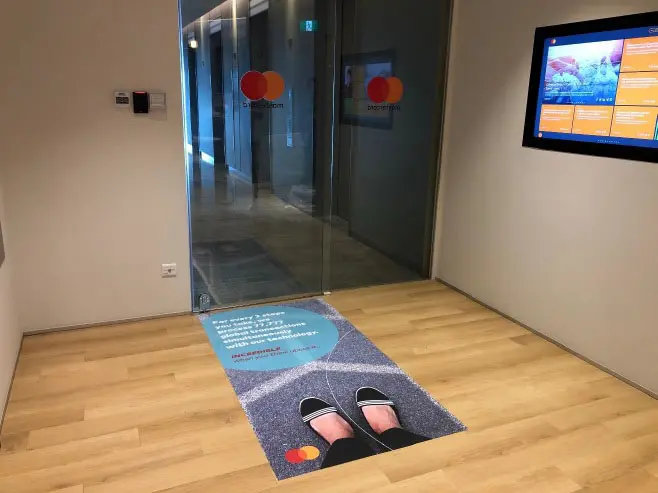 5. Vehicle Graphics: Specialised cast vinyls are yet another category of media that can be pasted on vehicles. And this is what is needed when you want to brand a vehicle.
Cast vinyl is thin, stretchy, and very much like chewing gum.
You can apply cast vinyl on the surface of vehicles and use a heat gun to mold them around the curved surfaces of cars. These vinyls also melt into the joints and gaps between the doors, bonnets, hood, etc., giving us a uniform finish.
6. Wall Vinyl Prints: As the name suggests, these custom printed vinyls are pasted on walls. The difference between a custom wall print and regular posters is that a wall print will cover your entire wall, no matter how large.
Imagine this print running from the top left corner touching the ceiling, to the bottom right corner touching the floor.
We can have custom designs flowing across walls fifty feet wide.
As you may have guessed, wall vinyl has a specialized glue that adheres to painted walls. Moreover, the printed surface is protected by an over-laminate to withstand daily wear and tear like scratching, scuffing, and wet wiping by the cleaners.
I am repeatedly using the word 'custom' to emphasize the fact that this solution frees you from the standard designs available at interior decoration shops. Imagine a wall covered with larger than life images of your family, or loved ones.
Alternatively, showcase your company's products and philosophy in your boardroom. This is only possible through the use of printable wall vinyl.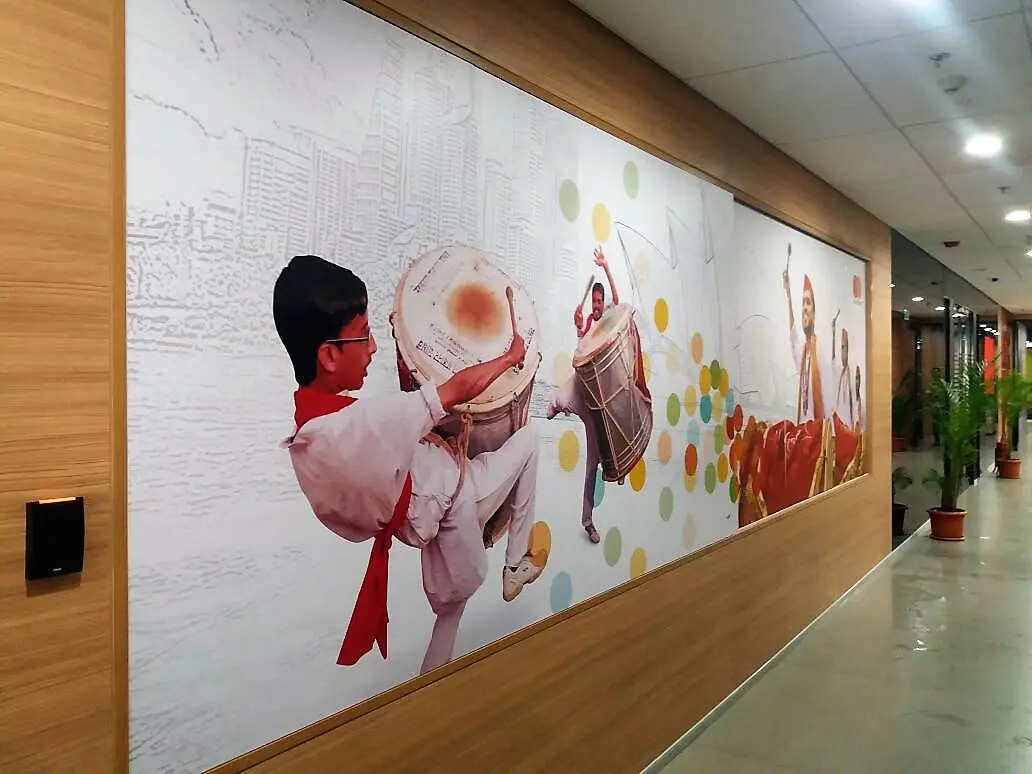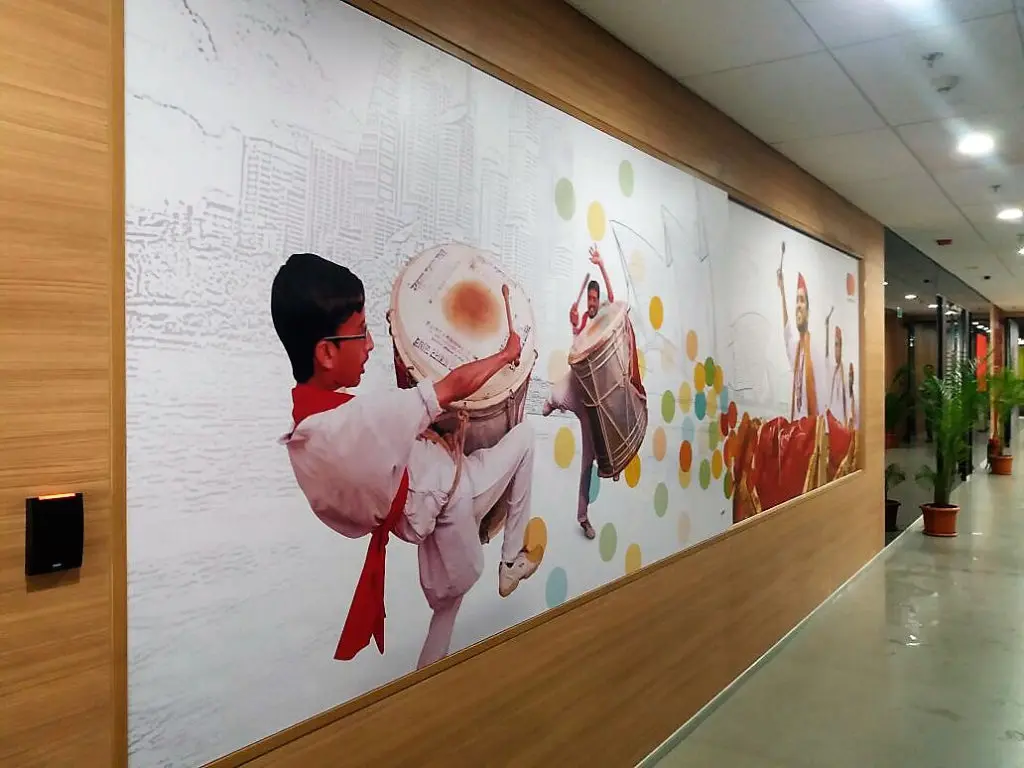 7. Reflective Vinyls: 3M is an American tapes and adhesives company. And it was a pioneer in creating a pretty innovative film called High Intensity Prismatic film or 3M HIP for short.
This film has small prisms or beads of glass embedded into the top surface. And these prisms act like small mirrors and reflect back, the light that falls on the film.
This results in a reflective vinyl banner ideal for use in low light conditions. Direction boards installed on roads and highways are the best application of this media.
You may have observed that many road signs don't have any internal source of light. And yet when a car's beam falls in these prints, they light up and intensely shine in the evening or at night.
This is made possible by the prisms inside the HIP film. They throw back the lights from the headlamp and make the signboards easy to read, even in pitch darkness.
You can read extensively about night reflective vinyls on this page.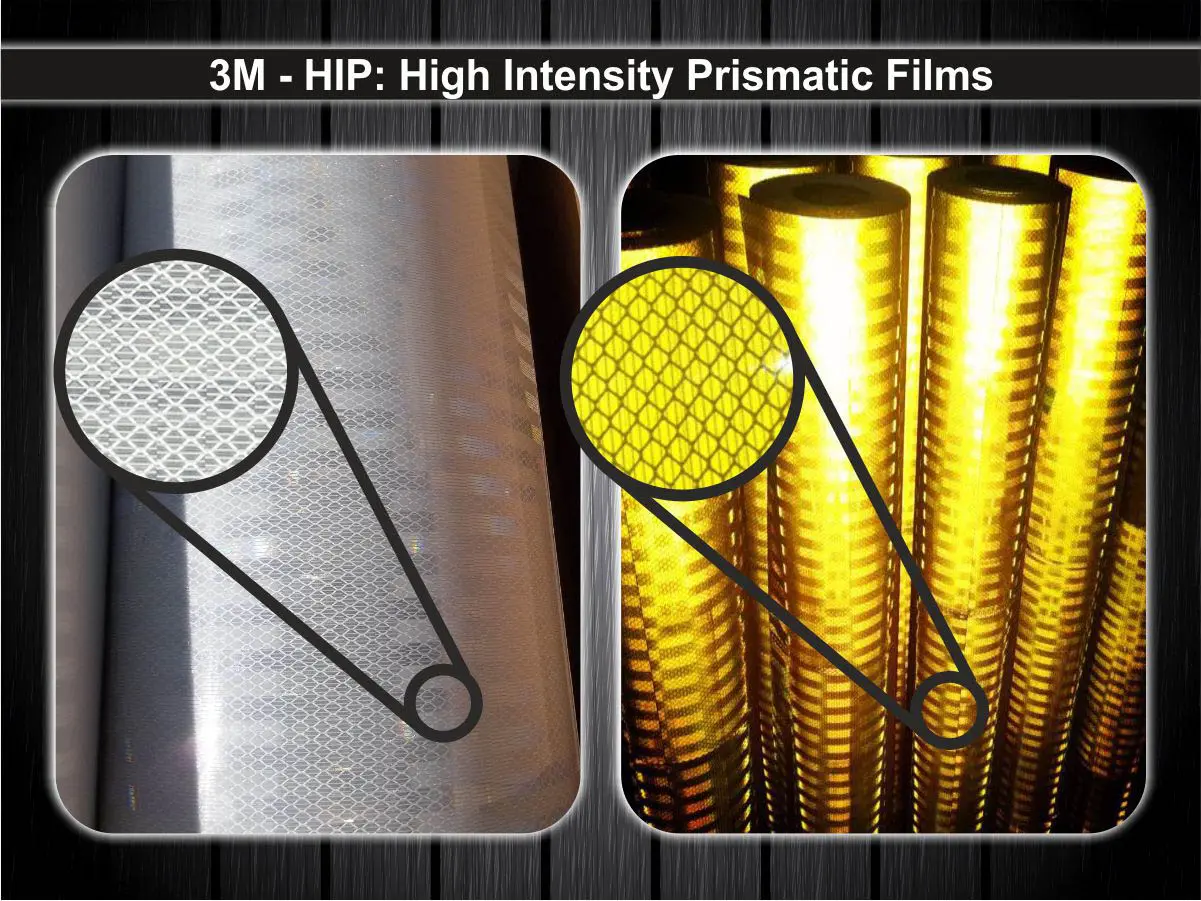 8. Night Glow Prints: Reflective vinyls throw back the light that falls on them. Nightglow prints, on the other hand, emit light on their own volition. Also known as radium prints, this media has a specialty wherein it absorbs light during the day and emits this light at night.
Nightglow vinyl prints are primarily used to create safety signs in factories, commercial spaces, and residential buildings. This is because safety signs need to be visible even in pitch darkness.
Lighting up these signs with electricity is not the correct solution, because, in the event of a fire emergency, the power of the building complex is the first thing to go. In an event like this, night glow signs which emit light on their own strength can direct people safely to the nearest exit. They then become a life-saving tool.
The OSHA or Organization of Safety Health Association has mandated designs for different safety signs like emergency exit, fire exit, assembly point, etc. Nightglow vinyl mounted on the sunboard is primarily used in this scenario.
Glow in dark prints are discussed more in detail, in this post.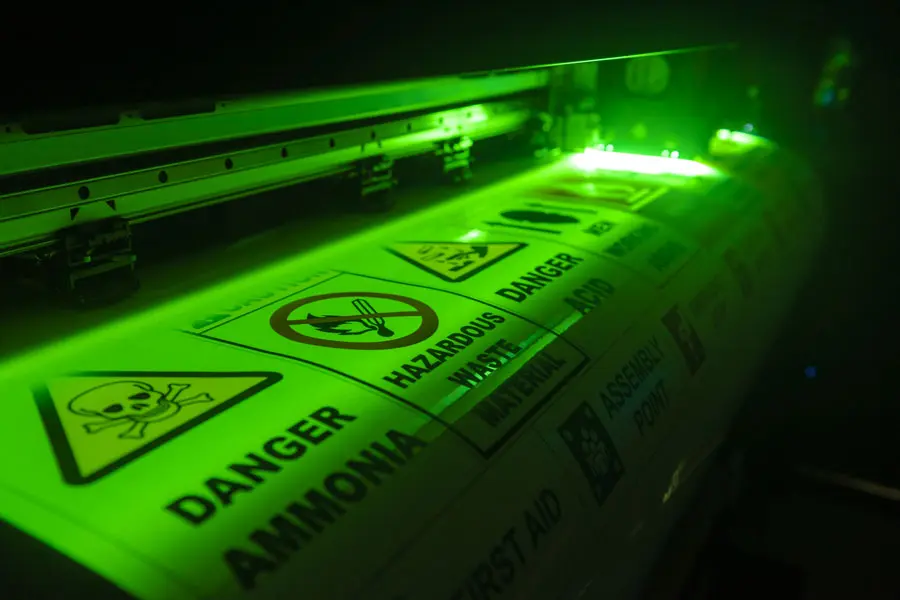 9. Metallic Film Prints: At Orchid Digitals, we stock metallic vinyls which add their own dimension to the print. A bike with a heavy chrome finish, when printed on a metallic foil, looks extremely rich and shiny. Similarly, the gold ornaments in the image of a deity pop out when reproduced on metallic vinyls.
At Orchid Digitals, we have a choice of glossy chrome finish, matt brush finish, and even a starry glittery metallic vinyl to produce premium image prints.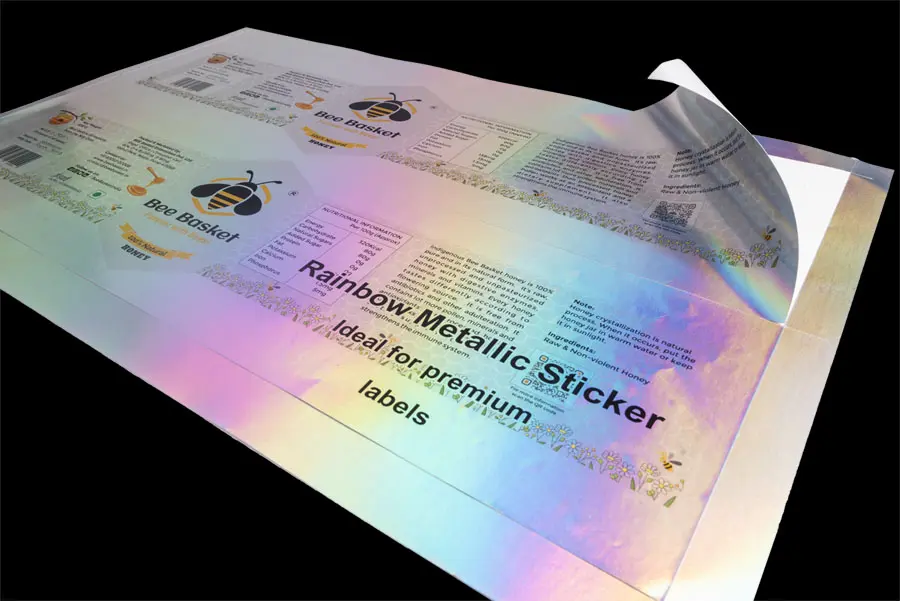 10. Glass Film Prints: By definition, vinyls are rolls of plastic with an adhesive back. If that plastic was transparent or translucent, we end up with films that can be pasted on glass panels to impart the same with images having varying degrees of transparency.
Any modern building or commercial office will certainly have glass as a huge component of its construction material. And this surface lends a lot of opportunities for branding and/or interior decoration.
Glass films, in addition to putting images on glass, impart it with three main characteristics:
1. Transparent film prints – The films retain the panel's transparency wherein a viewer can look at the branding on the glass and through it, at the same time.
2. Frosted films allow natural light to pass through but obscure vision. In effect, they allow for privacy on the panel while imparting a very rich smokey effect on the glass.
3. One-way vision films – this is a specialized privacy film that allows the viewer to see the branding on one side of the glass while ensuring through vision from the other side.
Here's a detailed guide on the various types of printable glass prints and their applications.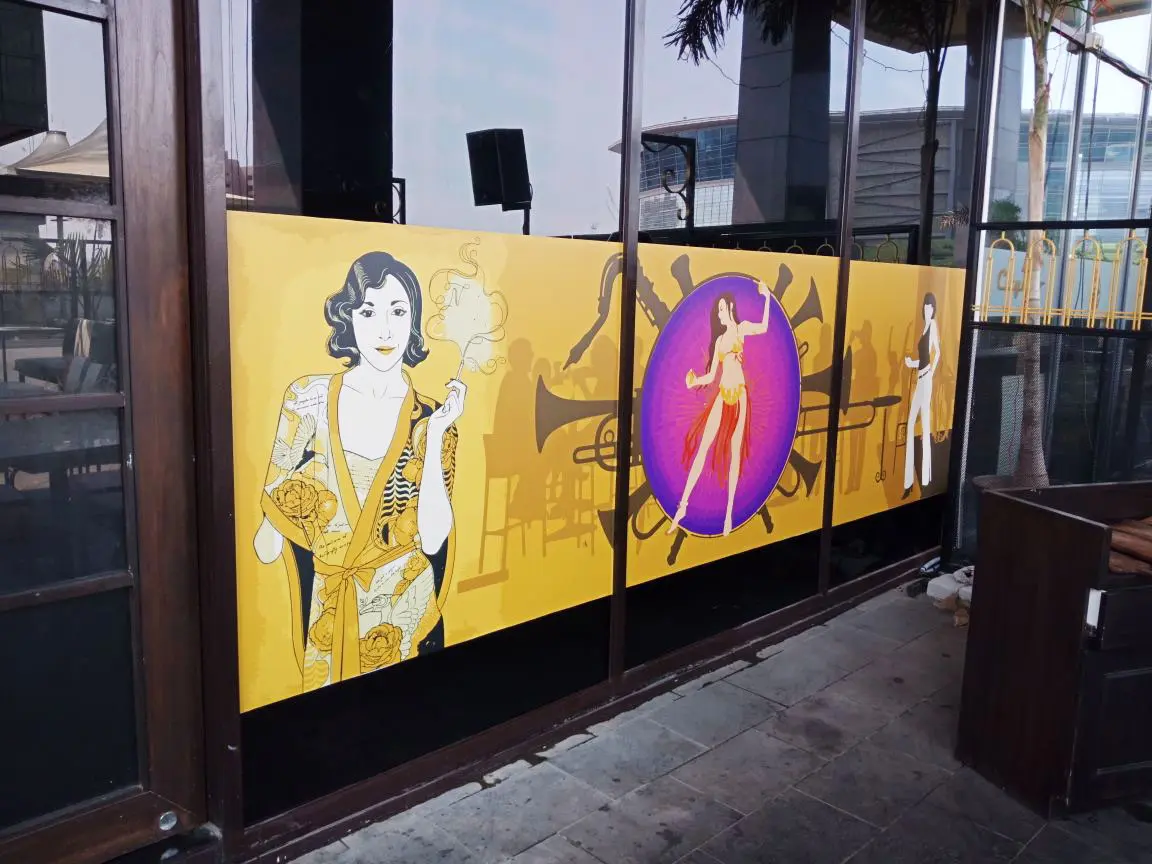 11. Stickers and Decals: Labels is a huge industry by itself and vinyl is one of the media that sticker manufacturers use to create their products. Shape-cut labels, product stickers, packaging labels, and vehicle decals are a few examples of this category.
Also, there are specialized vinyl glues for creating stickers of different applications. For example, we have something called release adhesive vinyl which enables pasting and peeling of stickers without damaging the surface below.
On the other hand, there is a media called cast vinyl which bonds very strongly with the surface they are pasted on.
Though a subset of vinyl printing, stickers printing is a very vast topic by itself. There are numerous sticker types having different applications and use cases. Again, there are different production processes for creating stickers.
Hence we have devoted an entirely separate page for this subject. You can read more about stickers and decals, their types, and their applications here.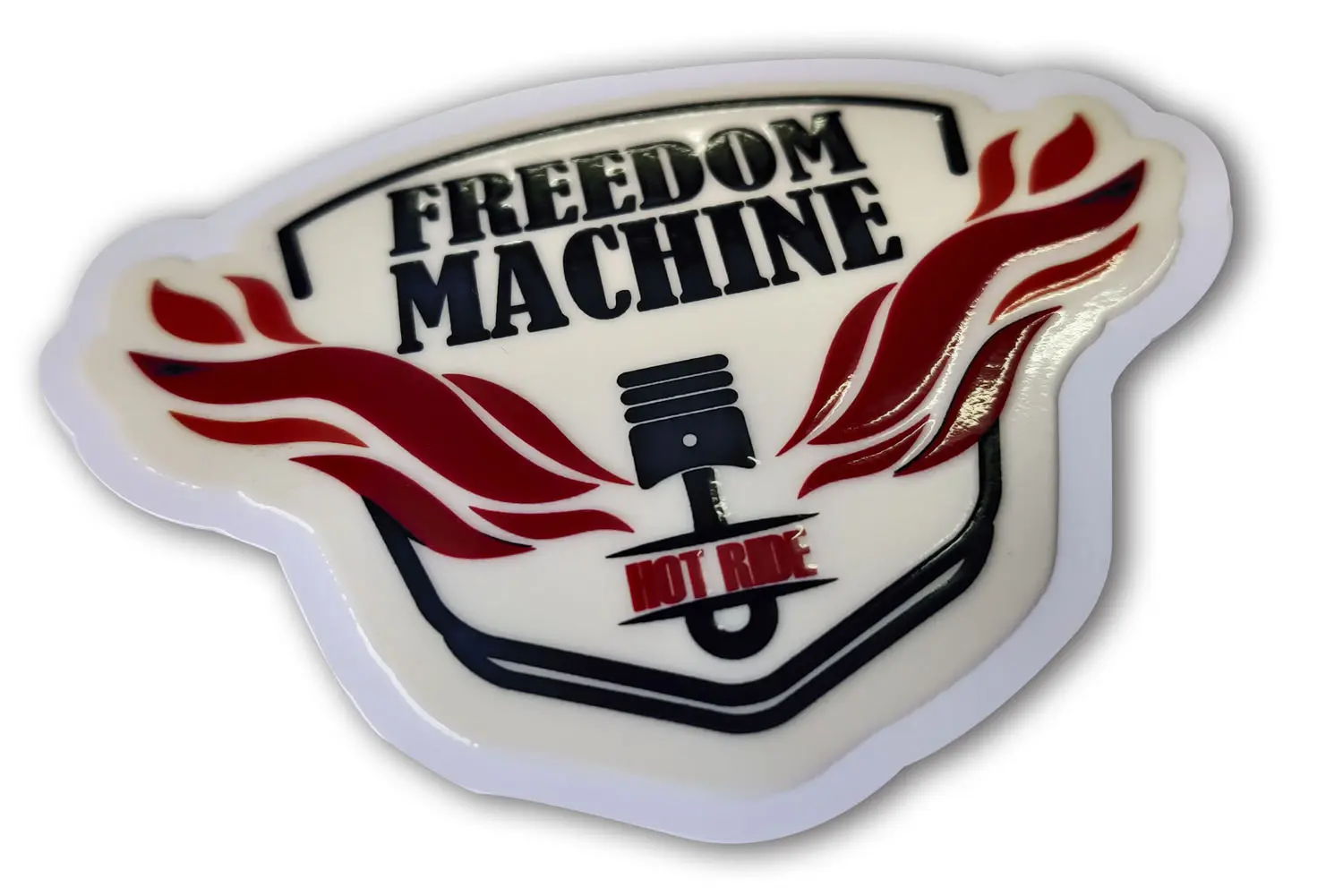 Vinyl Printing – Opening Many New Avenues
Owing to the versatility of vinyl medium (and its various types) a whole of use-cases open up. And each application leads to a different product/solution.
So with questions like 'what is vinyl', 'what is inkjet printing on vinyl', and 'applications of vinyl printing' answered, you now have a better understanding of how you can utilize this medium. And how this medium can be the right choice for your print requirement.
Do drop a comment with any questions you may have. Also, let us know your thoughts about our vinyl printing post. Was it informative? Did it help you better understand vinyl printing? Which solution do you feel would work the best for you?
We're listening to you.
Looking for any specific product?
Drop us a line. Send us your query. And we'll get back to you with solutions and answers.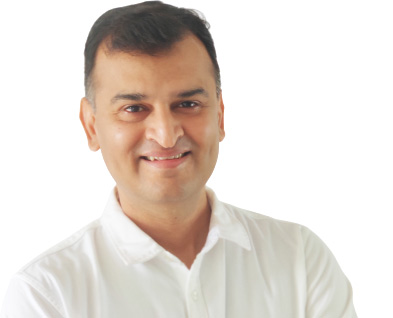 Mitesh Sanghani
Mitesh lives, mostly for Saturdays.
But when forced to work, you'll find him heading Orchid Digitals – a printing press in Pune.
If it's an emergency, try looking for him in the hills behind his house. You'll almost certainly find him… lazing under a tree, with a book in hand.
All our blogs
This is a section packed with useful knowledge on digital printing and its aspects, interesting printing case studies, and ideas, guides, and tips & tricks on marketing and branding.