Shop Boards Printed on Flex with a Metal-Frame
Make Your Store Instantly Recognizable with Sleek and Elegant Shop Board
Flex printed signboards for shops and store-fronts
Simple construction with the print mounted on a metal frame
Front-lit – Utilize sunlight and ambient light for visibility
Extremely low-cost shop sign option
Fairly easily to install – end-point installation service available in Pune
Frontlit Shop Boards – Detailed description
Frontlit Shop Boards – Detailed description
A shop name board's primary function is, of course, to display the name of the shop. Add your product images, company logo, tagline, and store timings and you end up with a colorful, very attractive looking shop board for your storefront. This board will help your prospects and customers find you, and who knows – your shop may become a landmark too, earning you word-of-mouth publicity.
This page is about the elegant frontlit metal framed shop boards without any internal source of lights. These boards are easy to manufacture. They are also the most economical option that shop owners can choose when they want a name board for their storefront.
Note: If you are looking for a higher-end board with its own source of light, backlit glow sign boards will solve that requirement for you.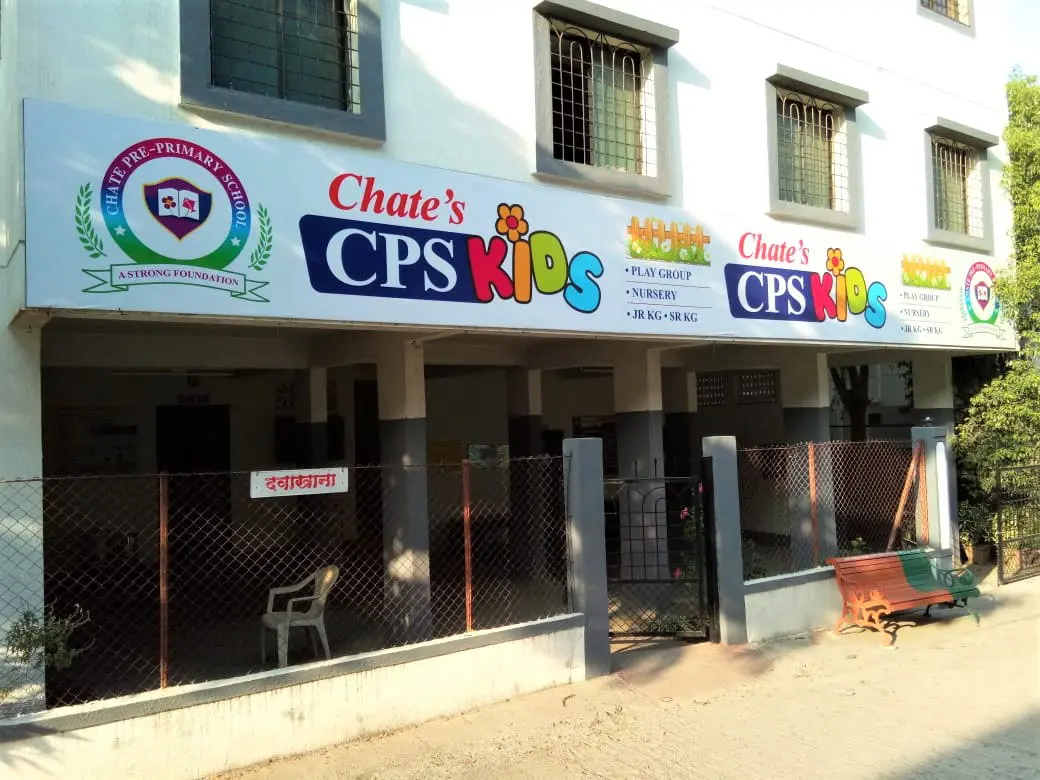 Why Get Your Shop Board Job Done From Orchid Digitals?
The prints for our flex sign board board are printed on wide-format inkjet machines. And printing inks generally fade over time. You might have noticed faded shop boards which give an extremely shabby look to the store front.
At Orchid Digitals, we take particular care to avoid this and deliver Shop Boards that'll look great for a long time. Our prints are significantly superior than the prints provided by our competitors, because of the following two reasons:
Star Flex Media: We print our shop boards on a high grade 'Star' brand flex media. Star flex is significantly thicker than ordinary shop name board flex material. It has got a double coating on top. This coating allows us to apply more inks on the prints. Star flex enables the production of very high resolution prints with extremely vibrant colors. It is also significantly stronger than other brands of flex and much more difficult to tear.
Multi Pass Print: Our competitors print most jobs at a single pass whereas we print shop boards at a dual pass. This means that we lay down the print image twice, one on top of the other.
Our cursive writing class from primary school is an analogy that will help you understand double pass printing better. If you remember we used to write a letter and then rewrite the same letter over the first impression. With successive over witings the letter became darker and darker.Double pass printing uses a similar technique to add more layers of ink to the prints. While this process increases the cost of the print, the extra ink has a dual effect.

The images become more attractive because the extra ink adds a punch to print by very slightly oversaturating the colors
The prints last for a longer time in the sun (and rains) because the inks take much more time to fade.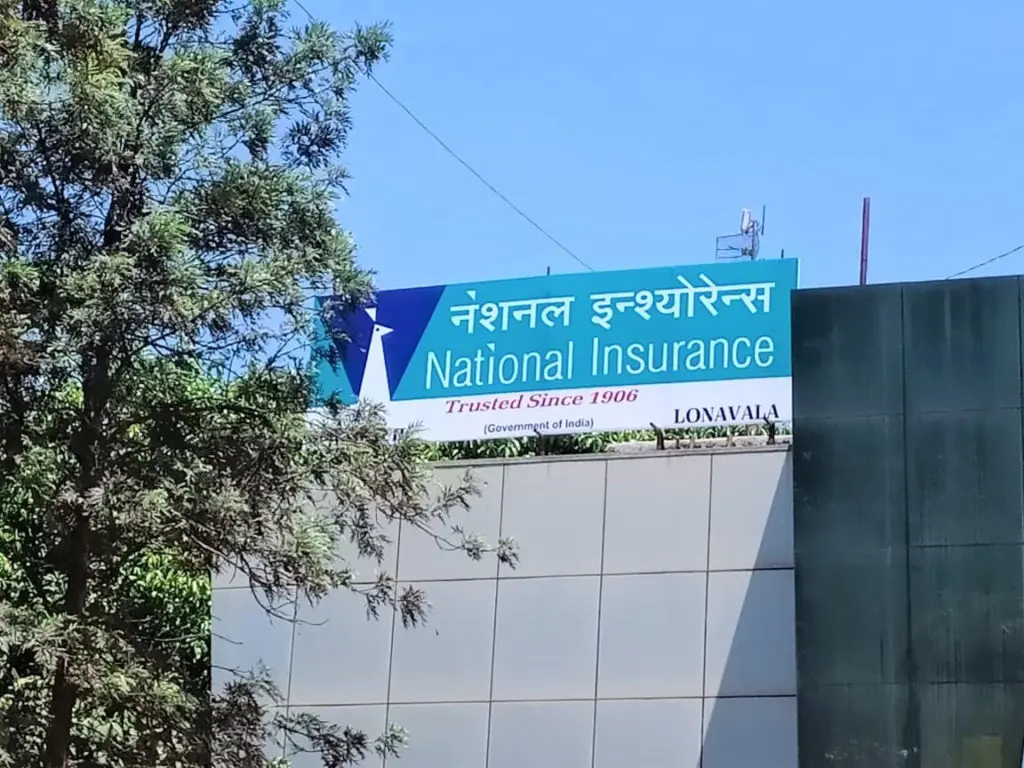 How Are Frontlit Metal Framed Shop Boards Manufactured?
Traditionally, shop boards were painted on a thin metal sheet mounted on a wooden frame. But with the advent of solvent inkjet printers, the painted metal sheets were quickly replaced by high resolution photo prints on a material called flex banner media. Given below are the components of a frontlit shop board (also referred to as non-lit shop board).
The Print Media: 'Flex prints' is a generic term widely used in the printing industry. Flex is a printable roll of plastic which is specially coated to receive inkjet prints. These rolls are typically two ply. This means that a roll of flex consists of two layers. There is a printable layer on top. And this layer is reinforced by a liner of cloth beneath it. A weave of threads (very much like cloth lined envelopes) is glued beneath the thin printable surface on top. This liner strengthens the media and makes it very difficult to tear the same.
The Inks Used for Printing: At Orchid Digitals, we use our wide-format solvent and UV ink printers to print the shop boards artwork on the above mentioned roll of flex. These inks are rated for outdoor use and are impervious to rain and sunlight. The media, made of plastic, is also waterproof. Taken together, our solvent ink print is the ideal solution for use on a shop board which is exposed to the weather elements all day long.
The Base Metal Frame: As the name suggests, the printed roll of flex is… flexible and very much like a loose piece of cloth. To create a shop board, this print now needs to be framed. At Orchid Digitals, we weld metal pipes of 0.5 – 0.75 inch thickness to create the base frame. This shop name board flex print is very tightly stretched on the frame. This gives the board a very taut, flat and finished look. All that remains is for the board to be fixed on the wall above you shop. And this is easily done by nails and a hammer.
How to Commission a Frontlit Metal Frame Shop Board at Orchid Digitals?
Getting your frontlit Metal Frame Shop Board printed at Orchid Digitals involves a fairly easy process:
Let us know the dimensions of the shop board to be printed.
We'll need the following two dimensions from you – width of the board, and the height of the board. Most shop boards have a width of 8 – 10 feet. The height is generally 3 or 4 feet.
Please share the artwork of the board.
Typically printed shop boards contain your company's logo, name and contact details like phone number and email. You might also want to add in your store's timings. To make the artwork more colorful, include product pics representing the goods or services you deal in.
With the artwork and dimensions in place, it will take us 2 – 3 days to print the flex and fabricate the frame.
We can also arrange to have the finished job delivered and installed at your location. Read more about it here.
Backlit Shop Boards – The More Premium Alternative
If your store is operational beyond dusk (5 or 6 PM depending on the season), it will need visibility in the evening and at night as well. Which is a problem with the simple frontlit frame shop board.
With a simple metal frame, a frontlit shop board does not have any internal source of light. Frontlit means that the sun or other light sources in the surroundings light up the board. While this works just fine during the day, it becomes difficult to read the board at once it starts getting darker from dusk onwards.
The answer to this problem is a more premium Backlit Shop Board. These come with internal sources of light, which keeps them and your store's name visible even in the night time.
Listed below are the two-dimensional and three-dimensional options for backlit glow sign boards that you may want to consider.
Flex Printed Backlit Shop Boards: Flex printed backlit boards are similar to frontlit boards in the sense that these boards too have a solvent inkjet print stretched on a metal frame.
The difference is that the metal frame has tubelights embedded within it. The tubes give a back glow to the print and make the whole board look very beautiful. Please click here to know more backlit glow sign boards (GSBs)
Acrylic, ACP Boards with LEDs: Acrylic and ACP (Aluminium Composite Panel) are very high-end materials which can be cut and rendered in three dimensions. The shop board has a depth, and the logos / letters are individually lit by miniature LED modules. Name boards for shops become extremely premium when crafted from these materials. Please click here to know more about 3D Acrylic, LED glow sign boards.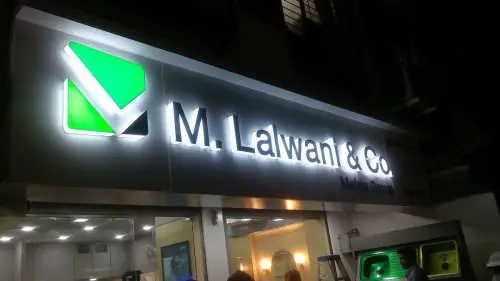 What Is the Cost of a Frontlit Shop Board?
As mentioned above, it is pretty economical to create a non lit metal framed board for your shop. Here are the costs for the same
| Media | Tube lights provided | Rate per square foot* |
| --- | --- | --- |
| High resolution eco solvent Star flex print | Print stretched and glued onto a frame made of 0.5 – 0.75 inch thick metal pipes or 1 inch thick PVC pipes | Rs.100.00* |
* Please note:
Above rate attracts 18% GST
The price does not include the cost of transportation or installation. But these services can be provided at an extra charge. Please share the exact address of your store in Pune, to enable us to do so.
Rate quoted are per square foot. To arrive at the final figure, you need to first arrive at the area of your shop board. For example, let us assume that you need a shop board of size 3 feet height and 4 feet width. Further the board has to be fitted with electronic choke tubes. In this case the cost of the GSB works out to:

3 feet X 4 feet X 100.00 = Rs.1200.00 + 18% GST
Shipping and Delivery
Frontlit shop boards can be delivered anywhere delivered in Pune city and its suburbs.
Delivery charges are extra and will be communicated to you once we receive the exact delivery address.
Question: Does this product get shipped out of Pune City?
Answer: No. We are sorry. It does not.

Here are a couple reasons why:

Form Factor – Metal framed boards are pretty large and bulky. We need to hire a tempo or small truck to deliver them.
Feasibility – These boards are a pretty low cost product. So, shipping them over long distances means that our customers will end up paying more for the cost of delivery than the cost of the actual print.

Therefore, if you are stationed out of Pune, it makes sense for you to source the print from your local printer. All you have to do is share / take a print of the above post, show your local printer the material specifications and commission a similar job from him.
Get a Quote for Your Flex Frontlit Board
Please leave us your details and we will respond promptly