Waterproof Regular and Rigid Menu Cards for Restaurants
Flaunt Your Delicious Food Offerings on Our Highly-Durable Menu Prints
Vivid and high-quality prints that'll make the visuals of your food pop out
Waterproof and durable – perfect for day-to-day heavy use
Standard booklet form menu card for traditional restaurants
Alternative rigid menu form factor for casual dining and fast food eateries.
Rigid menu cards starting from ₹70 per menu print
Restaurant Menus: Regular & Rigid – Detailed description
"Laughter is the brightest where food is the best"
– Old Irish Proverb
As a hospitality businessman, you definitely understand the importance of showcasing your food offerings in the best manner possible. And the very first opportunity for you to do so is through your menu card. The moment a hungry customer walks in and takes a seat, he'll be going through your menu very eagerly. Every section, and item listed within the menu will be getting his undivided attention. This is when a well designed, premium printed menu of high quality reassures the customer of the delicious meal that awaits them. It sets the right tone for the meal outing. It also gets them interested in the different specials that you serve, helping you grow your business.
On the other hand, a shabby or soiled menu could leave him with a metaphorical bad taste in the mouth, even before you get a chance to serve your finger-licking delicacies. So it stands to reason that commissioning the highest quality of menu print will help the hotelier garner those great customer reviews, essential to the success of his business.
Our rigid restaurant menu prints are the absolute best way to go!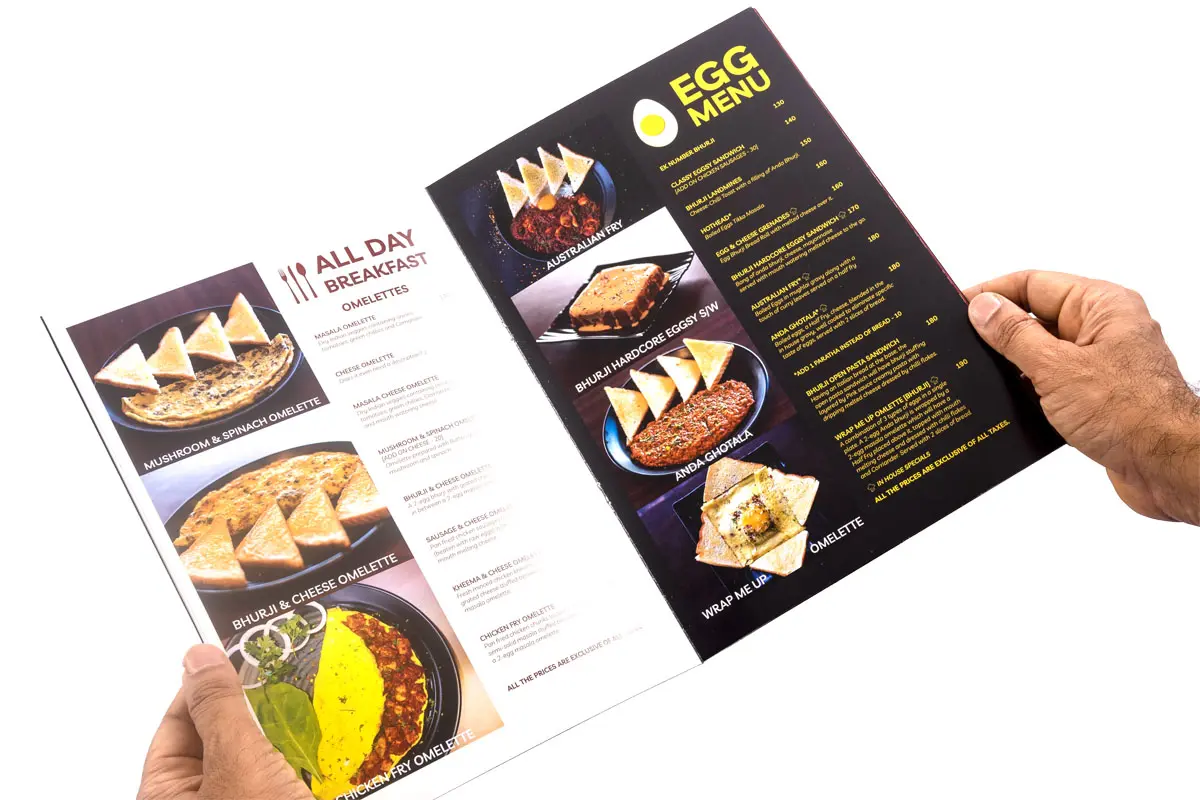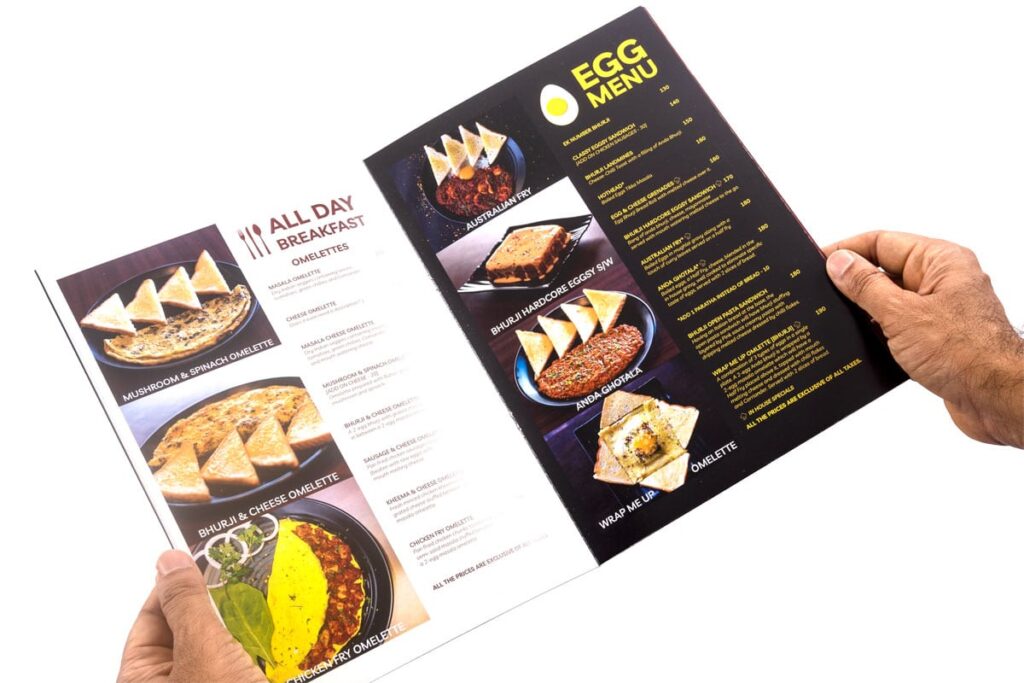 Issues and Challenges a Menu Card Faces on a Daily Basis
Restaurant menus are subjected to all sorts of use, abuse, and manhandling on a day to day basis. Some of the most common kinds are –
The very same menu gets handed out to hundreds of customers, sometimes even in a single day.
Eager kids handle the pages with soiled / 'jhootha' hands.
Water gets inadvertently spilled on the menu, as do particles of food. Liquid gravy is the worst of the lot. The oils in it permanently stain the pages of the printed menu and they are difficult if not impossible to remove.
It takes a very short period of time for hotel menus printed on even the very best of papers, to get seriously degraded. The pages of the menu become dog eared, wrinkled and even torn. Unsightly food, water and oil stains are seen on the pages.
The restaurateur now finds himself in a dilemma. Reprinting the menus will require time, effort and of course, money. On the other hand, a messy menu obviously leads to a bad customer experience.
A truly tricky position to be in.
What Are the Characteristics of a Premium Quality Menu Print?
At Orchid Digitals, we understand this conundrum faced by the restaurateurs and business owners. And that is why, we treat menu printing jobs differently than other prints like brochures or leaflets. Due to their unique application and use case environment, printed restaurant menus need to have the following characteristics.
Strength

: A hotel menu needs to be robust enough to withstand the daily rigours in the dining room. It should not tear, crease or wrinkle. The printing inks should also be scratch resistant.

Easy to Maintain

: Cleanliness is the hallmark of any good eatery. But try cleaning a printed piece of paper with a wet cloth and see what happens. It will degrade in no time at all. A printed menu card needs to be easily washable. It should look as good as new, with one swipe of a wet cloth.

Waterproof and Oil-proof Menus

: Paper is a largely hygroscopic material. As such, oils from food and gravy, spilled water, dust, etc. are a printed menu's biggest enemies. Hence, the material a menu job is printed on, has to be oil and water proof. A waterproof menu print is pretty standard these days and as a hotelier, it's the least you should opt for.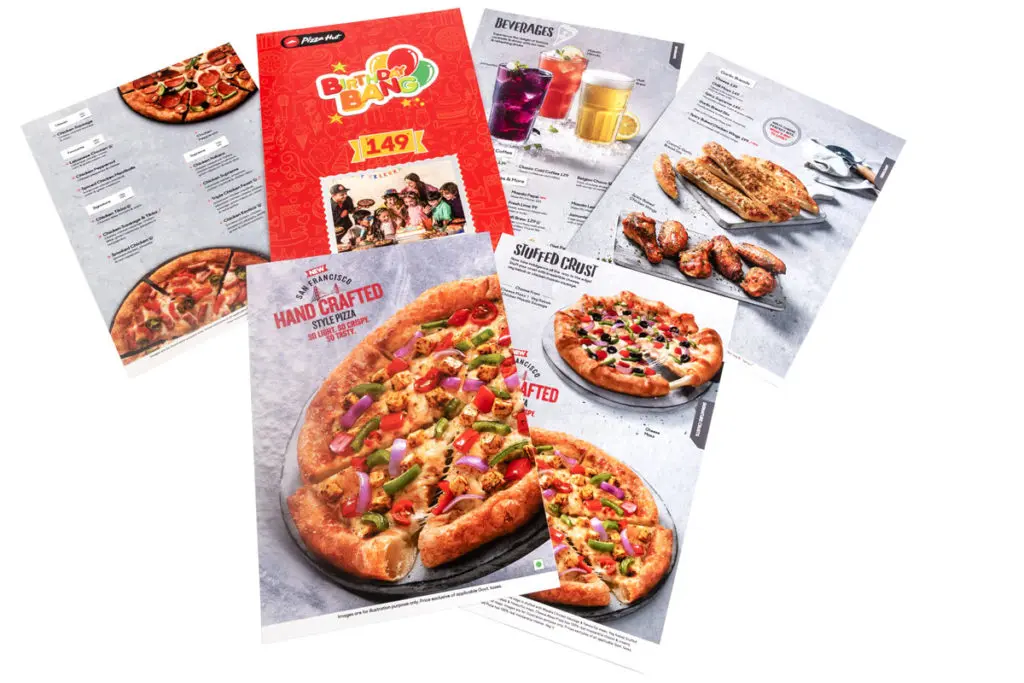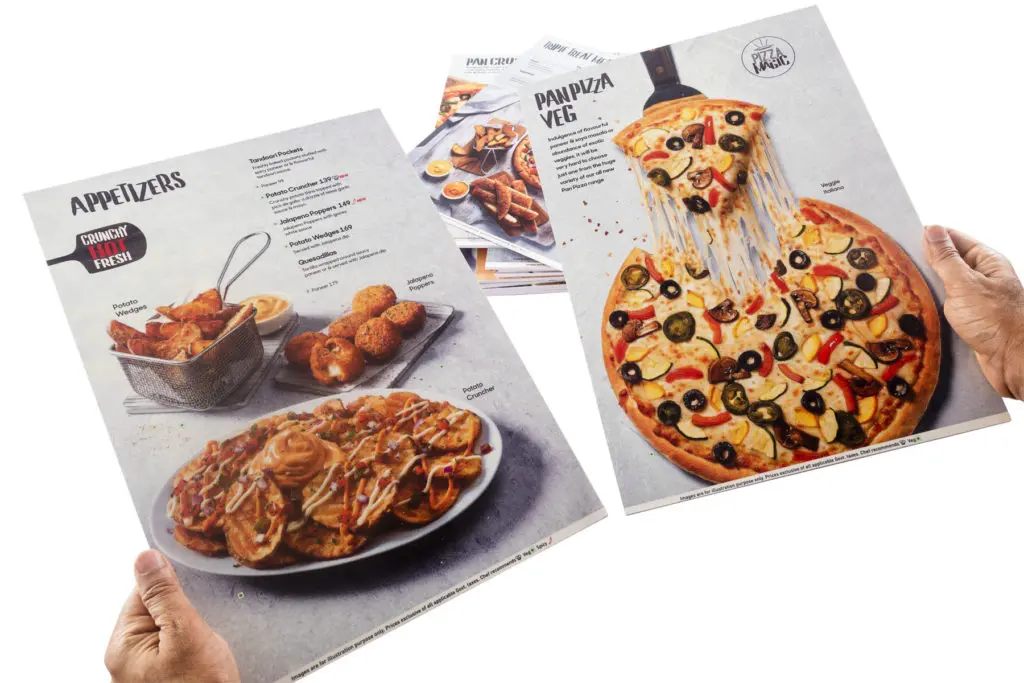 What Are the Types of Menu Cards That You Can Get Printed at Orchid Digitals?
As you can see from the issues listed above, printed menu cards need to be fabricated from a specialised material to overcome the challenges of the food industry. At Orchid Digitals, we offer menu cards on two different materials each having different form factors. They are…
Menu Cards Printed on Non-Tearable / NT Paper: These menu cards have a booklet or brochure-like form factor. But the material used is extremely robust and durable.
Menu Cards Printed on a Thick and Rigid Sheet of Sunboard: When picked up, this menu has the look and feel of a thick writing pad. It has a very classy and premium look.
Please read on to know more about both these variants.
Menu Cards Printed on Laminated NT Paper
Customers who walk into Orchid Digitals generally expect a print on regular thick paper for their menu printing job. But in order to have a menu that will look pristine over longer durations we recommend the use of the following materials:
NT / Non Tearable Paper: A multi page menu printing job has to be processed on 'non tearable' or NT paper. As the name suggests, this sheet of paper cannot be easily torn, creased or folded. That typical dog eared look that regular sheets of paper get, over sustained use, will not happen with NT paper prints.
Moreover, NT paper is also waterproof. At Orchid Digitals, we use thick 200 micron NT sheets for menu printing jobs. In addition to strength, thickness imparts a very premium tactile feel to the end product. 200 microns is roughly as thick as the paper used in a high quality brochure. Also, to help put in the correct perspective, 200 microns NT paper is very slightly thinner than a visiting card or invite.
The rigid menu printing is carried out at extremely high resolutions on our Konica Minolta Color Digital presses. If your menu contains food images or model photography, rest assured that the same will look absolutely stunning and vibrant due to our 2400 DPI output.
Gloss Lamination: Non tearable paper is water resistant and extremely robust. But to make the menu print even more stronger, we additionally laminate the sheet on both sides with a 25 micron plastic film. Laminating film adds a protective layer of plastic to withstand the scratches and scuff marks that arise from daily use.
Moreover the glossy top surface of the laminated film now makes our printed menu extremely hydrophobic or non-absorbent. Spilled water and oil simply bead on the surface of the menu without getting absorbed. And these beads of liquid and other food debris can then easily be wiped away.
Waterproof menu prints are a happy reality.
In short, laminating a printed menu, substantially increases the life of the same. The other characteristic of the lamination film is that it is extremely glossy. This high gloss mirror-like finish gives the print a very rich look.
We would also like to emphasize that the film we use for the coating is unlike the regular rolls of lamination found in the market. Regular lamination film is glued onto the printed paper. Over time this glue weakens and the lamination film starts decurling or peeling away from the print.
But for menu cards, we use a process called thermal lamination. Thermal lamination films are coated with a resin like glue that melt at high temperature. When passed through a heated laminator, our lamination film melts and fuses with the print beneath.
The adhesion of the melted, fused film is so strong that it is almost impossible to separate it from the print beneath. Our printed menu, encased from both sides with a strong and thick layer of plastic, now becomes indestructible. Keep it overnight in a bucket of water and it will still not get damaged.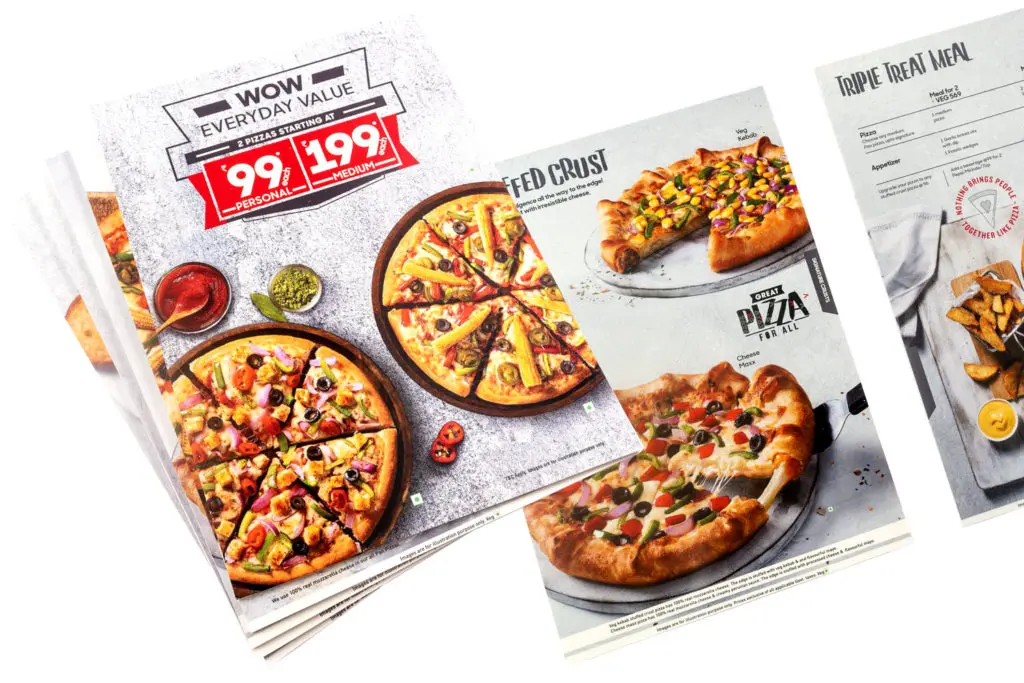 Thick and Rigid Menu Cards on Sunboard
In the product described above, the materials used in fabricating restaurant menus is different from the papers used for printing regular jobs. But the form factor of the menu is pretty similar to a regular multi page brochure. As such, we have multiple A4 sized pages pinned together, which then open like a booklet.
But if your menu design consists of 2 pages of A4 (or A3) there is another type of menu that you can opt for. We can manufacture rigid menus from a material called foam sheet or sunboard. Sunboard is a rigid sheet of plastic. While sheets of sunboard are available in a variety of thicknesses, we use foam sheets of 5 mm thickness for creating rigid menu cards. Significant thickness and rigidity are the very first impression this material creates. A sunboard menu will not fold, curl, wrinkle, crease of roll. It's like holding a rigid writing pad in your hands.
Sunboard sheets are waterproof and extremely light in weight. The menu design is inkjet printed on a vinyl sticker roll. As you may be aware, vinyl is a coated sheet of plastic on which high resolution artwork can be reproduced. The printed vinyl is also laminated to protect from dust, water, scratches and oils. Finally, the printed and laminated vinyl sticker is pasted on the front and back of our 5 mm thick sunboard sheet.
The end result is a thick and rigid restaurant menu with a very weighty and premium look and feel. The fact that this menu is made of plastic and additionally laminated, helps it meet the prerequisites of a robust menu card that will not deteriorate in wet and oily environments.
Rigid sunboard menus are being wholeheartedly adopted by fast food outlets, bars and lounges. Conservative establishments prefer the traditional binded menus, whereas eateries catering to younger, casual clientele opt for the rigid sunboard menu.
Do Not Use Textured Papers For Printing Menu Cards
Premium restaurants with gourmet cuisines do not stint when it comes to printing menu cards. And the restaurateur generally demands the costliest and richest looking paper for their jobs. A lot of these well meaning owners tend to gravitate towards our selection of textured papers for the same. We do have a vast selection of textured papers for use on our color printing press.
But while menus printed on textured papers look extremely classy, they will quickly degrade like any other sheet of paper. Also, textured papers cannot be laminated for water protection. So we strongly recommend that you use the above mentioned NT media for your rigid menu printing job.
Display / Communication Systems and Interior Decoration Options for Restaurants
If you are setting up a restaurant you might want to consider these display and interior decoration options:
Clip-On LED Frames: These are large A2 / A3 sized frames that can be hung on the wall. You can put in a large colorful print listing all your menu items. The frame is lit from behind and the print looks very much like the display of a high definition TV. Moreover the clip frame enables repeated changing of the menu print within. Please click here to know more about Clip On LED Frames.
Canvas Frames: Consider adorning your walls with food shots and photographs of your speciality dishes. These images will look great on a canvas print with a galley frame. Click here to know more about premium prints on canvas.
Custom Printed Wall Prints: Large wall murals depicting a scene or custom designed artwork that compliments your hotel decor can be commissioned at Orchid Digitals. Please click here to know more about custom printed wall vinyls.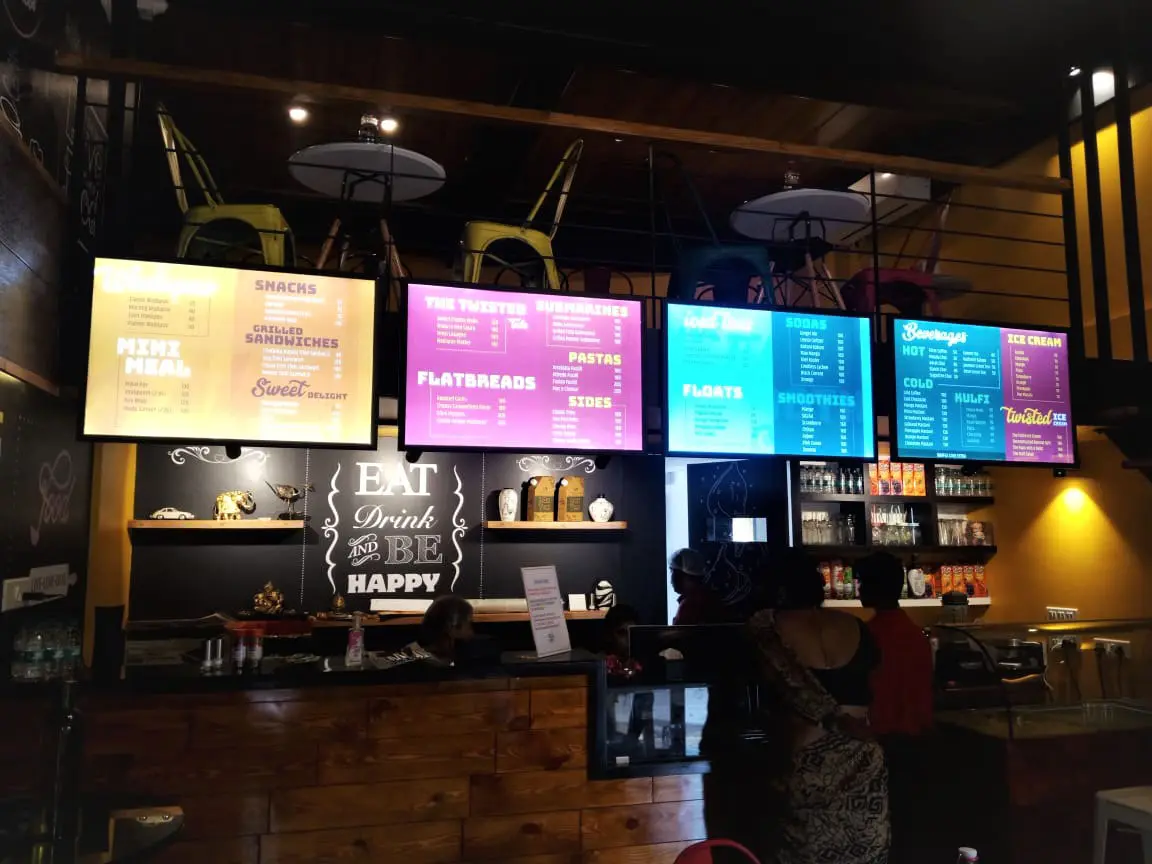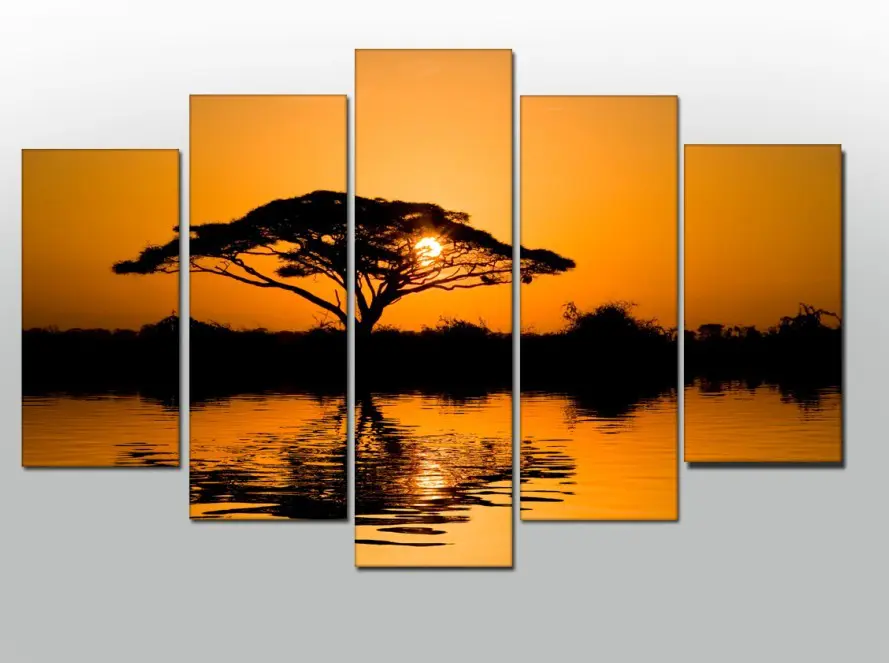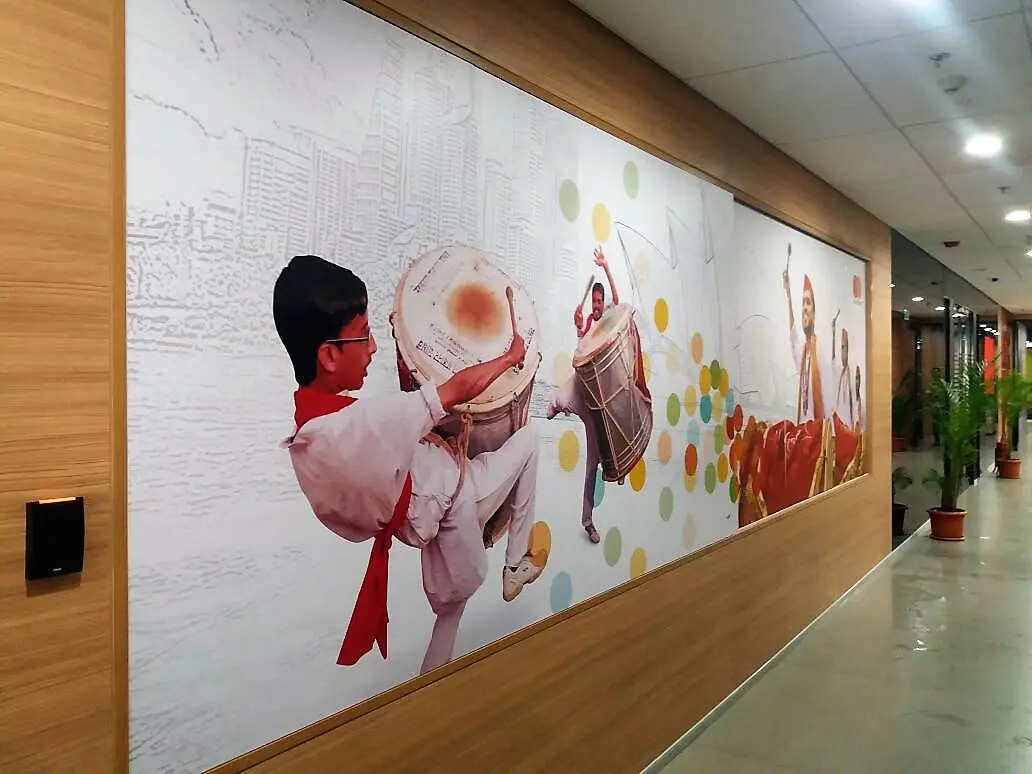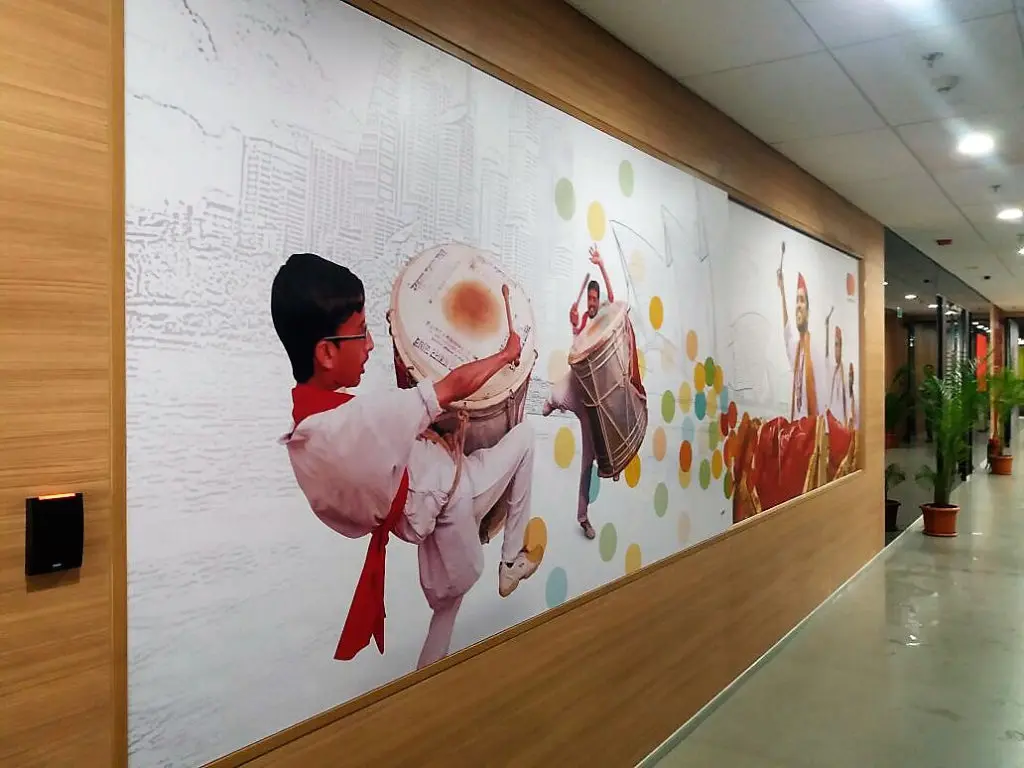 FAQs | Frequently Asked Questions
Price of Printing Menu Cards at Orchid Digitals
As stated above, printing restaurant menus on regular paper is not recommended. Printing the same on non-tearable paper with lamination will be slightly more expensive. But this product is significantly more durable in the long run.
Here are the costs for rigid menu printing on both NT paper and sunboard. Please note that menu cards require multiple finishing processes. Hence processing small quantities of this product is not possible. We have put in the price for a minimum order quantity (MOQ) of 25 copies on the assumption that any restaurant will need at least these many copies.
4 page menu – A4 size
₹1000.00/for 25 copies*

Colour printed restaurant menu to showcase your food images and servings in a classy manner
8 page menu – A4 size
₹2000.00/for 25 copies*
Colour printed restaurant menu to showcase your food images and servings in a classy manner
12 page menu – A4 size
₹3000.00/for 25 copies*
Colour printed restaurant menu to showcase your food images and servings in a classy manner
16 page menu – A4 size
₹4000.00/for 25 copies*
Colour printed restaurant menu to showcase your food images and servings in a classy manner
A4 size – Single Side
₹2500.00/for 25 copies*
Colour printed rigid restaurant menu to showcase your food images and servings in a classy manner
A4 size – Back to Back
₹3750.00/for 25 copies*
Colour printed rigid restaurant menu to showcase your food images and servings in a classy manner
A3 size – Single Side
₹3750.00/for 25 copies*
Colour printed rigid restaurant menu to showcase your food images and servings in a classy manner
A3 size – Back to Back
₹5000.00/for 25 copies*
Colour printed rigid restaurant menu to showcase your food images and servings in a classy manner
* Note: Digitally printed menu cards will open like a book. So the design needs to have a minimum of 4 pages and then, multiples thereof.
* Please Note:
The rates quoted above attract 12% GST.
The minimum order quantity for this product is 25 copies.
Shipping and Delivery
These menu cards can be delivered anywhere in India in a roll form.
Delivery charges are extra and will be communicated to you once we receive the exact delivery address.
Get a Quote for Your Menu Printing Job
Please leave us your details and we will respond promptly
Similar Products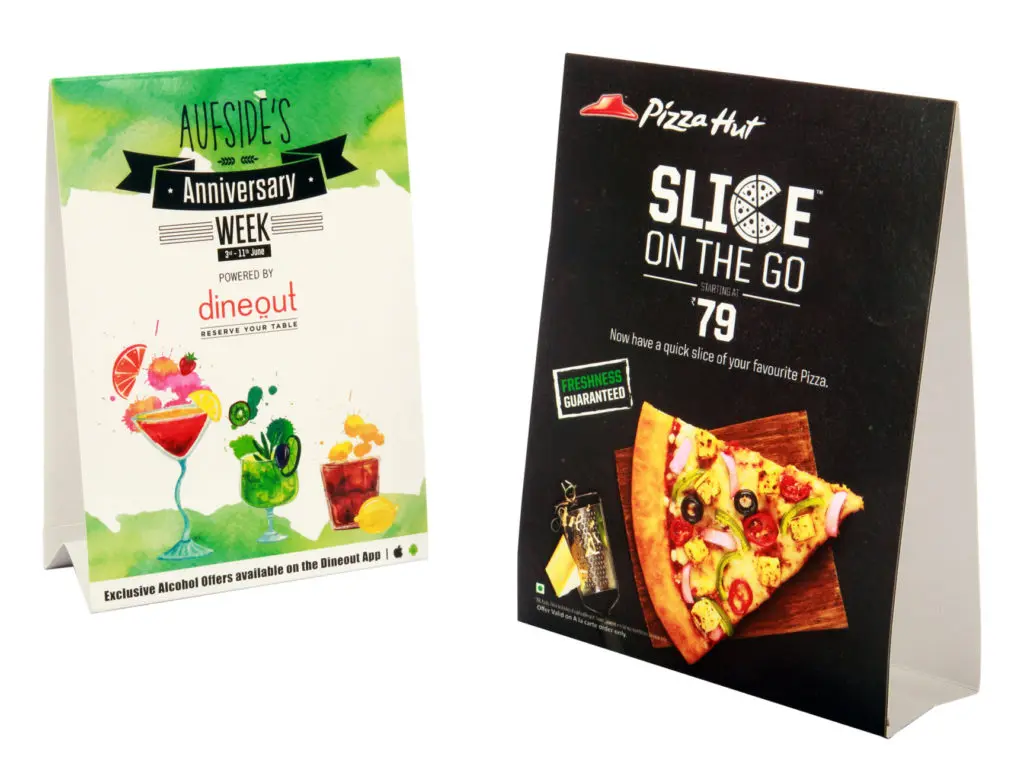 Printed table menu stands to showcase menu offerings at restaurants….
Foldable easel standee with rigid poster print to display menus…
Restaurant Tabletop Advertising Using Water-Proof, Scratch-Proof & Oil-Resistant Prints
Table top printing. An unconventional yet eye-catching place for an…