What does it take to create a world class print shop?
Apart from dedication, sincerity and a lot of hard work, you also need the right kind of printing equipment. A brave warrior needs the right kind of weapons (in addition to their courage) to win a battle. Similarly, to deliver the best possible product, our team is equipped with world-class printing machinery. Our state-of-the-art facility here in Pune ensures superb quality prints, day after day and year, after year.
Machines to Cater to Very Application and Digital Printing Vertical
A quick look at our services page will tell you that we address every vertical in the digital printing industry. To talk about one thing at a time:
These myriad machines cater to more than a hundred different applications for our customers. And our tagline – "Print a 2 inch visiting card, a 200 foot hoarding and everything in between" is not just an idle boast, but an everyday occurrence, here at Orchid Digitals.
Orchid Digitals – Printing Machinery

All our prints are done in-house. A number of our customers are curious about our production processes and the technologies we deploy. Others need to check that we are not using sub-par equipment. So to put your curiosities (and worries) at rest, here is a non-comprehensive list of printing, cutting, routing and lamination, etc. machines that win us those 5 star reviews and help put a smile on your face.
Wide Format Inkjet Printers
Inkjet printers are available in a variety of flavors and sizes. And Orchid Digitals has invested in all the important variants of the same. Here are our capabilities in this segment…
Mimaki JV 300
Inkjet type: Roll to Roll Eco-Solvent Printer
Colour Mode: CMYK
Special Capabilities: NA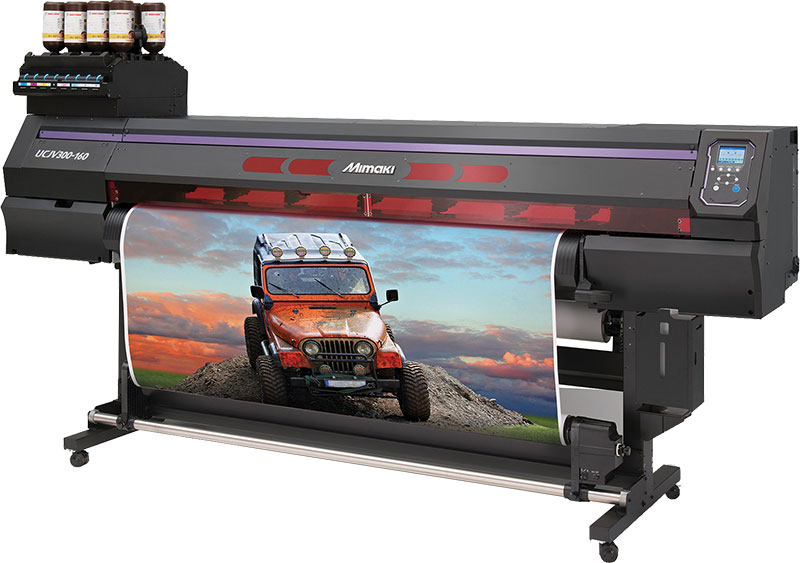 Mimaki UCJV 300
Inkjet type: Roll-to-Roll Ultra-Violet Printer + Cutting Plotter
Colour Mode: CMYK + Wt + Cl
Special Capabilities: Print-and-cut, Multilayer raised-effect
Roland VS 640
Inkjet type: Roll-to-Roll Ultra Eco-Solvent Printer + Cutting Plotter
Colour Mode: CMYK
Special Capabilities: Print-and-cut
WitColor Ultra Limojet
Inkjet type: Roll-to-Roll Solvent Printer
Colour Mode: CMYK
Special Capabilities: NA
Digital Color Presses
For sheet fed applications, we have 2 industrial high speed digital presses. These print on paper, sticker sheets, labels, non tearable sheets, textured and metallic foils, etc. Here are the machines we have in this category:
Konica Minolta
Bizhub C8000
Konica Minolta
AccurioPress C3080
Laser Cutting & Engraving
We have two high powered laser machines that help in cutting and engraving jobs. The materials they process are wood, paper, fabric, MDF, acrylic, laser ply, leather, foam, polycarbonate, etc.
Laserpro Spirit
QuickSoftPro Laser Engraver
CNC Router
Our CNC router is built for cutting and shaping materials like ACP, wood, acrylic, MDF, etc. Its primary application is for creating 3D glow sign boards and logo boards:


Guangdaly CNC Router
Lamination Machine
One of the mainstays of the finishing department is our hydraulic lamination machine. In addition to lamination prints, it also mounts those prints on sunboard and ACP sheets:


XL Jet Laminator
Buy Your Prints From Where They Are Actually Made
We'd like to state that all our jobs are done in-house. We do come across some jobs for which we don't have the right machinery. And in such cases, we gladly refer our clients to another vendor who will do their work in an efficient manner and at an economic price point.
Unlike us, many other print service providers have a great front end but are actually backsourcing their jobs from elsewhere. As against these middlemen, our infrastructure helps us dominate the market in two areas – Quality and Pricing. And to end, we invite you to drop in for a visit and see for yourself.
Didn't find what you were looking for?
Unable to find information on a certain topic? Drop in a message here and we'll get back to you about it. As a bonus, we may even write a blog about it. 😉