High-Quality Poster Printing On a Variety of Media
Custom Posters – Market your Message Effectively and Impressively
High-resolution poster prints – ideal for mass advertising
Range of size options – from A3 to A0, and even larger
Low-cost solution offering high-quality digital color print
Premium options available – mounted on thick rigid sunboard sheet or clip-on frames
Variety of finish options available – gloss, matt, and textured
Poster prints available starting from ₹15 per sheet
Posters – Detailed Description
Posters are a widely used product. The term 'poster printing' itself is quite broad and encompasses a variety of media. Posters find different applications in different settings and industries. For example:
A client may need vast quantities of low cost advertisement posters.
Alternatively, office interiors require very few but premium quality framed posters for presenting the corporate philosophy or the company's mission / vision statements.
Often, marketing departments inquire about light weight and portable exhibition posters which need to be carried to distant, out station locations.
Pune, being an educational hub in India, has a large student population. Graduate and postgraduate students regularly need to print out scientific posters and presentation posters to showcase their research and studies.
The final product, therefore, is heavily determined by the kind of use-case scenario. And this further influences the choice of poster media, its size, and finishing options.
While we at Orchid Digitals are geared to cater to all of the above product lines and more, this post is essentially about marketing posters needed for advertising and product promotion. Additionally we also cover presentation posters needed by students and executives in the corporate world.
Low-Cost High-Quality Marketing Posters for Advertising
As mentioned above, custom poster prints can range in size from the small to the very large. The size of the poster and the technology used to output the same influences the cost per print.
As a general rule of thumb in the digital print industry, a laser print will be cheaper than an inkjet print. So event promotion posters, like the ones advertising a Dandia Night or New Year's party, limit themselves to laser poster prints of size A3. The posters that you see pinned on notice boards or the ones pasted on walls and pillars are generally of this size.
For those unfamiliar with the term A3, try visualizing a poster having an approximate size of 1 feet x 1.5 feet. For the more metrically inclined, A3 is precisely 297 mm X 420 mm. We have a detailed list of standard A series paper sizes that you might want to check here.
A3 sized posters get printed on our digital color presses. These presses are blazingly fast, which enables us to churn out approximately 80 copies per minute. Additionally, digital laser prints are extremely crisp. Our Konica Minolta machines work at resolutions as high as 2400 DPI and are capable of printing extremely vibrant colors.
But perhaps the most important factor in favor of digital printing custom posters is the price. You can get an A3 sized poster for as low as 15 to 20 rupees here at Orchid Digitals, Pune.
We also offer a choice of paper thicknesses from 100 GSM thin to 250 GSM thick card. If you are unsure of what paper to choose for your marketing collaterals, you might want to check this post on paper thicknesses.
Product and event promotion posters need to be printed in large quantities and have a limited life. The communication/collateral will get discarded once the event is over.
Therefore, a low cost, A3 sized, digitally printed poster is the ideal choice to meet this requirement.
Inkjet Printed Posters of Size A2, A1, A0 and Even Larger
Color laser prints, while being cost-effective, have one major drawback. The prints of digital laser presses are restricted to a size of A3. This is because the machines print on individual sheets of paper. And the maximum size that most paper trays can accommodate is 12 inches * 18 inches (slightly larger than A3).
So, to print marketing posters larger than this size, Orchid Digitals has wide-format inkjet printers.
Types and Variety of Poster Printing Media
Large-format inkjet printers print on huge rolls of media. We use the phrase 'printable media' because these inkjet printers can reproduce images on a variety of different substrates. Using inkjet technology, we can create huge advertisement poster prints out of the following materials:
Paper
Vinyl with an adhesive back
Photo printed on a thick, coated, photographic paper-like material
Smooth and silky satin fabric
Coarse cotton cloth
Paper Posters: For most people contemplating a personalized poster print job, paper is the medium that immediately comes to mind. So, to begin with, we have a thick-coated roll of paper for basic poster jobs. Paper prints have an inherently low cost and are ideal for short term applications.
Vinyl Posters: Customers can also choose to print their posters on vinyls. Printable vinyl is in the form of a plastic roll typically having an adhesive base. If you need to paste your posters on walls or get them mounted on a sunboard (a rigid sheet of plastic), you would choose this option. Vinyl poster prints, since they are made of plastic, have a longer life than paper posters. High quality of poster prints can also be ensured by using premium, coated vinyl media. There are many varieties of vinyls having different applications. Click here for more details about the types of vinyl prints available at Orchid Digitals.
There is one problem with printing on vinyl though. Vinyl poster prints are like large sticker sheets and are made to be pasted on a base, like walls, glass, sunboard or even vehicles. Therefore, rolls of printable vinyl are actually composed of three layers:
The actual vinyl on top which gets printed upon
A layer of adhesive applied beneath the top layer
A release liner beneath the adhesive. This is a silicon coated sheet which gets peeled off and discarded.
The problem is that if you do not paste a vinyl print on some substrate, it will deform and develop creases and wrinkles after some time. Also vinyl inherently is a very loose material. We mount it on a thick sheet of sunboard for rigidity and flatness. If left unpasted, a vinyl poster will look unseemly and a little messy/shabby, thereby losing its visual appeal.
White / grey back Photo Posters: Poster presentation is frequently needed in exhibitions, board rooms and college competitions. The presentation posters in this scenario do not have to be pasted on any base glass panel or wall. So to overcome the above adhesion problem of vinyl posters, we have a thick photo poster material that customers can choose for their prints. This material does not have an adhesive back. Instead, it has a thick liner beneath, to impart a flat and rigid look to the poster. The liner has a white or grey color. This media also has a special coating on the print surface which helps in rendering jaw droppingly beautiful prints.
Poster printing shops, therefore, refers to this material as white / grey back photo media. Most exhibitions do not permit you to paste your communication on the walls. Therefore, this photo poster media finds extensive use in the creation of exhibition posters.
Custom posters made of Fabric or Cloth: Off late, a number of customers prefer to print on cloth instead of plastic. This is because printing on plastic does have an anti-ecological connotation. A lot of our customers have remarked how prints on plastic are frowned upon, especially at trade fairs held abroad. So there is a growing demand for prints on cloth.
However, there is a problem with printing on fabrics. Inkjet inks are in a liquid form. And liquid inks tend to spread and blot when sprayed onto cloth. This affects print resolutions and image quality adversely.
At Orchid Digitals, we overcome the above problem by deploying UV printing technology on a specially treated cloth. This results in crisp and very high quality prints on the same. Moreover, while plastic and paper prints can only be rolled up, prints on cloth can even be folded and packed in your suitcase. You simply need to iron them flat once you reach your destination.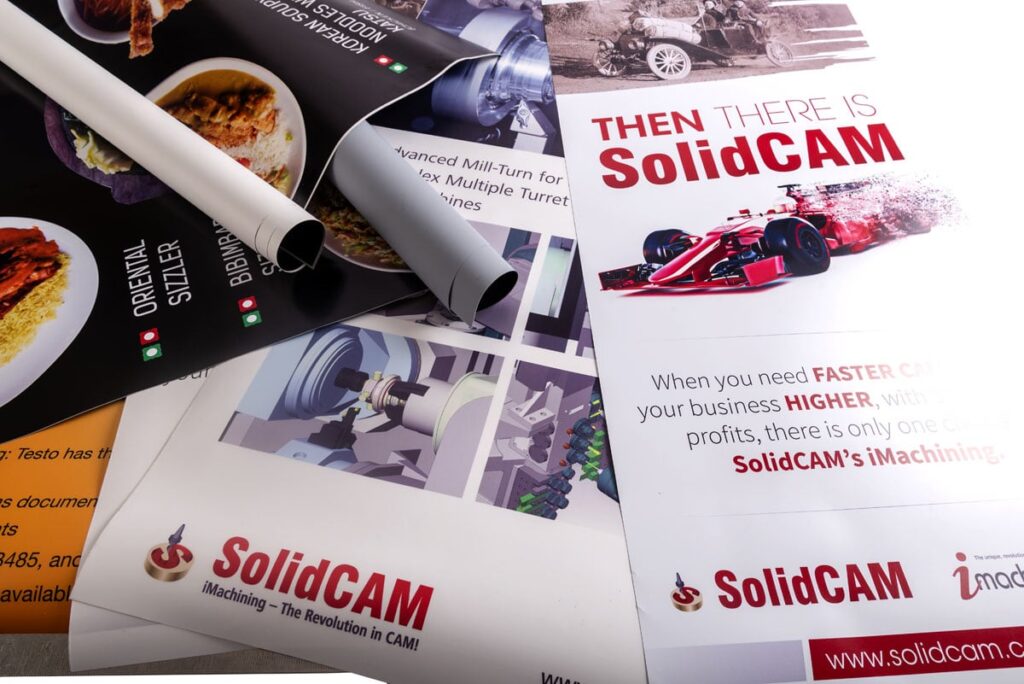 Finishing Options for Advertisement Posters
Think of print finishing options like the extra toppings you order for your pizza. While the basic pizza is a standalone, fully edible dish, there's no denying that it can be made better. Toppings add to the flavor and experience of the same.
Similarly, we offer a number of finishing options for the custom posters that get printed at Orchid Digitals. These options enhance the quality, life and usability of the prints.
Lamination:

This is a layer of plastic pasted on top of the print to protect it from water, sunlight, scratches, and smudges. Laminated custom poster prints have a significantly longer life than un-laminated ones. Lamination films can also be used to

give a matt, glossy or even textured look to the marketing posters

.



Sunboard / foam sheet:

Sunboard is a lightweight yet rigid sheet of plastic. Prints can be mounted / pasted on the sunboard for thickness and a smooth, even and flat look.

We offer a choice of 3 mm and 5 mm thick boards. People opting for sunboard prints usually get their posters laminated as well. The words sunboard and foam sheet refer to the same finishing option and are used interchangeably in the print industry.

A combination of print + lamination + 3 or 5 mm thick foam sheet converts a thin and loose print into a thick, flat marketing poster with a very long life. You can read more about sunboard

, its specifications, and its costs here.



Edge cutting:

Exhibition posters are almost always commissioned at the very last moment. The design files are handed over an evening before the exhibitors' flight is due to take off. In such a short turn around, our clients may not have the time to snip off the extra blank margins around the print.

Don't worry – we've got your back! We can trim off the posters and give them a professional, finished look in no time. With this, you can go ahead and make a change in the world while we take care of the small details.

Two-sided taping:

Posters need to be put up, either on walls, panels or glass partitions. To achieve this, we fix a strong industrial two-sided tape on the back of the prints. Upon reaching your destination, all you've to do is peel and paste your advertisement poster. Voila!
Framed Wall Posters
A standalone sheet tacked onto a wall may be economical but doesn't really cut it when it comes to aesthetics and ease of replacement. Remember the terrible-looking marks scotch tapes leave on the wall when notices are peeled away?
If you're looking for a more premium solution, Orchid Digitals offer a nifty solution vis-a-vis the framing of posters. We have a product called clip-on frames which takes care of the same. These frames are made up of an openable aluminum profile which can be snapped open to insert a poster within.
Clip-on frames, again, come in two variants – lit clip-on frames and non-lit clip-on frames.
Please click on the relevant links above to find out more.
How Big a Chart or Poster Can We Print?
As stated earlier, these media are in the form of large rolls having a width of 3, 4 and 5 feet. So we can supply prints having a width of 5 feet and a length of 10, 20 or even 100 feet.
Most posters are designed in a ratio of 1 : 1.5. This means that if the width of the poster is 18 inches, the height would be 24 inches. This ratio is visually pleasing and also reduces wastage of material by optimally printing over all the available surface of the page.
While talking about sizes, people also refer to posters as A3 poster, A1 poster, A0 posters, etc. This is an international standard for paper sizes called the ISO A series. While ISO standard sizes is not the topic of this post, here is a chart that you can quickly refer to, for determining your poster size.
Many Indians consumers find it easier to think about sizes in inches than in feet. So in the above chart, we've included dimensions in millimeters which are accurate. However, the size in inches and feet are approximations, included only to help readers visualize how large their posters will turn out to be.
Also, each size in the A series is twice as large as the preceding one. An A3 page is twice the size of an A4 page and half the size of A2 sheets. The short / smaller end of the page doubles in an arithmetic progression to give the next larger size.

Pricing for Custom Poster Printing
Given below are the prices of both digitally printed poster sheets of size A3 and inkjet prints of size A2, A1 and A0.
Self Adhesive Vinyl Prints
₹40.00/Sq. Foot*
Ideal for short term banners & for pasting on smooth surfaces
Example Costing:
₹480.00 for a print of 4 feet X 3 feet*
Photo Poster Prints
₹60.00/Sq. Foot*
Lightweight and extremely high-resolution posters in a roll form.
Example Costing:
₹720.00 for a print of 4 feet X 3 feet*
Cloth Prints
₹90.00/Sq. Foot*
Extremely premium-looking prints on cloth/fabric
Example Costing:
₹1080.00 for a print of 4 feet X 3 feet*
Sunboard Prints
₹100.00/Sq. Foot*
Ideal for long term applications
Canvas Prints
₹150.00/Sq. Foot*
Extremely premium looking prints
Example Costing:
₹900.00 for a print of 3 feet width X 2 feet height*
Acrylic Sandwich Frames
₹420.00/Sq. Foot*
3 layered premium looking poster panel for an office environment
Example Costing:
₹2520.00 for a print of 2 feet width X 3 feet height*
A3
₹1800.00/piece*
Premium looking light box / poster panel for an office environment
A2
₹2400.00/piece*
Premium looking light box / poster panel for an office environment
* Please Note:
18% GST applicable on the rates above
Costs for standard sizes like A2, A1 and A0 have been included for quick reference.
If your required size is different, please use the square foot rate given in the second column and multiply the same with the size (width in feet and height in feet) of your job.

For example, if the artwork is of size 4 feet (width) and 6 feet (height) and needs to be printed on Photo Vinyl (costing Rs.40.00 per square foot), the final price of the job will be calculated as:
( 4 feet * 6 feet * Rs.40.00 ) + 18% GST
= Rs.1132.80
Shipping and Delivery
Posters which can be rolled or folded are delivered anywhere in India in a roll form.
Sunboard prints on the other hand are delivered only across Pune City and its surrounding areas. This is because sunboard prints are bulky and prone to breakage in transit.

If you are from out of station, we recommend that you source the same from your local printer. Please share / print the material specifications mentioned in this page with your print agency for him to understand your exact requirements

Delivery charges are extra and will be communicated to you once we receive the delivery address.
Get a Quote for your Custom Poster Printing Job
Please leave us your details and we will respond promptly
Similar Products
Brochure printing at high-resolutions & vibrant colours. High-quality catalogues to…
Original cotton canvas prints to create classy photo frames. Jaw-dropping…
Pamphlet printing services at a very high quality and low…