Floor Stickers and Decals for Brand Promotion
Stop people in their tracks by advertising on the ground they walk on.
Custom printed specialised vinyl that goes on floors
A unique way to grab client attention
Extremely strong adhesion – difficult to peel off
Robust print media will withstand high footfalls
Anti-skid surface to prevent accidental slipping
Easy to install – Just peel and paste
Floor graphics starting from INR 150 per square foot
Floor Decals – Detailed Description
Our perception of this world is largely visual.
Walk into any commercial space, like a shopping complex, and you will see a whole lot of advertisements in the form of banners, posters and hoardings. And all these ads are, without exception, mounted on walls, pillars, glass partitions, etc.
Most brands showcase their products & marketing communication at eye level. But this 'eye-level' space is totally saturated. And no matter where you turn your head in a shopping complex, you will be bombarded by these visuals mounted above waist height.
The need of the hour is an alternative marketing strategy to hold the attention of a weary client's mind. And to make your sales go up, you now have to look down.
Quite literally so!
And this is where our custom-designed floor graphics come in. Take a moment to look at the vast, empty floor spaces in any commercial complex. And you will quickly realise what a largely untapped vertical floor advertising can prove to be.
Here are several reasons why advertising on the floor makes sense:
Floor advertising is a predominantly unsaturated vertical. Very few people are even aware of the possibilities of marketing via this solution.
You can make your floor graphics as large as you want, with the available floor space being the only limiting factor.
In multi-level complexes, you can leverage the large scale of space to create extensive communications.
Imagine: having your communication visible from as high as the 3rd or 4th floor of the mall. It's both intriguing and impressive.
A clever advertising strategy can tailor specific communications using this vertical. We cover this aspect of 'smart advertising' in more detail, further below.
People don't expect advertising on floors. But, the floor stickers' textured surface gives a different tactile feeling when you walk on them, instantly grabbing the person's attention.
Imagine having their undivided attention for 20 seconds, when they are wondering what they have stepped on, only to discover a snazzy marketing communication.
This break in the continuity of the way the floor feels and looks grabs attention.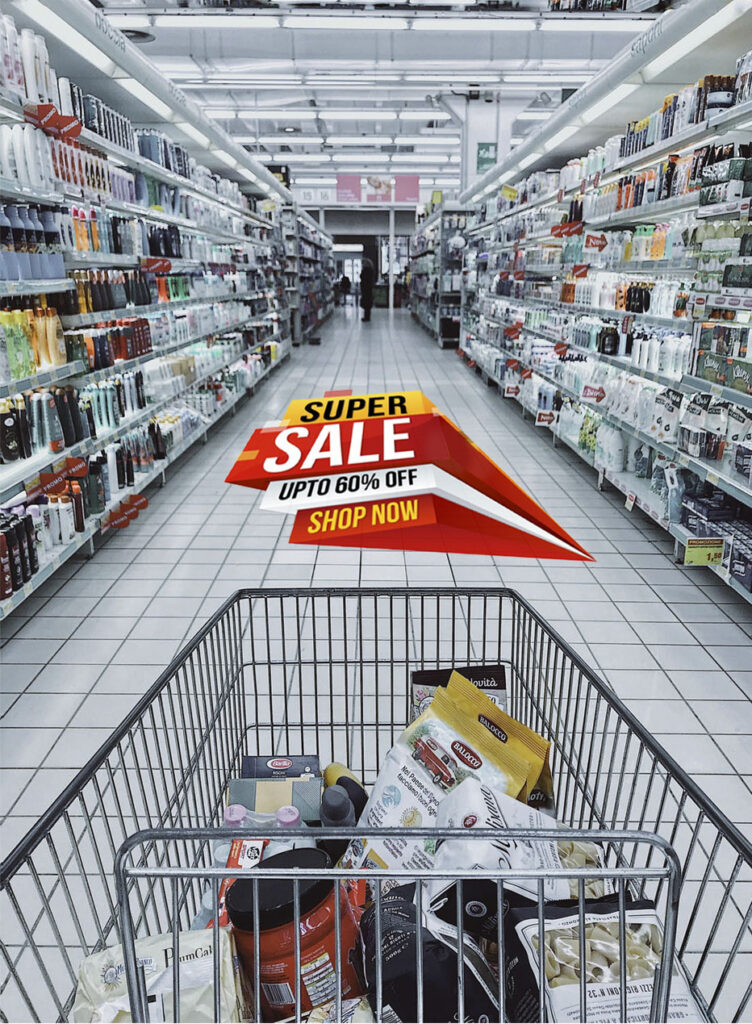 What Are the Uses of Floor Stickers
Floor stickers have a lot of applications in malls, shopping areas and large office areas. Some of the most lucrative placements and use-cases of floor stickers are as following:
Direction Markers
Floor vinyls can be used to give directions to people. And the applications of these direction markers can be hugely varying.
You can use floor prints in a supermarket to direct people to aisles stocking specific products. On the other hand, floor decals can prove to be life-saving direction markers in emergencies. A well-known example of this would be the glow in the dark arrows pasted on the floor of an aircraft, showing the way to the nearest exit.
Delimiters and Boundary Markers
You can also deploy floor stickers to corral people in disciplined groups in crowded spaces.
The yellow floor sticker asking you to 'Wait Behind This Line' in the security section of a bank/airport is a perfect example of this product being used to create boundaries in a critical environment.
Clever Advertising on Floors for Product Promotion
Pasting your product image or logo on the floor is a pretty unique way to create brand awareness. But some clever copywriters also weave in, appropriate messages on their floor decals.
For example, the floor decal could have a line saying, '100 Steps to the Biggest Diwali Sale on Garments.' You can also include an arrow in this design to guide people to the aisle stocking these garments.
This kind of advertising is an excellent approach because it presents an exciting game to the prospective client. It also arouses their curiosity. Many customers will take the path to buy the advertised garments and confirm the validity of those 100 steps.
Smartly deployed floor stickers can thus prove to be an extremely effective marketing asset.
Characteristics of a Good Floor Print
Apart from offices, floor graphics are mainly used in malls and retail stores. And customer footfall can become ridiculously high in these spaces. This is why a floor print needs to be extremely strong to perform its intended function.
Imagine the stresses a floor print will be subjected to, in a large shopping complex that has a daily footfall of hundreds, if not thousands of visitors. Our image has to withstand hobnailed boots, spiked/heeled sandals and kids running around all day long.
Our floor print job has to remain in pristine condition and prevent the development of tears and scratches even in a heavy footfall environment. As such, you can only generate a good floor print solution from highly resilient materials.
So, here are four characteristics that you should look out for in a good floor decal product.
Adhesion
Once pasted in place, a floor print sees a lot of abuse, not only because of the crowds stepping on it but also because of everyday sweeping and cleaning (jhadoo, pocha) activities.
This daily wear and tear can lead to the print peeling or curling up from its edges. Or even worse, the print can slough off entirely.
To avoid this, we use specialised floor vinyl media with exceptionally strong adhesion. At Orchid Digitals, we only supply brands like 3M, Avery, Orro, etc. to our clients. The glue on these branded vinyls has a sticking power far greater than our competitors' unbranded products.
Strong Printing Inks
Floor printing jobs obviously need inks that are both scratch-proof and water-resistant.
At Orchid Digitals, we primarily work with two ink technologies – eco-solvent inks and UV inks, both of which are robust enough to meet this requirement. Ultraviolet inks especially are rock hard. They are also known for their ability to withstand very high degrees of abrasion.
Floor Overlaminate
Our printing inks and glue make for a strong floor print. But the media is still prone to scratches & tearing. To protect from this, we paste a specialised floor overlaminate on top of the print.
As you probably know, lamination is a protective layer of plastic mounted on top of a wide-format print to enhance its life. It protects the image from sunlight and water damage. Additionally, a topcoat of laminating film protects the print from scratches, scuffing and everyday wear and tear as well.
Ordinary laminating films are 80 microns thick. And this protective barrier is good enough for the regular prints that are fixed on walls or glass partitions. But our specialised floor overlaminates are almost thrice as thick as typical lamination films.
These overlaminates weigh in at 200 microns and are almost indestructible. And they make it a literal cakewalk for our floor prints to handle the boots, spiked heels and thick-soled sandals mentioned above.
Anti Skid Surface
Unlike traditional lamination films, floor overlaminates are neither smooth nor glossy. They have a slightly textured anti-skid surface. This is obviously needed to prevent people from slipping on the same.
Also, even the most preoccupied stroller will sense the change in surface texture when he steps onto a floor print. So this anti-skid surface has the added advantage of drawing a prospective client's attention to the print on the ground.
How to Execute a Floor Graphics Job?
A custom-designed floor graphic gets printed like any other wide-format printing job at our premises. Just mail us the artwork, and we will process the same on the specialised floor print materials listed above.
What then remains is for the print to then be pasted on the floor, at your end.
We use a technique called 'shampoo pasting' to do this. Pasting a floor decal job involves the following steps.
Clean the surface area (where the print has to be pasted) and remove all dust particles.
Pour soap water solution on the floor.
Peel one edge/corner of the print and start pasting it on the surface.
Slowly peel the sticker liner as the pasting progresses.
All the while, use a squeegee to remove all air bubbles from beneath the print.
Ensure that the print is pasted smoothly and work out the wrinkles if any.
Wait for some time and let the job dry up before stepping on the floor decal.
Pasting a floor decal is pretty simple and can be done by anyone following the steps mentioned above. But we can also arrange to send across a team of pasting guys to fix the job, for our customers, here in Pune.
A Quick Disclaimer: One can currently paste floor graphics on smooth surfaces like marble, granite, ceramic tiles, glazed stone, etc. You cannot stick them on rough surfaces like tarred roads, bricks, cobbled stones or tarmac.
Nevertheless, watch this space. We are soon coming out with a solution for rough surfaces as well.
But for now, this product is compatible with smooth, finished floors only.
In a world stricken by the coronavirus, it is imperative to remind people to maintain social distance. Malls, retail outlets and other commercial spaces are primary candidates for floor signs carrying Covid 19 warnings.
Placed at an appropriate distance of 2 meters / 6 feet, these Covid-19 floor stickers perform the following essential functions:
Mark areas on the floor where customers are supposed to stand
Keep people apart and avoid crowding
Reinforce the warning about infectious diseases
Show customers that your business cares about their safety
Here are some social distancing artworks and 'Keep 6 feet Apart' warnings that you can download and use at your establishment.
To know more about these COVID-19 related, safety & social distancing signages, to download them or order prints for your office/establishment, please check out this page. These signages are especially helpful for places such as offices, banks, supermarkets, construction sites, etc.
Other Print Services to Help Beautify Your Office Space
In addition to advertising on floors, you might want to consider the following services to enhance the interiors of your office / commercial space:
Wall Graphics
We can custom print your design, product images, company logo or corporate philosophy on specialised wall vinyls. These prints are then pasted on your office walls to give them a very unique and personalised look.
Find out more about custom wallpaper prints by jumping to this product page here.
Glass Film Prints
Like walls, the glass partitions in your office can be branded with your custom design and content as well.
At Orchid Digitals, we supply custom printed films that can be pasted on glass panels, to enhance their look. These films have different levels of transparency. They can be either fully transparent, frosted/translucent or totally opaque.
And no matter which film you choose, this product will give an amazing look to your office cabins and glass partitions. To know more about printable glass films, please click here.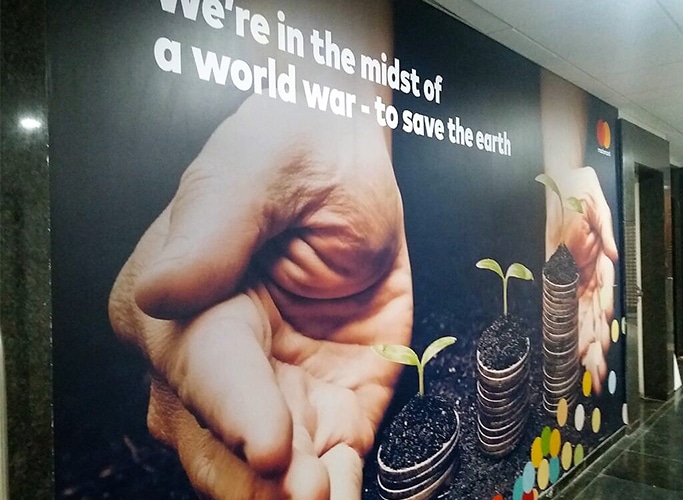 FAQs | Frequently Asked Questions
Price of Digitally Printed Floor Decals
Floor decal prints are not very expensive. They are rarely seen only because most people are unaware that such a product even exists. Floor decals at Orchid digitals have the following two price points:
Economy
₹60.00/Sq. Foot*
Product meant for short-term applications
Example Costing:
₹1920.00 for a print of 8 feet width X 4 feet height*
Premium
₹120.00/Sq. Foot*
Product meant for long-term applications
Example Costing:
₹3840.00 for a print of 8 feet width X 4 feet height*
Single Side flag print in any custom size
₹100.00/Sq. Foot*
Custom print any flag design
Example Costing:
₹2400.00 for a print of 6 feet width X 4 feet height*
Single Side flag print in any custom size
₹200.00/Sq. Foot*
Custom print any flag design
Example Costing:
₹4800.00 for a print of 6 feet width X 4 feet height*
Please Note:
Rates mentioned above attract 18% GST
The rates quoted above are per square foot. This means you first need to work out the total area of your job to arrive at the final cost. For example, let us assume that you require 2 prints each of a width of 3 feet and height 2 feet.
In this case, the total cost of the job is calculated as follows…
3 feet (width) X 2 feet (height) X 2 copies X ₹ 150.00 (cost of print without installation, as per the table above) = ₹ 1800.00 (+ 18% GST)
** For on-site installation a minimum order of 50 square foot is needed
Shipping and Delivery
Floor prints can be delivered anywhere in India in a roll form.
Delivery charges are extra and will be communicated to you once we receive the exact delivery address.
Get a Quote for Your Floor Print Job
Please leave us your details and we will respond promptly
Similar Products
Store branding at retail outlets to showcase products. Printing &…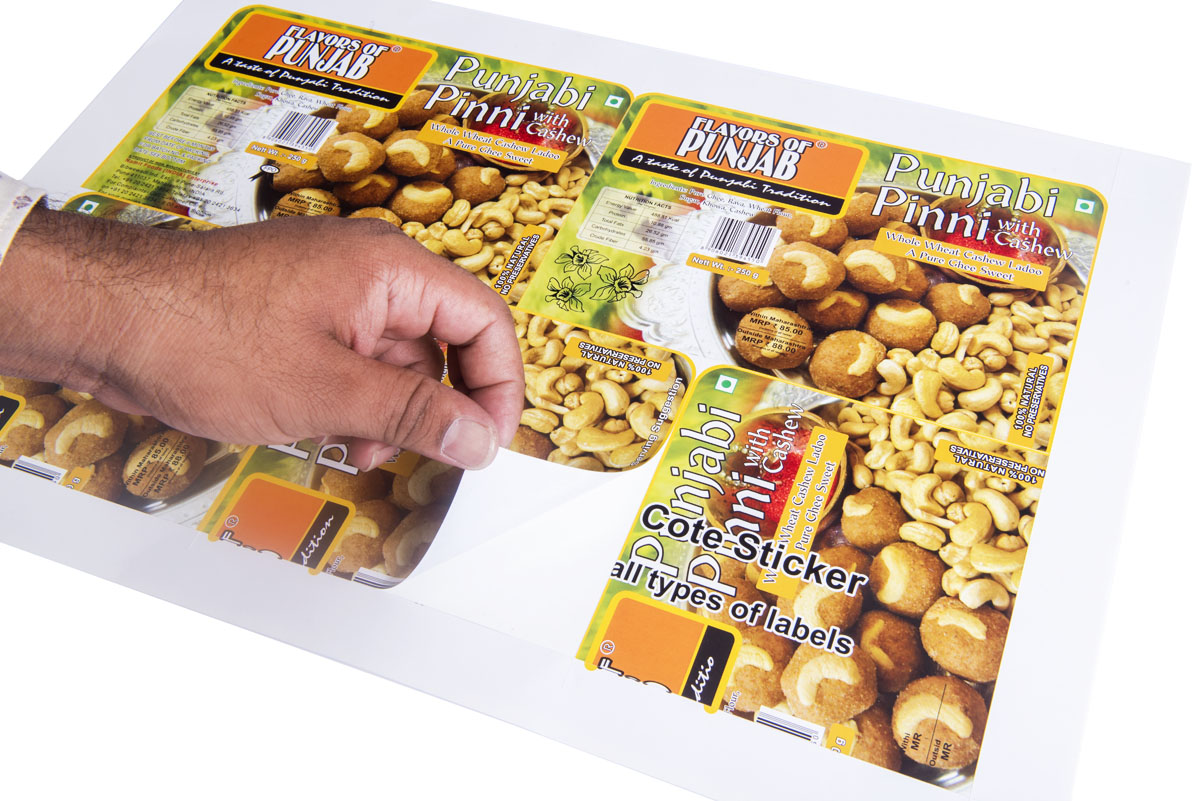 Sticker printing on paper, plastic, metal foils, transparent films, vinyls,…
COVID-19 related floor stickers & safety signage for offices and…