One Way Vision Film – A Glass Branding & Privacy Solution
See outside, without being seen inside.
One-way vision films for branding glasses at offices and retail stores
Turns glass walls and partitions into great branding collateral
Allows people inside to look out; people outside can only view the branding
Privacy and advertising in one shot
Shipping and installation facility available
Prices starting at ₹ 70/- per sq. ft.
One-way Vision Glass Film – Detailed Description
Large corporate offices, malls, dealerships, and even retail stores tend to use glass significantly these days. Be it in the form of partitions or huge panels that face the outside of the building, glass is a vital component of the overall look and feel of modern architecture. And this has created a unique demand in the printing industry.
People want to be able to look out of the office partition or display window.
And at the same time, they need to show images of their products or display their corporate philosophy to the people standing on the other side of the glass.
Additionally, they want privacy – to be able restrict visibility into what's happening inside.
One-way vision printed film addresses this demand.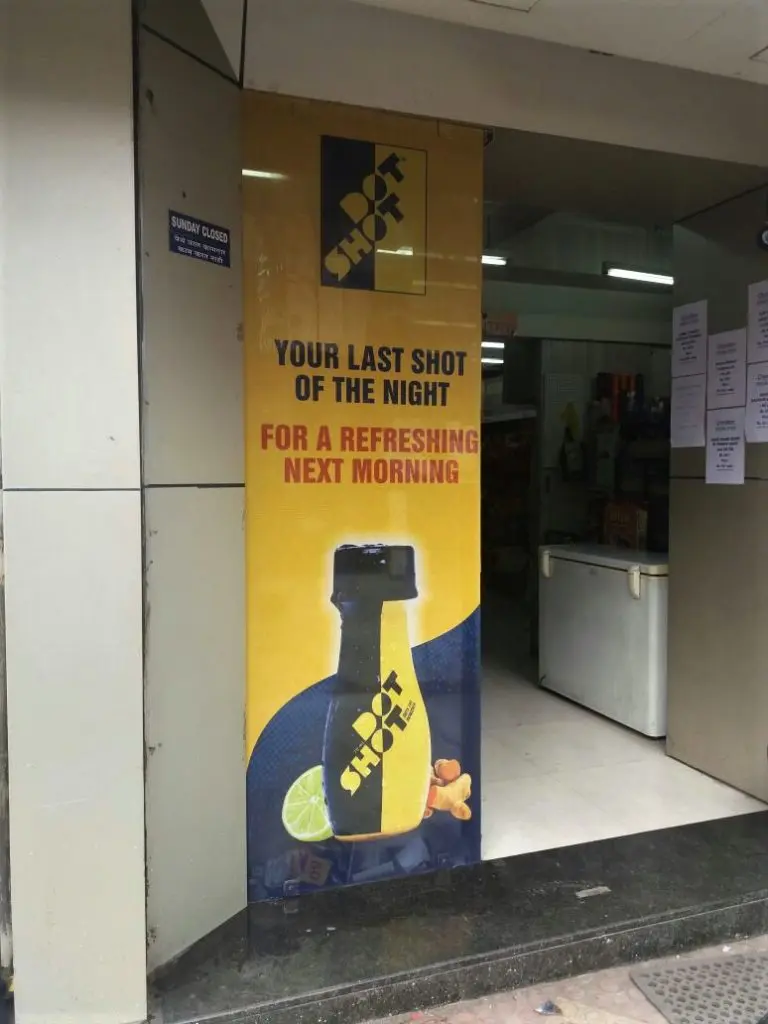 How Does a One-Way Vision Film Work?
A one-way vision film is essentially a vinyl with tiny holes (think of a micro-perforated mesh film).
The holes in the film are quite tiny and closely spaced. This doesn't affect the image quality while printing on the film. So, a typical one-way vision film turns out with a printed image on one side, and a black back on the reverse (inside of the window).
Now, the human eye tends to take in a lot of information when in front of a large image. So, when a person is standing on the outside, i.e. the image side of mesh film, their mind only registers the overall image and not the pinholes.
Conversely, with nothing interesting visible, the eye looks for details and incongruities. So, the person standing on the inside faces the black back (non-image side), their eyes focused on gathering details from within the pinholes. This results in the mind registering or seeing what is happening on the other side* of the glass pane.
One-way dotted film for glass also aids privacy, wherein the customer standing outside looks at the branding on the glass and the person on the inside (non image side) can look through the glass. Hence the name 'One way vision film for glass'. Needless to say, this film opens up immense opportunities for branding and advertisement.
* Note – For the effect to work right, it is recommended that light on the image side (outside) be brighter than on the non-image side (inside).
Applications of One-way Vision Film
One-way vision films are a perfect solution to brand:
Glass partitions in malls, offices, and stores.
Building facades
What Are the Benefits of One-way Vision Film?
Offers Privacy: The ability to see from one side without being seen is a great privacy feature. More so because this privacy doesn't come at the cost of visual appeal, since the film allows for displaying great graphics on the outside.
Great for Branding: In addition to providing privacy, one-way vision films for glass provide a great creative asset to showcase your offerings/identity. They convert simple walls of glass into usable spaces to communicate with our visitors and audience. That's unarguably a great real estate vertical when it comes to displaying your brand.
Changeability: There are times when the branding on glass needs to be changed or updated. Imagine that the product offering you're showcasing has evolved/updated. In such a case, the ability to change the glass film is a boon. This is a cake-walk with our one-way vision film. Just peel the old sticker and paste a new one in its place.
Disclaimer: One-way vision films are not magic – they're just an optical illusion. They trick the eyes into registering images in bright light conditions. As such, one-way vision films lose their efficacy at night times when the interiors are lit and the exteriors are dark.
Other Glass Branding Options
While One-way Glass Films offers a great branding space and privacy, there are other options you can choose for your glasses:
Frosted glass film: As the name suggests, this film gives a smoke/dusky effect to the glass. Vision is restricted from both sides but the film allows natural light to pass through. Used extensively in store and corporate spaces, frosted glass films facilitate privacy and serve as a great branding option. Read more about frosted films here.
Opaque photo vinyl: This would be your choice when you need to restrict visibility completely on either side. The design is first printed onto a white vinyl, which is then pasted on the glass. As a result, vision is restricted from both sides of the glass partition. Read more about it here.
Transparent film: Transparent films work well when privacy isn't the objective. In this case, the design is first printed upon the film, which is then pasted on the glass. The film, being entirely transparent, allows people to see through from either side of the glass. Read more about transparent glass film prints here.
White Ink Prints: UV white ink prints are a relatively new office interior branding concept that allows you to have a glass fim print that is both simultaneously opaque and transparent. You can learn more about white ink prints here.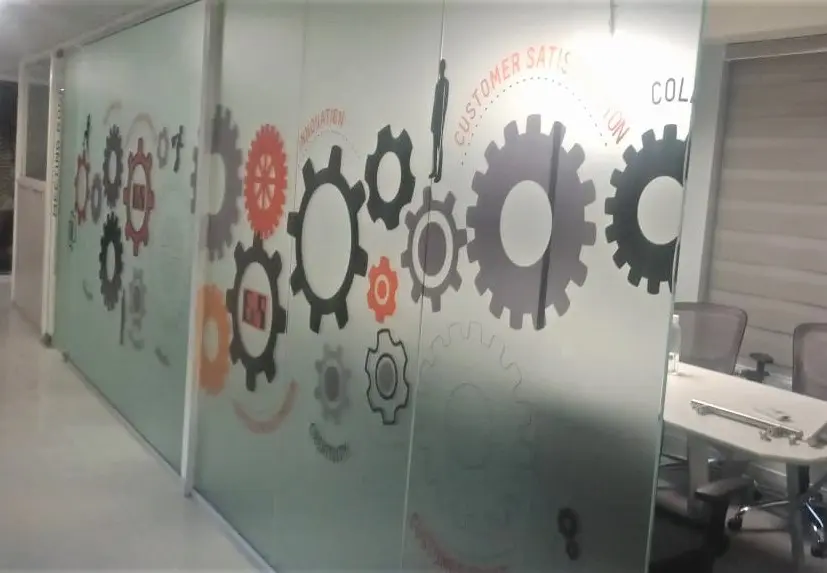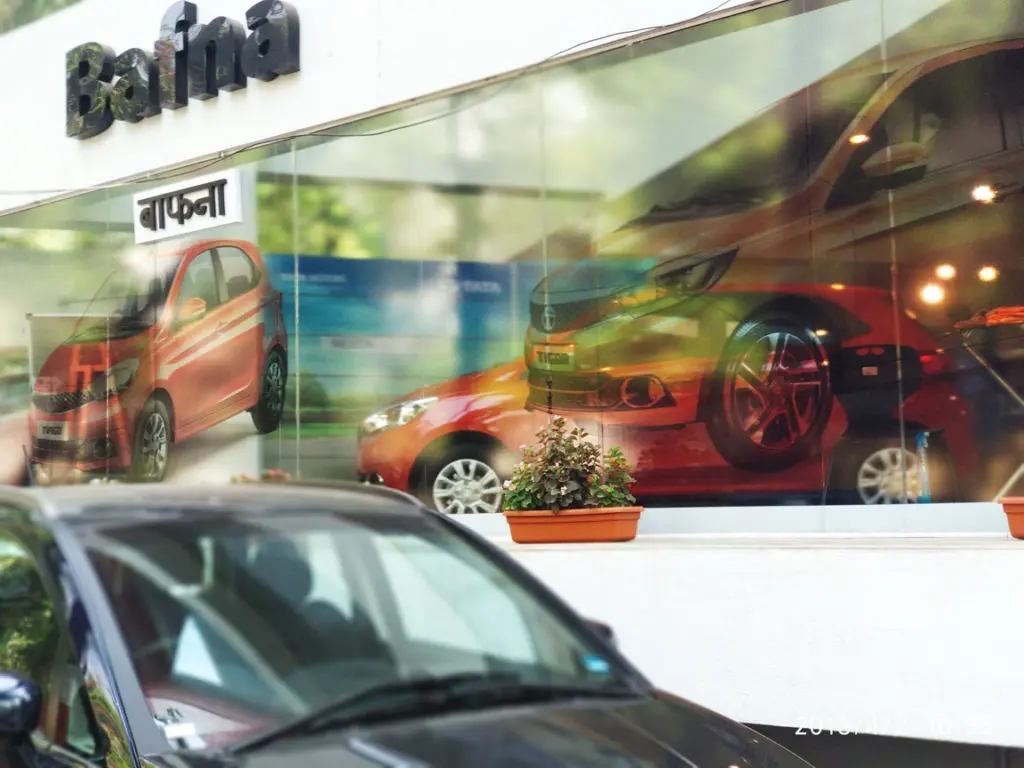 FAQs | Frequently Asked Questions
How Much Does One-Way Vision Printing Cost?
One-way vision
₹70.00/Sq.Foot*
Convert your glass partition into a privacy panel. Visibility from one side and advertising / branding on the other
Example Costing:
₹1400.00 for a minimum print size of 4 feet X 5 feet (20 square feet X ₹70.00 per foot)
* Please Note:
The rates quoted above attract 18% GST.
Above rates do not include installation. For larger jobs (100 ft and above), our installation team can visit your site in Pune to install the one-way vision films. This would be charged extra.
The rates quoted above are per square foot. This means you first need to work out the total area of your job to arrive at the final cost.
For example, let us assume that you require 2 one-way vision prints each of a width of 3 feet and height of 2 feet. In this case, the total cost of the job is calculated as follows:
3 feet (width) X 2 feet (height) X 2 (copies/prints) X ₹ 70.00 (cost of print, as per the table above) =
₹ 840.00 (+ 18% GST)
Shipping and Delivery
One Way Vision prints can be delivered anywhere in India in a roll form.
Delivery charges are extra and will be communicated to you once we receive the delivery address.
Get a Quote for your One-Way Vision Film Job
Please leave us your details and we will respond promptly