Aluminium Clip-on Frame Allowing Easy Change of Poster Within
Ditch the shabby presentation. Showcase your message loud and clear.
Aluminum frames to display products and messages in an impressive manner
Ideal for displaying high-resolution image prints
Displayed posters and prints can be changed easily
Suitable for retail stores and offices
Shipping and installation facility available
Prices starting from ₹360 per sq. ft
Aluminium Clip-on Boards / Frames – Detailed Description
In the world of product and service promotion, it's imperative to always put our best foot forward. This often demands that we ditch the older and less elegant methods of presentation in favor of a more modern alternative.
Let's take the use of posters in restaurants, stores, and supermarkets for example. They convey useful information about products, discounts, and special offers. However, very often, these posters are directly pasted onto the walls or glass surfaces using adhesive tape. The overall effect is extremely tacky and draws attention away from the intended communication.
Worse still, are the loose posters on the wall that have their edges torn or curled. Rather than conveying a meaningful message, such posters end up spoiling the beauty of the shop and end up degrading the customer experience.
A solid answer to this problem is aluminium clip-on frames.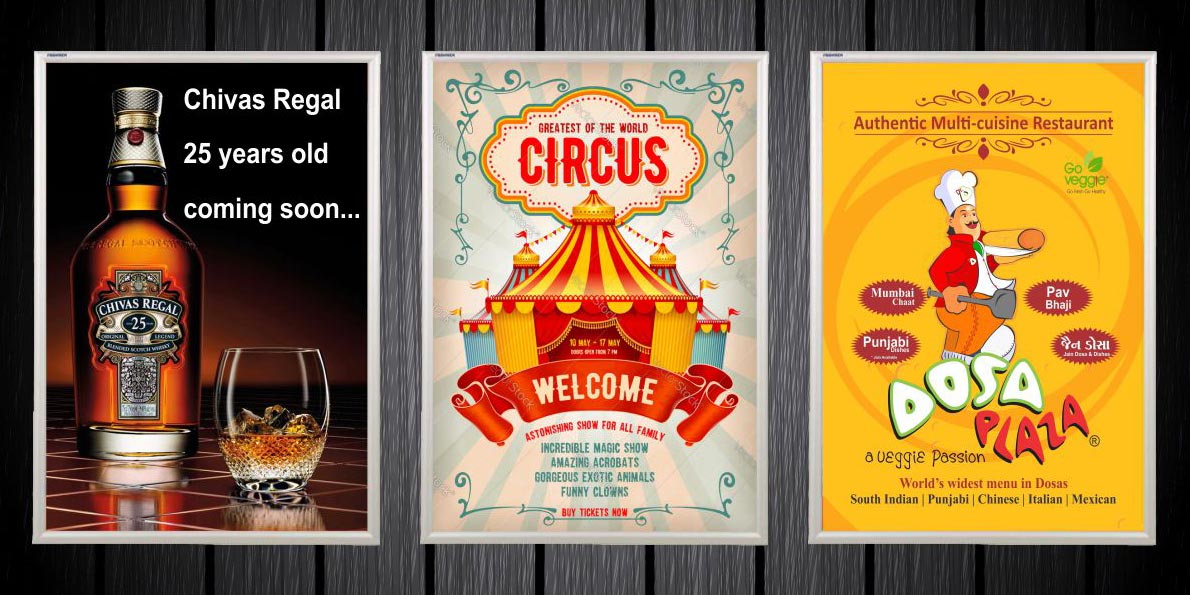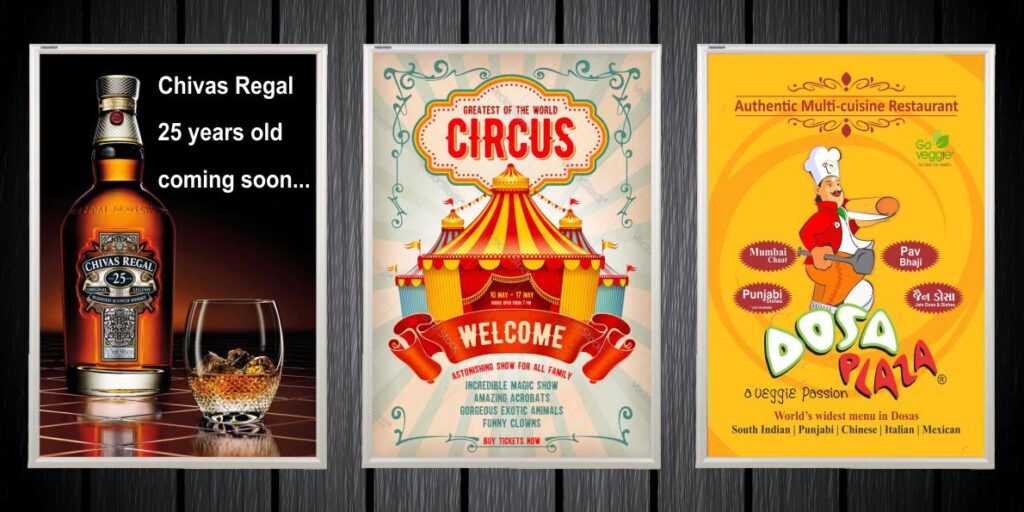 What are Aluminium Clip-on Frames?
An aluminium clip-on frame/snap frame is quite simply an aluminium profile mounted on the edges of an MDF (medium-density fiberboard) or sunboard / foamsheet base. This base is typically 5 mm thick. The profile on the edge has a spring-loaded mechanism which can be operated like a latch. The poster frame can be snapped open and snapped close.
Also, there is a thin transparent acrylic sheet that is held in place when the frame is closed. An acrylic sheet is nothing but a very clear sheet of plastic having a transparent glass-like finish. It is significantly lighter than glass. Moreover, it is unbreakable.
What Are the Benefits of Clip-on Frames?
The Finesse and Elegance Are Unmatched: All that talk about putting your best foot forward is honest, dear reader. And our poster frame pulls off that elegance with absolute ease. The silver-grey profile is great to look at and lets the posters communicate their intended message beautifully.

Ease of Use: It's quite easy to install and use a clip-on frame. The aluminium profile can simply be snapped open, the poster replaced, and then the profile, snapped back on. The frames have small calendar hooks at the back which makes installation on the wall, a breeze. In short, operating the frames involves no complicated process, training, or extensive efforts.

Low-Cost and One-Time Solution: Aluminium clip-on frames save users a significant amount of money since they only have to be installed once. As the posters keep changing, you only have to replace the prints within the frame. This means that poster printing is the only recurring cost and the actual frame is a one-time expenditure. The actual prints cost a small fraction of the frame.

High Return on Investment: The above three points sum up to one neat fact – the poster frames provide a great return on the investment. Additionally, they present our content in a very elegant manner. Add to that the fact that their use is quite simple and doesn't really require any complicated procedures. Most importantly, they yield all the above benefits throughout the long period of their use.
Applications of Snap Frames:
Aluminium clip-on frames are best suited in places that involve routinely changing marketing communication. As already discussed, the best example for this is to be found at:
Supermarkets and Kirana Stores: Store branding is a must at these places since they see a constant stream of new product launches. Furthermore, different offers, discounts schemes, etc. are endlessly being offered on the products there. So these clip frames make for a great placement option to neatly hold the relevant posters in place for the customers to see.

Restaurants: There are food festivals, happy hours, and different kinds of promotional activities happening at these places. The aluminium clip-on frames shine again in such cases.
Also, mention-worthy is the fact that in such places, these aluminium clip-on frames save energy and time. These can be operated by the staff there without any hassles. Unlike our other store branding solutions, you do not require any professional fitters or pasting guys to put up the posters.
LED Clip-on Frames
While the aluminium clip-on frames are great, some applications require us to go a notch higher. For example, the more upscale restaurants have exclusive offers for their patrons and would like to highlight that. This is best done with LED clip-on frames. These frames are lit from within. And the prints look absolutely stunning. They are comparable to the images on a high-resolution HD TV screen.
We accomplish this effect by embedding lights on the edge of the print. The LEDs are hidden under the aluminium profile on the sides. The overall effect is significantly more polished and vibrant. Naturally, these are a little more expensive. Click here to know more about LED clip-on frames.
FAQs | Frequently Asked Questions
Pricing of Aluminum Clip-on Frames
There are 4 standard sizes in which aluminum clip-on frames are available, prices for which are listed below…
A4
₹800.00/piece*
Premium looking poster panel for an office environment
A3
₹1200.00/piece*
Premium looking poster panel for an office environment
A1
₹2400.00/piece*
Premium looking poster panel for an office environment
Clip-on Frame
₹650.00/Sq. foot*
Premium looking clip-on frame / poster panel for an office environment
Example Costing:
₹7800.00 for a print of 4 feet width X 3 feet height*
*Prices excludes 18% GST


Get a Custom Quote for Aluminum Clip-on Frames
Please leave us your details and we will respond promptly
Similar Products
Backlit Aluminium Clip-on Frame
Aluminium Frame with Backlight to Light-up the Print Within Attract…
Acrylic Sandwich Frames for Displays at Retail Stores and Offices…
Sunboard / Foam Sheet Prints. Thick, Rigid Yet Light-weight. Communicate…