Acrylic Badges in Custom Shapes – Ideal for Exhibitions
Flaunt Your Identity Without Saying a Word
Premium badges made of 3mm Acrylic
Can be Given Any Shape You Want – Especially Your Company Logo
Weather-proof Prints on top
Can be pinned to the pocket/hung around the neck
Ideal for Exhibitions and Corporate setups
Premium and superior alternative to generic paper badges
Pricing starts from ₹ 60 / badge
Acrylic Badges – Detailed Description
Exhibitions, seminars, and conventions are getting bigger and glitzier. The demand for a first-class user experience begins right from the point you enter into a modern upscale conference. There is usually a registration desk to welcome the visitors. And once the process for registration is completed, the participants are handed an engraved name badge.
Hand over a regular paper print badge in a plastic sleeve and you won't create a ripple. But present your visitors with a premium, laser-cut, personalized badge made of wood or acrylic, and you will create an excellent first impression. The tone for the rest of the visitors' day will be set by how classy these personalised name badges are.
This post talks about one of the most personalized products that Orchid Digitals can deliver. A custom name badge, laser cut in the shape of your company logo or mascot, bearing the user details of your visitors. So read on, to see how we can fabricate something so unique as personalized name badges.
The Need for Premium Quality Exhibition Badges
Business meets or conventions have a pretty straight forward welcoming process, as mentioned above.
Register yourself by providing your name, occupation, company details, etc.
Get your engraved name badge
Use the custom badge to gain access to the main exhibition arena
Now, until very recently, you did not have much choice while creating custom event badges. And all we had were pretty generic logo badges options. An attendant prints out the visitor details on a slip of paper. This slip was then placed in a plastic sleeve which in turn was attached to a necklace.
But exhibitions these days are becoming larger, more organized, and pricier. And event organisers would prefer to make a great first impression on the visitors. After all, these visitors, are going to be spending a whole lot of money on the products being exhibited.
So it makes sense to welcome them with a high-quality custom pin badge. Use a premium material like wood or acrylic and you are sure to elicit a 'wow' from the visitors as soon as they come in.. The 'hatke' factor brought in by our premium personalized name tags can transform a simple utilitarian product into a talking point and attention-getter.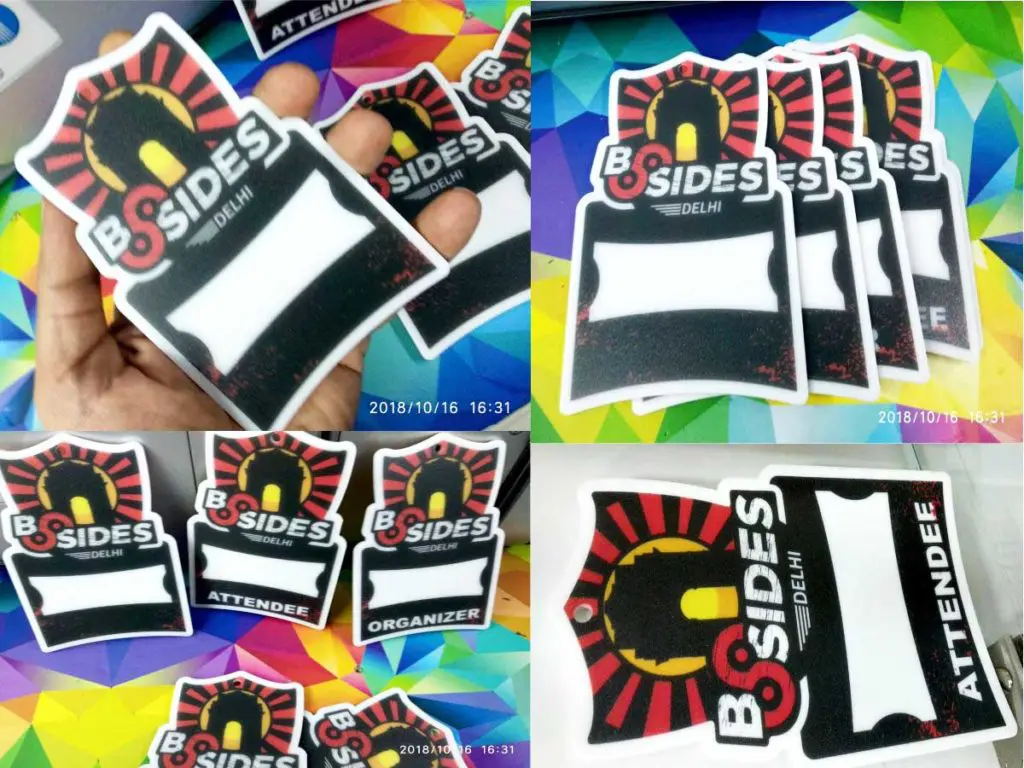 Materials Used for Creating a Custom Badge
At Orchid Digitals, we have a laser cutter that can engrave and cut a variety of materials like…
MDF (Medium Density Fibreboard) – This is a type of plywood having a thickness of 3 – 5 mm
Acrylic – This is an extremely shiny lightweight glass-like sheet generally used for creating logos and signboards. It comes in different colours and is made of lucite (a high-grade plastic). Perspex is another trade name for this material
The laser cutter cuts the above material into just about any shape that you can think of. So instead of boring rectangles, custom event badges can be produced in circular, hexagonal, pentagonal, etc. shapes.
Apart from the standard geometric shapes, we can even cut the above material in the shape of company products, logos, or mascots. So the next time you go to an auto show, you might just end up with a custom name badge in the shape of a Ferrari logo badge! Now that's a personalised badge!
More importantly, people generally do not throw away such a personalized and premium custom pin badge at the end of the event. Instead, it is preserved as a keepsake or memorabilia. This creates a retention value and lasting memories of the event, long after the same is over.
Ways to Fix/Wear These Personalized Badges
Lanyard / Necklace: Most badges have a notch on top. You can slide in a hook or a lanyard here. The lanyard is hung around the neck of participants for the duration of the event.
Safety Pins: Acrylic badges have to be used at work for a longer period of time in certain corporate environments. For example, a nurse has to wear a name badge on his uniform every day. In such use cases, we can attach a safety pin on the back of the badge. This type of badge can be affixed to a shirt, sari, etc. Also, it is less cumbersome than a lanyard around the neck.
Magnets: These days, a lot of people in high-end conferences and premium business conventions frown upon the safety pin arrangement. This is because pins damage the participants' shirt, blazers, sports jacket, and other expensive apparel. So, we are experimenting with a new way to affix a badge by using magnetic plates.

One pole of a magnetic plate is glued on the backside of the badge, while the other is placed under your clothing. The badge is held in place by a magnetic plate and causes no damage to the clothing item.
Moreover, this badge can also be used afterward as a fridge magnet. The memory of the event will be kept alive as the badge won't be casually discarded.
FAQs | Frequently Asked Questions
What Is the Cost of Acrylic Badges?
There is no fixed cost associated with the badges we create. The amount is reverse calculated after taking into account the amount of acrylic that will be needed to create the badge.
The design, size, and complexity of shape all affect the end price. So you need to mail us your design/concept and we'll send across a more meaningful estimate.
For budgetary purposes do have a look at the specifications in the table below.
2 inches X 1.5 inch sized badge
₹4000.00/for 100 copies*
Classy-looking name badges with a magnetic clip to fix on your shirt
3 inches X 1.5 inch sized badge
₹6000.00/for 100 copies*
Classy-looking name badges with a magnetic clip to fix on your shirt
A ballpark figure of Rs. 60/- plus taxes would get you a badge of size 3 inches X 2 inches.
* Please Note:
The rates quoted above attract 18% GST
MOQ: We cannot do custom badge printing for small quantities. Producing custom-designed badges is a time-consuming and multi-step process. So badge printing jobs are mostly optimized for bulk quantities. Hence the minimum order quantity for this product is 100 copies
Shipping and Delivery
Acrylic badges can be delivered anywhere in India.
Delivery charges are extra and will be communicated to you once we receive the delivery address.
Get a Quote for Your Acrylic Badge Printing Job
Please leave us your details and we will respond promptly
Similar Products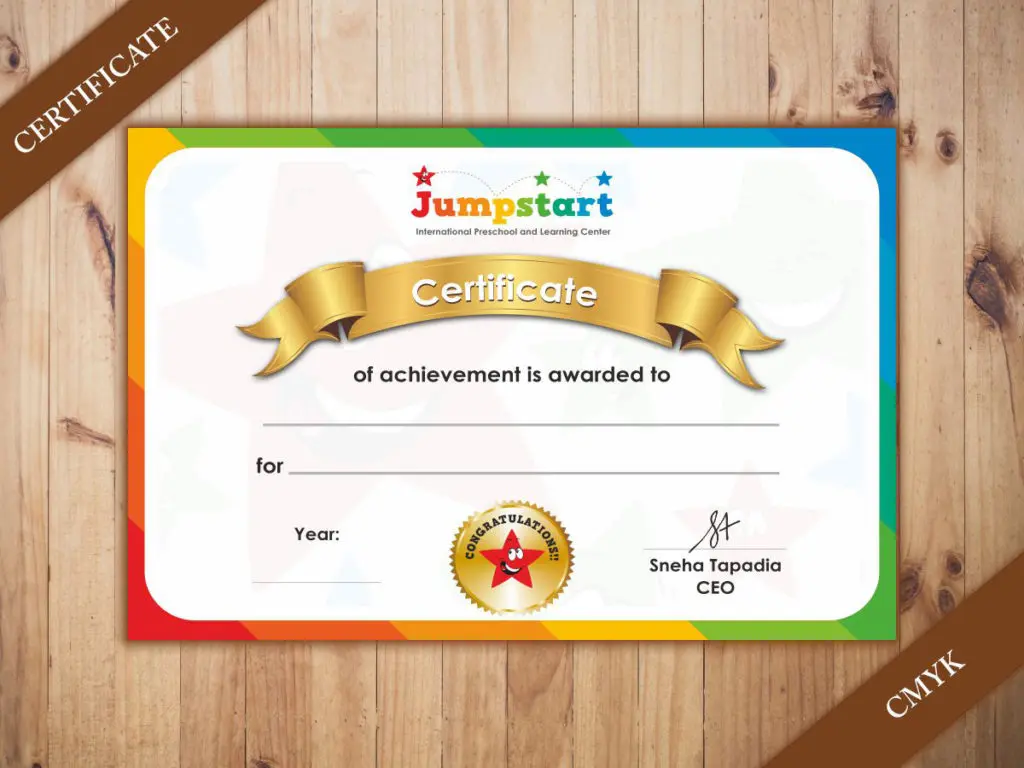 Print your certificate design in very high resolutions and on…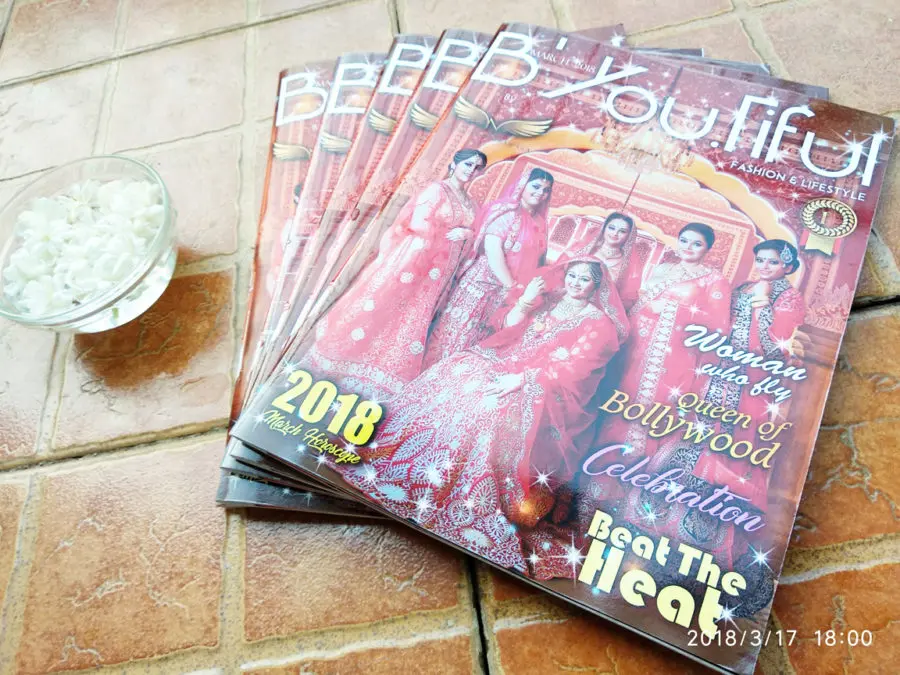 Brochure printing at high-resolutions & vibrant colours. High-quality catalogues to…
Rollup standees. Portable, easy to carry banner display solution for…