Custom Stencils Cut As Per Your Design. Recreate Logos & Patterns
Recreating Art Is Now Child's Play
Stencils made on precision laser-cutting machines
Economical & straightforward solution to repeatedly reproduce patterns & designs
Laser cut stencils from either a thick and rigid acrylic or thin and flexible polycarbonate material
One time use adhesive vinyl stencils are also available
We cut stencils of your designs & patterns
Ideal for painting logos on products and serial numbers on packaging boxes
Stencils used in interior design for wall painting & even vehicles
Laser-cut stencils starting at ₹ 4 per square inch
Laser-Cut Custom Stencils – Detailed Description
A customised laser-cut stencil facilitates quick and accurate reproduction of complex designs and patterns. Moreover, such a product, made from either plastic or acrylic sheets, can be used by people without any artistic expertise or drawing skills.
Everyone is familiar with the readily available rangoli and wall art stencils in craft and hobby shops. Place the stencil on a flat surface, apply paint on top and viola! One complex design recreated instantly.
But there is a problem with readymade stencils. They lock the user to generic layouts and artwork. And these off the shelf stencils don't really work when you need to duplicate your own patterns or designs.
Our laser cut stencils provide the perfect solution to the above problem.
Applications of Custom Stencils for Painting
Stencils of generic designs and patterns are readily available in the market. But there are many use cases where these standard designs will not work. So artists, wall-art painters, hobbyists, signmakers and even machine manufacturers create personalised stencils to ease their workflow. Here are some examples where our custom made stencils are regularly used.
Custom Stencils used in the Packaging Industry for Marking Boxes and Pallets
Heavy machine parts are generally packed in large cardboard boxes or even sturdy wooden pallets. These boxes are pretty anonymous and typically have blank surfaces.
Manufacturers then need to paint item codes or product numbers on the crate to reference the content within.
In such cases, laser-cut stencils in the shape of the required serial number quickly enable the shop floor workers to mark the package.
Flexible Mylar/Plastic Stencils Used by Tattoo Artists to Recreate their Unique Designs
Most tattoo art is generic and chosen from readily available albums. But some top-level tattoo artists have their own signature designs. These artists then need to commission laser cut stencils for spray painting the same on their clients.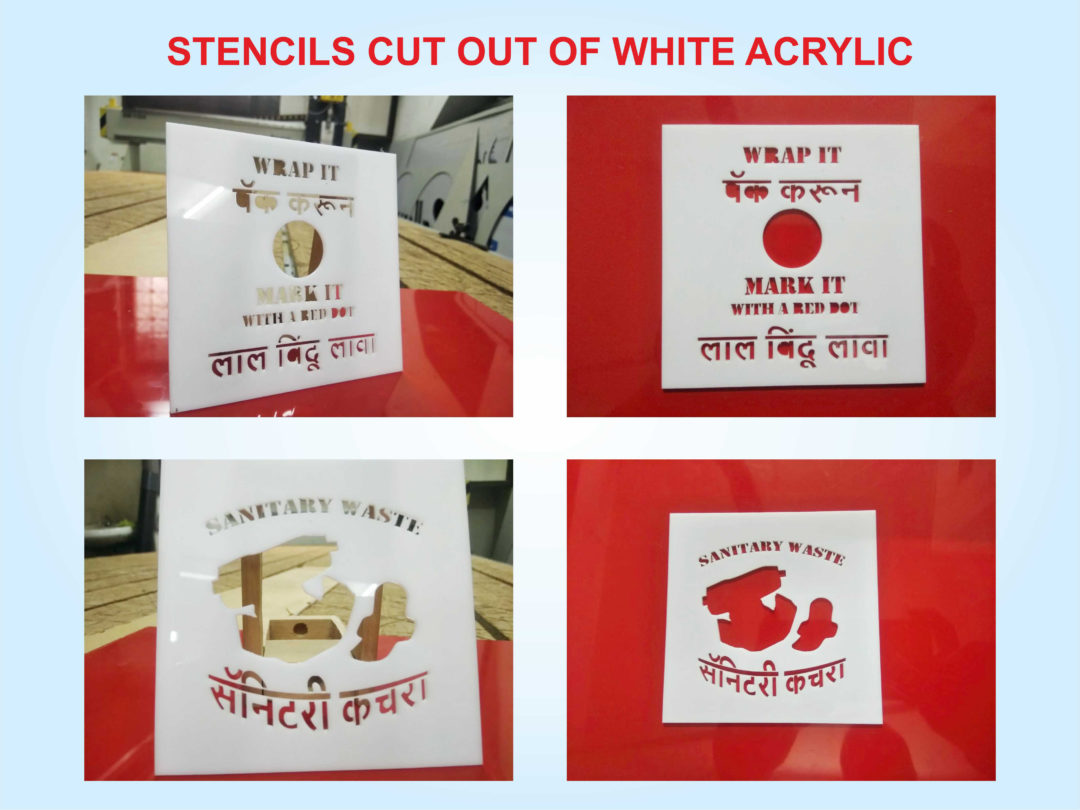 Plastic Stencils for Painting Serial Numbers on Machine Parts
Certain specific machinery (like construction equipment) is deployed in extreme weather conditions. Stickers pasted on these machines can degrade at high temperatures. These labels can also peel off when exposed to harsh cleaning procedures like high-pressure jets of water.
So, you need to hand paint information on the surface using exceptionally robust paints. And our personalised stencils make the application of these paints especially easy.
Adhesive Vinyl Stencils used in Interior Decor for Painting Walls
Complex designs can easily be reproduced on walls using custom-printed wallpapers. But wall prints are large stickers that will cover the surface from the ceiling to the floor.
A client might want only a part of the wall lettered.
So a discerning artist then prefers to hand-paint the pattern on the wall. But freehand painting is a tedious job. Once again, a laser-cut stencil can come to the rescue by making the process quicker and more precise.
Stencils For Logos
You can often put a custom logo stencil to good use. Such stencils help to quickly recreate your brand identity on products and a variety of other surfaces.
One of our clients uses our logo shaped stencils in a highly innovative way. He recreates his company logo on a liquid surface. More precisely, he stencils the emblem in a cup of hot coffee!
This barista first places our rigid acrylic stencil over a cup filled with coffee. This stencil is of the same diameter as the cup opening and has the company logo cut out in its centre.
The employee then pours cocoa powder over the stencil. This powder then falls through the acrylic stencil in the shape of the logo. And it settles on the liquid beneath. You now have a cup of steaming coffee with your logo floating on top!
And such a serving will always impress your patrons.
Similarly, you can use custom made stencils to brand logos on various surfaces like walls, fabric, wood, furniture, machine parts, etc.
How Is A Custom Laser Cut Stencil Manufactured?
A stencil is nothing but a design or pattern cut out of any thin and rigid material. One can probably do it by hand, using a cutter and a piece of cardboard. But this is a painstaking and time-consuming process. Also, cutting an intricate pattern requires a lot of precision.
At Orchid Digitals, we have just the required precision machinery and process to automate the above job. All we need are the following three things to create stencils.
The stencil design file or the artwork showing the cutting lines
A proper design file is the first step in creating a custom stencil. Our laser cutting machines are then programmed to cut along the lines defined in this design file.
The artwork has to be created in a vector format. So, I recommend that you make your designs in graphic software like CorelDraw or Adobe Illustrator. You also need to build 'bridges' for inner areas of close curved letters like the letter 'O',
We discuss the importance of bridges and islands in stencil design in more detail here.
Choose Which Material to Use to Make the Stencil
Choosing suitable material is the second step in creating a stencil. Base your choice on your end application.
Painting and stencilling over certain kinds of materials like paper or thin plastic is very easy. A one-time-use stencil made from paper will be pretty economical. But the sheet of paper will degrade over repeated use.
On the other hand, consider using a more robust plastic stencil when you need to recreate the stencilling pattern over and over again.
Your choice of stencilling material also depends on whether you will be working on a smooth and flat surface, like a wall, or on a curved object, like a cylinder. A rigid acrylic sheet will work for the former application, while it makes sense to use a more flexible material for the latter.
An end-user is spoilt for choice when it comes to choosing a stencilling material. Any substance that a laser machine can cut works for this purpose. So you can fabricate your stencil from a variety of materials like paper, plastic, wood, MDF, acrylic, self-adhesive vinyl, and even fabric.
Our high-precision laser cutting machines can cut your stencil design from all of the materials listed above. And while our customers are welcome to bring in their own medium, we also have ready stocks of three types of stencilling materials at Orchid Digitals.
We discuss these options in more detail in this section.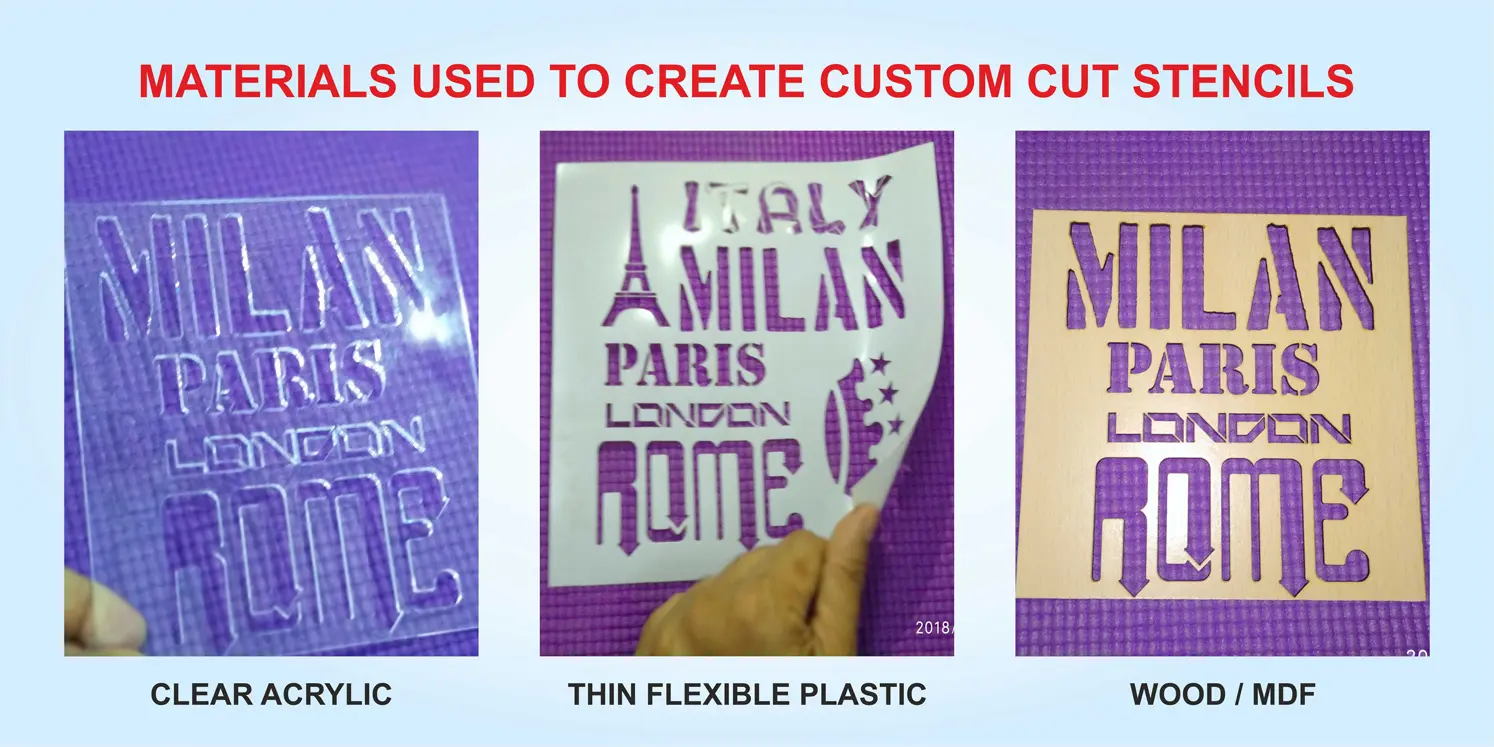 Laser Cutting Machines to Cut the Artwork From the Stencil Material
Cutting your design is the final step in creating a custom stencil.
An operator places your stencilling material in an industrial laser cutting machine. This machine is then programmed to cut the material along the lines defined in your artwork.
Laser cutting machines are both very powerful and very precise. Thus, they can be deployed to cut intricate designs to a very high degree of accuracy.
What are Custom Laser Cut Stencils Made From? What Material Options Do We Have?
As I mentioned in the previous section, you are spoilt for choice when it comes to creating personalized stencils. You can create the same from paper, wood or MDF sheets, rigid and flexible sheets of plastic stencils, rolls of vinyl, etc.
At Orchid Digitals, we stock three substances that match every use-case scenario at our client's end. These are:
A thick rigid sheet of plastic for stencilling on flat, smooth, and hard surfaces.
A thinner, flexible sheet that can be wrapped around curved or uneven surfaces
Adhesive Vinyl stencils that can be pasted on walls. This is a one-time use, stencilling material.
Reusable Stencils Cut From a Rigid Sheet of Acrylic
Most stencilling happens on flat surfaces like walls, machine parts, packing boxes, etc. For these applications, we recommend using our 2 mm thick sheet of transparent acrylic. This sheet is rigid and does not bend or deform. It can also very easily be held in place.
The main advantage of this material is the ease with which it can be used. Painting over it and filling the gaps in the areas that are cut out, is child's play.
Moreover, since this plastic stencil is semi-transparent, it can also be accurately placed on the surface, and misalignments can be visually corrected. This transparency also helps you check for paint bleed (wherein the colour seeps and smudges near the edges).
If you have large letter sizes to paint or a large stencil design, this material works best.
Finally, the acrylic sheet stencil is built to last. It is sturdy and will not break. This material can be used repeatedly and will last for a very long time to come. Once you are done using the stencil, simply clean out the paint with soap water and store it for future use.
Pro Tip: We recommend taping the plastic lettering stencils to the surface before you start painting over them for more accurate results. Use any low-tack masking tape (Abro Tape) to hold the stencil in place. And peel the same when done.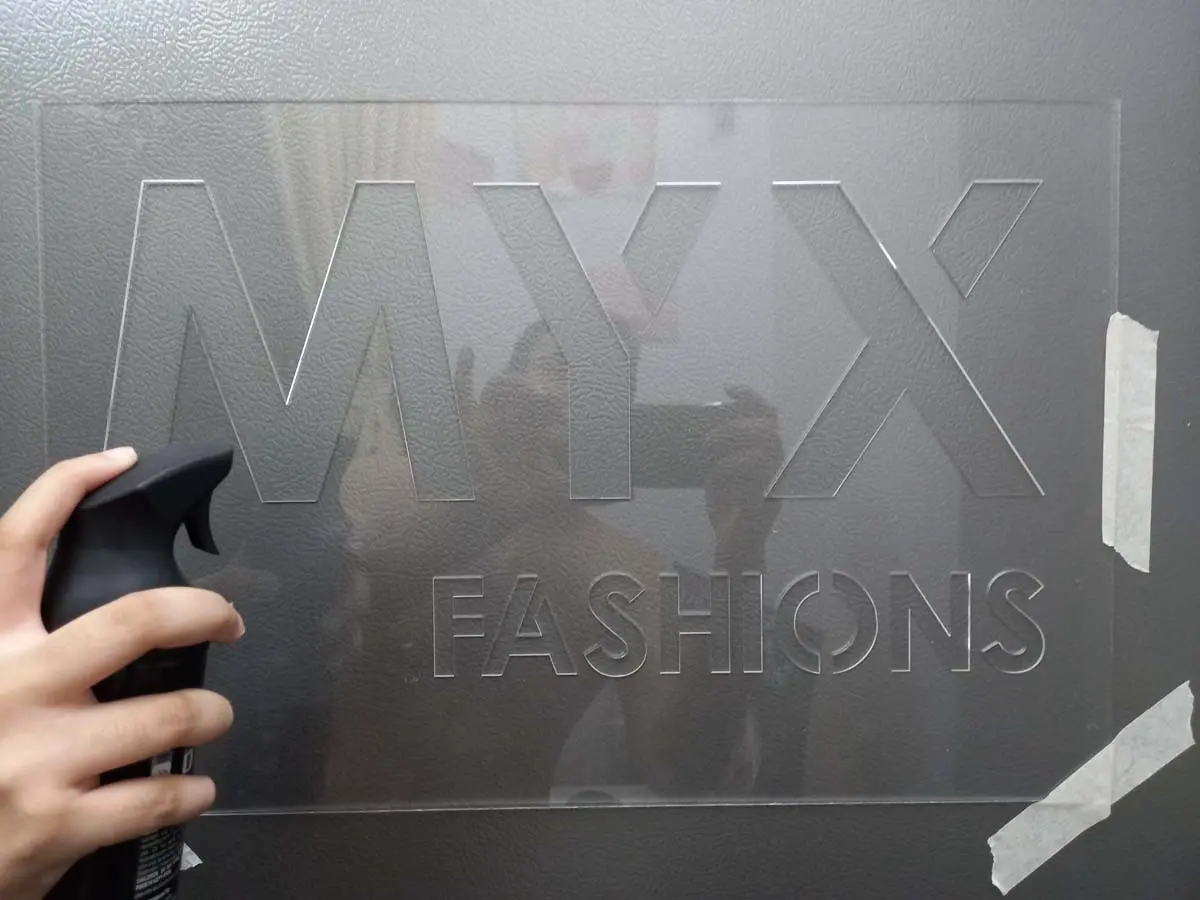 Reusable Stencils made of Mylar / Flexible Polyester Sheets
Our best selling stencils are made out of thin polyester sheets.
This material is 180 microns (approximately 2-mils) thick. It is durable, flexible and can be placed on a variety of surfaces both, flat and curved.
For example, if you need to paint letters on a curved, cylindrical object, this pliable polyester / mylar stencil can easily be wrapped around the same.
Just like our rigid acrylic stencil, this product can be stored for future use as well. Once you are done painting your job, just clean the surface with soap water and your stencil becomes as good as new.
Pro Tip: For more accurate results, we recommend taping the custom mylar stencil to the surface before you start painting over it. Use any low-tack masking tape (Abro Tape) to hold the stencil in place. And peel the same when done.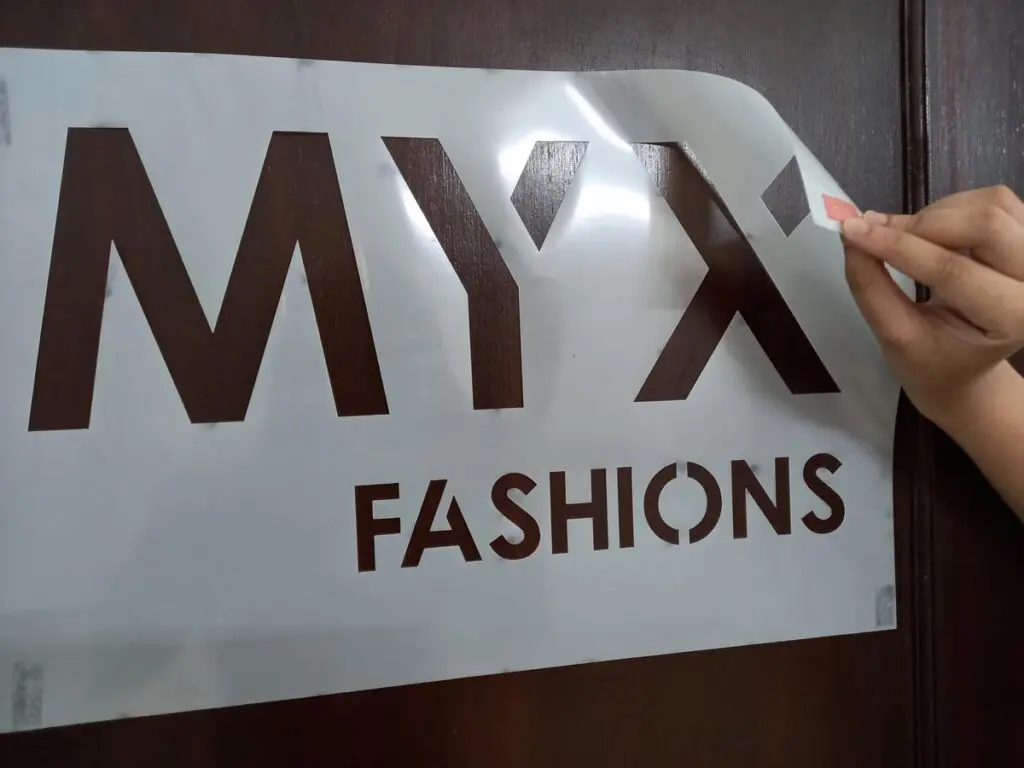 Single-Use Adhesive Vinyl Stencils
A lot of hobbyists prefer to paint custom signs and inspiring quotes (in an artistic way), on their walls. And they need to use the stencil only once, to get the job done.
For such wall painting applications, we offer adhesive vinyl stencils. Larger stencils are generally fabricated from plastic or acrylic but vinyl is the best material for custom wall stencils.
This stencil is made of three layers.
The vinyl from which your pattern is cut. This vinyl has glue on its lower surface. You have to paste the material on the wall, much like any regular sticker. Once you are done with your stencilling, just peel and dispose of the vinyl.
The lower layer is made of a waxy release paper on which the above vinyl sheet rests. You have to peel the sticker from this release sheet.
We have masking paper on the top face of the vinyl stencil. This masking film holds all the letters in place. You use the masking film to lift the vinyl from the release sheet at its base. You then paste both the cut-out vinyl letters and the masking sheet on the wall. Finally, you have to gently remove the masking sheet, leaving the vinyl stencil in place, on the wall.
A vinyl cut sheet may be a single-use stencil. But it has a number of advantages.
It is extremely easy to use. All you have to do is peel and paste it on the surface that has to be stencilled.
The glue under the vinyl stencil minimises the change of paint bleed.

Paint bleed is the biggest curse of all stencillers. Very often, liquid paint creeps out from under the edges of the cut-out area of the stencil. This problem is also exacerbated when the surface that needs to be stencilled is not very flat.
Paint bleed is similar to what happens when a child paints outside the lines in a colouring book. In both cases, the edges get smudged, and the results in a messy finish.
But unlike the reusable acrylic and polyester sheet stencils, vinyl is firmly glued on to the wall. This glue does not allow any paint to bleed out, and the end result is a stencilled artwork with sharp edges and well-defined lines.

The masking paper on the top face of the vinyl cut-out allows perfect placement and alignment of the stencil.
You can cut intricate patterns and small fonts from the thin vinyl material.
Finally, there is no need to create bridges in closed curve letters. Designs can be made of any types of fonts, and you need not restrict yourself to 'stencil' fonts.
Material of Your Choice
Some of our customers also bring in their own materials like MDF (thin sheets of wood) or paper. We can easily laser cut custom made stencils from the same.
One thing to remember is that a stronger material may cost more initially but can be used over and over again. A flimsier material like paper will cost less to manufacture. But the lifespan for the same will be limited, and most such options can only be used once. So choose your stencil material based on your end application.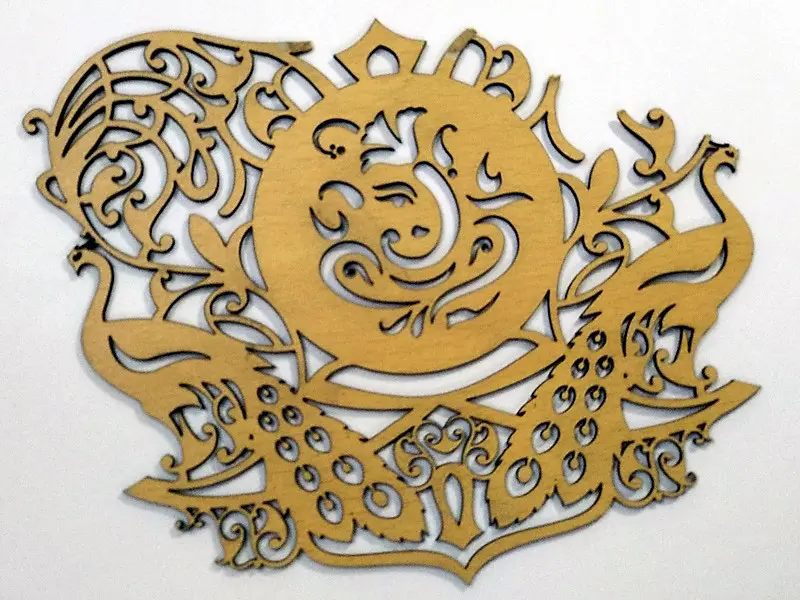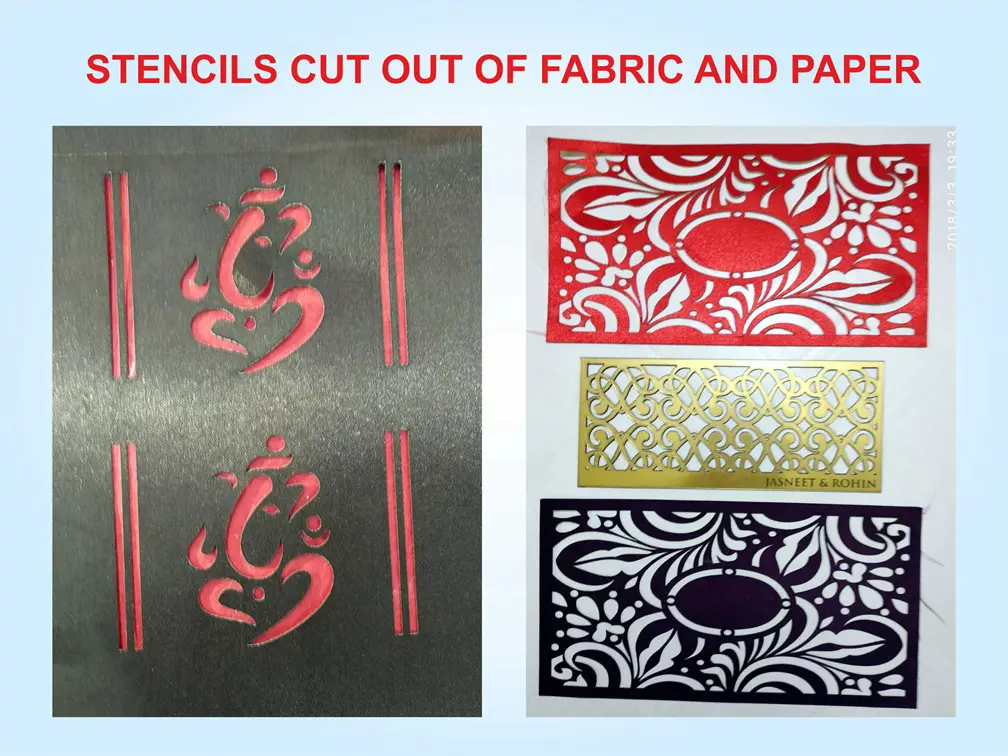 How to Custom Design a Stencil Job?
All custom stencils are processed on cutting machines. And the machine has to be programmed to cut along the lines defined in your artwork. So the first step in creating a stencil is to create a design.
This design is then loaded onto the cutting machine to cut out your stencil in the desired shape.
Now, Orchid Digitals excels in printing and laser-cutting. But unfortunately, we do not have an in-house design team. So the stencil design has to come in from the client's end.
Here are a few pointers that you can follow to create an accurate and error-free stencil.
Step 1: Create your stencil design in a vector format
A stencil design has to be created as a vector file. Only then can the laser-cutting machine be programmed to run along the paths defined in the file.
Raster images like .jpgs, .pngs, .tiffs or bitmaps will not work for stencilling purposes. You need to create a vector-based design using software like CorelDraw or Adobe Illustrator. If you are unfamiliar with graphic designing, here are some agencies that can help you.
Step 2: Bridges and Islands in Stencil Design. What are these concepts, and why are they important?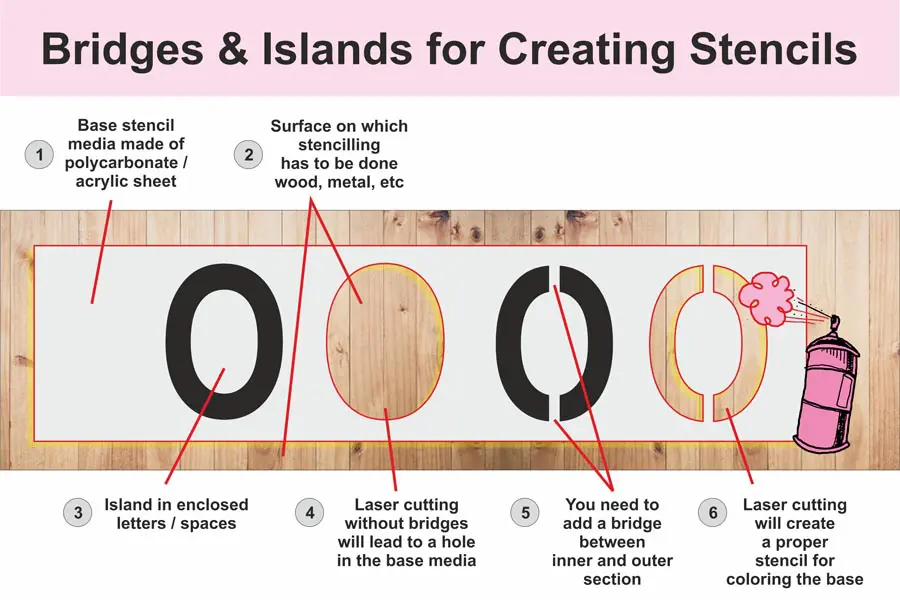 Stencils need to have something called 'bridges'. These bridges join the various parts of the stencil with each other. Bridges keep the cut-out areas from falling apart. This is important because otherwise, a stencil can end up as an odd-looking outline shape.
For example, if we cut around the edges of the "O" on the left (in the image above), we would end up with just a big circle. The inside area of the letter 'O' remains undefined. So, the inner circle of the letter "O" has to be bridged or connected with the rest of the stencil sheet.
Design software allows you to create bridges for individual plastic letter stencils. But the easiest way to do this is to use a stencil font instead of a regular font. Most computers / operating systems come bundled with stencil fonts.
But if not, you can download some stencil fonts here.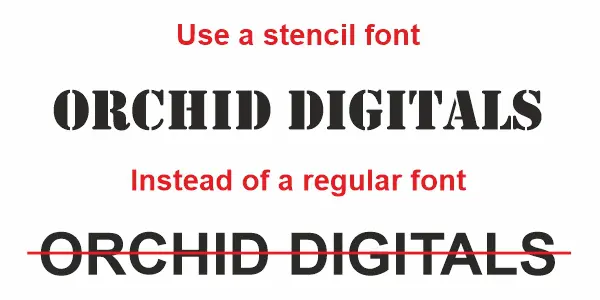 Tell us what you need.?
Care to be Taken While Painting Over Stencils
Spraying paint over a cut design sounds easy. But with a little additional care, you can ensure a very crisp reproduction of your pattern.
A little paint always bleeds under the edges of the stencil and is every artist's curse. Also, stencilling on corners and curved surfaces come with their own set of challenges.
So, here are a few pointers to get you started…
If your stencil does not have an adhesive backing, consider using painters tape to hold the stencil in place. A stencil that moves in mid-spray, results in a messy job. These tapes fix the stencil in place and also allow for easy repositioning.
Use stencil art brushes instead of simply spraying on the paint. Here, you can control the flow of the liquid paint and reduce paint bleed under the edges of the stencil.
You can also use stencil adhesive spray beneath the stencil and reduce paint bleed. This spray is readily available in craft stores and even online.
There are a whole lot of resources on the web which explains how to stencil properly. Below are some links we found informative. Do have a look: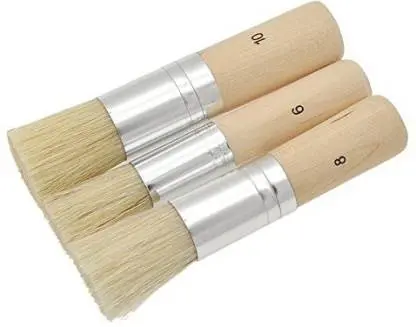 FAQs | Frequently Asked Questions
How Much do Custom Laser Cut Stencils Cost?
We sell our custom stencils online. Depending upon our customers' end application, we cut the same out of the following three materials.
Here are the prices for laser cut customs stencils…
Stencils Made to Order From 2 mm Thick Sheet of Acrylic
Laser Cut Stencils of 0.2 mm Thick Sheet of Polyester / PVC
Custom Adhesive Vinyl Stencils
₹ 6.00 per square inch
₹ 4.00 per square inch
₹ 4.00 per square inch
This is a thin but rigid sheet of plastic. It is transparent and does not curve.
This sheet is flexible.
Vinyl is a thin plastic sticker sheet. It takes the form of the surface it is placed on.
It does not have an adhesive back
It does not have an adhesive back
This stencil has glue on its lower side and can be stuck on to the base that needs stenciling
It is ideal for stencilling on smooth, flat surfaces
This sheet is pliable and ideal for curved surfaces like stencilling on cylinders.
Vinyl is the best material for creating stencil art and lettering on walls.
It can be stored in a roll form and reused.
But the strength of the thin polyester sheet is lesser than the acrylic sheet stencils.
It can be stored in a roll form and reused.
But the strength of the thin polyester sheet is lesser than the acrylic sheet stencils.
Vinyl stencils are a one-time use product.
They work great for recreating small patterns and designs on walls. But they cannot be reused.
The MOQ for this product is 500 square inches
The MOQ for this product is 500 square inches
The MOQ for this product is 500 square inches
* Please Note:
Above rates attract 18% GST
We have a MOQ (minimum order quantity) of 500 square inches for this product.
The rates above are quoted per square inch. So if your stencil size is 5 inches wide X 10 inches tall, and you opt for the second option, i.e. flexible polyester stencil with an adhesive back, here is how you will calculate the cost for the same…
5 inches (width) X 10 inches (height) X ₹ 4.00 (rate per square inch)
= ₹ 200.00 + 18% GST
Shipping and Delivery
Laser-cut stencils can be delivered anywhere in India.
Delivery charges are extra and will be communicated to you once we receive the delivery address.
Get a Quote for Your Custom Stencil Printing Job
Please leave us your details and we will respond promptly
Similar Products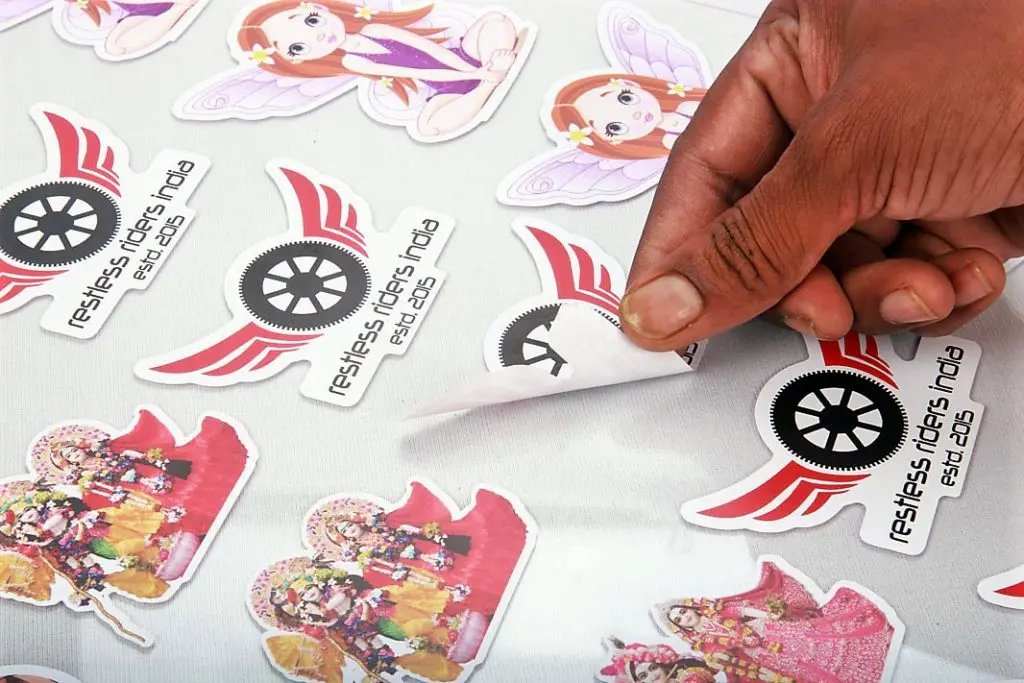 Kiss-cut stickers to nail your small-size branding needs. Nonlinear die-cut…
Previous Next Acrylic Name Plates To Showcase Your Brand Flaunt…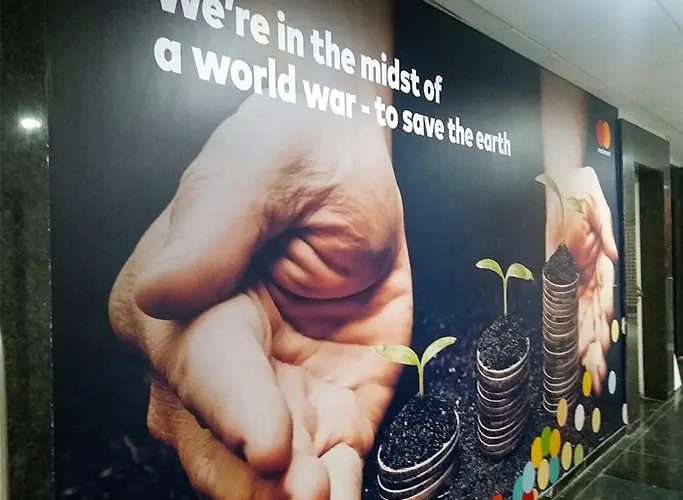 Customized vinyl wallpapers for branding on office interiors branding. Print…