Restaurant Tabletop Advertising Using Water-Proof, Scratch-Proof & Oil-Resistant Prints
Restaurant Tabletop Advertising Using Water-Proof, Scratch-Proof & Oil-Resistant Prints
You Make a Commitment and Murphy Jumps In. S*** Happens.
As a bit of a dreamer. I identify a lot with characters in books and on-screen heros. So much so, that up until a few years ago, I used to think of myself as some kind of an invincible superman. It took middle age, a receding hairline and a horrible leg accident to remind me, that I am in fact, pretty breakable and eminently fallible.
But this is a story from a time when I didn't know better.
It was sometime in 2012 when Barney Stinson coined an immortal phrase – 'Challenge Accepted'. And these two words from a make-believe TV sitcom, got yours truly, in trouble, in the real world.
Here's what happened…
Printing on a Table Top for Advertising
I got a call from Ms. Veena (name changed) who worked in the marketing division of a large fast-food company based out of Mumbai. Veena keeps sending a lot of work my way. This is because she trusts me to get her ad campaigns running efficiently and on time. Further, I never gave her a reason to think otherwise.
Now, Veena had recently opened a Pizza Hut outlet at the SGS food mall. For those who don't know, the food court at SGS is made of scores of fast food outlets, all surrounding a large open space. This central atrium is furnished with 60 odd tables and attendant chairs. It works as a common seating area for all the different restaurants. So people buy their meals from the food joint of their choice and bring it to any free table in the atrium.
Veena had a great marketing idea to start off her newly opened franchisee. Although the tables could be used by customers of any food outlet, she felt that each and every one of those 60 tables should carry an advertisement for Pizza Hut. And this strategically placed ad would entice prospective customers to her pizzeria, to the exclusion of the other food vendors.
Now, restaurants generally use small tent cards to highlight chef specials. Alternatively, some fast food outlets like McDonalds for example, use disposable placemats/table mats made of paper, to print their menus.
But Veena wasn't interested in 6 inch high tent cards or leaflets of paper. She was thinking big. She wanted the entire top surface of every table furniture to show huge product photos of her delicious pizzas. Her idea was to dominate a hungry family's visual space by advertising on the table top. And this was brilliant. All her colleagues at the agency too were fired up by this brainstorm.
So Veena tentatively asked me if printing on the entire table top is possible.
Leaping Before You Look
Now remember, back in 2012, I was a superman – only with the underwear on the inside.
And with my 'can do' attitude, I frequently emulated Mr. Stinson (he of the 'How I Met Your Mother', fame) by leaping before I looked. Without really thinking about the difficulties the job entailed, I went and gave a high-value client my commitment to execute her idea. My inner Barney cried, 'Challenge Accepted' while I further dug my grave by assuring her that it was a pretty easy job to print on table tops, technically.
While in reality, it was anything but.
Challenges Faced by a Table Top Print
Pasting a print on a table is easy. Expecting it to last is not. If you think about it, the surface of a table top receives a lot of abuse…
People place plates and cutlery on table tops.
Oily food and water gets spilled on tables.
The surface is continually wiped down after every meal.
People place shopping bags, purses with metal buckles, car keys, etc on top of a table.
You'll see girls with heavy bangles holding her beau's hands, on the table.
Heck, people even place baby baskets on top of tables. After all, where did you think all that hand holding was going to lead to? 🙂
Anyways, on a more serious note, Orchid Digitals prints a lot of posters and banners. But while these materials work great for vertical walls, they aren't really built to withstand the abrasions listed above. I had no solution to Veena's mandate and was in danger of failing in my commitment to her.
Preetam to the Rescue
Preetam Bodke is my man Friday at Orchid Digitals. He heads our LED boards and laser cutting division. He is honest, hard working and loyal to a fault. And while I am just shouting my head off, he is the one who gets all the real work done here. So when I have a problem, I pile it on his head! When things are not going my way he bears the brunt of my tantrums!
Hey, don't judge me. I acquired my managerial skills at the 'Donald Trump School of Screaming and Shouting' 🙂 Preetam knows this too. And stoically suffers me.
Be that as it may, Preetam is also my go to guy for solutions to offbeat problems. And when I told him about my table top printing problem, he did not disappoint. He reminded me that we in fact do have the solution in house.
You see we have another material called floor overlaminate. It's used for branding floors in malls, offices and large commercial areas. It is especially designed to withstand hundreds if not thousands of people who walk over it.
Floor overlaminates are super tough. By suggesting that we try using this material to brand and advertise on the tabletops, Preetam once again pulled me out of the hole I had dug myself in. And ultimately, here is what we did.
How We Managed to Print 60 Tables Tops?
High Resolution Print on Vinyl With Strong Adhesion: We took the customer's artwork and printed it on a specialised cast vinyl. Cast vinyl is known for its very strong adhesion. This is important because we could not have the print peeling from its edges after a few days. Our high resolution Mimaki eco solvent printer also ensured that the images came out looking crisp and absolutely vibrant.
Top Surface Protection: The next job was to laminate the print. This involves pasting a protective layer of clear plastic on top of the print. Lamination makes the print immune to water, food stains and dust. But we did not use a standard laminating film here. We deployed our specialised floor overlaminate. This made the top surface of the print virtually indestructible. It was now almost impossible to tear, scratch or abrade the print.
Die Cutting for Perfect Finish: The tables at the food court were circular with a diameter of 30 inches (2.5 feet). So the next thing to do was cut the prints in perfect circles of this dimension. You could not do this by using ordinary scissors because a.) The prints had become way too thick and b.) Hand cutting would not result in that perfect finish for all 60 copies.
To overcome this problem, we created a circular metal die with sharpened edges. The overlaminate and the die was then placed in a hydraulic machine to punch out the prints in the required shape and dimensions. Visualize an 'ulta thaali' pressed on dough to make circle shaped 'rotis' and you'll get an idea of what I am saying.
On-Site Pasting of the Job: Finally the prints were taken to the site and pasted on the table tops. 60 tables, spread over a vast hall and all carrying the same message, make for an impressive sight. Do take a look at the finished job.
But the story doesn't end here. Fresh off my success form the Pizza Hut job, I went and monetised the idea once again. This time around, an architect wanted to make an 70s and 80s music themed cafe. So we branded the circular tables in the cafe with an image of a LP record. The rectangular table tops were done up to look like the old cassette tapes. Have a look at the images of the same above.
How Much Does a Print for a Table Cost?
Orchid Digitals is an industrial print-for-pay service provider. We don't generally provide interior decor services. And printing advertisements on restaurant table tops is not part of our service portfolio. But every so often we come across a job pretty much off the beaten track.
Moreover the last moment win in the pizzeria case is kind of lodged in my memory. This is why I included it in our Interesting Projects section. You might want to look at some other stories in this section because they are, well… interesting.
Also, in case you are wondering, the table top print with thick overlaminate doesn't cost much. The printed material goes for ₹ 150.00 per square foot. So to cover a 3 feet square shaped table will cost you ₹ 1350.00 plus taxes.
Stick to Your Commitments and the Jobs will Keep Flowing In
Orchid Digitals' goodwill is based largely on our ability to finish our jobs at the highest quality and well in time. We take our commitments to our customers very seriously. And since this post did not have enough cheesy pop culture references, I will end by quoting Mr. Chulbul Pandey who said that – "Ek baar jo maine commitment kar di, toh phir main khudki bhi nahi sunta…"
This experiment and struggle actually did fuel my appetite for experimenting as well. Way in the future from this particular incident, I tried my hand at converting another interior decor idea into reality through furniture printing. It was when we moved into a new house and my child wanted intriguing interior work done on the furniture. That's when I went ahead and once again, printed on the furniture. You can read more about this incident here.
So what did you think about this project? Do let us know in the comments section below. If you find yourself with the idea/need to advertise on table tops, you know who to call. And even if you have a similar offbeat interior decor idea you want to convert into reality, reach out to us.
And remember, the next time the party really gets going and people start dancing on the tables, those are probably my prints protecting the surface. Cheers.
Looking for any specific product?
Drop us a line. Send us your query. And we'll get back to you with solutions and answers.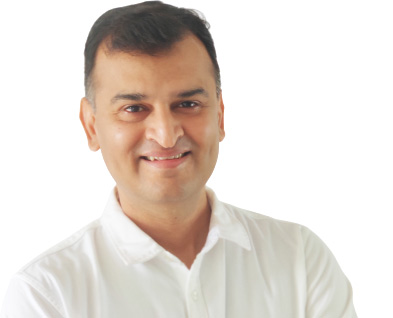 Mitesh Sanghani
Mitesh lives, mostly for Saturdays.
But when forced to work, you'll find him heading Orchid Digitals – a printing press in Pune.
If it's an emergency, try looking for him in the hills behind his house. You'll almost certainly find him… lazing under a tree, with a book in hand.
All our Blogs
This is a section packed with useful knowledge on digital printing and its aspects, interesting printing case studies, and ideas, guides, and tips & tricks on marketing and branding.