Marathon Bibs For Your Runners
Long-range Bibs for your Long-range Runners
Marathon bibs custom printed
Personalise the race bibs using your event logo, sponsors' names, etc
Include runner details – name, number, category, etc.
Select from three media types – paper, polyester and sticker prints
High-resolution water and dust-resistant running bibs
Pin-holes on top corners to aid in attachment for paper and non-tearable variants
Sticker bib variant can easily be pasted on the t-shirt
Product shipped across India
Pricing of A5 Marathon Bibs Starting from ₹ 7 / bib
Marathon Bibs – Detailed Description
Running a marathon is an incredible achievement. For the participants, it is the culmination of months of training hard work discipline and perseverance.
And as the race organiser you need to ensure the best possible experience for your all your runners.
To ensure that your event is a success you need to plan for routes, pacers, timing chips, flag-offs, refreshments, trophies, certificates, t-shirts, selfie booths, backdrops, photographers, etc.
But apart from all of the above, there is one collateral that is most visible. And that is what this product page is all about – Marathon Bibs.
Personalize your race day experience with our highly visible, custom-printed Marathon Bibs. Our high-resolution, vibrantly coloured prints will become marketing collateral that your runners will be proud to put on.
So read on, to check the various types of bibs you can order from our place.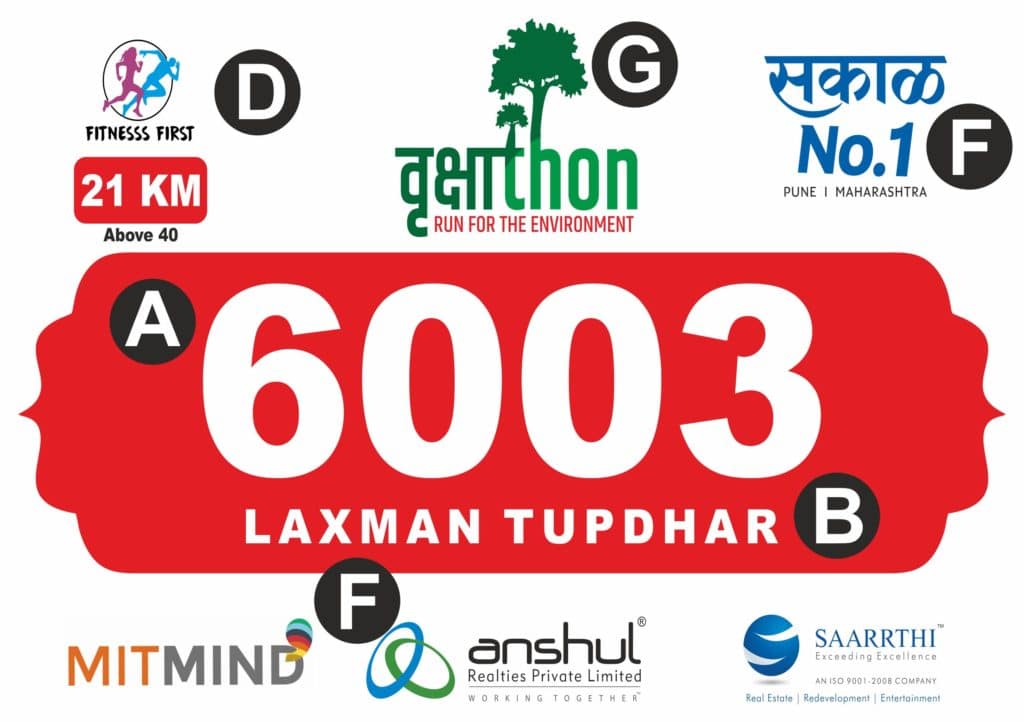 Types of Personalised Marathon Bibs Available at Orchid Digitals
At Orchid Digitals, we custom print your marathon bibs at an extremely high resolution on our digital printing press. This ensures that the printed bibs have super sharp detailing, vibrant colours and most importantly, extremely high visibility.
Now, there are three types of materials that you can choose from to get your personalized race bibs printed on. And these are…
---
These bibs are printed on a special, 200-microns thick, non-tearable polyester media. The print is especially robust, waterproof, dust resistant, scratch resistant and will not tear.
---
These bibs are printed on thick 170 GSM paper. They are highly economical and still get the job done perfectly.
---
These bibs are printed on a glossy, high-quality sticker sheet. You can simply peel and paste them on the runner's t-shirt or banyan/vest.
NT / Non-tearable Marathon Bibs
This is our premium variant race numbers bib. It is made out of NT paper or a non-tearable polyester media. The print is waterproof, dust, sweat, and scratch-resistant.
Opt for this variant if you are organizing a prestigious event like an international run, an Ironman or an event having thousands of participants.
Participating in such a prestigious event is a big deal for the runners and their personalised bibs, carrying their names, number, etc. will also double as a badge of honour.
Runners typically save these marathon bibs as a memory of the event for years after the same is over. And for such an event, it makes sense to opt for the more premium non-tearable marathon bib.
These A5-sized personalised bibs will have two punch holes on the top left and right corners. You can use safety pins to attach the marathon bib to the t-shirt of the participants.
Bibs printed on 170 GSM thick paper
This marathon bib is printed on a sheet of paper roughly as thick as the cover of a premium magazine. The quality of the print remains the same, i.e. a high-resolution print with vibrant colours.
But since the base media is made of paper, the cost of this variant is considerably lower than that of the non-tearable option.
I recommend that you use this variant if you are on a budget and if you feel that the bibs are going to be discarded immediately after the event. For example, a small-sized school race or a privately organised corporate event.
These A5-sized customized bibs will have two punch holes on the top left and right corners. You can use safety pins to attach the marathon bib to the t-shirt of the participants.
Marathon Bibs printed on Sticker Sheets
Our final variant is meant for those runners who prefer not to pierce their clothes with pins in order to attach the marathon bibs. For these clients, we have bibs printed on sticker paper.
Once again the print quality remains the same – digital colour at fantastic image resolutions. And in place of paper, we reproduce the job on mirror cote glossy sticker sheets.
So, all you have to do is peel and paste the sticker on your clothes, and you are ready to go. Alternatively, you can choose to keep the sticker in place and pin this bib on your t-shirt as well, for a more stronger and reliable installation.
The sticker marathon bibs do come with a caveat. They may fall off if the t-shirt fabric gets too wet or crumpled.
These bibs will not have any punch holes in the corners.
Components of an ideal Marathon Bib Design. Get ready to cross the finish line in style.
A marathon bib number can simply be printed in plain black and white. Alternatively, include the following elements on your marathon bib design to make the print collateral stand out and become a memento that will be treasured for years to come.
Try including some of the following elements in your design: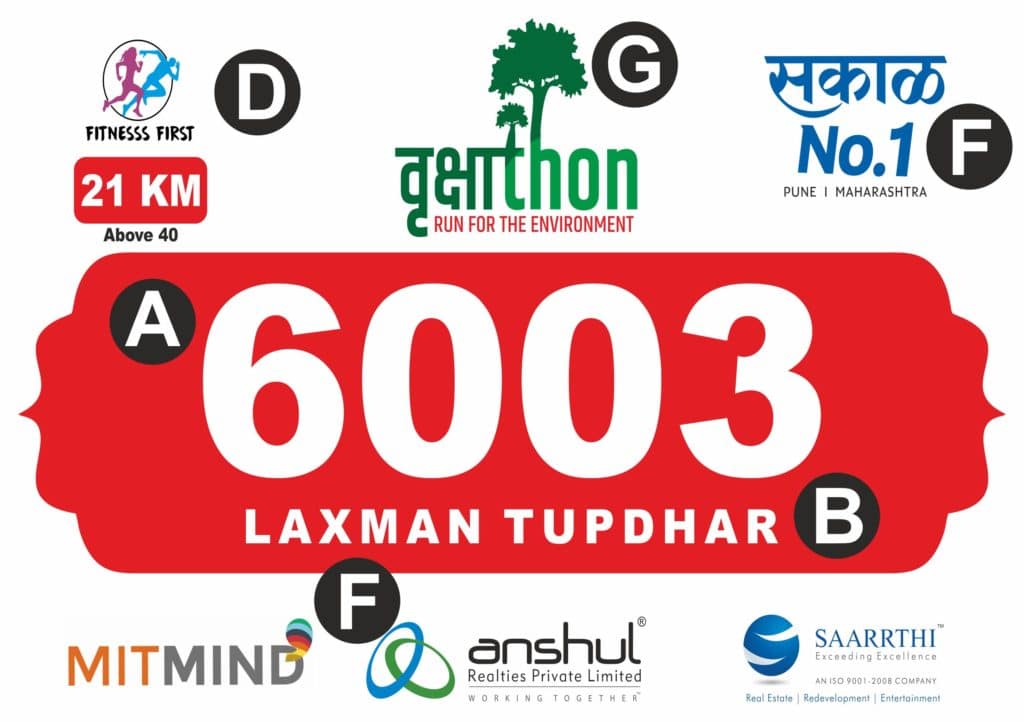 The runner's unique participant number (A)
Their name (B)
Their blood group (C) in case of emergencies
The category they are running in (D) 3 km, 5 km, / male, female, etc.)
The sponsor's names and company logos (F)
The name of the marathon (G)
The logo of the event (if applicable)
Running bibs are crucial for the marathon organizers, their crew and the runners. And the more personalised your bib is, the easier it is for the organisers to identify and categorize the runner.
One should be able to ascertain the person's name, race category, number, and any other piece of information relevant to the marathon with a single glance at the print.
Hyper-personalisation makes all the difference!
Implementing the above content may seem like too much work. But trust me, the process is not at all complex. Here is what you need to do:
Share the basic design template of your bib. This will contain the name of the race, the event's logo (if applicable) and the name of the sponsors/organisers.
Put all the variable data like names, gender, runner number, etc. in an excel file.
And we'll take it from there.
Variable Data Printing (just hours before the race)
Marathons are a lot about inculcating and promoting discipline and cultivating healthy habits. Therefore, to facilitate maximum participation, registrations are done both offline and online, using platforms like townscript.com.
And often, registrations happen till the evening before the marathon. Therefore, the marathon bibs sometimes need to be printed at the 11th hour. And this is where we come in.
At Orchid Digitals, we utilize a very neat technique called VDP, short for Variable Data Printing to process your job.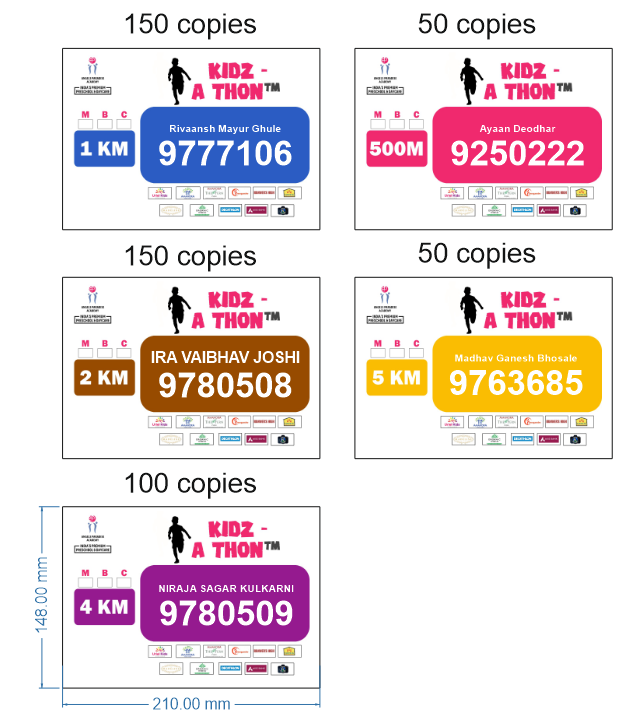 What VDP does, is merge the variable data component of the bib with the base design. The logo, the name of the marathon, the name of the sponsors and colours would constitute the base design (or template) which remains constant in all the bibs.
But some data that goes in the print varies from bib to bib. This could include…
The runner's number,
The name of the participant
Their gender
Category (3 km, 5 km, etc.)
This data would obviously change from bib to bib. And it forms the variable data part of the print. We request the marathon organizers to send us a sorted list (preferably in an Excel file), of participant names, numbers, blood groups, and race categories among other things.
We then feed this list into our VDP software, which merges the individual participant's data with the base design template. So if we have 100 runners, 100 separate files are created each containing:
The base design of the bib (which remains constant through all the copies)
The name, number and other relevant data of each individual participant (which changes from file to file)
What remains is for us to push these files to the printing press.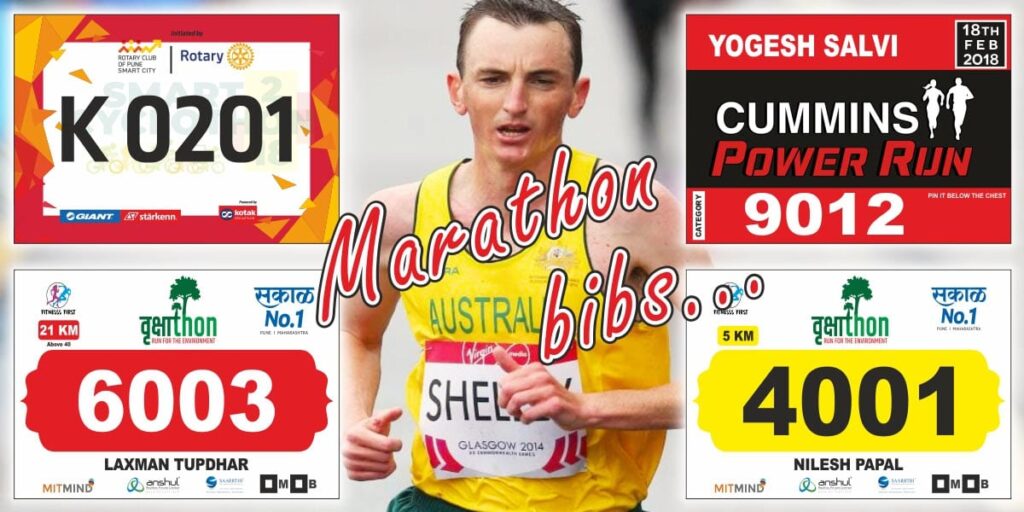 This smart and efficient technology greatly reduces the turn-around time for printing the marathon bibs and you can source the same just a few hours before the event.
Let's now talk about how these personalised bibs are actually constructed at our place, here in Pune.
How Are Marathon Bibs Made?
A marathon is an extensive activity with a certainty of dust and sweat, There is also a fair chance of rain. Therefore, a high-quality race bib needs to have the following characteristics:
The print has to be crisp and clean for easy and instant identification.
The running bibs have to be durable enough to withstand dust, sweat, rainwater, etc.
Finally, we cannot have the print falling off mid-way through the event.
So marathon bibs, while they appear to be simple sheets of paper, are made differently.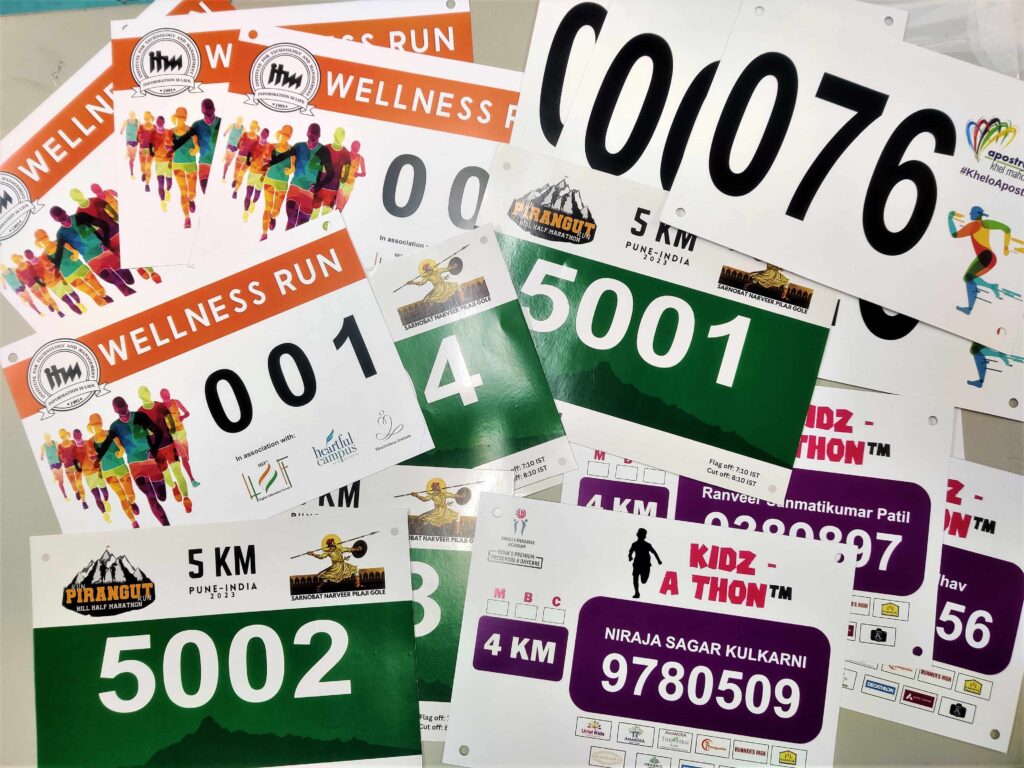 The NT / non-tearable paper variant is made of layers of plastic fused together. And this print is virtually indestructible. It is also waterproof.
The paper variant too is made of thick 170 GSM paper and will not tear easily. Since we use wax-based inks to reproduce the print. These inks melt and fuse to the media beneath. And this makes our paper-printed variant resistant to water as well.
It may not survive dunking in a bucket of water. But normal sweat or a drizzle of rain will not hamper the ability of the print to get the job done.
We place two punch holes on the top left and right corners of the paper and the NT prints. All you now need to do is use safety pins to attach the print to the runners' clothes.
The sticker variant has all the characteristics of the 170 gsm paper print. This marathon bib is also reasonably thick and will not tear easily. The inks too are resistant to moderate amounts of water, dust, scratches, etc.
Additionally, the sticker-printed marathon bib has a strong adhesive on its lower surface. This makes installation a breeze. Just paste the prints on the runner's clothes and you are good to go.
Here are two queries that I face from a lot of my clients about the sticker bibs.
Will the glue spoil the clothes of the runner?
Will the bibs fall off during the race?
We have sold significant amounts of this product. And all I can say is, that I have received no complaints to date.
Adhesion is a function of the strength of our glue and the surface energy of the fabric beneath it. If the clothes of the runners are exceptionally smooth you might see some peeling. But most participants use thin cotton t-shirts while running and this poses no problem to our print.
As far as spoiling the marathon runners' clothes is concerned, here too we have not received any complaints. And you can peel off the sticker at the end of the event without leaving any residual glue.
But I need to place a caveat here as well. If the colours of the fabric are exceptionally weak, you might see discolouration upon peeling the sticker.
What is the ideal size of a custom-printed Marathon Bib
A5 size landscape mode is the perfect size for a personalised race bib. This size is large enough to be easily visible. And at the same time, it is not so large that it will hamper the runners' movements or cause any discomfort.
A5 size in millimetres: 210 mm wide X 148 mm high
A5 size in inches: 8.26 inches wide X 5.82 inches high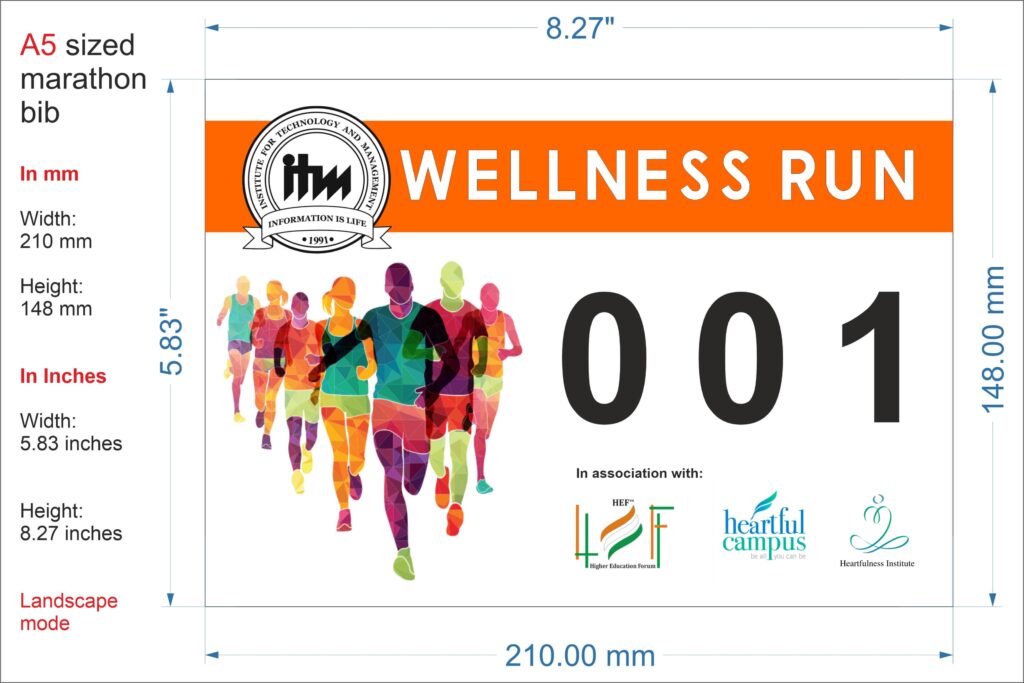 Why Source Your Custom Printed Marathon Bibs From Orchid Digitals?
Quick Turnaround Time: Orchid Digitals can deliver the personalized race bib an evening before the marathon. This allows marathon organizers to gather maximum participation. Would you like to know how we do it? Jump to this section about the VDP process we employ.
Exceptional Print Quality: Our prints are made using wax-based inks and pretty sturdy base paper. Therefore, the prints survive the challenges of a marathon (wear and tear, moisture, dust) and still manage to look great!
Reliable Printing Solutions: We believe that as marathon organizers, your concern should be the success of the marathon and not the prints. Therefore, we take full ownership of delivering high-quality running bibs with all the data you've provided. Once you've given us the right data, you'll not have to wonder if all the runner number bibs were printed right. That's our work. And we do it pretty well 🙂
Value for Money Printing: We provide customised bib printing solutions at competitive market rates and high value. When you pay for the prints, you aren't just buying the prints – you are buying into the Orchid Digitals Quality Assurance!
FAQs | Frequently Asked Questions
How much do custom-printed Marathon Bibs cost?
Marathon bibs are typically size A5 landscape. That's 210 mm X 148 mm or approximately 8.25 X 5.75 inches in size. Here is the cost of the same.
NON TEAR ABLE / NT Marathon Bibs
₹1200.00/for 100 copies*
Robust, waterproof bibs, non-tearable bibs with a very long life. Bibs double as a lifelong memorabilia.
Paper Printed Marathon Bibs
₹700.00/for 100 copies*
Digitally printed bibs on paper. Economy solution ideal for race events conducted on a budget.
Sticker Printed Marathon Bibs
₹900.00/for 100 copies*
Digitally printed bibs with adhesive for direct pasting on t-shirts. Economy solution ideal for race events conducted on a budget.
* Please Note:
The rates quoted above attract 18% GST
Shipping and Delivery
Marathon Bibs can be delivered anywhere in India.
Delivery charges are extra and will be communicated to you once we receive the delivery address.
Get a Quote for Your Marathon Bib Printing Job
Please leave us your details and we will respond promptly
Similar Products
Print your certificate design in very high resolutions and on…
Flag printing on different types of cloth materials. Lightweight &…
Stage / Event backdrops on fixed metal frame. On-site installation…