Security Labels That Disintegrate, To Show Evidence of Tampering
One glance to show proof of tampering, duplication or fraud
Destructible stickers will instantly disintegrate if tampered with
Tamper-proof stickers that are ideal for security applications
Cannot be peeled fully like ordinary stickers
Will break into small parts to show evidence of tampering
Stickers with strong permanent adhesive
And a fragile, brittle top surface
Ideal for Warranty Void Stickers
Shipping facility across the country
Security label prints starting from ₹120 per square foot
Tamper Proof Labels – Detailed Description
Destructive Vinyl Stickers – Sounds like some innocent labels went on the warpath, doesn't it :-). But this product is actually not as scary as it sounds. As a matter of fact, the correct term for this product is Destructible Vinyl Stickers.
And the name says it all. This material gets destroyed or disintegrates very quickly if someone tries to tamper with the same. And this property provides one very essential function – that of security.
So let us see precisely how this destructible material provides the perfect solution for security labels and tamper-evident stickers.
Destructible Vinyl Stickers – Material Description
The terms 'stickers' or 'labels' are ubiquitous. We use them on a daily basis. But these words are fairly generic. Few people know that print shops actually stock a very vast variety of materials to cater to different sticker applications and use cases.
At Orchid Digitals, we manufacture more than 15 different types of labels and decals. These include paper stickers, plastic or non-tearable stickers, transparent stickers, metal foils and even special types like reflective and night-glow stickers.
But perhaps, our most interesting variant is the destructible vinyl / tamper evident sticker material.
Like every other self-adhesive sticker, this material is made of two primary components.
The printable surface on top,
And the glue beneath the same
But, unlike standard stickers, the two components listed above have some specific properties that help create security stickers that can instantly show evidence of tampering.
Permanent Adhesive/Glue at the Base of the Sticker
The main hero of our story is an acrylate-based adhesive.
This adhesive is extremely strong. Moreover, it is compatible with various non-porous surfaces like glass, aluminium, polished wood, stainless steel, painted metal, etc. You can also fix the sticker on lightly textured surfaces like powder-coated metal and plastic.
Now, all of us have heard of 3M Post-it Notes and their removable glue. This adhesive is the exact opposite of the same. Here, the bond is more or less permanent, and the glue is tough to remove once pasted.
This is why a lot of our clients also call this product 'permanent stickers'.
Fragile And Brittle Top Surface of the Sticker
Tamper evident labels need to immediately show that they have been tampered with. And that is why the print surface on top is made of a pretty thin and extremely fragile material.
Try peeling this sticker, and the media on top immediately disintegrates into small pieces. And one look will show that somebody has tried to tamper with the same.
When you try to peel an ordinary sticker, the full label comes off – entirely. And with removable adhesives (Post-it Notes), there are also no residual glue marks.
But our permanent adhesive stickers with their brittle top surface will ensure two things.
A mischief-maker cannot peel the sticker off easily.
And even if someone does try hard, the label will come off, only in small bits and pieces, making it even harder to remove entirely.
These stickers are also referred to as 'eggshell stickers' because when you try to peel them instead of coming fully or in large parts, the sticker breaks into lots of tiny eggshell like pieces.
Moreover, the stickers are as thin as an eggshell and they mould over even rough or uneven surfaces more easily than conventional paper stickers.
Applications of Tamper Proof Stickers / Security Stickers
Ultra destructible vinyl labels are specially designed for showing evidence of tampering. Try peeling them, and they instantly self-destruct. And this makes them perfect for security labels.
Here are some examples of applications for the same.
Warranty Seals or 'Warranty Void if Opened' Labels
All of us have seen 'Warranty Void If Opened' labels pasted on the back covers of consumer goods and machinery. These stickers declare that there are no user-serviceable parts within. They also dissuade users from opening the outer case and messing about with the parts within.
These void stickers provide further information like contact details for the service engineers and the date for the next service due date.
A warranty void sticker is widely used in the electronics industry to protect the suppliers' equipment from tampering and end-user mischief.
Property Labels / Asset Tags for Company Property
In the post-Covid world, work-from-home has become par for the course in many IT companies. These companies allow their employees to carry home costly PCs, laptops, and even UPS systems.
Our permanent adhesive asset stickers act as a reminder and establish ownership of these costly assets even when they are carried out of your office premises.
Electronic Appliances that Need Servicing
Certain electronic appliances and white goods need regular servicing. And if your agency is providing this service, it makes sense for you to paste a destructible vinyl sticker to show the name of your company, the next service due date, and your contact details.
Food Packet Stickers
A security-conscious client may even want to know if his food sources have not been tampered with. And our permanent adhesive labels can easily fulfil that function.
Jewellery Packet Stickers
Jewellery packets obviously contain high-value items. And if you are going to ship these products out, you need to secure the contents within.
A security seal, in the form of a tamper-evident label, is an absolute must in this use case.
Rental / Leased Equipment
When renting out a high priced product, you need to secure the same from tampering or pilferage.
For example, lots of agencies rent out high-end cameras and computer systems. And they face this problem where unscrupulous clients open up the PC and replace the costly components within with low priced duplicates.
One easy tactic to prevent this is to place our security stickers locations on the PC case: like the back cover and on the screws that hold the cabinet together.
Any unauthorised person who now tries to open the cabinet will see these security labels disintegrate. And this will provide evidence of tampering to the store owner.
How Are Destructible Vinyl Stickers Manufactured?
The raw material for destructive vinyl stickers is pretty fragile. And this makes printing on them a challenging process. At Orchid Digitals, we have high-end eco-solvent and UV ink printers to take care of the actual production.
Our wide format printers ensure high-resolution output and a flawless finish for all our sticker printing jobs. So whether you order a price tag with just a few numbers or an image of a photo model, we ensure pristine quality labels for every type of client.
FAQs | Frequently Asked Questions
What is the Cost of Printing Destructible Vinyl Security Labels?
At Orchid Digitals, we print out tamper proof stickers on large 4 feet rolls of media. Printing individual stickers is not possible. Hence the price quotes bestow is per square foot of material.
Destructible vinyl prints
₹1440.00/for a sheet of size 3 feet X 4 feet (12 square feet)*
Eggshell labels that instantly disintegrate at any attempt of peeling thus showing evidence of tampering
* Please Note:
The rates quoted above attract 18% GST.
The rates mentioned above are per square foot. This means you first need to work out the total area of your job to arrive at the final cost.
For example, let us assume that your label size is 2 inches X 3 inches. Twenty-four such labels will fit in one square foot. Further, suppose that you need 480 individual labels. In this case, you need to order 20 square feet from us.
The total cost of the job is calculated as follows.
20 sq. ft X 24 labels per foot = 480 stickers in total
20 sq. ft. X Rs.120.00 = 1440.00 + 18% GST
Shipping and Delivery
Destructible vinyl stickers can be delivered anywhere in India by courier.
Delivery charges are extra and will be communicated to you once we receive the delivery address.
Get A Quote for Destructible Vinyl Security Stickers
Please leave us your details and we will respond promptly
Similar Products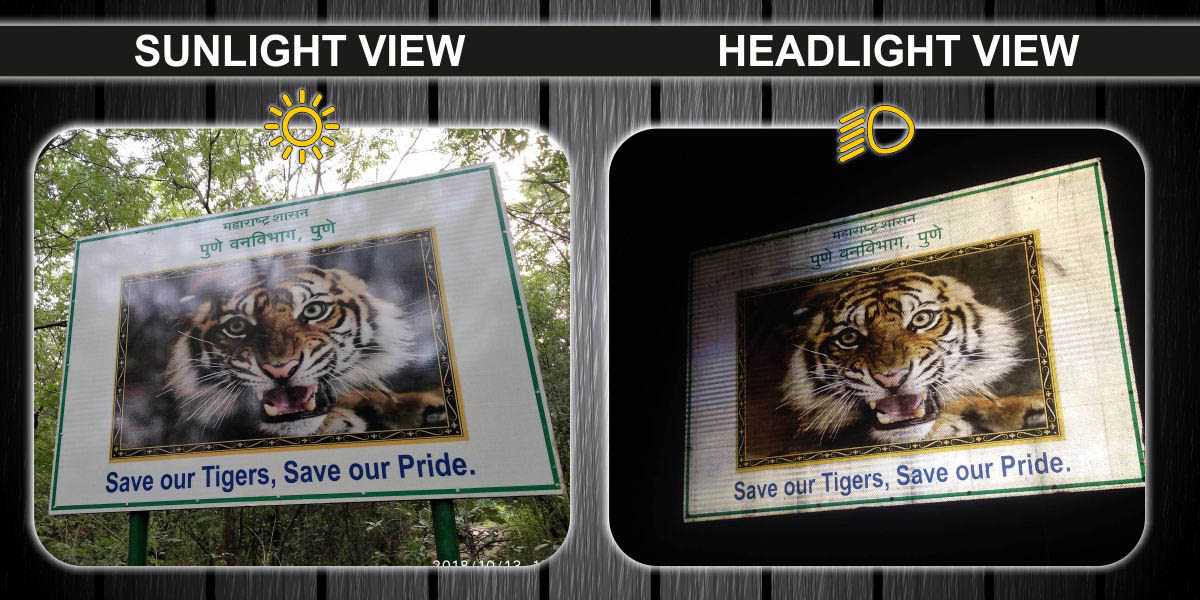 Specialised Reflective Vinyl Prints Visible in Low Light Conditions Your…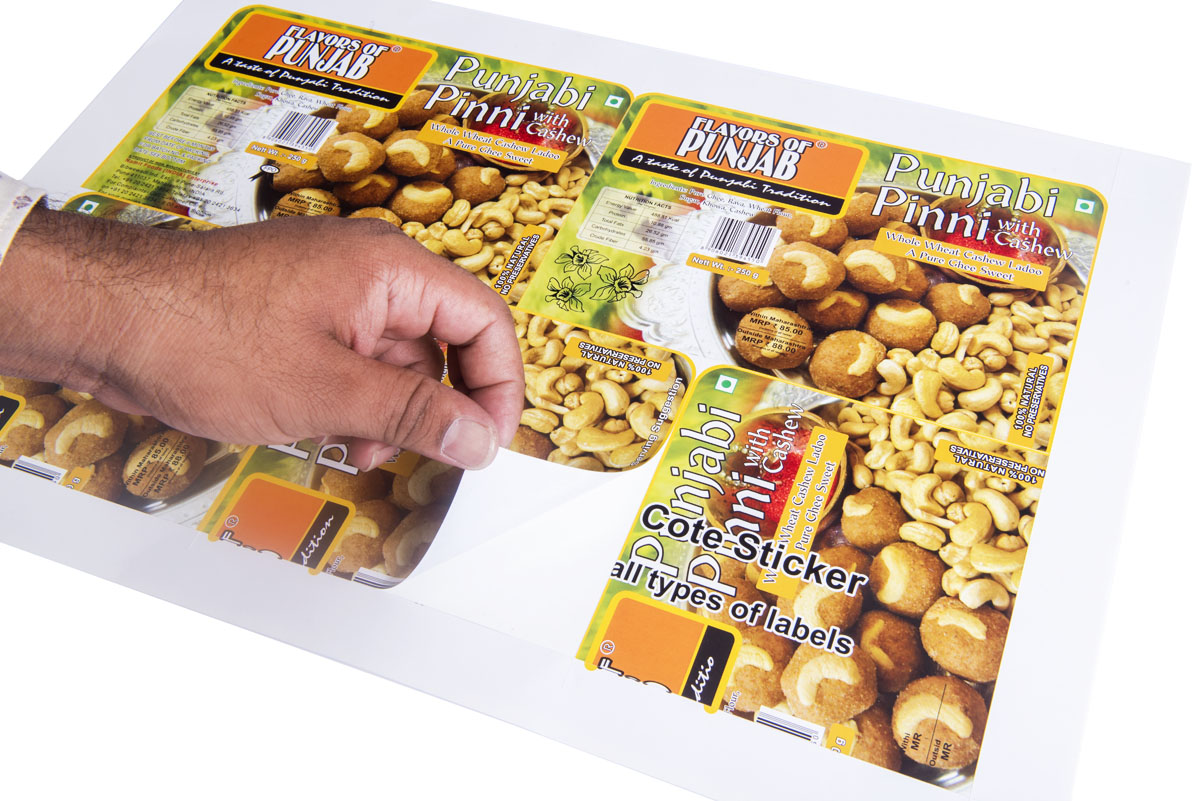 Sticker printing on paper, plastic, metal foils, transparent films, vinyls,…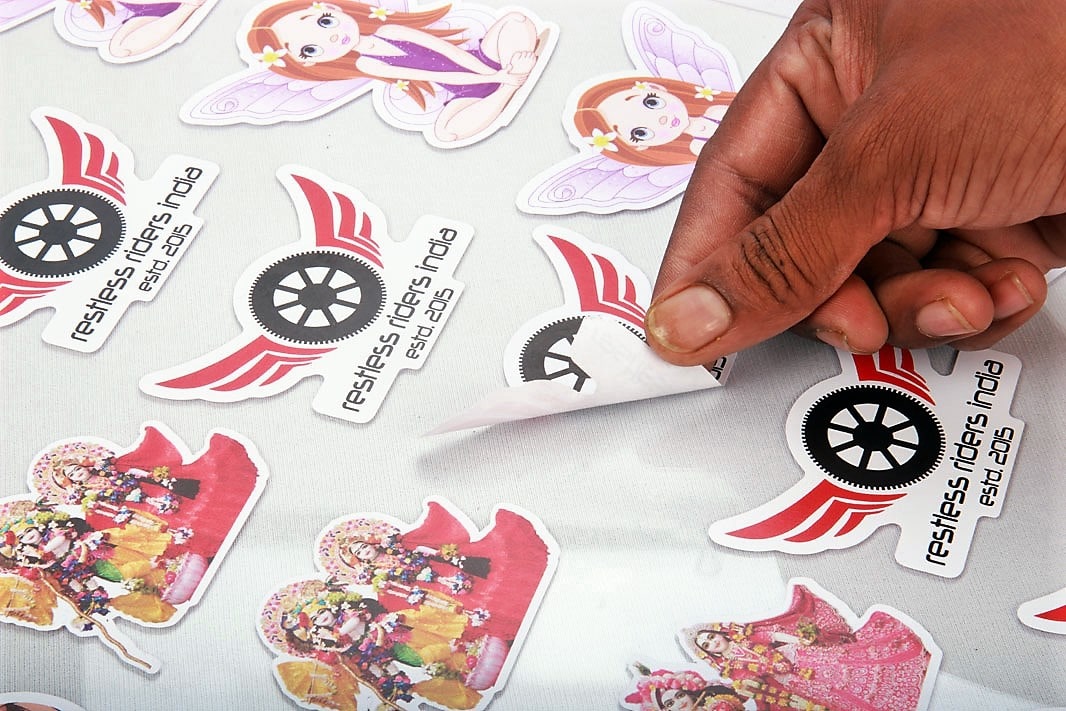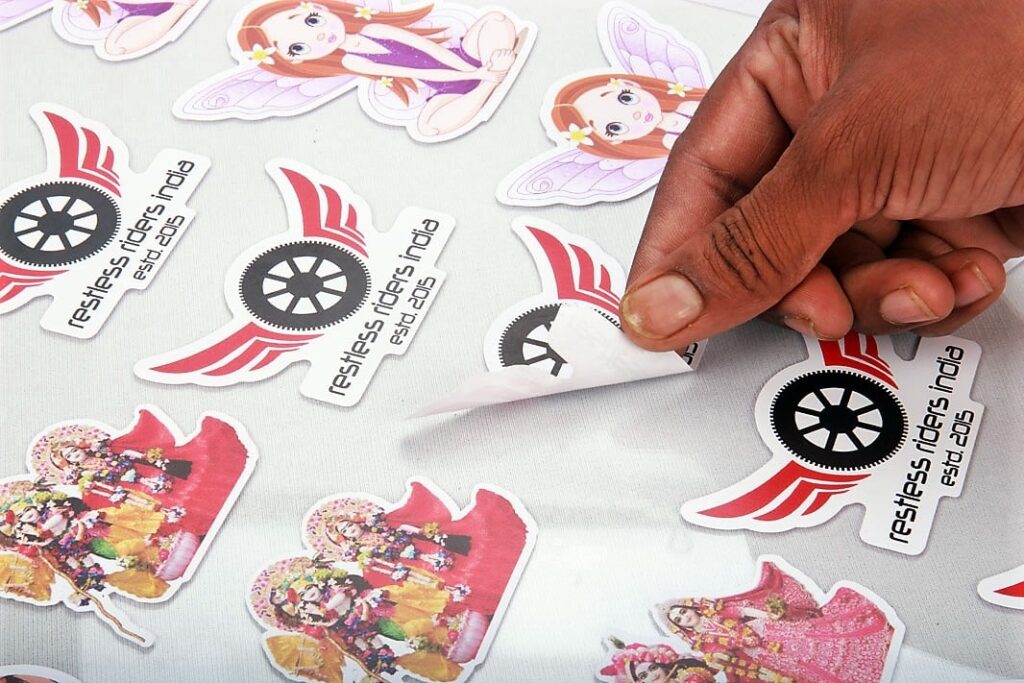 Kiss-cut stickers to nail your small-size branding needs. Nonlinear die-cut…