Exhibition Canopy/Tent and POS Booth
Light-weight tent for exhibitions and Point-of-Purchase stalls
Ideal for showcasing and selling your products at exhibitions
Can be custom branded to carry your logo and product pictures
Portable, light-weight and very easy to set up
Can accommodates 4 – 5 people easily
Pricing starts from ₹4000
Exhibition Canopy/Tent and POS Booth
Light-weight tent for exhibitions and Point-of-Purchase stalls
Ideal for showcasing and selling your products at exhibitions
Can be custom branded to carry your logo and product pictures
Portable, light-weight and very easy to set up
Can accommodates 4 – 5 people easily
Pricing starts from ₹ 4000/-
Detailed Description
Exhibitions are a great platform to showcase your products and services. But many trade fairs are held out in the open. Considering the vagaries of the weather, it's a no-nonsense decision to have a sheltered space for your team to be at and participate in the exhibition. This is where our exhibition canopy tents shine.
And you can set up your shop (literally) by using our collapsible exhibition tent. These tents provide a covered space for your sales team to conduct its business from. And apart from providing a dedicated seating area for your team, these tents also have space for displaying ads and imagery pertaining to your brand. Many know these by other names such as trade show booths, exhibition booths, and promotional tents.
Benefits of an Exhibition Booth
Easy to Handle: Exhibition booths are easy to handle, set up, and take apart. Simply join the tubes, put on the canvas which makes up the sides and top, and you're done. To take it apart, just reverse this process. This ease makes it an ideal solution where you don't want the hassle of on-site fabrication.
Light-weight & Portable: Both the components of the canopy tent, its structural pipes and the printed canvas, are extremely lightweight. Moreover, this whole assembly can be packed in a bag. This makes it easy to carry locations for exhibitions. This portability makes it a great one-time solution – create one and then keep reusing when you need to.
Great Advertising Space: The physical structure of the canopy tent, particularly the canvas, provides a good advertising estate. The canvas can be printed on different folds and faces to suit your communication strategy. The print looks great and gives an immediate idea of what the tent is about.
Construction of an Canopy Tent
An exhibition canopy is made of two primary components:
Collapsible Metal Tubes: These tubes can be easily joined together to create a cuboidal canopy structure. This forms the outer frame of the tent.Once the exhibition is done and the promotional tent needs to be taken apart, the metal tubes can be simply disconnected, bundled in a bag (along with the canvas), and easily transported back home.
Canvas: This part is essentially a thick canvas-like fabric stretched across the metal frame / structure. The canvas has a two-fold application. Primarily, it helps create a covered/shaded area for you to conduct your operations from. This is important if the trade fair is conducted in an open area like a school-ground.Secondly, the canvas provides a backdrop and space to print the communications / product imagery pertaining to your business. A printed promotional tent looks extremely alluring and will make your brand stand out instantly.
Personalizing and Branding Your Trade Show Booth
As mentioned above, an exhibition tent can be customized to display your branding and products. While creating the design for such a canvas, the designer/artist can brand the following areas of the canopy tent:
The three strips at the top
The three sides at the bottom/lower half
Inside the back surface (as a backdrop).
Below is a diagram showing the dimensions of the respective areas. All you need to do is create your artwork as per the same.
When you opt for branding your exhibition tent, please consider the following:
Generate your design file in a design software like Corel Draw, Adobe Illustrator or Photoshop.
Make sure you leave enough bleed margins on the sides.
Please give us the open / editable file so that we can make any changes (if required).
Supplementary Products For your Next Exhibition
If you're heading out to an exhibition and have planned to install our exhibition canopy, you might also want to consider some display products that'll help you in your marketing activity.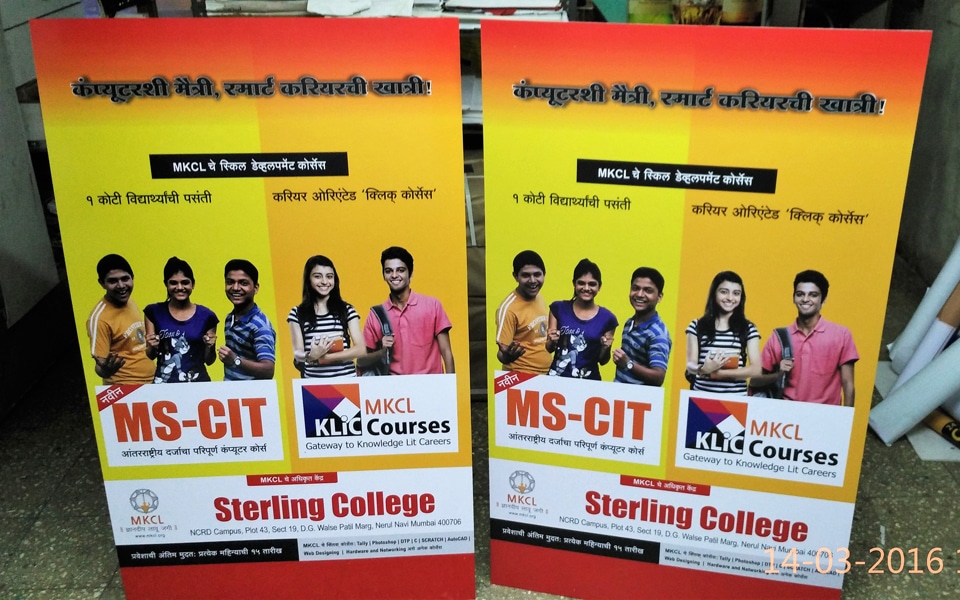 Price of an Exhibition Booth
Exhibition Canopies come in two variants:
| Variants Size: 6 feet width, 6 feet depth & 7 feet height | Cost |
| --- | --- |
| Unbranded Canopy (with a plain canvas and without the prints on the sides) | 4000/- * |
| Branded Canopy | 6500/- * |
Please Note:
* Above rates attract 18% GST.
Shipping and Delivery
Printed canopies can be delivered anywhere in Pune city and its suburbs.Question: Does this product get shipped out of Pune City?
Answer: No. We are sorry. It does not.

Here are a couple of reasons why –

Fragile Form-Factor – Canopy frames are liable to break or bend in transit.
Feasibility – Moreover, these boards are a pretty low cost product. So, packing and shipping them over long distances means that our customers will end up paying more for the cost of delivery than the cost of the actual print.Therefore, if you are stationed out of Pune, it makes sense for you to source the print from your local printer. All you have to do is share / take a print of the above post, show your local printer the material specifications and commission a similar job from him.
Get a Quote for your Custom Printed Exhibition Canopy Tent
Please leave us your details and we will respond promptly
Similar Products