Custom Photo Frame in a Unique Swastik-Like Shape
Custom Photo Frame in a Unique Swastik-Like Shape
Eye-Catching & Offbeat Custom Shaped Photo Frame – Sure to Elicit a Wow From Your Guests.
Doing the interiors of a new house is fun. But it can also become frustrating at times. I had just finished decorating a wall in my daughter's room with some 3D graffiti and it was a huge success. Now, there was one more room in the same flat which had a bare and pretty dull looking wall.
I did consider tacking on individual photos onto the wall, but that looks too shabby. Also, convention states that you put up a picture frame on a bare wall to give it some character. And if you don't like the idea of abstract pictures, you can use a photo collage of your loved ones, in a frame.
I liked the idea of using multiple images of our family. But I really did not want to use a boring rectangular photo frame that everyone else uses. The idea of a photo frame for this room was ideal, yes. But I wanted a photo frame with a different kind of form factor.
Inspiration for the Custom 'Swastik' Photo Frame
We are Gujarati Jains. The 'Swastik' symbol has a special significance for us. It is considered extremely auspicious and represents peace, harmony and prosperity. So one of the first things that my wife did upon entering the new house was draw a Swastik in vermilion (kumkum) in the small temple we keep at home.
And looking at this symbol gave me an idea.
What if I could move those arms a little bit. Perhaps I could create an overlap with the sides of the symbol and insert photographs in the gap created by that overlap. And a little bit of experimenting in my design software gave me exactly what I was looking for. That is… a rather unconventionally shaped custom photo frame.
Fabricating the 'Swastik' Multi-Photo Frame
With the design ready, the next step was fairly easy. We now had to cut the multi-picture frame from a thick and rigid material. Wood works for this. But a sheet of sunboard works even better. Sunboard is a smooth,rigid, flat and very lightweight sheet of plastic. It is pretty easy to cut as well.
So we took a 10 mm thick sheet of sunboard and cut it with a router into the 'Swastik' shape above. And as you can see, the overlap of the arms allowed for a multi-picture photo frame. Once the cutting was done, it was fairly easy to spray paint the frame. The frame was painted black as I thought that it would contrast well with the white wall it had to be hung over.
Next came the pictures. I had a ton of images of my kids and wife to choose from. Since the motif was 'black on white' I converted a selected few of these images to grayscale using the appropriate design software. We printed these images on a non tearable paper and laminated the same for good measure. My high resolution images were now waterproof, could not be torn easily and would not fade either. Finally, each of these picture prints were inserted from behind the individual arms, as can be seen in this image.
Cost of the Swastik Photo Collage Frame
Orchid Digitals is mainly a commercial print provider. Photo frames for collages, like the one featured here as an interior decoration idea, are not kept in ready stock as a finished product. What we specialise in, is processing our customers' various designs into prints mainly used for advertising and marketing.
As such, this project does not figure as a salable product in our rates and services section.
But if I had to put a price tag to this project, I'm guessing that a 3 feet wide X 3 feet high, Swastik photo frame should approximately cost ₹ 3000.00 plus taxes.
Material Used for Crafting This Multi-Photo Frame
The actual materials used in the fabrication of this frame are fairly inexpensive. High resolution color prints are dirt cheap at our outlet. Sunboard too, is not very costly. And this while the final cost of this frame is not all that much, it is the novel and original design that makes it stand out.
Here are the ingredients that went into making this project:
10 mm thick sunboard
High resolution digital photo prints
Lamination for the above
CNC router cutting to shape the frame
Closing Note
Thank you for reading this post. We like converting novel ideas like this one into reality. Ideas like these find themselves in the 'Interesting Projects', a collection of offbeat jobs that we have undertaken.
Sometimes they are undertaken to help a friend out (Custom Printed Rubik's Cube), and other times, as a labour of and for love (like 3D wall graffiti and printed wardrobes). While these projects do not figure in the services we provide, they are still featured on the website to showcase the creativity of people while using the printing technologies available at Orchid Digitals. The uniqueness of this frame, its offbeat design, and final form factor is why I thought of including here.
Did you like the idea of this custom photo frame? Do let me know in the comments section below. I would absolutely love to hear from you.
Also, if you have an idea that you'd like to convert into reality, do drop us a note with your contact details and idea. We'd love to help you convert your dream into reality.
Looking for any specific product?
Drop us a line. Send us your query. And we'll get back to you with solutions and answers.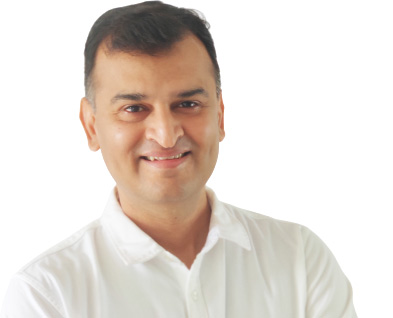 Mitesh Sanghani
Mitesh lives, mostly for Saturdays.
But when forced to work, you'll find him heading Orchid Digitals – a printing press in Pune.
If it's an emergency, try looking for him in the hills behind his house. You'll almost certainly find him… lazing under a tree, with a book in hand.
All our Blogs
This is a section packed with useful knowledge on digital printing and its aspects, interesting printing case studies, and ideas, guides, and tips & tricks on marketing and branding.