Shape-cut Standee Job – Eureka Forbes
Display Stand in the Shape of a Vacuum Cleaner
A Solution Which Sucked the Wind Out of the Competitors Advertising Efforts
In today's world a customer is surrounded by marketing messages. So much so, that most advertisements don't even register in a consumer's consciousness. With increasing bombardment of ads and diminishing attention span of viewers, the sales guys of any company are continuously on the lookout for any idea that will hold the buyers' attention.
And this is exactly what Mr. Wasim Rahi of Eureka Forbes wanted. He needed an innovative display stand for point of sale locations. And the job of the stand was to advertise his latest vacuum cleaner model along with all the accessories it came bundled with.
A Display Stand With A Difference
Diwali was around the corner. Footfalls in FMCD stores were at a peak. This is traditionally the time of the year when people splurge on home electronics. And this was a perfect time for Mr. Rahi to run an ad campaign on their latest vacuum cleaner model. One of the USPs of this particular vacuum cleaner was the wide range of accessories it came equipped with. And Eureka Forbes really wanted to highlight each and every one of those eight accessories. Towards this end, their marketing team designed two displays to attract customer attention in a store…
The first ad had the form factor of a regular rectangle. Easy to print, but too plain and forgettable.
The second design, however, was an absolute crowd puller. This one had the form factor of a shape cut stand. The display had four bulbs jutting out from each side. And one accessory was featured within each of these bulbs.
But, the question was – how does one create and print circular shapes on a rectangular sheet of sunboard?
The answer – You cleverly utilize your machinery to carve them out from the sunboard sheet. And the destined outcome would be an eye-catching and beautiful cut-out foam sheet standee!
How Did The Shape-cut Standee Board Fare?
We built prototypes of each of these displays. The rectangular design was created in the form of a regular sunboard stand. And we created a shape-cut stand out of the second design. The unique non-linear design of the cardboard cut-out stand performed two very interesting marketing functions.
In a sea of rectangular and square posters and advertising visuals, this non-standard cut-out standee of foamsheet stood out prominently and attracted client attention.
The 'circular bulbs' design, also very cleverly highlighted the main communication of the ad. Viz. each of the numerous accessories bundled with the high-powered vacuum cleaner. The central part of the stand also highlighted the company's logo and tagline.
Both the above stands were supported with flaps stuck to the back. These flaps turn on hinges and stand out perpendicular to the print, to help the stand stay erect. When you want to store the standee or transport it elsewhere, the flaps can also be folded back.
Of the two prototypes created, the shape cut stand won hands down and was approved for mass production. We were now commissioned to create 800+ displays of this version and have them delivered to household electronic stores across Maharashtra and Goa.
How Much Does the Shape-cut Sunboard Standee Cost?
A shape cut stand is fabricated out of a laminated photo vinyl print mounted on 3/5 mm thick sunboard. Sunboard is a rigid (but very light in weight) sheet of plastic. This sheet is then cut in the required shape on a CNC router. Do have a look at the video below, which shows these standees being cut and processed.
Advertising companies use this solution to create life size cutouts, selfie booths and innovative display stands. For more information on costs and materials specifications, do have a look at our product page on shape-cut standees here.
The Eureka Forbes stand was 2 feet wide X 3 feet high. And it sold for ₹ 900.00 plus taxes.
Closing Note
While shape-cut sunboard standees are manufactured at Orchid Digitals on a fairly regular basis, I felt that the unique design of this job and the pleasing outcome merited a mention in our Printing Case Studies. It's a curated collection of print stories where we tackled typical print requirements with our wits, a highly effective team, and capable machinery. And needless to say, the outcome blew minds and everyone went home happy. 🙂
Looking for any specific product?
Drop us a line. Send us your query. And we'll get back to you with solutions and answers.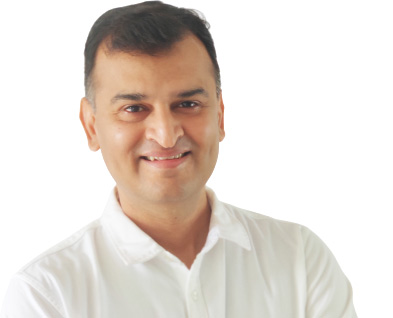 Mitesh Sanghani
Mitesh lives, mostly for Saturdays.
But when forced to work, you'll find him heading Orchid Digitals – a printing press in Pune.
If it's an emergency, try looking for him in the hills behind his house. You'll almost certainly find him… lazing under a tree, with a book in hand.
Our Other Blogs
This is a section packed with useful knowledge on digital printing and its aspects, interesting printing case studies, and ideas, guides, and tips & tricks on marketing and branding.