Advertising

& Branding in Retail Outlets

In addition to print solutions, we can also install your marketing collaterals at end-points like retail outlets, malls, etc. Our detailed reporting and installation procedures ensure a painless implementation of your advertising project across multiple locations in Pune city. Shown below is a page enumerating our services for in-store branding and a number of case-studies of jobs executed at multiple locations in a short time-frame.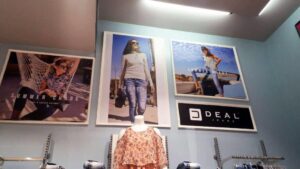 "Dikhta hai…  toh bikta hai…", is an old adage that no Indian tradesman needs explaining. And that is what a well-planned in...
Sunboard & one way vision for Godrej Boyce Mr. Sushil Thakur of Godrej & Boyce Company is in ...Read More Store branding for Streax...
COULDN'T FIND WHAT YOU ARE LOOKING FOR? OR NEED SOME HELP? CONTACT US AND WE'D BE HAPPY TO HELP!